I was excited to see Alastair Humphreys book 'Microadventures' drop through our letterbox recently. Ordered by my other half, I had to wait a few days before I could secretly snaffle it away for a quick browse. Packed full of Alastair's exploits his microadventures include wild swimming, overnight bivvying and mountain trips across the UK.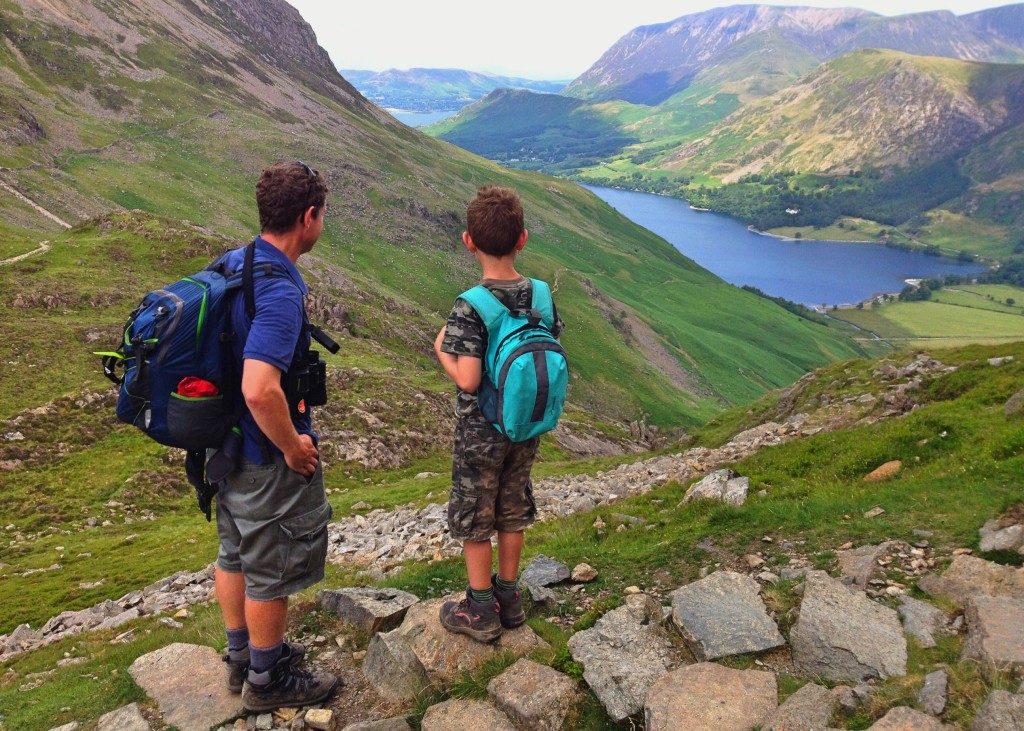 It's a great read but its target audience isn't families. One of his recommendations is about not taking too much kit as that's what mums do on family days out. Er, that's me then!
Inspired by Alastair, I've decided to redress the balance with suggestions below for family microadventures. Some of these are watered down versions of Alastair's trips but they all share the common feature of being an adventure you can have close to home.
The one piece of kit you will need and know how to use is your local OS map. These are often available to borrow from libraries or you can get snapshot maps of your local area from online sites.
1. Stay overnight in your local Youth Hostel then walk home
With more than 270 official Youth Hostels across the UK there's sure to be one near you (find your local one here). A couple of years ago we took a train to our local hostel, had a yummy evening meal, a night in a private room and a full English breakfast. We then spent the rest of the day walking home (and working some of those calories off). Staying in a hostel means you can bring minimum overnight gear so no worries about backpacking home with a huge rucksack.
If you're looking for something a little more adventurous why not try walking between two hostels? Whilst not local to us, we walked between Ennerdale and Black Sail Youth Hostels in the Lake District, read here for our review.
2. Canal path cycling
The beauty of canals is that they're flat, off-road and often have official cycle paths along them. Perfect for families as long as the kids don't fall into the water! Why not spend a day cycling along one?
We cycled along the Kennet and Avon canal from Newbury to Reading, which you can read about in our blog post. Alternatively check out canal path cycle routes near you here.
3. Tracking
When I was a kid we used to do this all the time but you hardly ever see the tell-tale white arrows chalked on paths today. You may be lucky enough to have a family friendly hashing group near you (groups of runners/walkers who follow a cross country flour trail laid by a 'hare') but do check their ethos first as a lot of clubs focus on beer not running! If not, you can easily set up your own trail along local footpaths with small blobs of flour or stick arrows for the kids to follow.
4. Geocaching trail
Many readers will be familiar with geocaches, but for added fun why not follow a geocache trail. These are usually walks of around 4 miles that have several geocaches hidden along them. This site has an easy to use map which allows you to browse for geocache trails in your area. You can then link to your app or the main geocaching website for specific cache details.
5. Buy an explorer ticket for your local bus company and see how far you can travel.
Our local bus company offers a £13 dayrider ticket which allows the family to travel all over the county. Why not check out your local buses and let the kids plan a route? You could give them a challenge, perhaps see how many miles they can travel or get to the furthest point in the county. Just remember to check the bus timetables will get you home again.
We recently travelled to the furthest point in our county by bus. And followed it with a two day backpack along the Lambourn Valley Way.
6. Sleep out in your garden
This might not sound very adventurous but kids love it. Assuming you have a relatively secure back garden, set up a tent and let the kids sleep out. If you have young kids you'll need to give up your comfy bed for the night and sleep out too, otherwise leave them to it.
7. Follow a stream
This might involve some preparation with your local OS map. Find a small stream and see how far you can follow it for. If it goes underground try to follow the course overground and see where it re-emerges. Remember to keep to official rights of way unless you are in an area with the 'right to roam'.
8. Walk part of a National Trail
There are more than 4000 miles of National Trails (long distance routes) throughout the UK allowing you to walk alongside coasts, rivers and mountains. These routes are well-maintained, clearly signposted and many are perfect for families. Even in London you can walk the Thames Path, whilst other family friendly routes include the Cotswold Way, South Downs Way and the Norfolk Coast Path.
Find out more about National Trails here. If you think your children may need some encouragement take a look at my top tips for walking with kids post.
9. Pin the spot on the map
Alastair does this in his book but he heads off to the wilds of Scotland. For your family microadventure I'd suggest keeping it close to home. Open your local OS map, close your eyes and place a pin on it. You then need to visit that exact spot without using your car.
We've done this, read how we got on here.
10. Climb the highest point in your county
Wikipedia lists the highest point of each county so why not make it your goal to visit your local hill. I live in a relatively flat county but if you're in a more mountainous part of the UK you might want to modify this according to the ages and walking experience of your family.
11. Go on a night walk
A great option for a winter evening. We went on a walk around our local nature reserve in the dark and finished up with ghost stories around a campfire. If the sky is clear you can combine it with night sky observing. Even if it's cloudy it's much more exciting exploring a place in the dark; look out for nocturnal animals and listen for owls.
12. Get the kids to cook and eat dinner outside
By this I don't mean on a gas BBQ! A campfire is best but if it's not practical use a camp stove instead. Keep the food simple, perhaps beans and sausages, followed by toasted marshmallows. There's no need to try too hard with the food as anything eaten outside usually tastes great.
13. Night sky observing
This is another activity for winter evenings as it gets dark earlier; just remember to wrap up warm. Hunt out a suitable location away from light pollution and look upwards. Binoculars and a night sky smartphone app are handy to help you identify the planets and stars. I wrote this blog post about what to look out for, there's much more to see than you might expect.
14. Sunrise walk
Whilst it takes minimum effort to get up at sunrise during the winter months, you'll have a more solitary experience if you aim for a summer sunrise. Head up your local hill to watch the sun coming up or perhaps listen to the dawn chorus in a nearby wood or park. Bring a flask, a breakfast picnic and enjoy a few extra hours in the day.
15. Dice walk
The Dice Man is a cult book about a man who makes decisions in life based on the roll of a dice. Over the years it has inspired plenty of others to do exactly that so why not let the dice decide which way you walk or cycle. You'll need to decide in advance what the numbers on the dice stand for, and then roll as you travel. For example, roll a 1 = turn 1st left, 2 = straight on, 3 = mum chooses the direction. You get the idea!
For more adventurous ideas please pop over to Alastair's website. Even if you prefer armchair adventures I guarantee you'll find inspiration to get outside and do more!
You may also like: