Are you thinking of a family holiday to Brittany? We stayed for a week in the Côtes-d'Armor department and discovered just how much there is to see and do in Brittany. Read on to find out our top ten suggestions for a family trip.
1. Visit the Pink Granite Coast, near Ploumanac'h
The Pink Granite Coast is one of Brittany's premier tourist attractions. The coastal walk, which follows a former coastguard footpath, from Perros-Guirec is very popular and a great introduction to the pink rocks.
Many of the formations are named after the shapes they resemble, including a rabbit and a witch. I've no idea if the large rock below the lighthouse in the photograph is an 'official shape' but it looks like a sideways face to me!
2. Eat a crepe
It would be hard to come to Brittany and miss out on crepes. There are creperies everywhere, with traditional lemon and sugar fillings plus the ever popular Nutella option.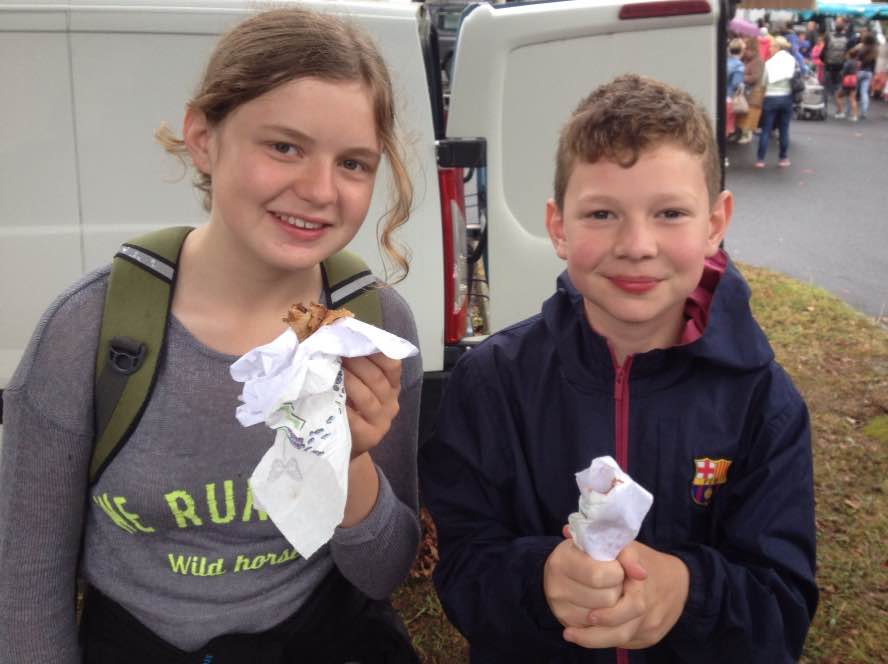 My favourite was a takeaway from a market stall eaten on a rainy morning. We ate posher crepes, with knives and forks, but nothing surpassed the simple joy of eating a crepe, oozing warm chocolate spread, direct from a paper bag.
3. Chateau de Tonquédec, Tonquédec
This is possibly my favourite castle in France. Built in the 15th Century, it is still owned by descendants of the original family. If you like your castles intact and perfectly restored this is not for you; it's definitely a work in progress.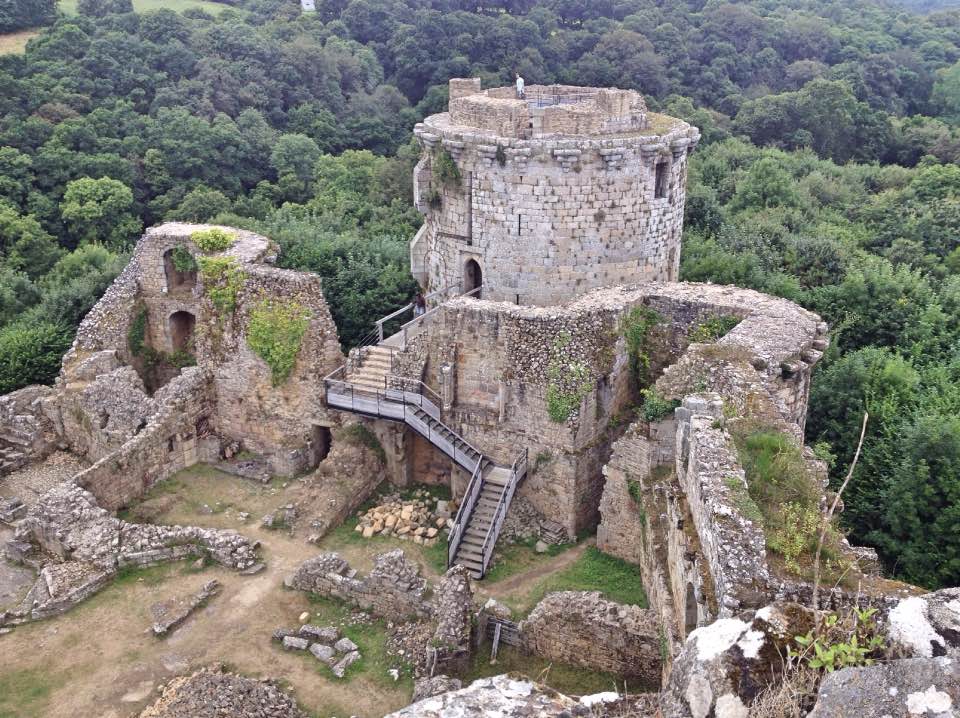 There are lots of interesting areas to explore; dark stairways to venture down (if you're brave!) and towers to climb. Children will love it but do keep an eye on them as some parts resemble a medieval building site. Watch out for the local goats too; on our visit they were sitting high up on top of one of the walls.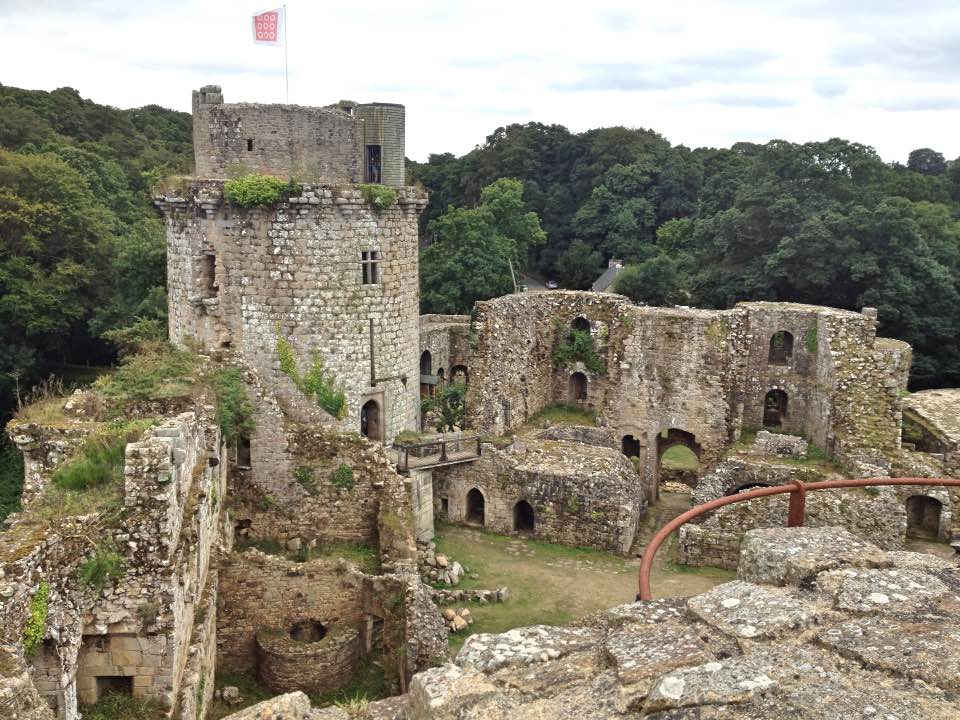 4. Hisse et ho, Plelo
My kids loved this! Think of giant nets suspended from trees, rather like a cross between Go Ape and a trampoline park. There are slides, balls and hoops and bouncy nets to jump around on. Definitely a place to wear off some energy.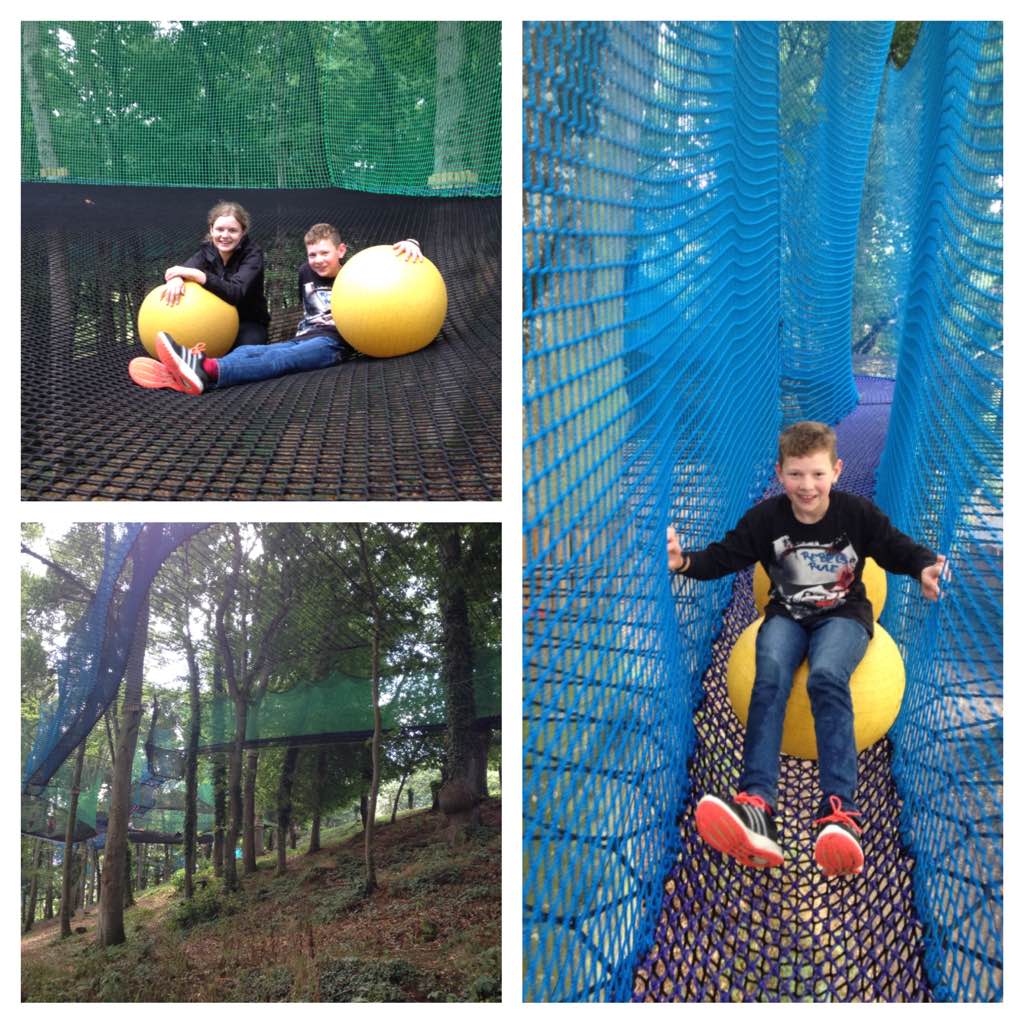 It's not just for kids either. I enjoyed it too although the bounciness made me feel travel sick after a while. I was happier sitting and watching from the picnic table.
5. Watch the waves at Site du Gouffre, Plougrescant
The peninsula is probably most famous for Castel Meur, a house situated between two huge granite rocks, which features on postcards and tourist literature across the region. However, I enjoyed walking the coastline and watching the waves force water through the nearby gouffre. Although relatively peaceful during our visit the power of the waves was very evident. I'd love to return on a stormy day.
6. Centre de Découverte du Son, Cavan
The Sound Discovery Centre may sound a tad boring but it's the complete opposite. It's a quirky and unique attraction, which I highly recommend. Visitors follow a trail through the woodland where musical instruments are ingeniously incorporated into the surroundings. There are strings to strum, drums to tap and plenty of tubes to blow (mouthpieces provided).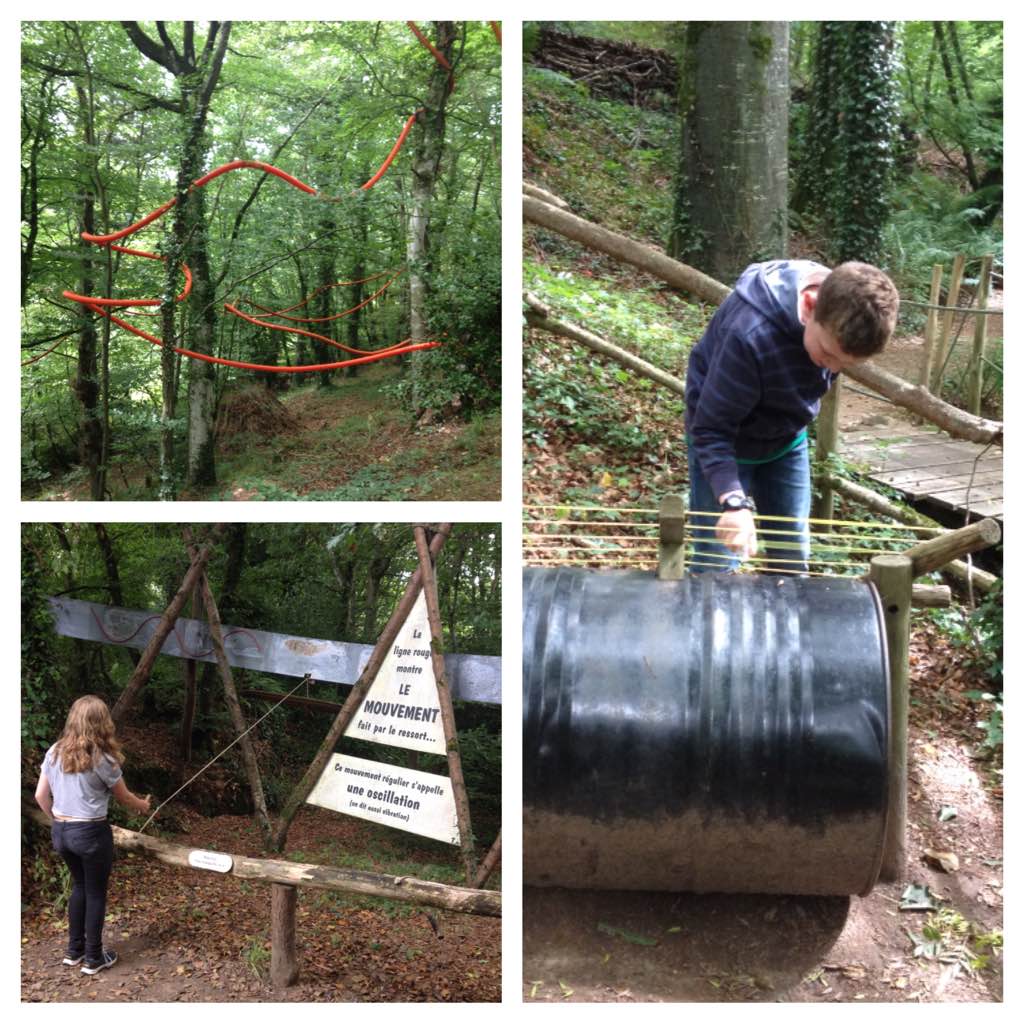 After the woodland trail there's a garden designed in the shape of the ear, along with a few more sounds to discover. The whole place is cleverly put together and great fun for all ages.
7. La Vallee des Saints, Carnoët
If, like me, you have an (unrealistic) yearning to visit Easter Island then a trip to the Valley of the Saints might just suffice. Perched on a hill there are currently more than 60 granite statues dedicated to Breton saints.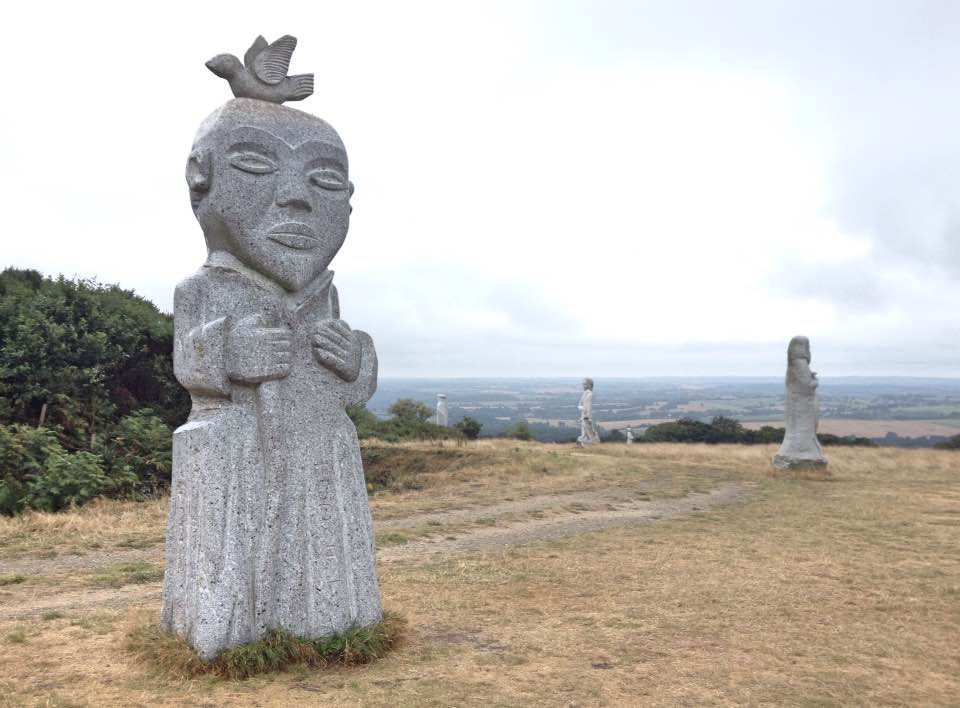 Visitors are free to wander around the saints, all of which are funded by donations from local communities and organisations. Over the next 50 years the project aims to create 1000 statues; a definite Easter Island contender.
8. Abbaye de Beauport, Paimpol
Founded in 1202 Abbaye de Beauport was once a centre of monastic life but in recent years the buildings have housed apartments, schools and a farm. Although parts of the abbey have been restored I preferred the atmospheric ruins. Pink and purple hydrangeas brightened up the grey stone walls. Very photogenic.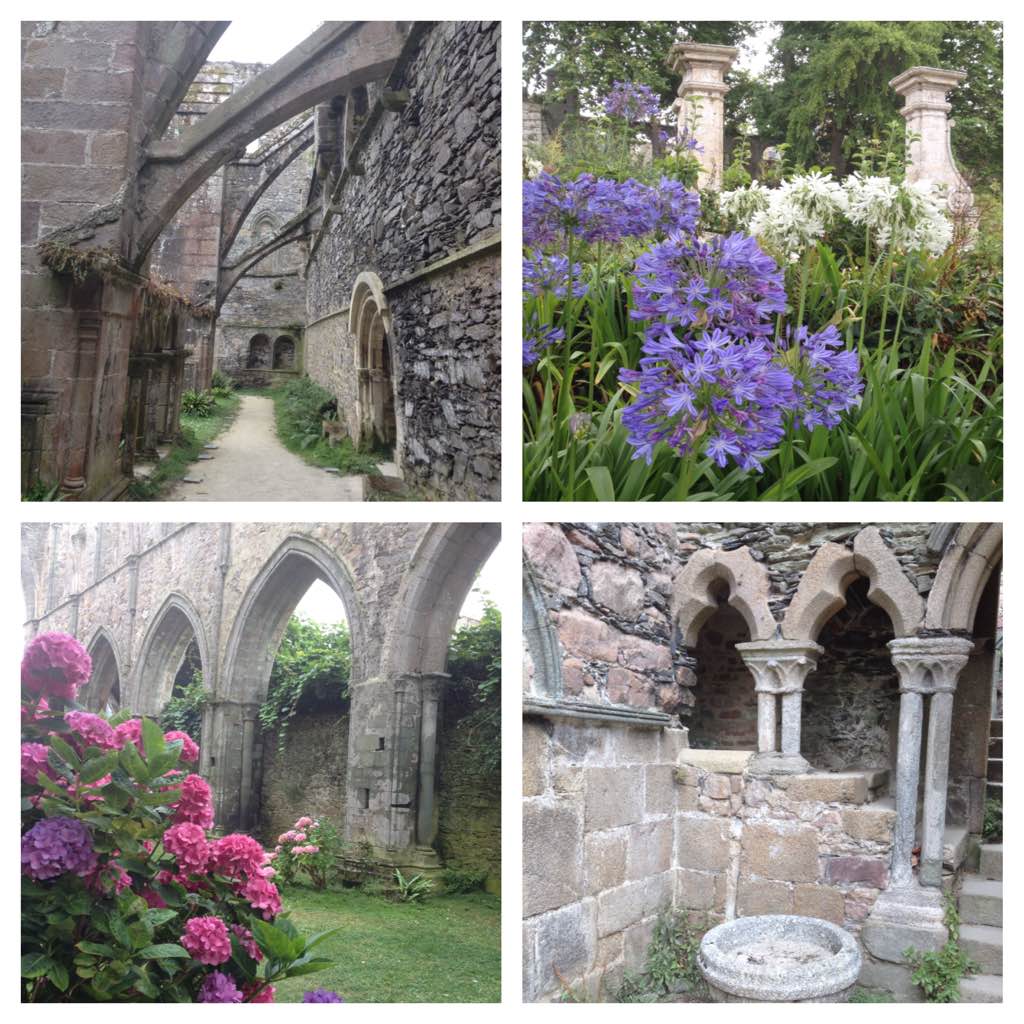 There's plenty of information available in English, including a discovery trail leaflet and multi-lingual information boards. There are grounds to explore too, including a walled orchard and marshy coastline.
9. Explore Dinan
We arrived in St Malo on the overnight ferry and had a few hours to fill before our campsite was available. A visit to the medieval town of Dinan, with its half timbered houses and extensive ramparts, proved the perfect stopover.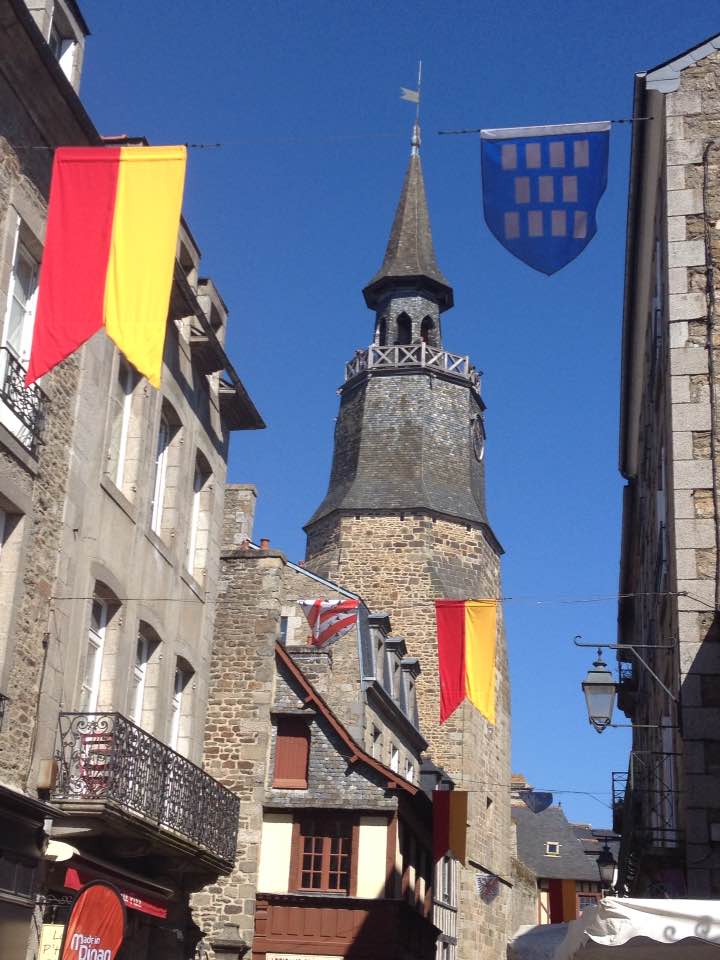 We spent most of our time wandering through the picturesque lanes and browsing the shops. However, we exerted ourselves a little climbing to the top of the clock tower for a view over the roof tops.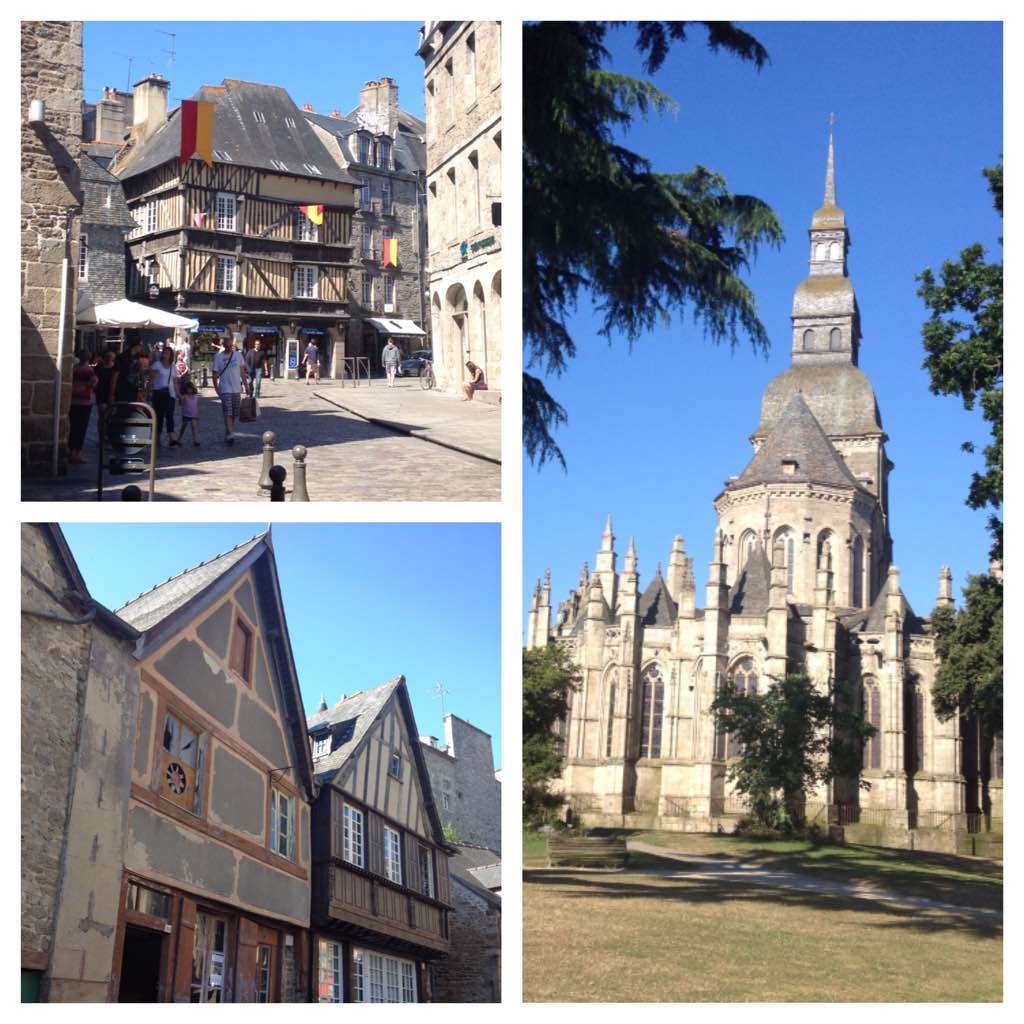 I'm glad we managed to get some exercise as Dinan is also notable for providing our first, and best, taste of  Kouign-amman. This heavenly Breton cake consists of 30% sugar and 30% butter so I'm rather glad it's not readily available in the UK!
10. Île de Bréhat
Having holidayed in Guernsey and Jersey I was keen to visit Île de Bréhat which is marketed as the French Channel Island. The island is just a mile off the Brittany coast, but after a ten minute ferry ride you feel miles from anywhere.
Île de Bréhat consists of two main islands. Both are car free so visitors either walk or hire bikes to see the islands. We chose to walk which I think was the best option to access the more remote beaches. Although it was a rather warm day for too much strenuous activity!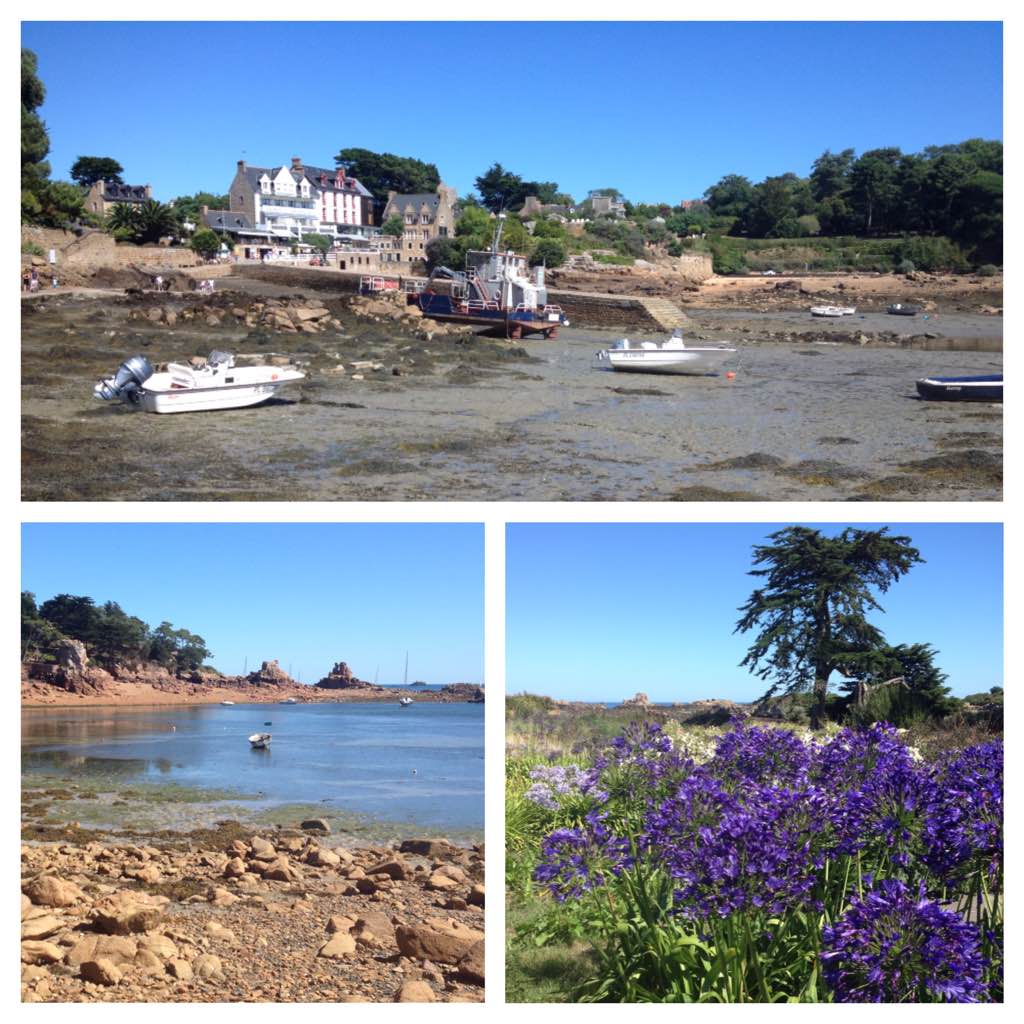 The island is incredibly beautiful although in August it was also incredibly busy. I felt rather sorry for the locals but I guess they also rely on the summer tourist invasion.
Have you visited Brittany? Where else would you suggest visiting?
More info: