Have you been to Dover Castle? It's one of English Heritage's top attractions, popular with visitors from across the world. Located above the white cliffs, the site occupies a prominent defensive location and is a microcosm of British history.
To give you just a flavour. First used by Iron Age inhabitants as a hill fort, the Romans built a lighthouse, the Saxons a church. Henry II was responsible for the stone tower, Henry III added gatehouses whilst Henry VIII just visited. Underground tunnels were built during the Napoleonic Wars; these became the headquarters of Operation Dynamo in World War II and a nuclear refuge in the Cold War. And now they're invaded by tourists, including us!
With so much to see its difficult to know where to start. However, we'd been warned about queues for the tunnels that's where we headed first.
There are more than 3 miles of tunnels in the chalk cliffs, most of which are inaccessible to visitors. However the World War II Secret Wartime Tunnels and Underground Hospital are open. Although we'd arrived early we were disappointed to find there was already a 90 minute wait to tour the main set of tunnels. We reluctantly decided to skip these and just visit the underground hospital.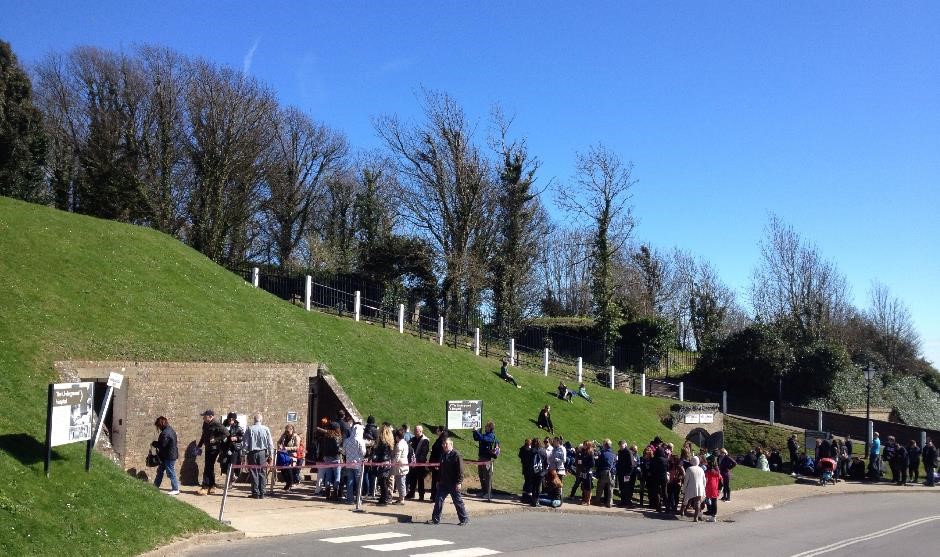 Hospital tunnels
The hospital tunnels were used from 1941 as a triage centre for wounded troops. Medical dressings were applied and emergency operations carried out to stabilise the injured before they were moved further inland to recuperate. We joined a tour and followed the story of an injured pilot. This took us through recreated rooms complete with 'real' wartime sounds and dimming lights to make us feel as if we we're under attack. The operating theatre was my favourite but it was also interesting to see the everyday dormitories where some of the women lived.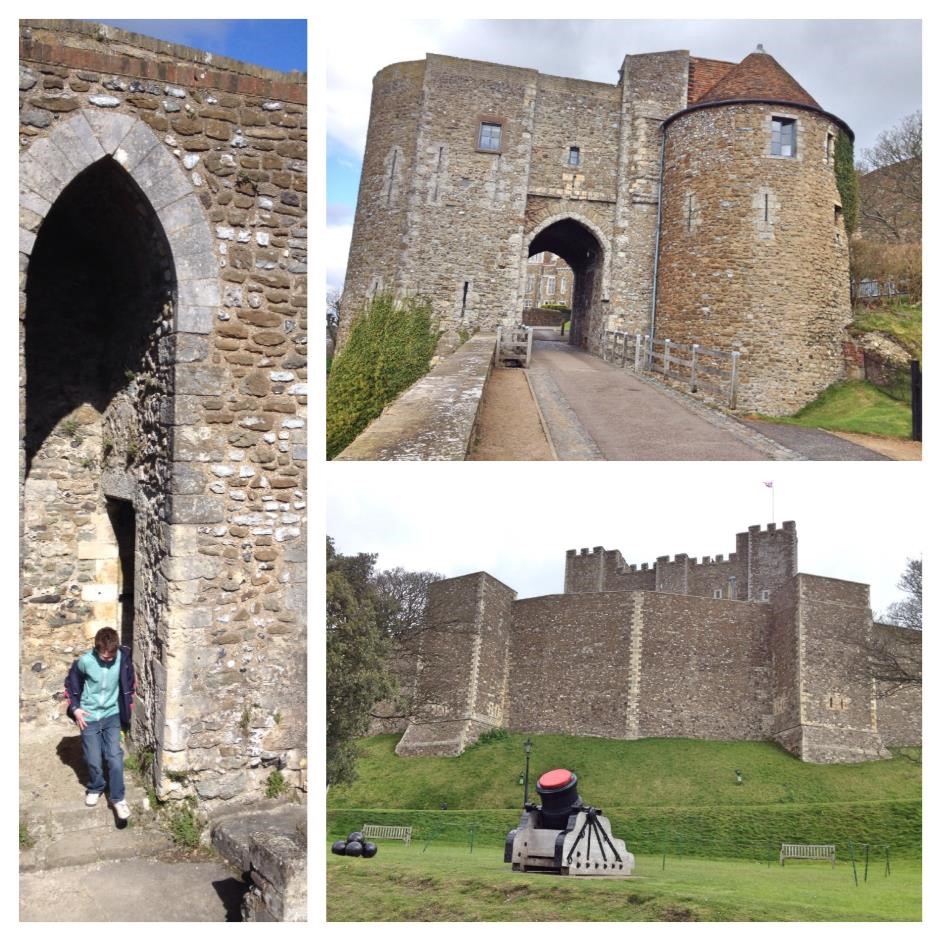 Medieval tunnels
I'd spotted another set of tunnels on the map so after a coffee break we took a long walk round to the opposite side of the castle. Built during and after the 1216 siege to help protect the castle from attack is a maze of medieval tunnels. Dark and atmospheric in places, they give you a real feel for how life might have been. I'm pretty sure I wouldn't have wanted to be a soldier!
The Great Tower
By then we'd had enough of tunnels so headed above ground to see the star attraction, the Great Tower. This was used both to entertain visitors and as state apartments for the king. Many of the rooms, such as the King's chamber, are furnished and richly decorated to reflect this. I read that the walls are 6.5 metre thick in places, you could never imagine that in a modern building.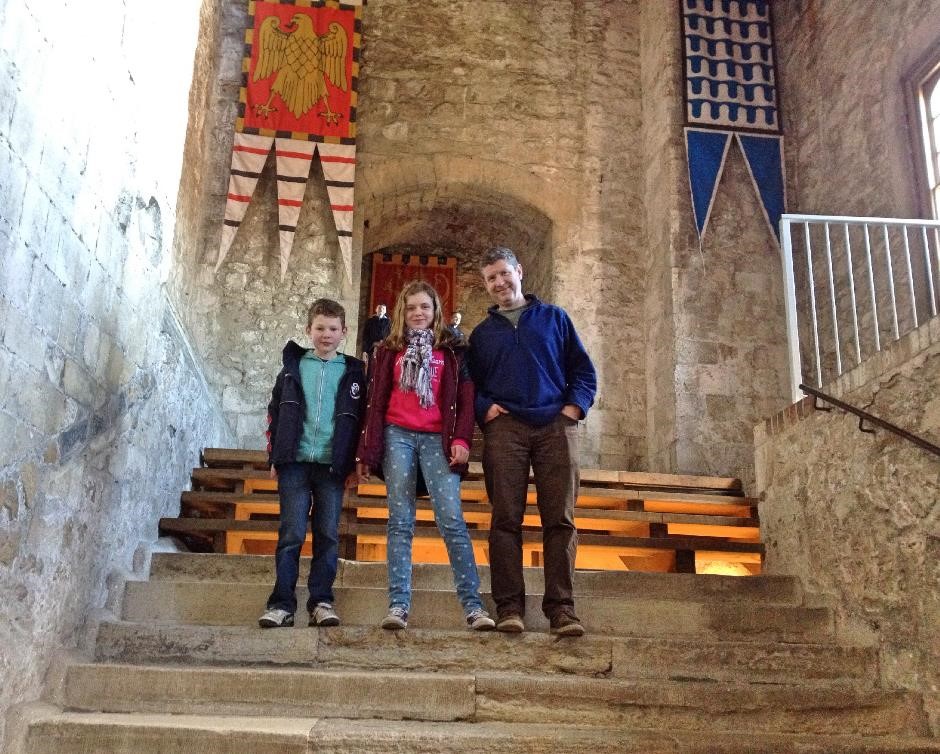 From the top of the Great Tower the views out across the Channel are impressive. It's easy to see France on a clear day but even if the weather is cloudy it's mesmerising to just watch the comings and goings of the port traffic.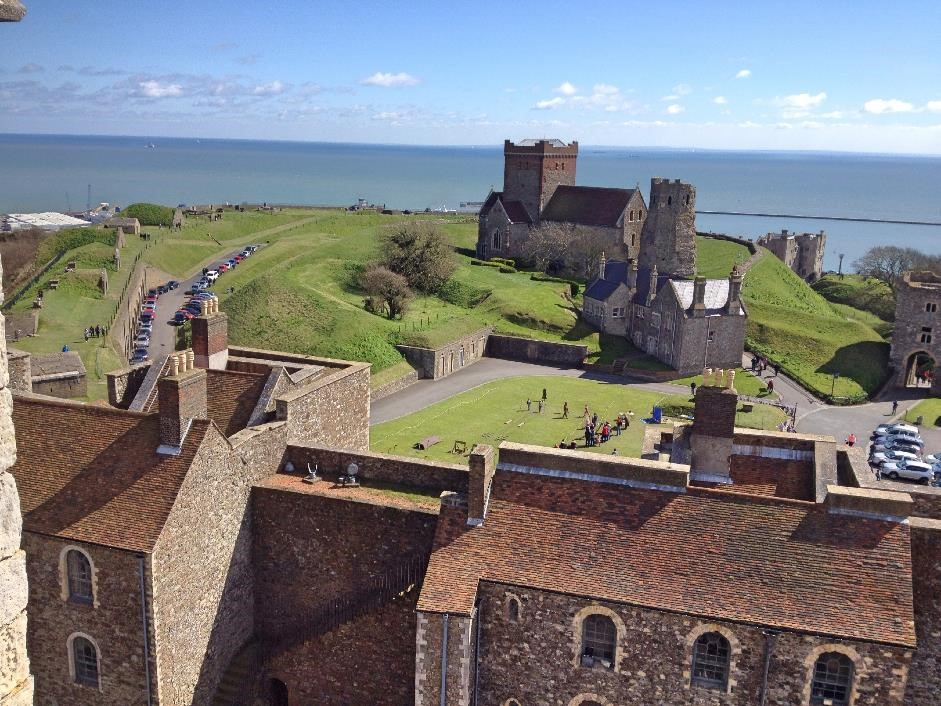 Our next stop was lunch in the Great Tower cafe; a disappointing choice. It was a Bank Holiday weekend so you'd expect them to be prepared for a busy time but the cafe appeared overwhelmed with visitors. At 12.45pm we queued out of the door only to find that they'd run out of kid's sandwiches and there was no bread to make any more.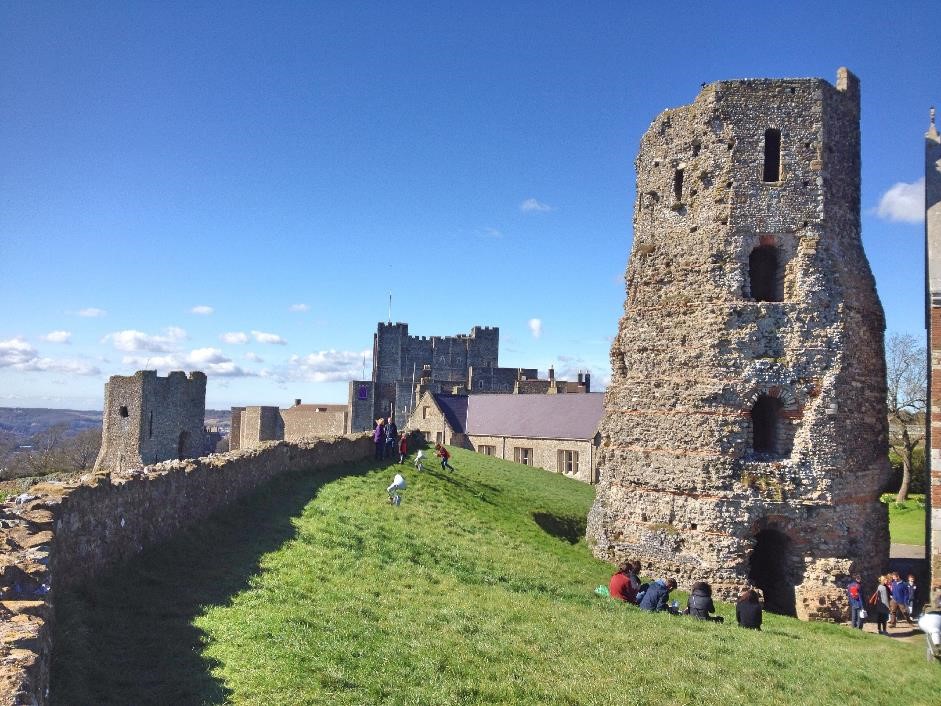 We walked off our lunch with a wander around the battlements out to the church and lighthouse. The kids enjoyed a runaround at Avranches Tower which was once a multi-level tower used by archers firing crossbows.
Roman lighthouse
I was particularly impressed with the Roman lighthouse. Almost 2000 years old it is one of a pair which once protected the Roman port of Dubris. Although you cannot tell from the photo above it stands right next to the Saxon church, rather a strange pairing!
The visit was wrapped up with a trip to the gift shop and an ice cream. Although we spent most of the day at the castle we didn't see everything. So what are my tips for other visitors to Dover Castle? Definitely plan an entire day on site, take a picnic and try to visit on a quiet day.
More info:
Dover Castle is open daily for most of the year but only at weekends during the winter. Check the website for exact opening times. It's run by English Heritage so is free to members, a family ticket for non-members costs £46.80 excluding gift aid.