Isn't it great when a place you've barely thought about proves to be an unexpected highlight? Our day 12 drive, from Pickering to the Yorkshire Dales, took in the aforementioned highlight, Knaresborough.
Malton
In recent years Malton has re-invented itself as the food capital of Yorkshire. We drove the short distance from Pickering and spent an hour or so wandering the town. It has a good range of independent shops with a fair sprinkling of cafes and food and drink oriented shops. There's also a monthly food market, with local producers and artisan stalls, although we didn't manage to co-ordinate our visit with the event. We rounded off our brief stopover with a cafe stop for coffee and cake before driving on to Knaresborough.
Knaresborough
I hadn't given Knaresborough more than a passing thought whilst planning this trip. I knew it was near Harrogate but that was about it. Yet, as is often the case, a place with no expectations turns out to be a winner.
After an alfresco lunch at the Riverside Cafe we hired a wooden rowing boat from Blenkhorn's for a short trip along the River Nidd. These little boats have been a feature of Knaresborough for over 100 years. Hired by the hour this is sufficient time to row the stretch of river given over to boating.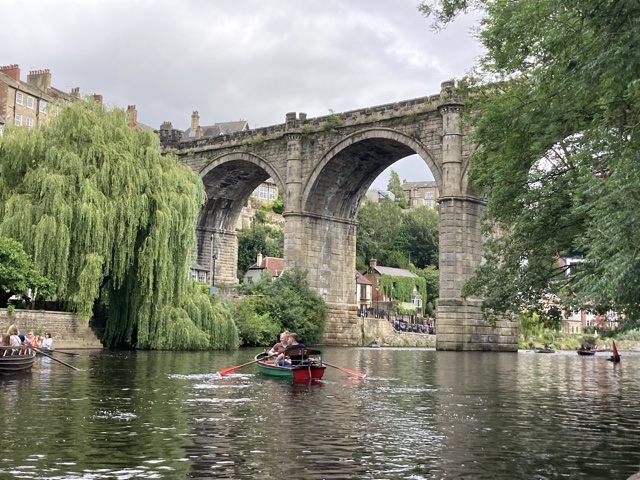 It was obvious that most of those on the river, like us, had minimal experience. There were a fair few bumps, oar splashes and boats going round in circles or under tree branches. We weren't very good at co-ordinating our steering but despite this it was good fun. The highlights were spotting a kingfisher, rowing under the railway viaduct and not falling into the river.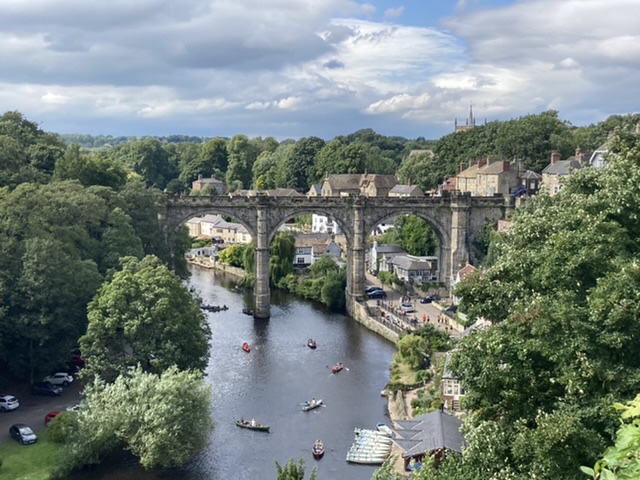 After the boating experience we attempted to walk beside the river but  discovered we'd chosen the wrong bank and direction to get very far. Instead we headed uphill through Bebra Gardens towards Knaresborough Castle.
The gardens provided an excellent viewpoint of the town, river and viaduct. The viaduct is actually the second one to stand on the site. The first one, built in 1848, collapsed into the river just as it was almost completed. Fortunately its replacement, which opened in 1851, has proved more durable than its predecessor!
Knaresborough Castle was initially built around 1100 and then rebuilt a couple of centuries later. There's not much left of it today as it was mostly destroyed in the Civil War as part of an order to dismantle Royalist castles. We didn't pay to go in but for a small entrance fee you can also visit the remains of the King's Tower and the Courthouse Museum. Instead we mooched around the local shops and an art gallery before driving onto our final Airbnb of the trip.
Darley walk
After tea we headed out for a short walk from our new Airbnb, primarily to check out the local pub. Our route started well but disintegrated slightly when we discovered a missing stile or two over drystone walls (adorned with barbed wire). Fortunately, with clothing and dignity intact we made it back to the house.
Overnight
Our final Airbnb was in Nidderdale, a quiet Yorkshire dale just outside the border of the National Park. Whilst the location was great, and the owners friendly, we were a little disappointed in the house itself. I think we'd been spoilt by our house in Pickering; this Airbnb was sparsely decorated and furnished and didn't have the extras that you tend to expect (a pint of milk in the fridge, tourist leaflets etc). That said, we were only using it as a night time base and the beds were comfortable so it didn't really matter.