Sometimes you don't need to travel far for an adventure. Whilst my younger self demanded exciting experiences or exotic destinations last weekend we hopped on a couple of buses, hoisted on our backpacks and walked the Lambourn Valley Way.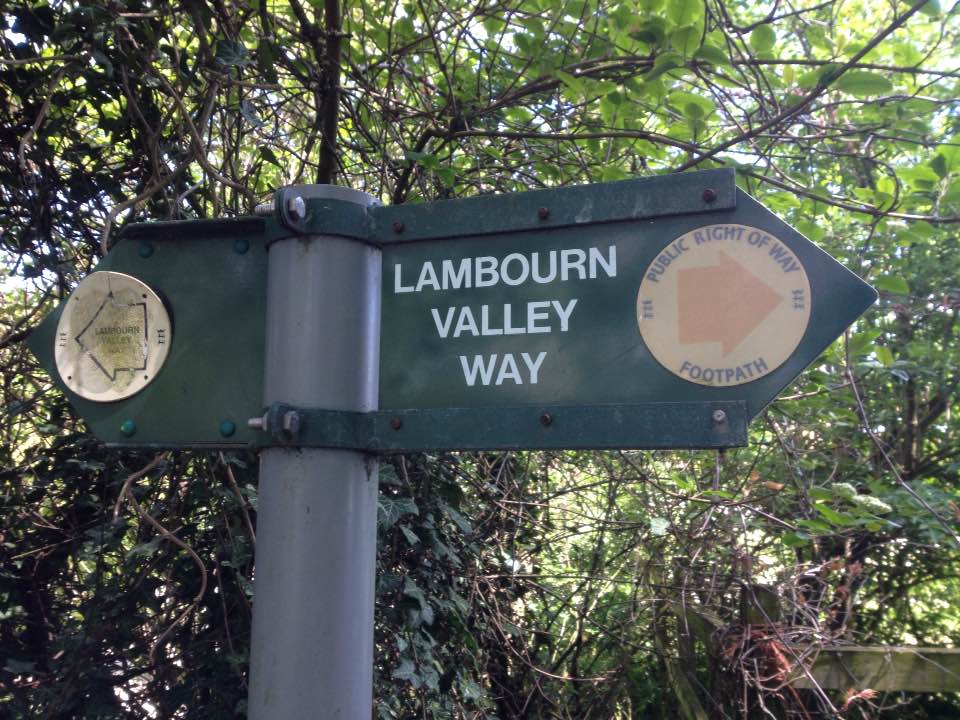 The Lambourn Valley Way is a 20 mile walk, running from White Horse Hill, Uffington in Oxfordshire to Newbury in Berkshire via the horse racing village of Lambourn. There are no dramatic mountain vistas but plenty of downland views, farmland and racing gallops. We split the walk over two days, camping overnight at Farncombe Farm near Lambourn.
This was our first backpacking trip with the kids. Aged 11 and 13 years they're used to walking reasonable distances and both were looking forward to the adventure. They were carrying their sleeping bags, mats and change of clothes whilst we also carried a tent each. We didn't bother with cooking equipment as we ate out for a treat.
Uffington to Lambourn
We arrived in Uffington, ate a late lunch and after fortifying ourselves with additional cake set off on our backpack. There were a couple of extra miles to the official start of the Lambourn Valley Way but our feet and shoulders were fresh so we hardly noticed it. We did notice the ominous sign below; a pity we didn't see any!
Our afternoon walk took us across chalk downland and alongside racing gallops. Away from the busy White Horse and Uffington Castle we walked the downs alone, treated to a landscape of gently rolling hills and serenaded by skylarks.
Further on we walked beside the gallops. I'm sure that if we'd been thundering along them on racehorses we'd have reached the end in no time at all. But we weren't. And the path and gallops seemed to stretch into the distance forever. Not my favourite part of the walk.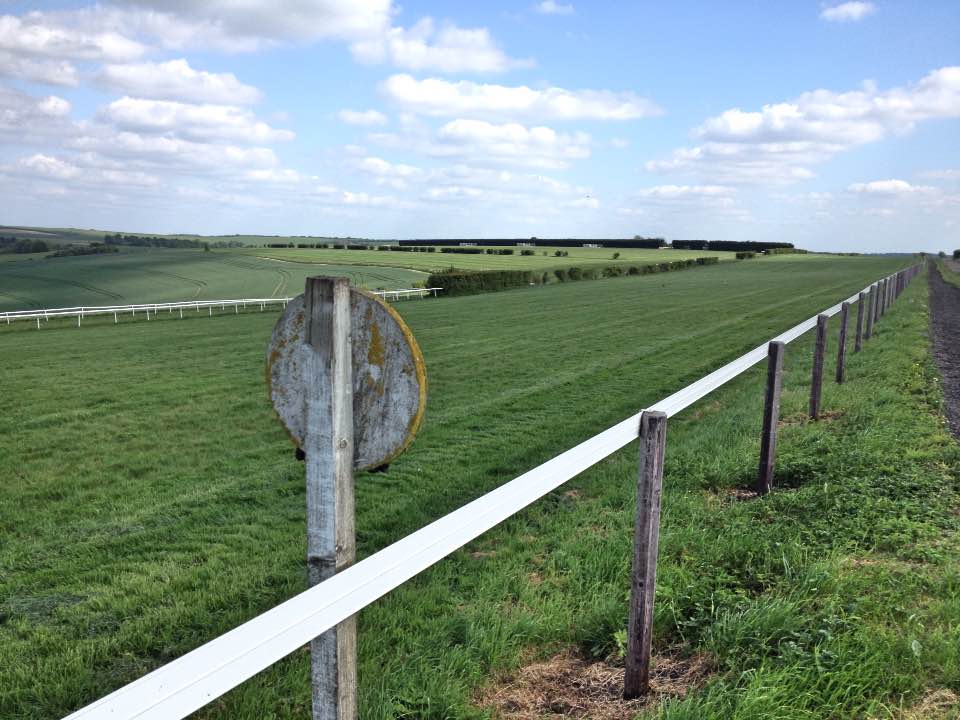 We finally made it to Lambourn an hour later than planned. The village and surrounding area are synonymous with horse racing and there are more than 50 local racing yards. According to the Lambourn village website the valley has a higher ratio of horses to humans than anywhere else in the country. Yet we didn't see a single racehorse!
Overnight in Lambourn
We had one more mile ahead of us, away from the official trail, out to Farncombe Farm campsite. The direct route was along the edge of the road; no separate footpath but relatively quiet and easy to hop on the grass verge if a car came by.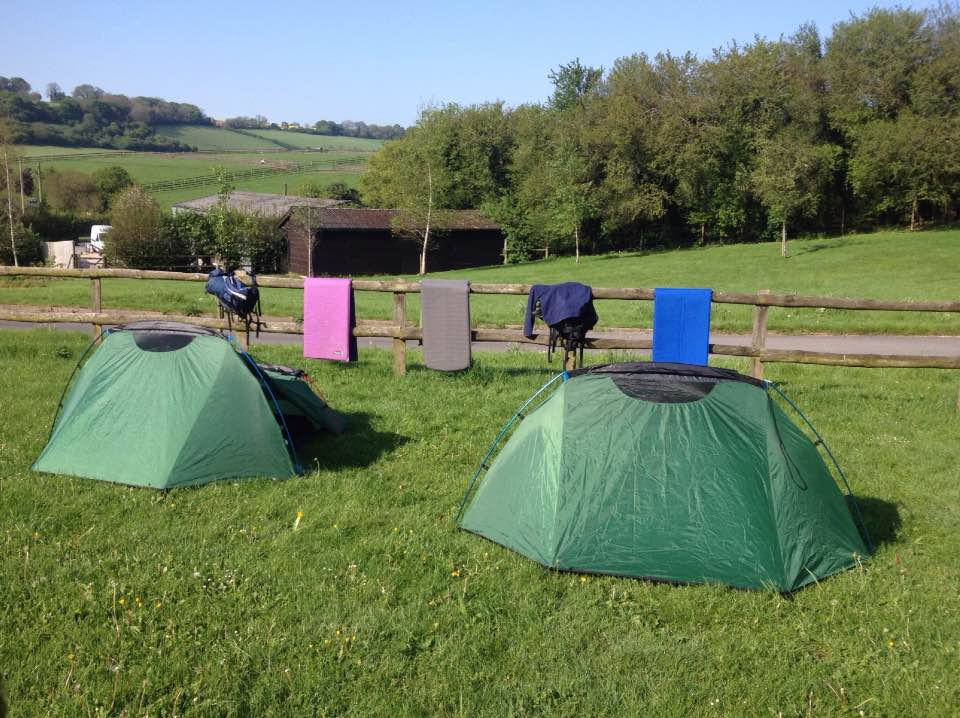 It was great to arrive and deposit our rucksacks for the evening. I was surprised we were the only campers on site although there were a couple of caravans at the other end of the field.
The only downside of the location was the extra walk to and from Lambourn for our evening pub meal. But our dinner at The George was worth it. The pub is the local racing hang out with horse racing on the TV, horse pictures on the wall and racing yard staff in the bar. Service and food were both excellent, a great meal out.
Our night on the campsite passed peacefully and not quite as cold as the weather forecast had suggested. After drying the tents we packed up and tackled the road into Lambourn one last time. The campsite owner did point out an alternative route back into Lambourn but it involved crossing a field of cows.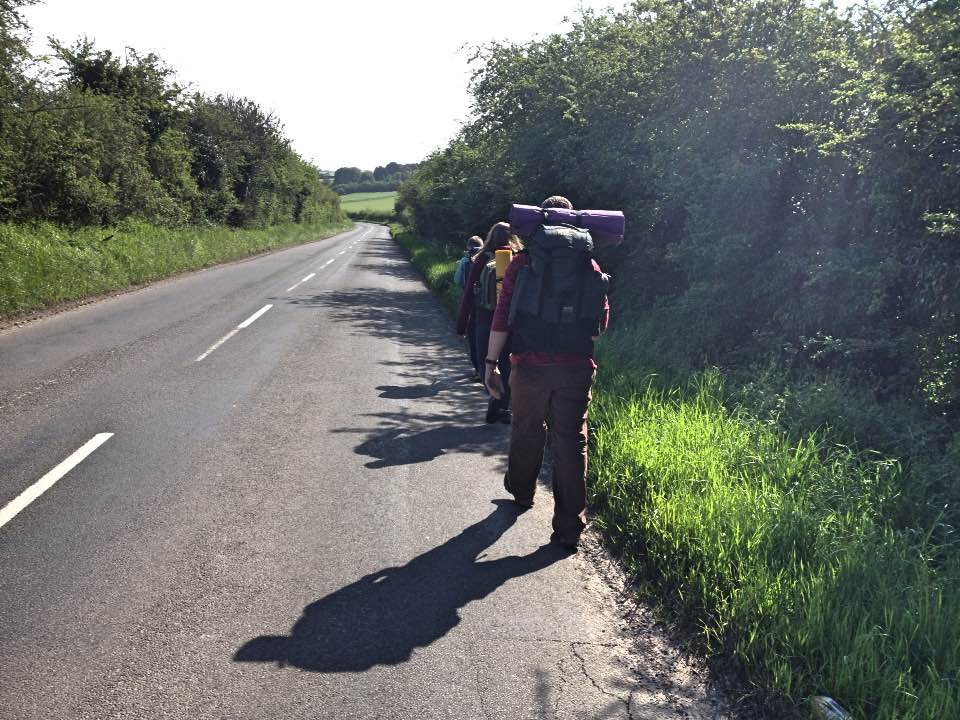 Lambourn to Newbury
After an excellent breakfast at The Café Lambourn, we pulled our rucksacks onto sore shoulders and headed out along the trail. Unlike the downland walk the previous day our route took us from village to village, sometimes following the river, other times the disused railway track which once ran to Newbury.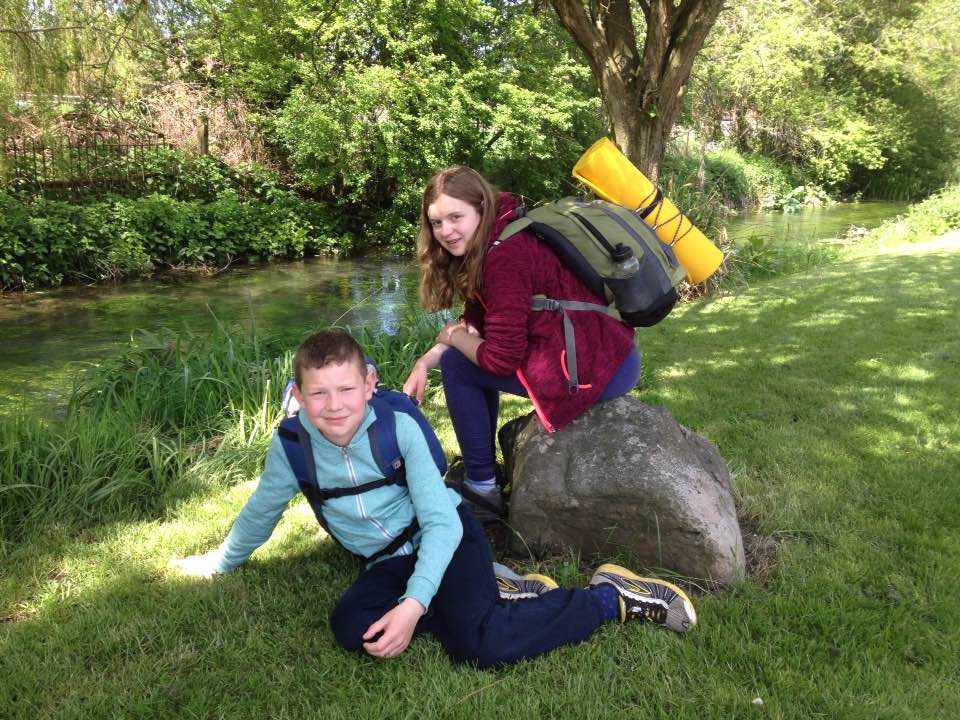 We passed through East Garston, an idyllic village where the River Lambourn separates many of the houses from the main road. The river is actually a chalk stream; crystal clear and inviting in May but troublesome in flood. The area suffered significant damage in February 2014 and it would be wise not to walk this route if flooding is likely.
The scenery was varied; not spectacular but the type of countryside where you'd go for a leisurely afternoon ramble or dog walk. We followed footpaths through fields of bright yellow rapeseed, across someone's garden and amongst woodland. We stroked horses, avoided cowpats and heard our first cuckoo of the year.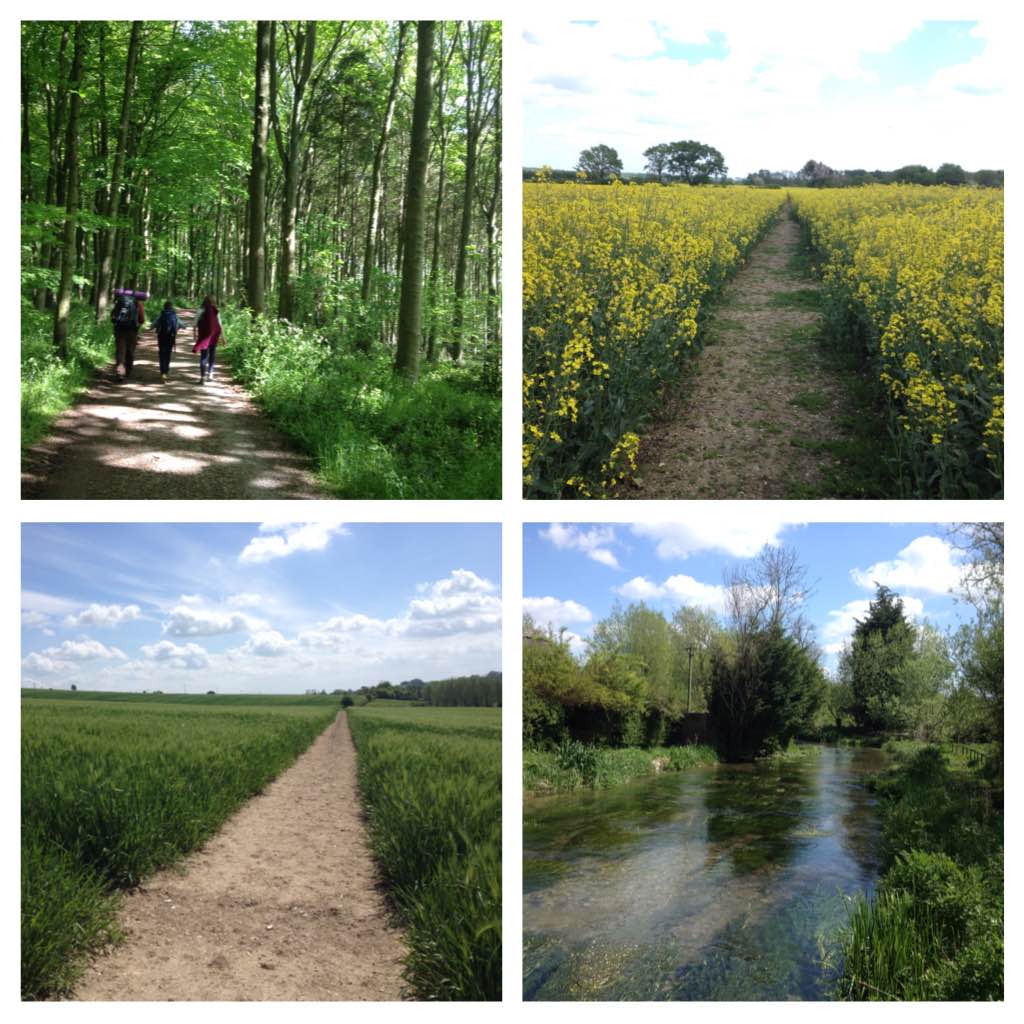 We stopped for a short break in Great Shefford to buy ice creams. I would like to point out we don't normally live on chips, fried breakfasts, cake and ice cream but I figured we were doing plenty of exercise so treats were allowed.
As we skirted around Welford we were worried by a 'Bull in field' sign. We had little choice but to walk quickly through the field. Fortunately the bull was nowhere to be seen. However my daughter spotted something much more exciting. For the last two years the Great British Bake Off has been filmed in Welford Park and she is convinced she saw the tent that it's filmed in. Personally I was just keen to get away from the bull!
We made a couple of grisly discoveries along a footpath near Boxford. Two partially decomposed animal skeletons. We decided they were young badgers until we walked through the next field, full of sows with piglets. The sows were kept inside their pens by electric fencing but the piglets could easily walk under it without getting zapped. I'm guessing a few wandered away from their mums and met with an unfortunate end.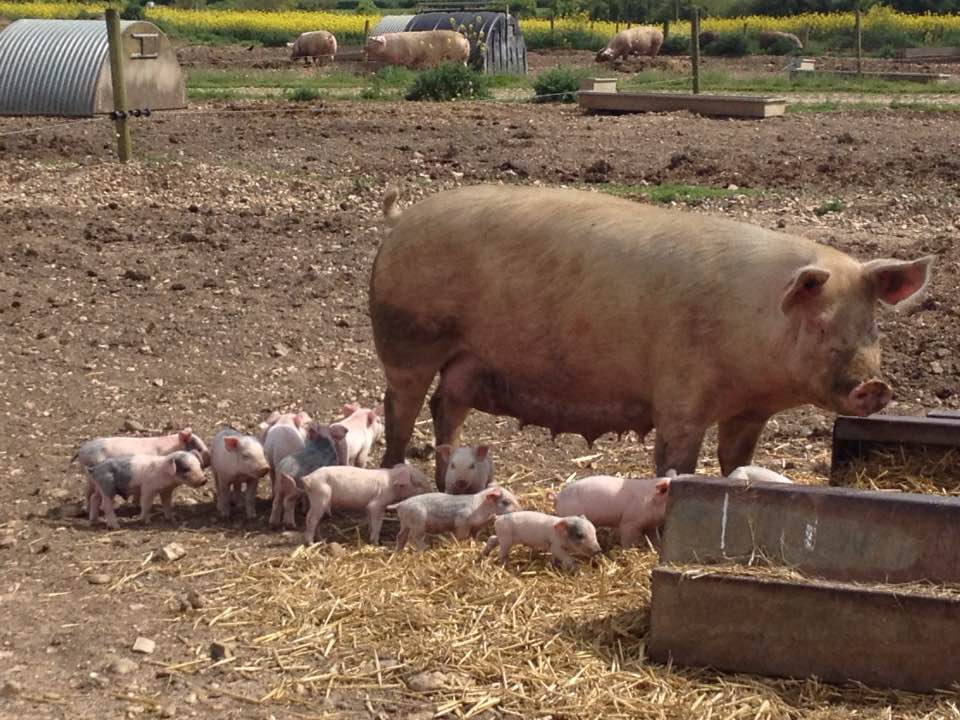 The final stretch to Newbury
At Bagnor it's possible to take a short detour to Donnington Castle. This is worth the extra leg work if you haven't visited before but we've been several times so I was happy to miss it out.
The last couple of miles were hard-going. Blistered feet, sore shoulders and, amazingly, we were all hungry again!
I stopped to take a photo of the building above, perched on stone mushrooms in Speen. I had hoped to read more about it on the Internet once home but couldn't find any information. Any ideas?
It was a relief to finally reach Newbury and dive into the nearest shop for some snacks. Even more of a relief to get to the railway station and collapse into our seats for the journey home. Back in our home town we treated ourselves to a taxi for the final part of our adventure.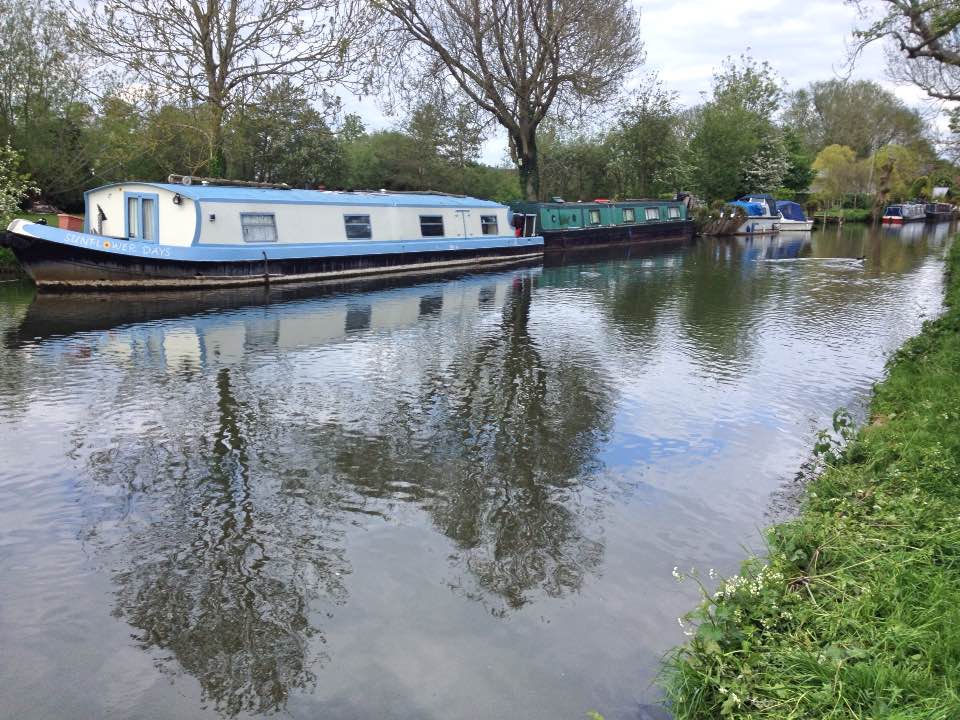 I'm already looking forward to our next backpacking trip but I'll pay closer attention to the total mileage. Once I added in the extra distance from the bus stop to the start and the walk out (and back) to the campsite twice it totalled 26 miles. On a warm weekend. With kids. Carrying backpacking gear.
More info