I can imagine many of you wondering what on an earth a MOOC is. Simple really. It's A Massive Online Open Course. Or in other words an online course, often created by a University, open to anyone with an Internet connection. I discovered them recently whilst browsing the web and decided to try one out.
Why did I study a MOOC?
I completed a Natural Sciences degree through the Open University (OU) in my 30s and often think about studying again. However I cannot afford the time or money to study another degree at the moment.
Fortunately many MOOCs are free and take just three to six weeks to complete. In the UK, FutureLearn (a private company offshoot of the OU) have been providing courses since 2013. They work with UK and international universities and provide an eclectic choice of courses. There's bound to be something for everyone!
Humphry Davy MOOC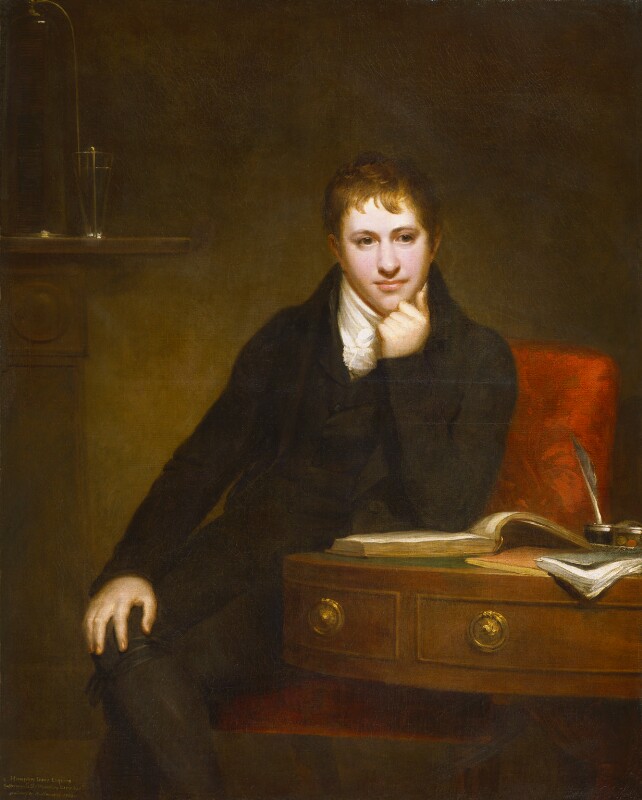 Created by Lancaster University, this MOOC focussed on the life and works of Sir Humphry Davy. I have a fascination with polymaths and Davy fitted the bill perfectly. Probably best known for inventing the miners' safety lamp, he was also a chemist and a poet. He isolated several elements, experimented with nitrous oxide, helped found the Zoological Society of London and wrote Salmonia, the fly fisherman's bible. A man of many talents.
The course took place over four weeks, with about three hours study per week. It's easy to extend this if you want to read more around the subject; indeed I've just bought one of the further reading suggestions.
The course is a mix of online videos, reading and discussions. Each week we looked at two or three different aspects of Davy's life. For example, investigating the controversy around the Davy safety lamp or looking at Davy's possible connection to Frankenstein.
The work involved was quite straightforward but I struggled to understand and enjoy some of his poems. Whilst I appreciate Davy's many talents his poems were not to my taste.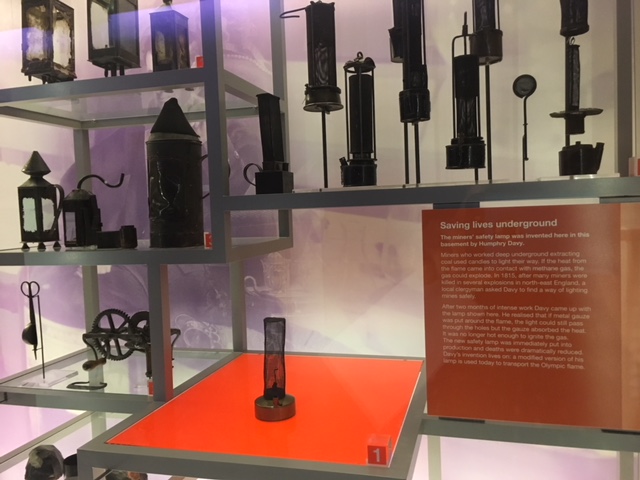 Students were encouraged to contribute to online discussions with comments and questions after each piece. I didn't always have time to add my thoughts but it was interesting to read everyone else's. The course educators also commented and created a weekly summary arising from the online discussions.
Whilst browsing the comments I couldn't help but sneak a look at some of the other student's profiles. Most appeared to be retirees who I guess have time on their hands and want to occupy their brain cells. It also appears that once you've completed one course you start another. That's my experience too as I've already signed up for another two courses!
And what's the connection to the Royal Institution (Ri)?
I'm a regular visitor to London but have never considered visiting the Royal Institution. That is, until it was offered as an opportunity as part of the Humphry Davy course.
Founded in 1799, the Ri was set up to promote scientific education and research. Humphry Davy lectured at the Ri; his chemical experiments were incredibly popular but would be a health and safety nightmare today.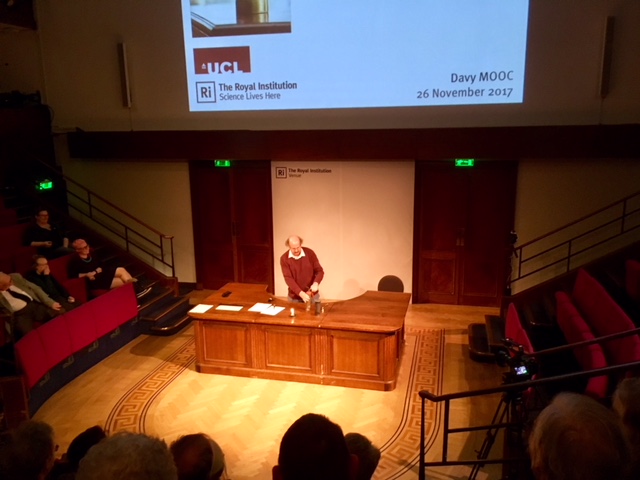 Located in Mayfair the building is set amidst luxury hotels, jewellers (Faberge is at the end of the road) and high end restaurants. Not an area I'd usually visit.
Our course educators had arranged for us to view some of Davy's notebooks from the archive, take a guided tour of the Faraday museum and listen to them presenting in the lecture theatre that Humphry Davy presented in. Professor James even demonstrated how Davy's safety lamp worked (with real flame!). It was an incredible opportunity to learn more about Davy and a definite highlight of the MOOC for me.
Although the Ri is open to visitors I'm not sure I'd gain the same enjoyment from a visit without the context of the course. You'd need an interest in the history of science to truly appreciate the Faraday museum but I'd certainly attend the regular public lectures if I lived closer.
My introduction to the world of MOOCs was an excellent experience. I think my other FutureLearn courses will have a high bar to overcome!
More info:
You may also like: