It seems that once the clocks go back we migrate inside each evening until it's light again the next morning. This is certainly true of our family. However, after spending an evening outdoors I've realised we should make an effort to get out more in the dark.
I help run a wildlife group for children, which usually meets on Sunday morning. However our recent event was an early evening session so we could experience nature at night. It was a very popular meet-up with one of our highest ever turn-outs!
We're lucky to have the use of a small enclosed nature reserve. It's on an industrial estate so not exactly a country haven but even on this small patch of green I've seen foxes, woodpeckers, deer and stoats.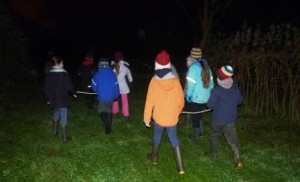 Our evening started with a quiz about nocturnal animals, before setting off for a walk around the reserve. We asked the kids to keep their torches turned off so that we could become accustomed to the darkness. Although we know the reserve well the kids all held onto some skipping ropes to ensure we didn't leave anyone behind.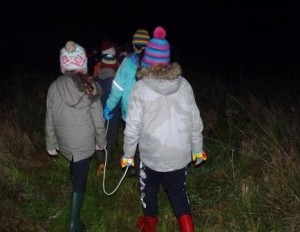 Once away from the street lights we asked the children what they could see and hear.  The reserve has an lorry depot next to it, so there were plenty of lorry noises to be heard. However we also heard tawny owls twit-twooing in the trees. After a while we started to hear the leaves falling from the trees too.
We'd hoped to do some star gazing but it was an overcast evening so we headed back and played a game where one person stood blindfold in the middle of a large circle, and had to listen out for the other children approaching them and trying to tag them.
Onto the Forest School area. Here we'd set up another game to find all the letters hanging from trees and work out what the word spelt (nocturnal).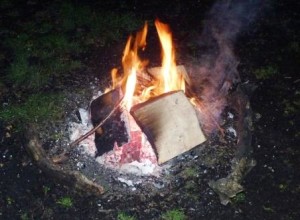 The best part of the evening was next – hot chocolate and roasting marshmallows around the campfire. It's a standing joke between the group leaders that we've managed to co-incide our previous campfires with the hottest days of the year so it was great to watch the flames on a cold autumnal evening for once.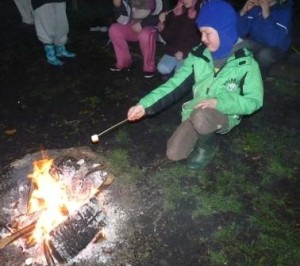 Want to go on a night walk?
Your local wildlife trust or nature reserve may organise wildlife spotting evenings.
Alternatively, why not organise your own? I've put some pointers below:
Keep it short. There's no need to walk several miles.
Keep it local. This is not the time to explore a new area. Only visit an area that you're familiar with in the daytime. Choose somewhere that you know is safe – avoid places with deep water, steep drops or parks with dubious night time activities!
Take a torch and mobile phone. Ensure other people know where you're going. If possible find other families to walk with.
Go out early. It's dark by 5pm in the winter so this is an ideal time to go out.
If it's a clear evening check out my 10 things to see in the night sky post.
You may also like: