Today marked the start of our journey south. Leaving Northumberland, we drove down through County Durham to North Yorkshire to visit three very different towns and villages; Runswick, Whitby and Pickering.
Runswick
Our first stop was Runswick, a small village on the North Yorkshire coast between Staithes and Whitby.
Runswick
We parked in the car park at the top of the village, conveniently next to Runswick Bay Tea Gardens. As it was lunchtime we popped in for sandwiches followed by a shared slice of hummingbird cake. Nowadays almost everywhere accepts cards but this was an exception. Fortunately we discovered this before ordering so had time to count our pennies and work out what we could afford.
From the tea garden it was a steep walk down into the village. We detoured off down narrow alleys, admiring red-roofed cottages and lovingly tended gardens. Yet it's the beach that is the main attraction; in 2020 Runswick Bay was voted beach of the year by The Sunday Times. Despite this accolade, and it being August, it was relatively quiet. The tide was out, exposing a swathe of sand and seaweed.
If we'd had longer I'd have liked to walk a few miles of the Cleveland Way which passes through the village en route to Whitby or Staithes. Instead we contented ourselves with walking along the beach, checking out the rock pools and watching the paddle boarders.
Of course, what goes down must also go up. Our return walk to the car park was relentlessly uphill.
Whitby
After parking on the sea front we headed towards town, stopping for a photo at the whalebone arch on West Cliff. Whitby once had a thriving whaling industry. Between 1753-1833 there were up to 55 ships operating out of the harbour. It's estimated that this resulted in the death of more than 2700 whales, 25000 seals and 55 polar bears. Fortunately times have changed and Whitby is now better known for its whale watching boat trips.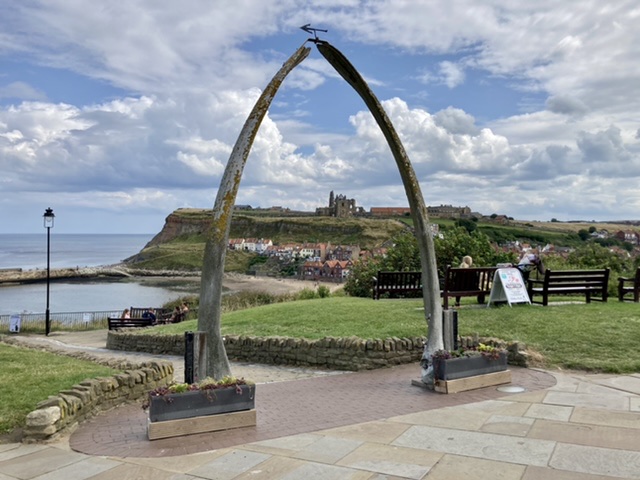 I last visited Whitby about 15 years ago. I don't recall it being particularly busy but this time around it was packed. The tourist crowds really started as we crossed the bridge and walked towards the abbey steps. We shuffled along the main street, caught behind mobility scooters, pushchairs and dogs on long leads. I think everyone was having a good time apart from me. I hate crowds!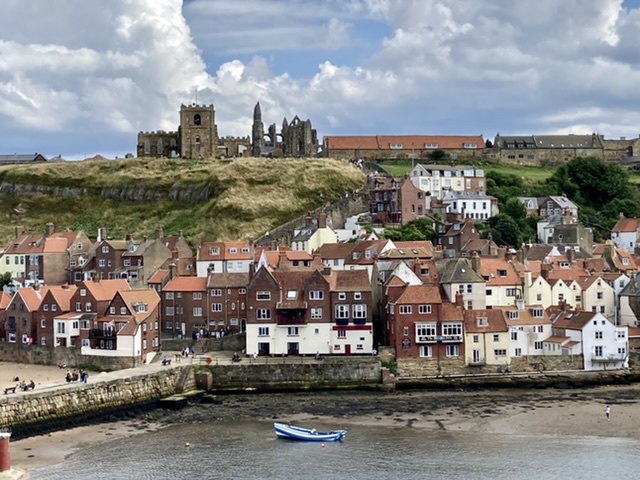 The crowds thinned out a little as we started to climb the 199 stone steps to the abbey. It's thought the steps were once used as a test of Christian faith for those wishing to worship in the church at the top. Nowadays they're a test of fitness.
Whitby Abbey is an imposing monastic ruin. It is well known as the inspiration behind Bram Stoker's Dracula. However its literary history stretches back much further as Whitby was also home to Caedmon, one of the earliest English poets. We didn't go into the abbey; instead we walked around to the far end of the wall, from where we had a good view back over the ruins.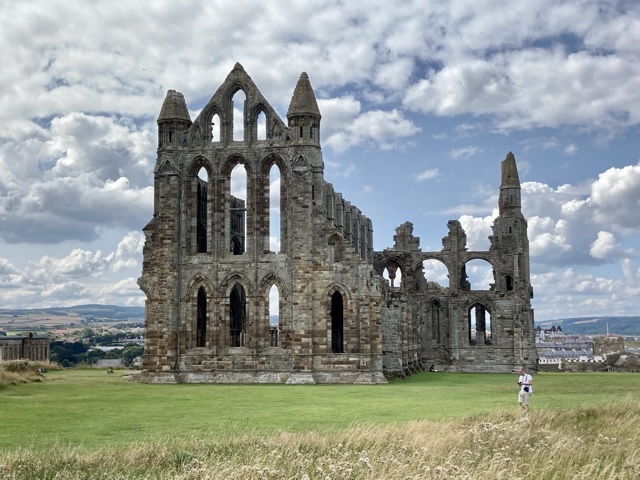 Although Whitby was way too busy for my liking it did provide me with a culinary first. A lemon top. For my non-Yorkshire readers that's an everyday vanilla ice cream topped with lemon sorbet. Delicious!
Pickering
From Whitby we drove over the North York Moors to Pickering, our overnight stop. After settling into our accommodation we had a late afternoon wander around the town and enjoyed a fish and chip takeaway from Capplemans.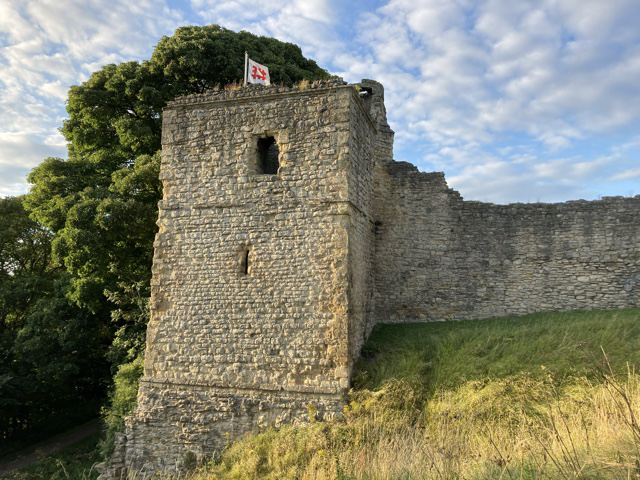 Our evening walk took us around the outskirts of Pickering Castle and through woods. We crossed the railway line to return to Pickering but were faced with a field of jumpy black cows. We weren't brave enough to walk through so retraced some of our steps and returned home via a path alongside the road.
Overnight stop
This was my favourite Airbnb of the trip. It won favour with the teens as they were able to have a bedroom each. It was in an excellent location, just a short walk up from the main road. And they left us a welcome cake!