I clicked on a BBC news article a couple of weeks ago bemoaning the fact that Skye was over-run with tourists. Made all the more topical as I was part of the problem, a tourist sitting in a cafe on Skye.
What did I, a visitor, think?
Skye, May 1993
I first visited Skye with a group of walking friends in 1993. We were walking parts of the notorious Cuillin Ridge, the traverse of which is deemed to be the finest mountaineering experience in the UK. It was an incredible week with spectacular scenery. However I am left with a lifelong aversion to exposed ridges, 'bad steps' and scree slopes!
Although we saw walkers and climbers I do not recall any other tourists on Skye. We arrived at our campsite without a reservation and easily parked on a day trip to the Quiraing. Not so these days.
I knew my return visit to Skye was going to be busy. We were travelling in peak season, mid-August, and our visit coincided with a major event, the Portree Highland Games.
Even so I was surprised when I tried to book campsite accommodation in March and found it fully booked. What would the island be like?
Skye, August 2017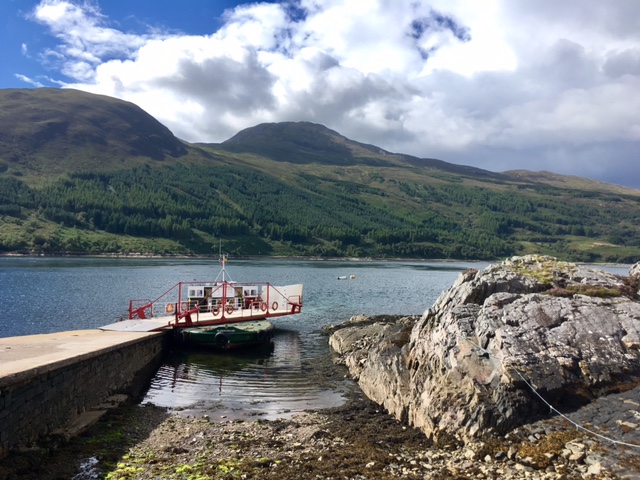 Fast forward 20+ years and our family trip started quietly with a trip on the tiny Glenelg to Skye ferry. The perfect introduction to the island.
But as we joined the traffic on the main road towards Portree it was obvious the island was busy. A string of B&Bs with No Vacancy signs. Car number plates from all over Europe (on the return journey the kids kept a tally, French cars won). A stream of tour buses heading back towards the mainland. And, later on, a huge cruise ship looming in the distance.
What are the problems?
Skye is an easily accessible island, with several incredible natural attractions, that fit neatly into a tourist circuit. This makes it the perfect island to visit on a tour of Scotland. Added to this, tourism has increased rapidly in the last few years and the facilities haven't caught up yet.
Many visitors appear to visit Skye for the day. Either on an organised tour or as part of a whizz round Scotland in a hire car trip. The Skye Trip Advisor forum is full of people planning a day trip from Fort William and wanting advice on how to fit in all the main sights. Of course not everyone has time to spare but Skye would benefit from its visitors staying longer and seeing other parts of the island.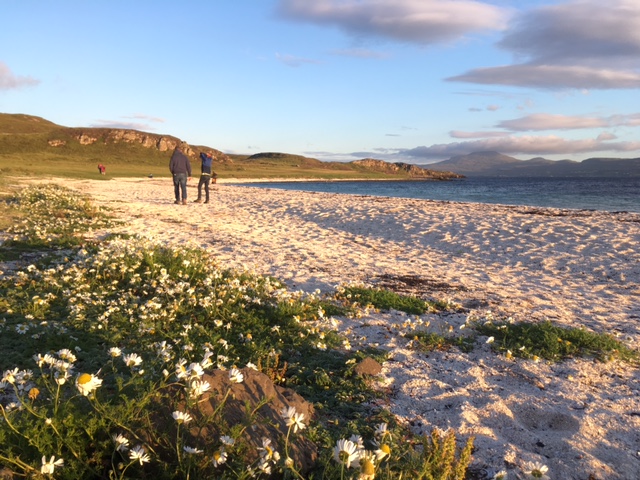 Overnighting campervans are another issue. They are parked on every available (and not so available) spot. On an evening walk to Coral Beach, near Dunvegan, we found a string of campervans parked up beside the single track road. I'm not sure if this is because the campsites are full or if it's an attempt to save money and camp informally. But where do they leave their rubbish or empty toilets?
As our stay on Skye progressed it became clear that whilst it welcomes visitors it isn't equipped to deal with the number of summer tourists or the associated traffic. The small car parks fill quickly, leading to cars parked along muddy verges and in passing places. Many drivers are unfamiliar with their vehicles and the driving rules for single track roads leading to some interesting driving. There are no public toilets at the main natural attractions. Or much in the way of rubbish bins.
Let me put it into perspective though. As my mum said, when she looked at my photographs, "If it was so busy, where are all the people in your pictures?". Good point. There generally weren't any. I'd never get such empty landscape photographs at other popular tourist attractions further south!
Of course, we have an expectation that the Scottish Highlands are remote and empty of tourists. This is part of its appeal, and some parts are. But why shouldn't Skye benefit from visitors the same as much of the UK?
What can the visitor do?
First and foremost we need to remember to leave nothing but footprints and take nothing but photographs.
If you desperately want to avoid tourists you're best off visiting out of season. And perhaps steer clear of the top things to do as listed by Trip Advisor. Which is a pity as these attractions are top of the list for a reason!
I wanted to visit the Fairy Pools before our visit. Trip Advisor recommended it (half the problem of course). But I couldn't ignore the comments about the parking nightmare. I knew I wouldn't enjoy hordes of tourists (even if I'm one of them) and the stress of trying to find a parking space. So we didn't go. Instead we drove out along the Waternish Peninsula to Trumpan Church, stopping off at craft shops and for lunch in Stein. We hardly saw anyone else. It was a great morning.
I was determined to revisit the Quiraing though. We made an effort to arrive early and luckily found a parking spot. We were immediately hemmed in by a minibus whose occupants piled out, walked a couple of minutes along the footpath to take photos before returning to the minibus. As we find the world over, walk half a mile from the nearest car park and you'll almost be alone.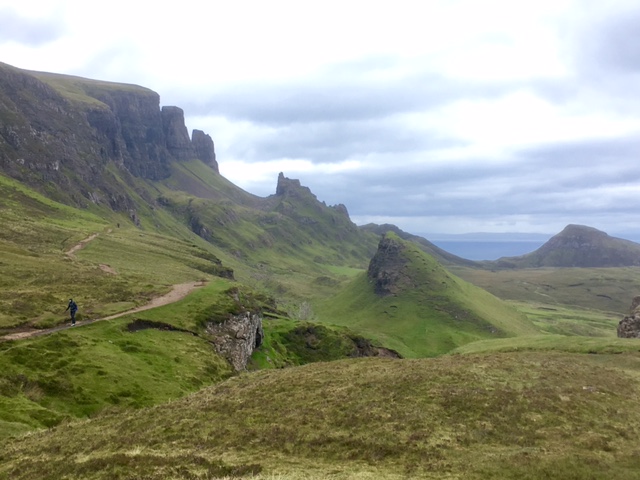 What is the solution?
It's tempting to jump into solution mode and state the island needs more car parks, better roads, more public toilets and regularly emptied weatherproof bins. But who would pay for these facilities, both the initial outlay and their upkeep?
Skye residents have suggested they need a long term sustainable tourism plan. Absolutely.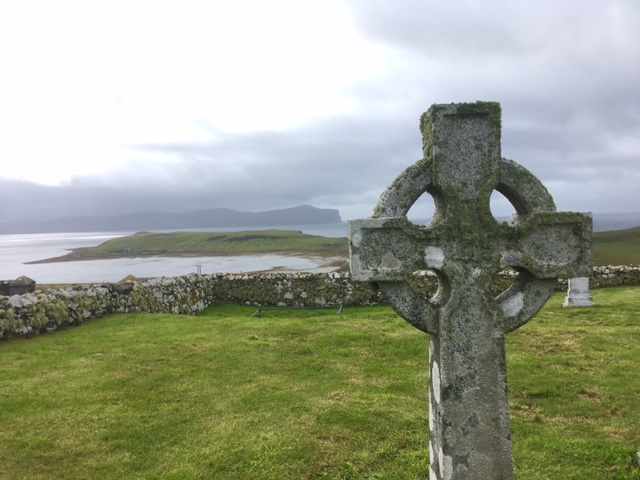 Another suggestion was for a tourist tax of £1 per visitor to help fund facilities. I'd be happy to pay this. However it was rejected by the Scottish Tourism Alliance stating that visitors already pay tax. Alternatively, how about reasonable parking charges at the main tourist sites to help upgrade the facilities. Not a popular suggestion but it would hardly be setting a precedent.
What else would work?
Skye could look to other islands to see what works for them.
For example, we've used a hop on hop off bus service on the Isle of Wight, which has several set tourist bus routes and an affordable 24 hour ticket. Whilst there is already a shuttle service from Portree to several attractions it's way too expensive for a family of four; it needs to be cheaper and easier than a hire car.
In the Channel Islands campervanners must buy a permit and only stay overnight on campsites. Perhaps the provision of summer only basic overnight campervan parking facilities, with access to toilets and water for a nominal fee (say, £5) would help enourmously.
Other areas place limits on the size of vehicles that can access certain roads. Tricky to enforce and controversial perhaps. But tied in with a regular shuttle bus and a campervan park it could work.
Lastly, improved visitor education, with pictorial road signs. That way, tourists cannot misread 'passing place' for 'parking place'!
Have you been to Skye? What do you think?
You may also like: