As the kids get older it's harder to find days out that appeal to us all. When you're fourteen you want action, adventure and preferably no parents!
Fortunately London is still cool, whatever your age. When South Bank invited us to sample some of their ideas for days out this summer I knew we'd be fine. Even if summer was looking decidedly grey and wet.
A boat trip along the Thames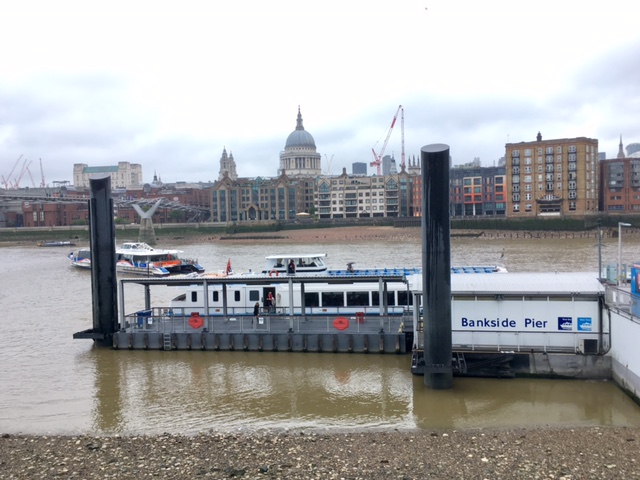 Our day started with a boat trip along the Thames. It's the best way to see the city and the one thing I'd recommend to every visitor. The Thames has shaped the history of London, indeed was responsible for its founding back in the Roman times, and there's no better way to experience the juxtaposition of old and new than to see the sights unfold along the river bank.
There's a wide selection of boat trips available; we travelled as guests of City Cruises who operate a hop-on, hop-off boat between five piers.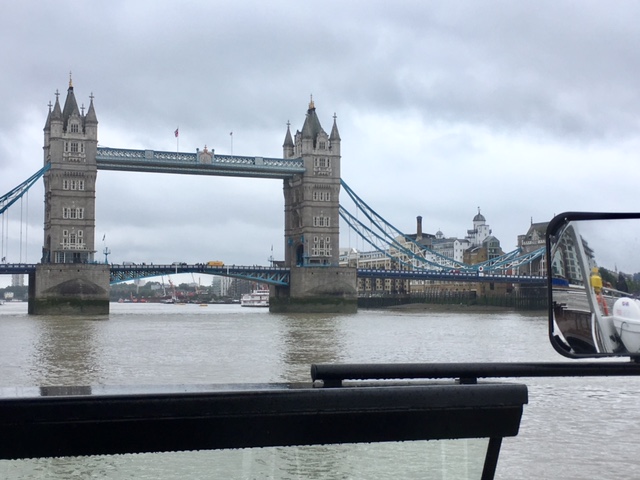 Our circular route took us past the Shard, the Monument, HMS Belfast, Tower Bridge, Millennium Bridge, and the Houses of Parliament. The boat has an open upstairs deck which is perfect for photography on a dry day. However we sheltered in the covered section below. You can always guarantee rain during an English summer!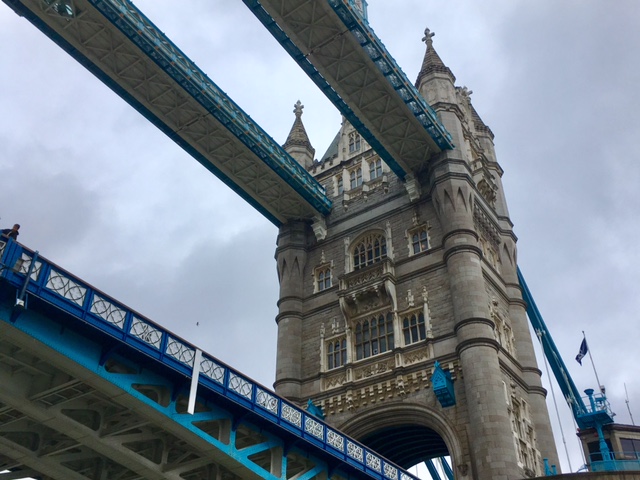 One of the highlights was when our boat slowed and turned under Tower Bridge so visitors could take photos from all angles. For me, Tower Bridge holds a fantastic memory as my favourite part of the London marathon route.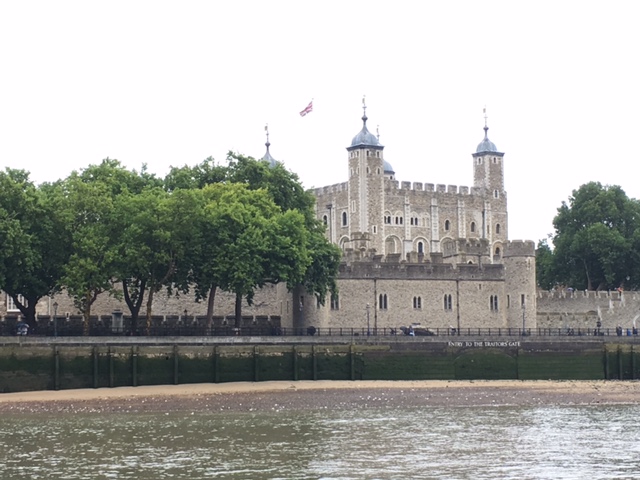 The boat stopped for several minutes to let passengers off at Tower Pier. My son informed me that Henry VIII once kept a polar bear at the Tower of London which was taken out to fish in the Thames. Whilst some of my son's facts are of dubious origin this one does appear to be correct. What a sight that would have been.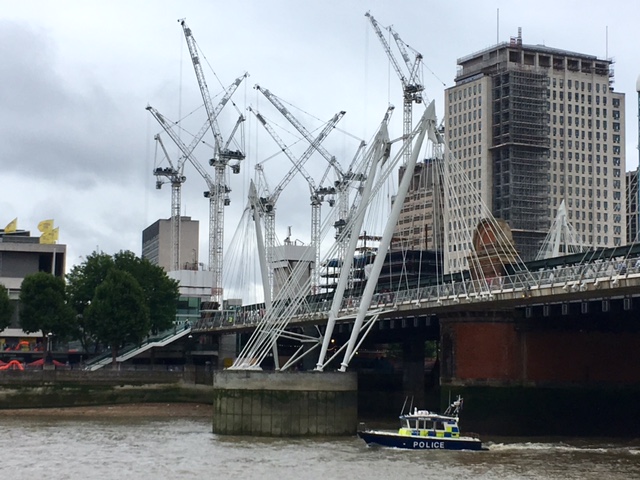 Leaving Tower Pier we headed back towards Westminster. It's only when you see the cranes that you remember how much building work is constantly transforming London. Every time I visit there's another high rise.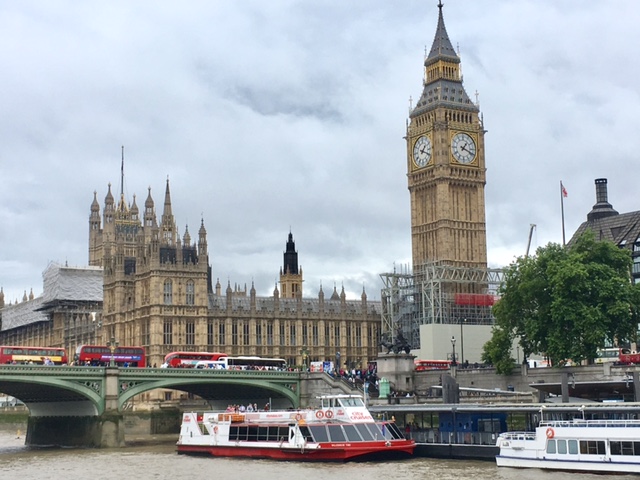 The sight of red London buses crossing Westminster bridge, with Elizabeth Tower and Big Ben in the background must bring out the inner tourist in everyone, however many times you've seen it. I certainly snapped away as we headed towards our disembarkation point at the London Eye.
Sea Life London aquarium
Back on the South Bank we wound our way through the throngs of tourists; it's incredibly busy but for good reason. The South Bank is home to several major attractions, including the London Eye, London Dungeon and the National Theatre, but it's also a great place to wander, with plenty of bars and restaurants to stop in.
We headed to Sea Life, where we donned life jackets and took turns to go out onto a metal walkway to feed the rays. The rays are fed on a shallow platform, primarily to stop Boris and Phoenix, two Green Sea Turtles who share the same tank, joining the party.
Visitors can also swim with sharks, although the Health & Safety sign about how to treat a shark bite worried me!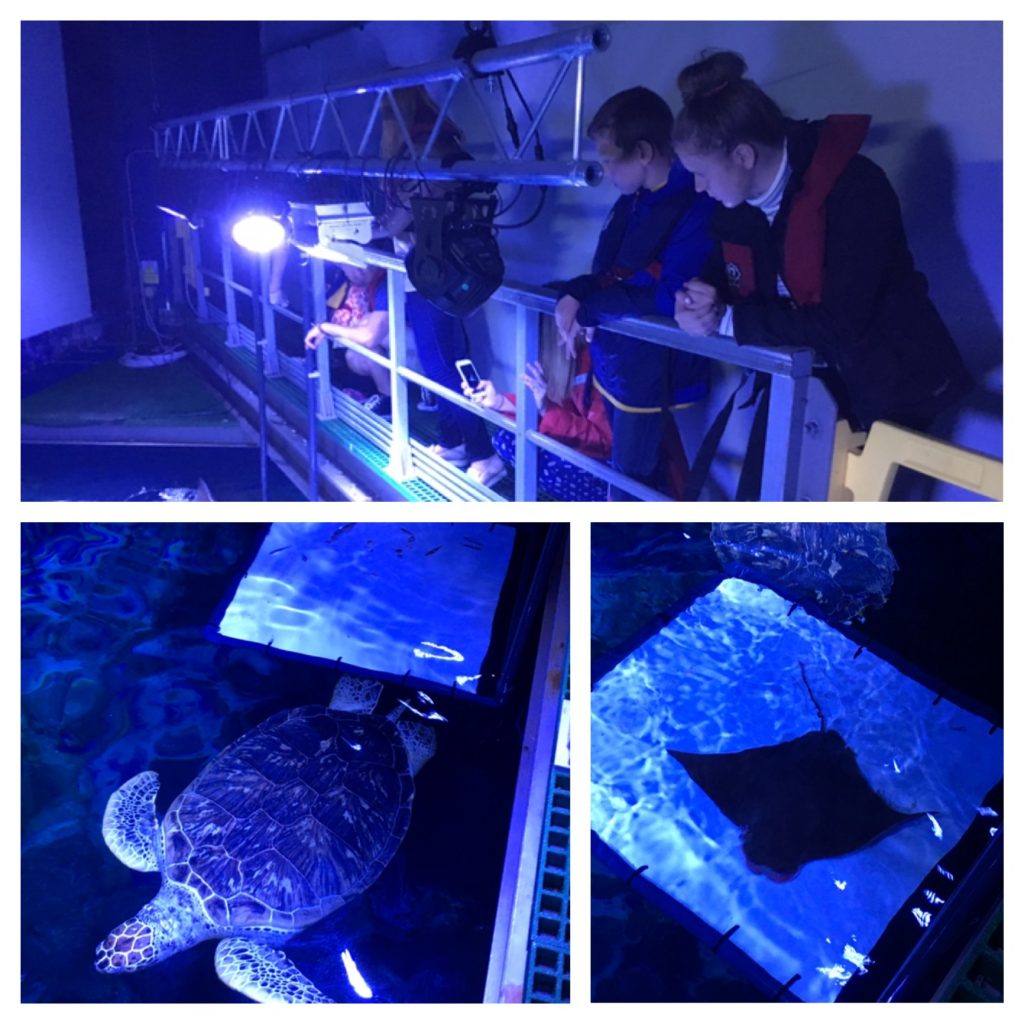 Afterwards we were given a short tour of the new jellyfish exhibit at Sea Life. The jellyfish are mesmerising to watch as they float around, highlighted by ever changing colours. If screensavers were still a thing (remember them?) these would be perfect.
We learnt about the complicated life cycle of a jellyfish. And found out plenty of interesting facts.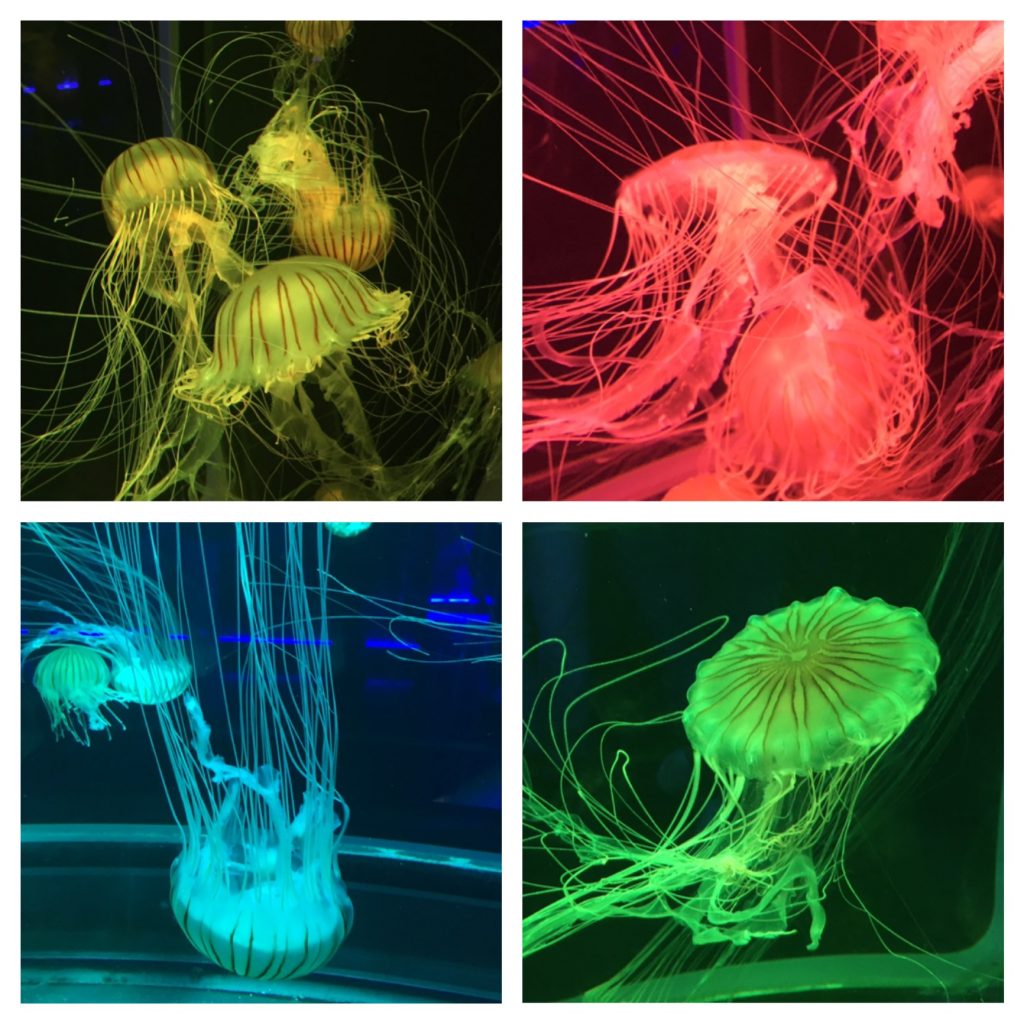 I discovered jellyfish have something in common with me, they're not very good swimmers. You'd have thought an animal that lives in the ocean would be a strong swimmer but they rely on the ocean current to get around. At Sea Life this means they are kept in round tanks (called a kreisel) as they get stuck in the corners of square tanks!
Leake Street graffiti and street art
Regular readers will know I have a soft spot for street art. The route to our next destination, the House of Vans took us through Leake Street tunnel where several street artists were busy creating new pieces.
House of Vans skate park
Exiting Leake Street we found ourselves behind Waterloo Station. The old railway arches are now home to the House of Vans.
It may be an unpromising location from the outside but step inside and, wow, the transformation is incredible.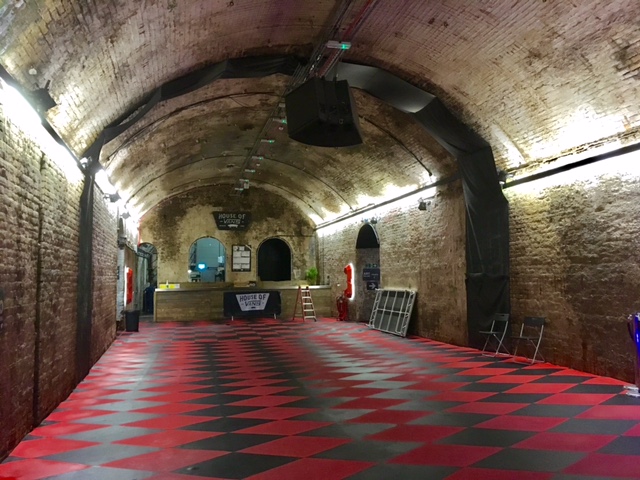 The phrase hidden gem is often overused. However I cannot think of a better way to describe this place. Whilst trains rumble overhead the tunnels have been converted into an exhibition space, cinema, music venue and skate park. And incredibly, it's all free!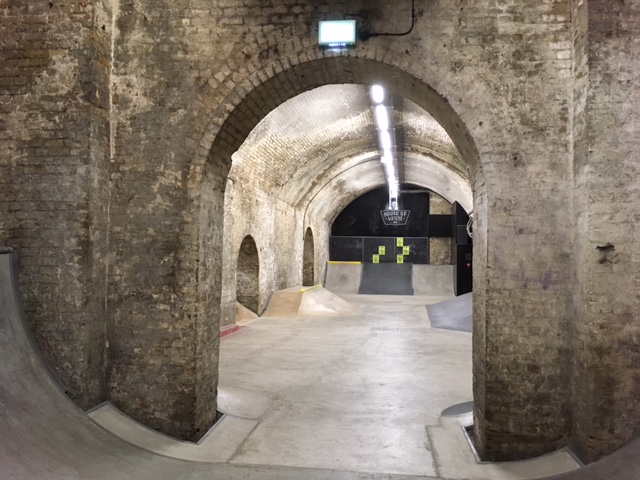 We were invited to take part in a skateboarding lesson. After donning helmets and protective knee and elbow pads the kids were ready. Me? Well someone had to take the photographs. OK, I wimped out. That concrete floor looked unforgiving.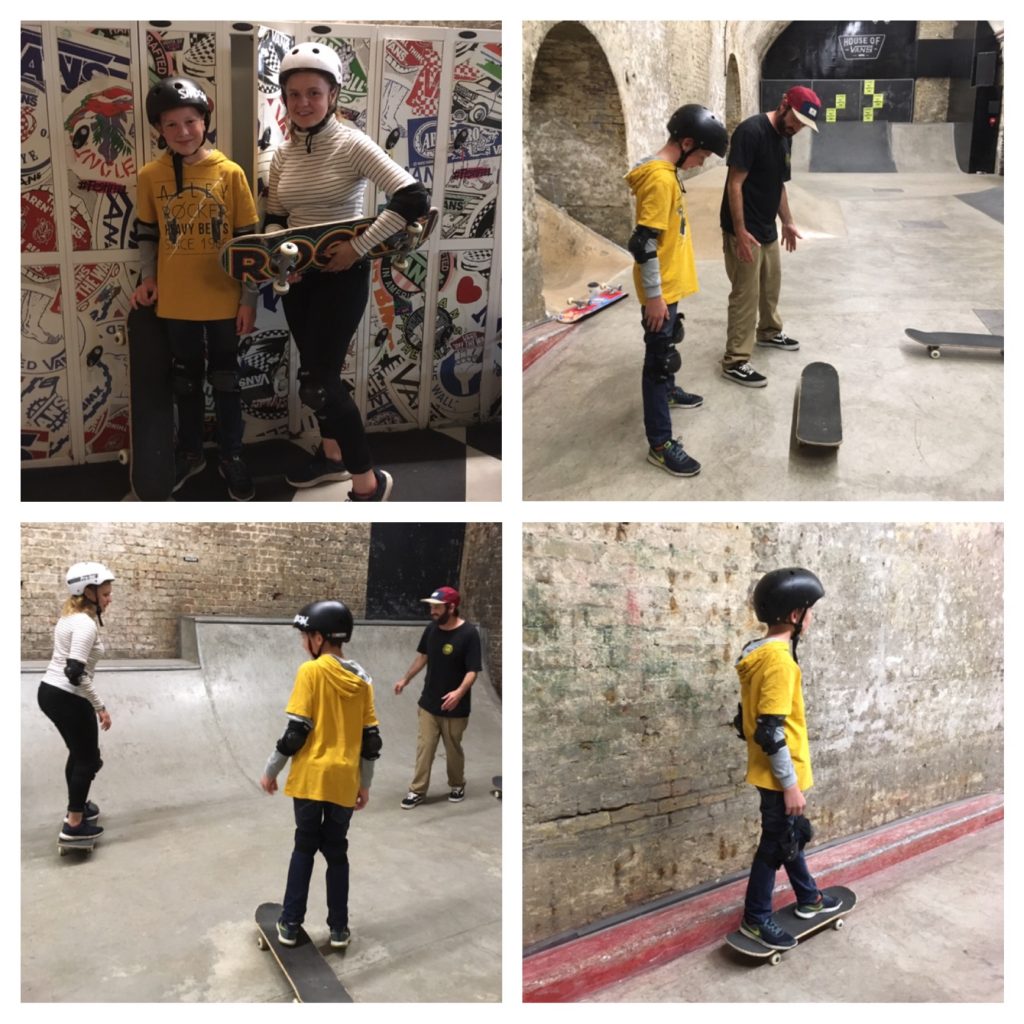 Dave, the skating instructor, made everything look super easy. I was even tempted to try a couple of the tricks he demonstrated. But I've been on a skateboard before and think I'll stick to feet rather than wheels.
The kids really enjoyed themselves. My daughter decided she'd come every weekend if she lived locally. Although probably more for the cool location than the skating. Oh, and the photo booth.
Cocktails at The Mondrian
Our last stop of the day was for cocktails at the boutique Mondrian Hotel. I felt rather a fraud as I sat sipping my cocktail in such a swanky hotel. Pretending I do this kind of thing all the time. When usually I'd be drinking coffee in a cafe. That said, it slipped down nicely. I could get used to this lifestyle. I checked the website after our visit and notice they do a botanical theme afternoon tea. Now that's right up my street.
So, thank you South Bank. Our family had a great day out and you provided plenty of ideas for us to do this summer. Particularly on a typically wet summer day!
More info:
Head over to the South Bank website to find out more about visiting the area. There are lots of events and ideas, including free outdoor theatre.
We travelled with City Cruises. They offer a £10 (adults) hop on-hop off river pass plus combined tickets to many London attractions.
Sea Life London Aquarium is one of London's premier attractions. It can be expensive but is free to Merlin Pass holders. Check out offers before you travel as it's easy to find 2 for 1 tickets (particularly if travelling by train).
The House of Vans is open four days per week. Check the website for details of upcoming performances and exhibitions or to book on one of the free skating lessons.
The Mondrian Hotel is fabulously located in the Sea Containers building, overlooking the Thames. Ideal for a special night out.