As regular readers will know I believe a good walk always features cake. So it's probably no surprise that our weekend walk included afternoon tea at a church. Most visitors were probably there for the main event, snowdrops in the churchyard, but not us. Instead I'd chosen a longer walk with a cake stop halfway round.
We left the car, rather nervously, in a small car park a couple of miles from Swyncombe. Last time I parked there I returned to find someone had smashed the window of the car next to us. Fortunately there were plenty of people around this time, hopefully enough to deter anyone up to no good.
Swyncombe Down
The first part of the walk took us steeply uphill through woodland, out on to Swyncombe Down. Although I'd planned for cake we'd also bought sandwiches so we ate these, sheltering from the wind, in amongst the trees. We didn't hang around as it was freezing; I am so looking forward to summer picnics again.
The path runs alongside an earthwork topped with large beech trees. These had multiple branches as a result of pollarding many years ago; perfect for climbing. The earthwork, a trench called the Danish entrenchment, wasn't much to look at but supposedly dates back to 870AD when the Danes were fighting King Alfred in the area.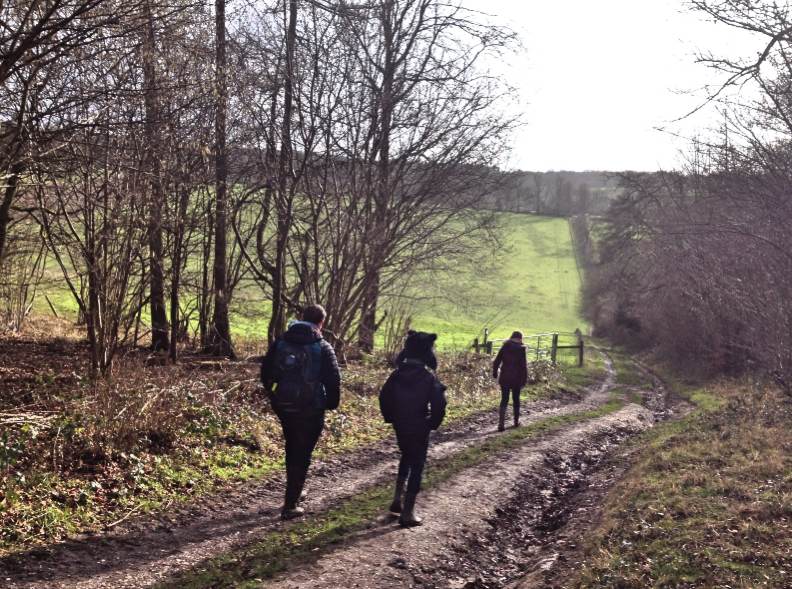 St Botolph's Church, Swyncombe
A little further on the path joined the Ridgeway, our local long distance trail, taking us downhill and up again to St Botolph's Church at Swyncombe.  The churchyard puts on a good display of snowdrops each February and visitors are encouraged to visit with the lure of snowdrop teas.
A couple of years ago we visited Welford Park (of Great British Bake Off fame) which has huge swathes of snowdrops and is packed with visitors. The snowdrops at Swyncombe are on a different scale as they only cover a small proportion of the graveyard but they're still very pretty. (You can read more about other places to visit snowdrops in my blog here).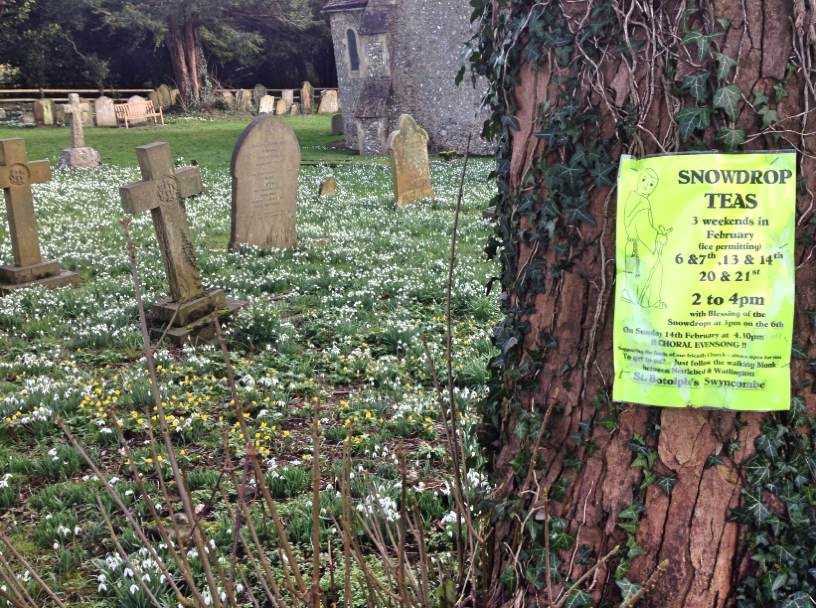 The warm winter weather has encouraged the snowdrops to flower early this year and I was glad we'd chosen to visit at the start of the month as a few were already starting to go over. It's a little strange walking around headstones and taking photos in a graveyard but the snowdrops do look lovely. Whilst I'm not in a great hurry to be buried anywhere I can certainly think of worse places!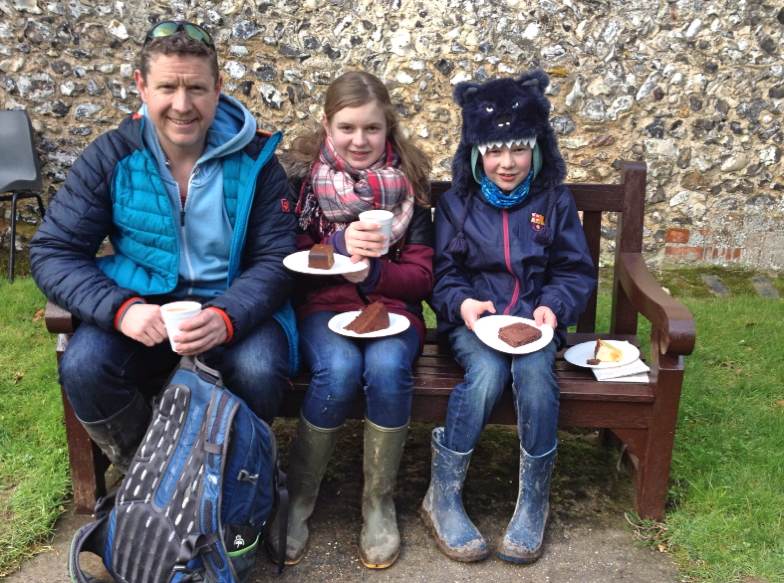 After a wander around the snowdrops it was time for cake. It was a hard decision but eventually we chose orange cake, chocolate sponge, brownie and gingerbread between us. We sat outside to enjoy them before heading into the church for a look through their second-hand book stall.
The Ridgeway
Leaving the church we rejoined the Ridgeway. Another uphill stretch had us puffing and panting, good job we had the cake to power us! Part of the route goes through woodland and every year I'm amazed by how much moss covers the tree trunks in this particular area. In previous years we've just walked a short circular route around the church so this year it made a change to turn right at the top of the hill rather than left.
It was lovely chatting to my son as we walked. When he's at home he's often buried in technology but there's no option to do that outdoors. Instead he chatted happily about Star Wars (he's seen the film twice) and Nerf YouTubers. Whilst I'm not knowledgeable about either of these topics I could at least answer some of his random questions, including 'Do bones go rusty?'.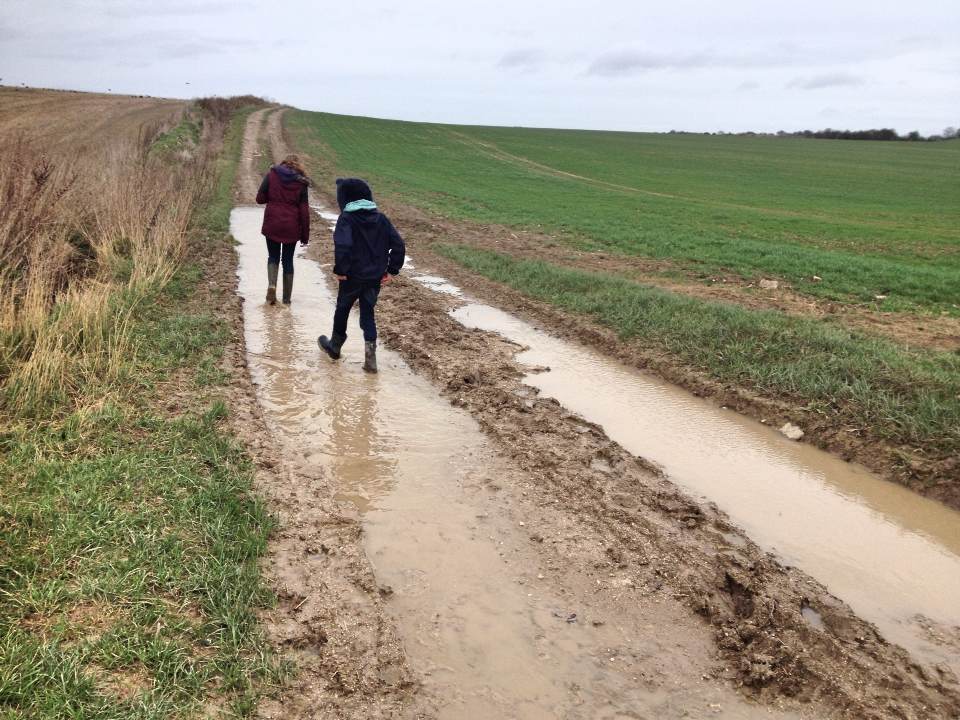 Our route back to the car took us along broad bridleways, with views out to the remaining towers of Didcot Power Station. The sun was slowly disappearing behind the clouds but there was still fun to be had. The kids waded through the big puddles and I joined them on one occasion, only to find out that my ageing wellies had developed a split thus letting water in.
Fortunately our car, and all its windows, were still intact when we arrived back. Even better was that the rain started to fall just as we returned. Perfect timing!
More info:
Snowdrop teas at St Botolph's Church in Swyncombe take place over three weekends in February. Dates are advertised on the church website.