Before children we used to spend much of our free time walking. We were members of a local club, and every month we'd head to the mountains, exploring Snowdonia or the Lake District. We knew things would change when the kids came along but naively assumed that after a few years they'd be accompanying us on our trips.
How little we knew! As our children have grown, they've developed their own likes and dislikes. Walking has never featured strongly on the 'like' list, but as I'm keen for the children get out and enjoy the countryside, we've worked out ways to keep the whole family happy. Our top tips for walking with children are below, if you have any other suggestions please do leave a comment.
1. Food works wonders
Pack a picnic, take plenty of water and snacks and finish your walk at a tea room. This last suggestion is for my benefit, rather than the kids, but everyone deserves a slice of cake after a walk!
2. Choose child friendly routes
Woods and streams offer paddling, tree climbing, den building, log balancing and stick collecting fun. Long treks through featureless fields or along the edge of main roads should be avoided.
3. Incorporate a challenge
Try geocaching, practise map reading skills or have a race up a hill. Any distraction away from the act of walking works well for us.
4. Know your limits
You'll know how far your kids can walk, and how fast (or slow) they're likely to be. On average, adults walk around 3 miles per hour on flat ground but this will reduce substantially if you're walking with a toddler! Similarly, if you're heading out into mountainous or moorland areas ensure you are confident in your map reading and route finding abilities.
5. Take a camera
I always enjoy seeing the photographs my daughter takes. Whereas I'm the one taking classic landscape photos she'll be snapping away at a bug, or more usually, herself whilst pulling a funny face.
6. Plan an expedition
As the children have got older, we've been on a couple of  'expeditions' with them and both times they've gained a great sense of achievement. We walked up Snowdon (the highest mountain in Wales) a couple of years ago.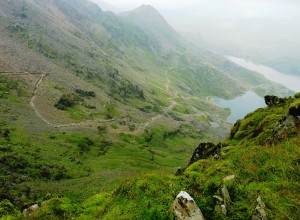 Last year we took them to Black Sail Youth Hostel in the Lake District for an overnight visit, made more exciting because it's only accessible by foot.
7. Escape routes
When planning your walk, work out how you could shorten it if the weather takes a turn for the worse, or it ends up being too difficult or long for the children.
8. Let the kids plan the walk
I can still vividly remember route planning for my Duke of Edinburgh expeditions. Whilst our kids aren't at the stage yet of planning full scale walks, they're certainly old enough to learn how to use maps, and help with decisions on route choices.
9. Get friendly with nature
Take an I-spy or Usborne nature spotters book with you and see what wildlife you can find. If there are no obvious large animals or birds to identify, look at flowers, mosses or small bugs instead. The Woodland Trust Nature Detectives website is also a fabulous resource with lots of suggestions for activities in the great outdoors.
10.  Get the gear
Plan for the weather and conditions you'll be walking in. All in one waterproof suits and wellies are great for young children out for a walk in the woods. If you're taking older kids into more remote areas they'll need decent waterproofs and walking boots. Remember hats and gloves too!
11. Walk with friends
Your kids will be too busy playing and talking to the other kids to notice that they're walking as well. As a bonus you'll also get to spend time with friends.
And lastly…..
12. Don't mention you're going for a walk
Just about any other terminology is preferable. If we tell our kids we're going for a walk they'll often groan. Tell them you're going on an adventure instead.
You may also like: