It's not often that I get time to myself away from the family, but when I do I like to head for the hills. I love spending time outdoors, preferably somewhere with a fantastic view and not too much rain. Even better if there's a tea room at the end of the days walking!
Having said that, I prefer walking with others so when I had a few spare days recently I booked a winter walking break in the Peak District with a company I've used before, Country Adventures. Joe, the owner, plans and leads the walks each day which average around 10 miles. The routes are varied and interesting; most importantly they all finish near a tea room.
The trip was based out of Hartington Hall YHA, a superior youth hostel with plenty of facilities. Our group of 12 were well looked after with a three course meal each night, which along with the fried breakfast, packed lunches and tea room visits meant that we never went hungry. Evenings were sociable and pretty relaxed, with the exception of Joe's quiz night which was a tightly contested battle!
The Roaches
Our first day was spent walking along and around the Roaches, an outcrop of gritstone rocks best known for its climbing routes. Back in my 20s I spent some leg trembling days scrabbling up (the only word for it) these rocks. I'm not a very good climber but I do like the Roaches and it was great to visit them again.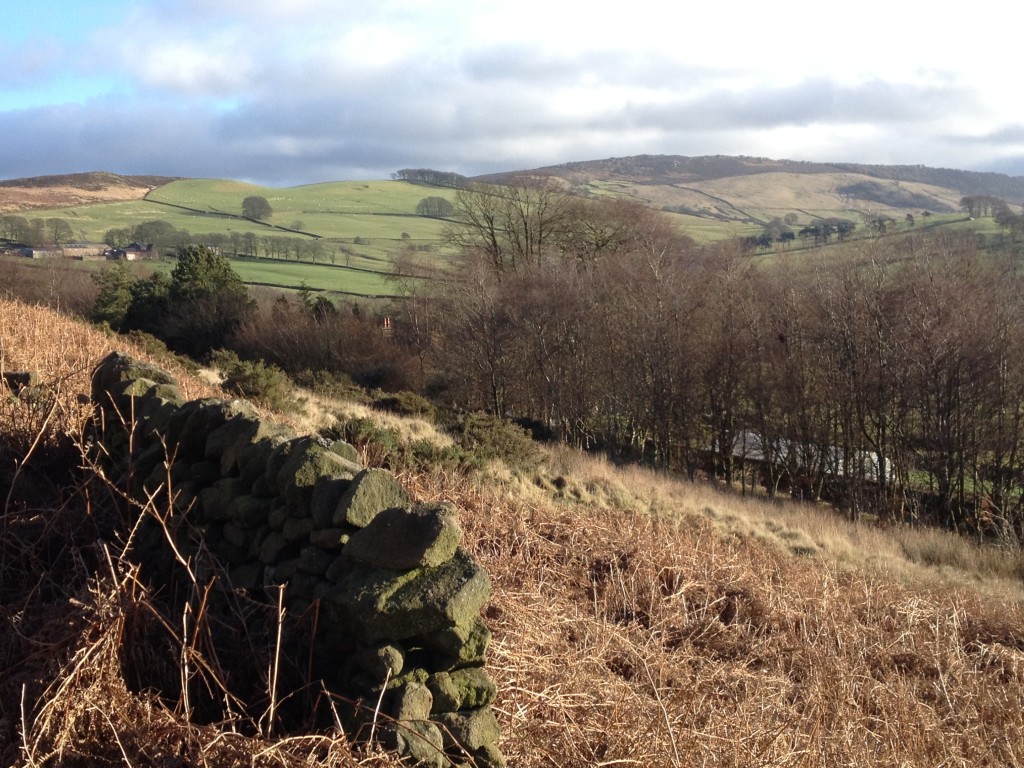 We were very lucky with the weather and had some great views over the Peaks. We didn't see many climbers as despite the sun it was still a pretty cold day; I can just imagine how numb my fingers would have been on that rock!
Unsurprisingly, given their prominent position the Roaches have a variety of stories attached to them. My favourite one relates to the wallabies which once hopped all over this area. These originated from five wallabies released from a private zoo back in the 1930s. The wallabies bred and were frequently spotted but they've died out over the years with the last sighting in 2009. Sadly we didn't see one on our walk.
The Hanging stone is a rocky outcrop which bears two inscriptions, one to commemorate a faithful dog and one for Lt Col Courtney Brocklehurst. Brocklehurst certainly led an exciting life; after fighting in the trenches in World War 1 he became chief game warden of the Sudan for 10 years. He subsequently used the Roaches estate to create an outpost of London zoo, releasing a few wallabies along the way! He died in Burma in 1942, presumed drowned, whilst retreating from the Japanese.
The best part of the walk was a visit to Lud's church. This is a long narrow cleft in the rock created by a landslip. Stepping down into the moss covered chasm is quite exciting as it's hidden from above and you don't know what to expect. You can see why the area was used for secret meetings of the Lollards (early church reformers) and possibly as a hiding place for Robin Hood and Bonnie Prince Charlie.
Dovedale
Our second day of walking was centred around Dovedale, a limestone valley with plenty of interesting scenery. Just about everyone who visits the Peaks must pass through Dovedale. Or at least that's what it seems like on a summer day. Thankfully it was much quieter on the day of our visit.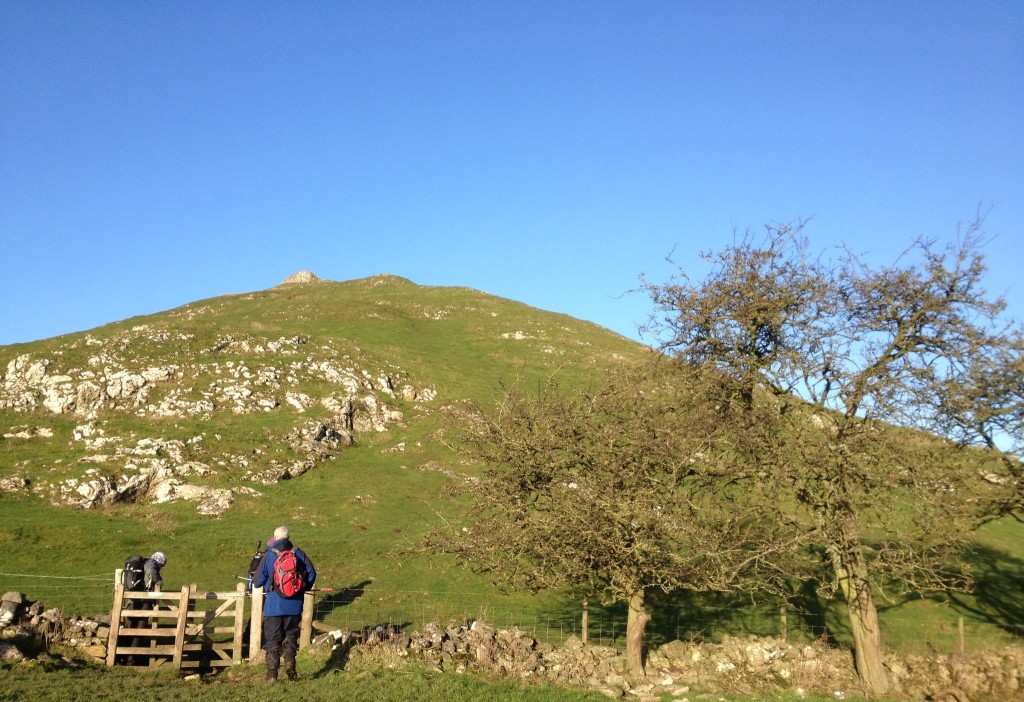 We approached Dovedale via Thorpe Cloud, an isolated limestone hill. The view from the top was impressive but I hadn't expected the icy descent on the shady side of the hill. This necessitated me sitting on my backside to negotiate a couple of the slippy rocks!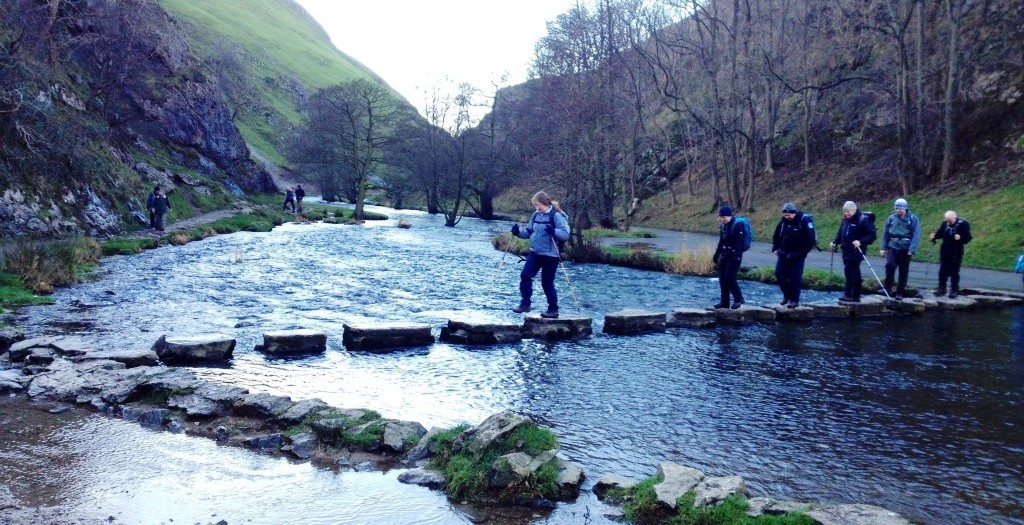 Down in Dovedale, we crossed the stepping stones for the obligatory photos. We followed the trail along to Milldale, where we stopped for a coffee and sandwich break. En route, we passed Ilam Rock, a large pointed pinnacle popular with climbers. A few days after returning home I saw it featured on the One Show, when one of the more adventurous reporters was filmed climbing it.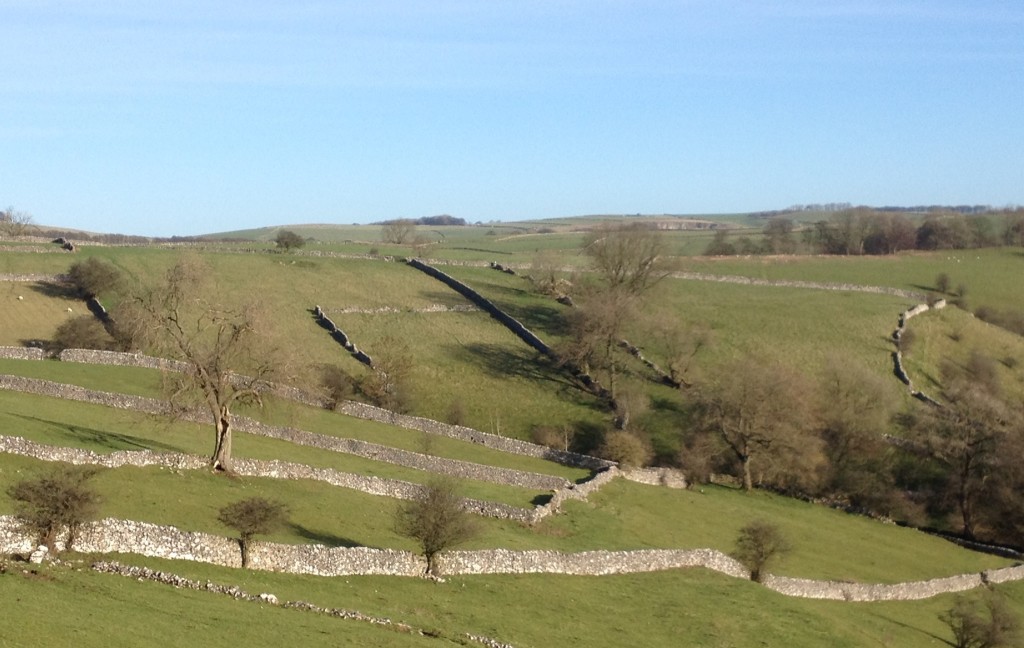 Our route out of Milldale was upwards but that meant we got some great views. I particularly liked the lines of the limestone walls cutting up the landscape.
We stopped for a second lunch (one of the benefits of walking) on top of Narrowdale Hill. It was a little on the breezy side but we found a sheltered spot and ate our sandwiches whilst admiring the views.
Our route took us directly back to Hartington, which with its pub, tea room, chocolate and cheese shops was the perfect end to the day.
Biggin Dale and Wolfscote Dale
The sun didn't last! There are no photos from the third day because it was just too wet to consider taking my phone out. Most of the group decided against walking but it seemed a shame not to make the most of the break so I was quite happy to head out for the morning.
We walked direct from the hostel, through Biggin Dale and Wolfscote Dale. On a dry day this would have been another scenic route to take our time over, but the addition of torrential rain meant we didn't linger! A wet walk but enjoyable nonetheless and a lovely finish to the holiday.
More info:
Country Adventures offer a variety of active outdoor breaks in the Lakes, Peak District and Yorkshire. Near enough everyone on my trip was a repeat customer which I think you'll agree is a great recommendation.  Further details are available on their website.
Hartington Hall YHA is a great hostel for families. We've stayed several times, as it's in a great location for a short break. The one downside for me was that it had no Vodafone mobile phone signal but I'm sure plenty will view this as a good thing.