Mountains. Mist. Wind. My Twixmas break summed up in three words. Although I should also add fun, sociable and a good way to work off mince pies.
For the 7th year running I spent the days between Christmas and New Year with Country Adventures. And, as always, I loved everything about it; excellent walks, good food and great company.
Our base was the same as last year, Keswick Youth Hostel. With its bunk beds, shared bathrooms and hostel rules it is not luxurious. But you'll always have someone to talk to and it keeps the costs down. And if you do want a touch of luxury you can choose to stay elsewhere in town.
Day 1 – Blencathra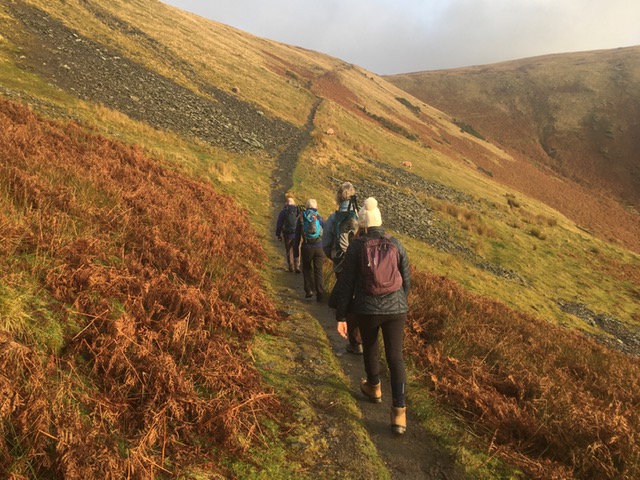 We eased into our first day of walking with a trip to the summit of Blencathra, England's 18th highest mountain.
There are several routes up Blencathra, with options of exciting scrambles or straightforward walking routes. We walked up Scales Fell, stopping for a short break at Scales Tarn. Some of the group hoped to split off here and go via Sharp Edge but I was quite happy with the walking option. I scrambled up Sharp Edge back in my 20s but since then my appetite for tackling exposed mountain ridges in gale force winds has decreased to zero percent. In the end it turned out to be too slippery for an attempt on the ridge so the group stayed together.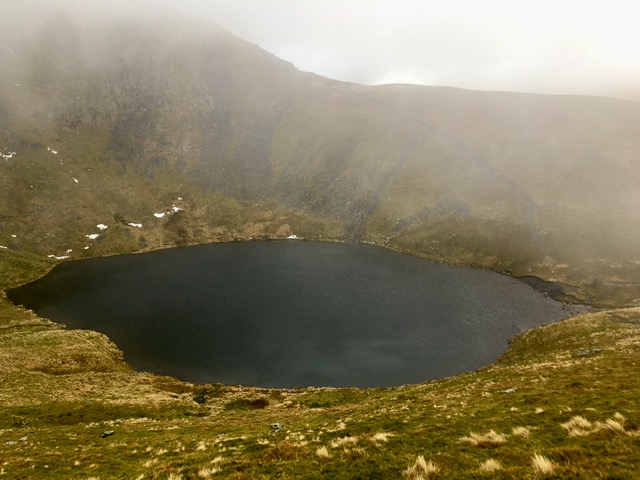 Leaving Scales Tarn we ascended into the mist. As we walked we came across a few patches of soggy snow but nothing that required spikes. The summit was reached without too much difficulty, although as expected the only view was of mist. Nethertheless we all huddled around the summit marker for a group photo, before retreating downhill and out of the wind.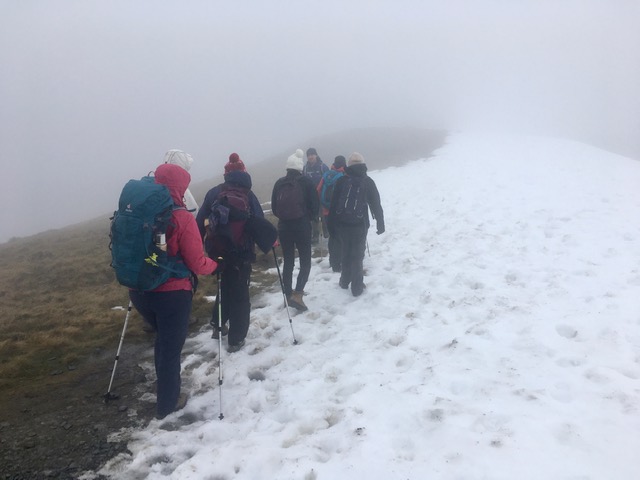 Our descent route was via Knowe Cragg and Blease Fell. It was a pleasure to emerge from the mist and be treated to a fabulous view of the surrounding hills. Even better when we sat and ate our lunches by the cairn whilst we admired the landscape.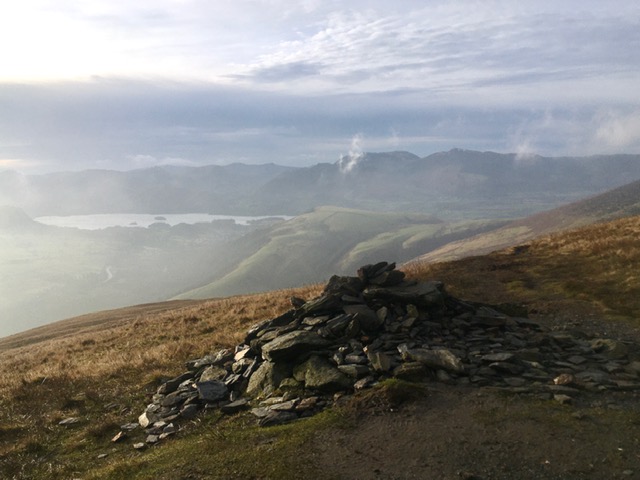 We continued downhill, reaching the Blencathra Field Studies Centre (and thankfully, a toilet, with honesty box). A little afterwards some of the group returned direct to Keswick but others, myself included, took a detour via Latrigg for views out over the town and Derwentwater.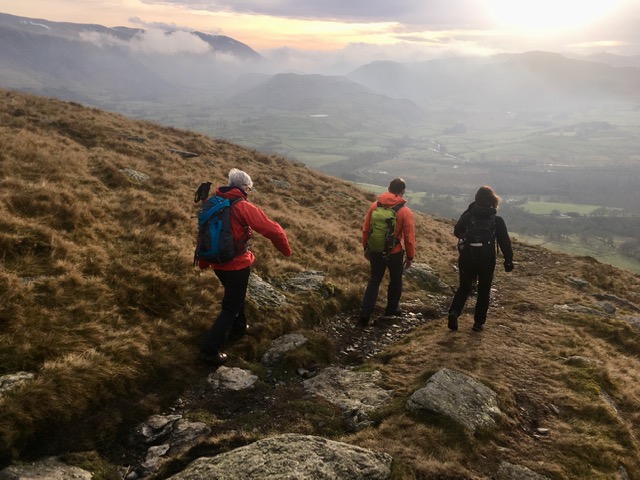 This turned out to be a popular afternoon walking route for family groups and dog walkers. Although it was horrible to see one dog chasing sheep whilst the owner shouted ineffectively at it.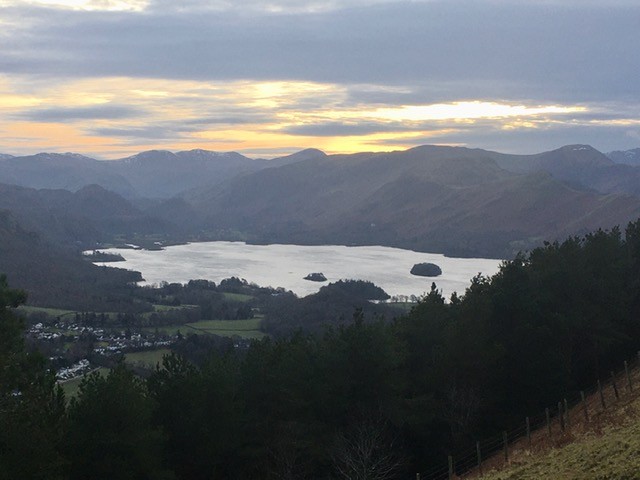 Back in Keswick we had a couple of hours spare to drink coffee, eat cake, shower and make ourselves respectable for our evening meal out at Asaya Thai.
Day 2 – Ullock Pike, Longside Edge and Carl Side
This was an exhilarating day as the wind had picked up even more overnight. Sod theme parks. There's nothing like a stiff breeze to make you feel alive. Or wondering whether you'll get blown off your feet.
Our walk started at Dodd Wood car park, next to the inviting looking Old Sawmill Tea Room. Fortunately we were there before opening time otherwise the start of the walk may have been delayed!
I visited Dodd Wood a few years ago to see the osprey that nest on Lake Bassenthwaite. At the time I'd been more interested in the red squirrels running around the RSPB volunteers than the telescopes. I was a little disappointed not to return to the osprey viewpoint (OK, red squirrel, the ospreys are on holiday) this time but delighted to see one on a different set of feeders.
After leaving Dodd Wood our route up Ullock Pike provided spectacular views of Bassenthwaite Lake on one side and, later, the hulk of Skiddaw. There were a few almost scrambly sections but nothing too difficult.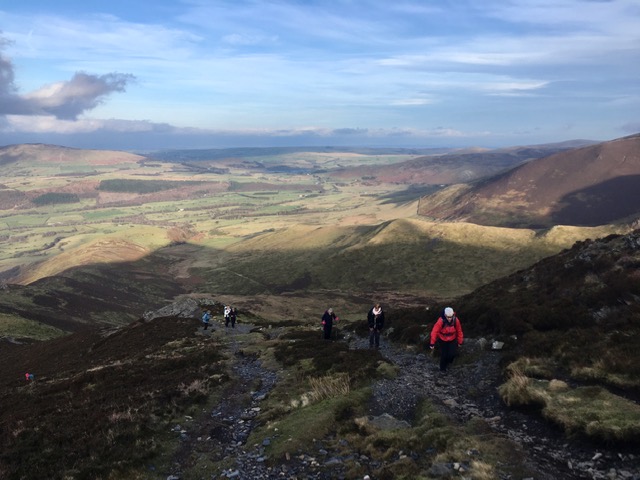 The summit of Ullock Pike teased us mercilessly, sometimes in the mist, sometimes not. Given the mountain forecast for only a 10% chance of clear summits we were incredibly lucky to time our visit when the sun came out and the mist almost disappeared.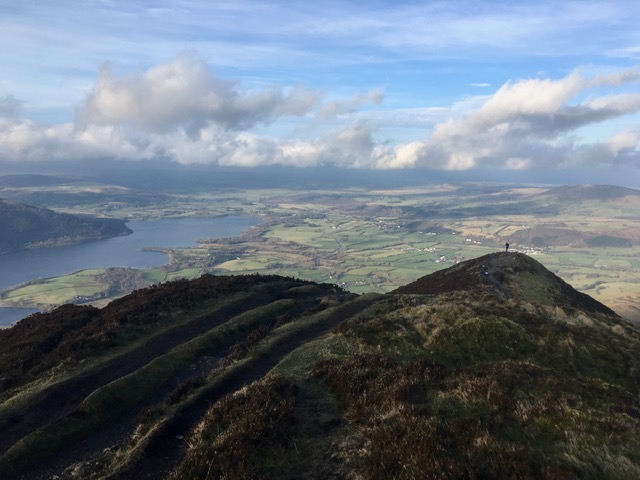 Once up and over Ullock Pike it's a fabulous walk along the broad grassy ridge of Carl Side. We stopped for lunch, sheltering out of the wind, hunkered down on the lee slope.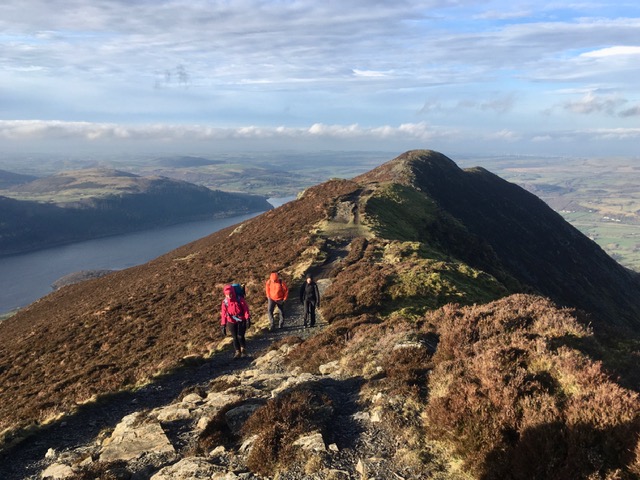 Have I mentioned it was windy? I was convinced my contact lenses were going to get blown out. Although that sounds ridiculous my eyes were watering so much I really did think I'd lose them. That said, I love walking in strong winds. Probably my favourite walking weather!
At Carl Side Tarn some of the group detoured off for a trip up Skiddaw. Whereas we headed up and over Carl Side before starting our descent back to Keswick.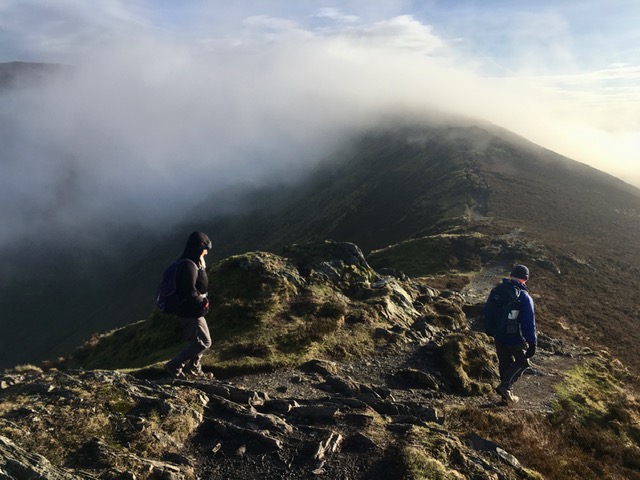 The route down wasn't my favourite. I much prefer walking uphill and this was a long stony steep trek down which my knees didn't thank me for. We had a short break at White Stones, enjoying the unexpected December sunshine.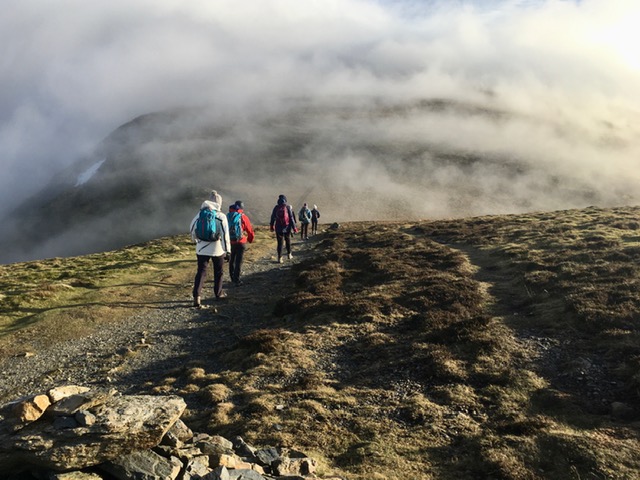 Upon reaching the bottom we crossed over the road and walked through a farmyard, fields and woodland back into Keswick. I always make the mistake of thinking walks are finished once off the hill!
The group spent another enjoyable evening out, this time at the Fellpack, one of Keswick's best restaurants. The food was excellent and there was a good choice for vegetarians.
Day 3 – M6, M42, M40
You get the picture. The only downside of the trip is the 500 mile drive to get there and back. For those with shorter journeys there's a third day of easier walking, finishing early afternoon. I had no desire to drive home in the dark so sadly missed the walk.
Walking with Country Adventures
If you fancy a walking (or scrambling or multi-activity) break in the Lake District, Snowdonia or similar I highly recommend Country Adventures. They're good value, sociable and Joe, the leader, is an excellent guide and organiser. I wouldn't recommend a company on this blog unless I was 100% happy with them and I can safely say I am! (I'm not reimbursed in any way to say this).