A perfect spring day calls for a spring like visit, which must of course include lambs! We've visited Bucklebury Farm Park several times before and always enjoyed our visit so decided to venture out to see their newborn animals.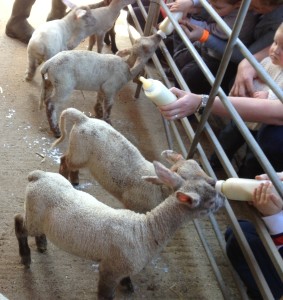 The farm park has a variety of farmyard animals, several outdoor play areas and a large deer park. Our arrival coincided with one of the lamb bottle feeding sessions so we headed straight over to feed the lambs. The park takes in orphan lambs from local farms, and offers several feeding opportunities each day. In  addition to the lambs there were also some very young piglets and an incredibly cute black and white kid goat.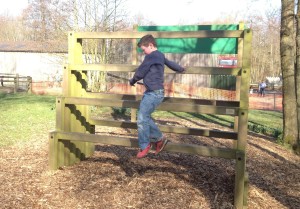 After the lambs, my son had some energy to burn off (as usual) so our next stop was the obstacle course. There's lots to climb over and the kids can race each other. At the top there's also a den building area which gets used for birthday parties and bushcraft courses.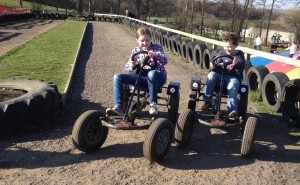 The pedal go-karts are always very popular with the older children. Later in the season there is usually a staff member on hand to ensure everyone gets a fair turn. However it was quiet whilst we were there so the kids spent quite a while on them. There are also some smaller tricycles for toddlers.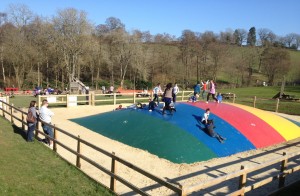 We first came across jumping pillows when we took our kids on a trip to New Zealand. Every campsite would have a jumping pillow as part of its play area so we have fond memories of these. When you've finished on the jumping pillow (or bounce mat as they call it) there's a long zip wire nearby for more fun.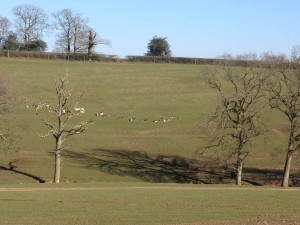 We had been disappointed on arrival to find that the trailer rides to see and feed the deer weren't running due to field conditions. This is usually one of the highlights and I thought the park could have made this clear on their website or Twitter feed so we'd have known before arrival. This time round we had to content ourselves with viewing the deer from afar.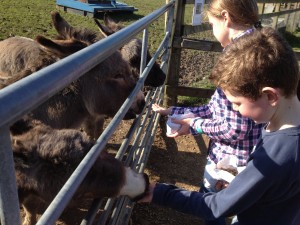 We'd been given a free bag of animal food to make up for the lack of tractor rides (although a discount on admission would have been preferred). Most of the animals weren't interested as I think they'd had a lot of extra food already but the donkeys and goats were happy to take advantage. I saw a couple of goats devouring the paper bags as well as the food!
It's only when I visit places like this that I realise how much our two have grown. This was definitely noticeable in the pat-a-pet session when all the others were toddlers. You're never too old to cuddle a guinea pig though.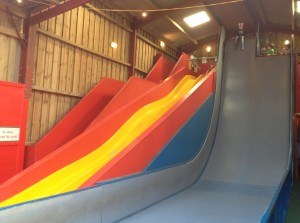 Throughout the day we had a couple of visits to the indoor slides. My son really enjoyed the highest drop slide (which big sister wouldn't go on) and they both had fun racing against each other on the yellow slide.
Bucklebury Farm Park has a cafe which is open to both visitors and passers by. I couldn't fault our food but there were some strangely expensive options, particularly jacket potatoes for £8.50! I didn't see anyone eating them so cannot confirm if they were gold plated. Fortunately there are plenty of picnic tables around the park too.
More info:
A family ticket for two adults and two children costs £30. Children under 2 are free. Full details on the Bucklebury Farm website.
The website states it's a great day out whatever the weather but you'd definitely miss out on a lot of the activities if it was pouring with rain. I would only visit on dry(ish) days.
Bucklebury Farm Park primarily caters to the younger visitor with lots to do for toddlers. Whilst we had an enjoyable day I think my eldest is outgrowing this kind of attraction, although she'd be the first to deny this!