I sometimes think that the places we enjoy most are those that are completely unexpected and unplanned. That's exactly how I felt when we stopped off in the town of Caerleon, South Wales.
Caerleon was home to a Roman legionary fortress and settlement, Isca Augusta, one of just three permanent fortresses in Britain. It's a fantastic place to visit if your children are studying the Romans as in addition to a Roman Legion museum there's an amphitheatre, baths and barracks to explore. Amazingly they're all free to visit!
National Roman Legion Museum, Caerleon
We started with a visit to the Roman Legion museum. This small museum is located inside what remains of the fortress and contains many items found around Caerleon. The various displays are dedicated to different aspects of Roman life and death, including how they ate, lived and worked.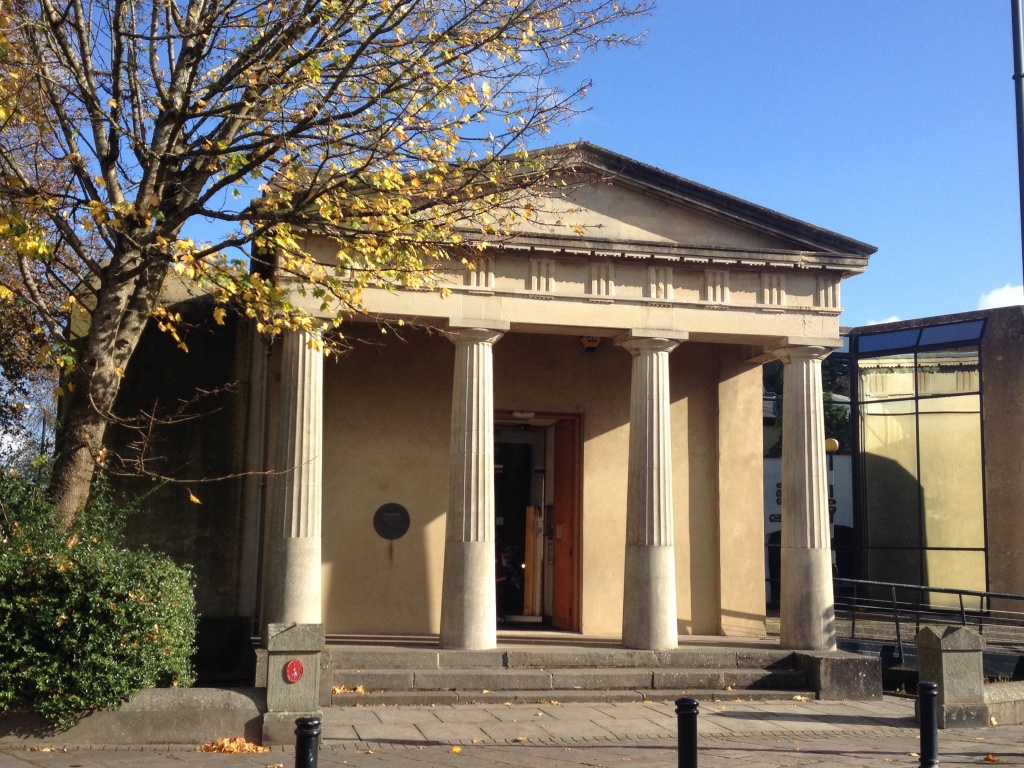 My favourite exhibit was that of the gemstones found in the drains of the Roman baths. Most originally belonged in rings; it's thought they were lost by legionary soldiers whilst bathing.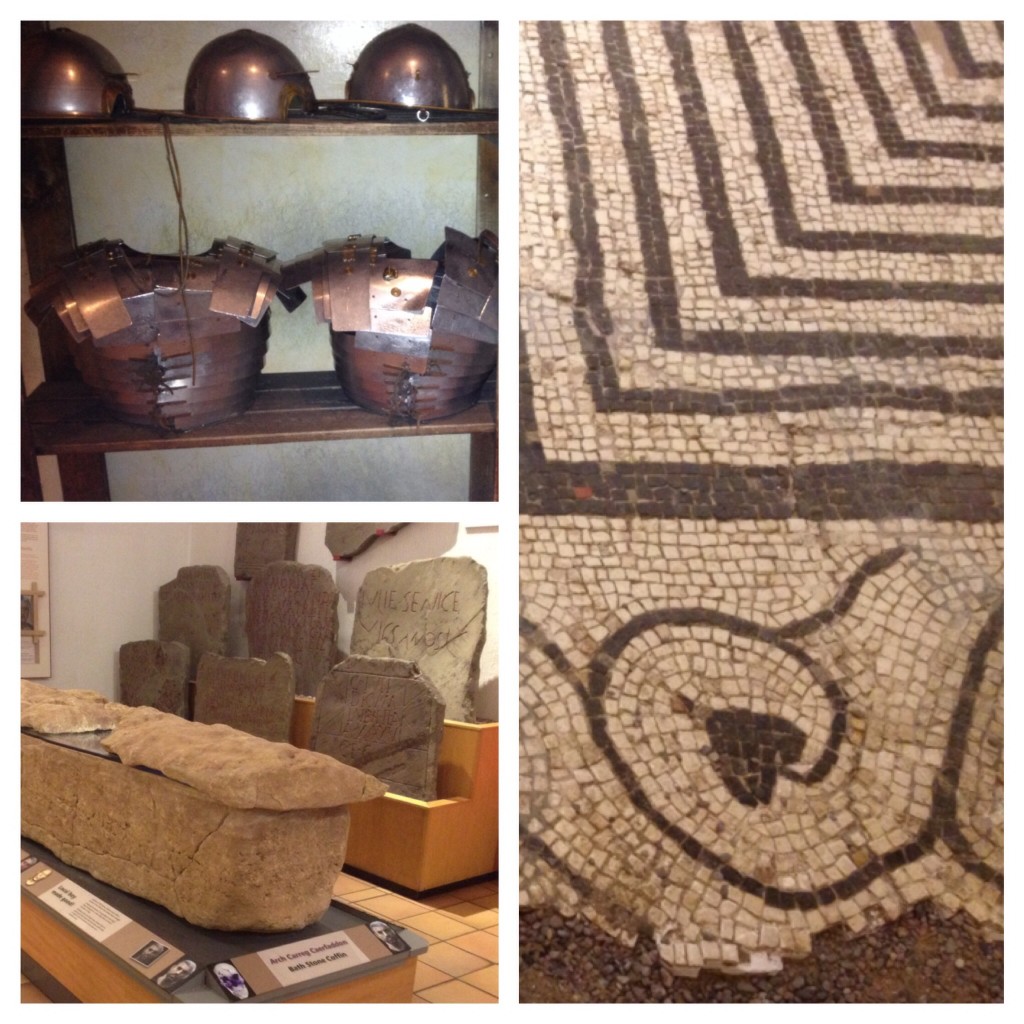 For younger children there's a chance to dress up as a Roman soldier and see what life would have been like inside a barracks room. The museum has a small but well stocked shop, both my kids found something to spend their money on.
Outside there's a Roman garden but we visited at the wrong time of year to appreciate it.
The Roman Baths
The Roman baths, just down the road from the museum, were used by the soldiers for relaxation and socialising. They originally consisted of cold, warm and hot pools, heated changing rooms and an outdoor pool (now covered, see the photo below).
We followed the raised boardwalk around the edge of the baths and were treated to projected images and sound which make it seem like the pool contains water and Roman swimmers. It's cleverly done and is similar to the visual effects we enjoyed at another CADW location, Blaenavon ironworks.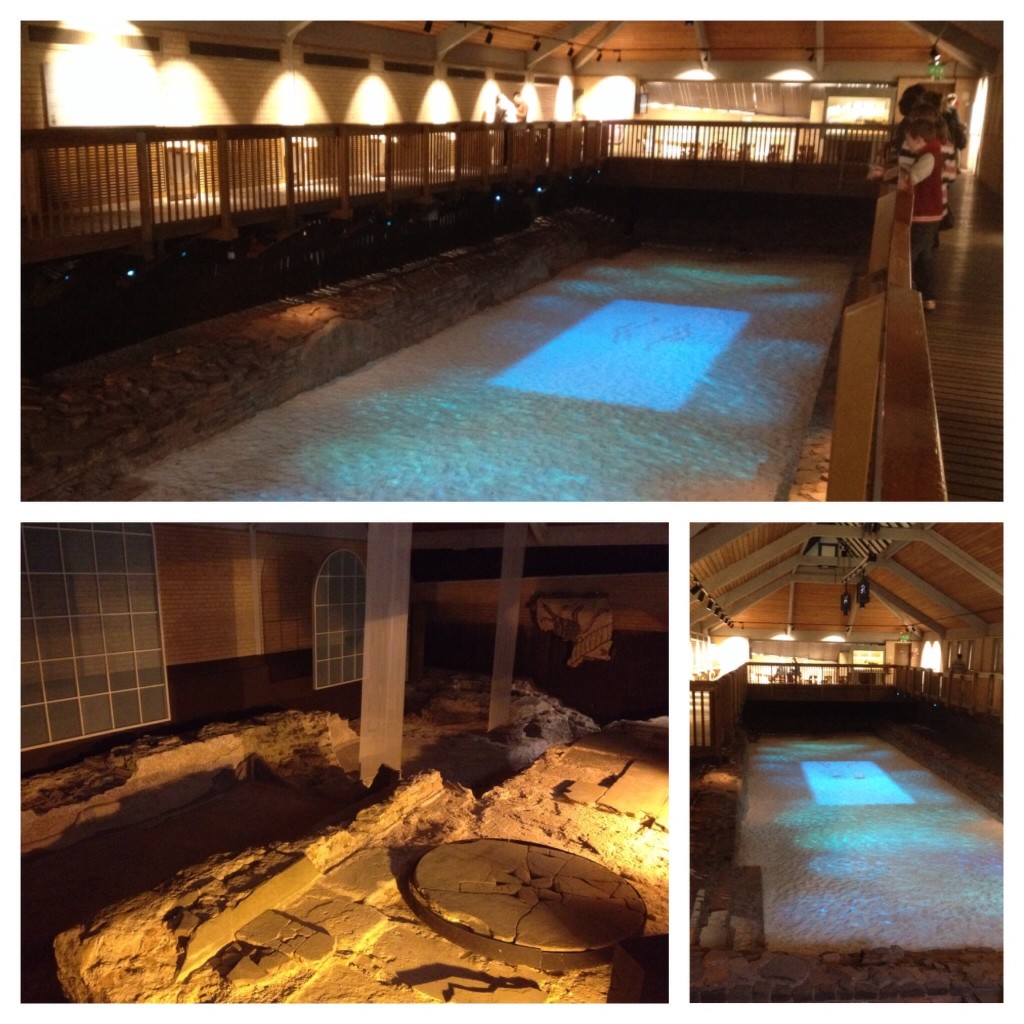 Look carefully when you walk around the large pool and you'll be able to see the imprint of a dog's paw in one of the clay tiles. It's amazing to think it's almost 2000 years old.
Caerleon amphitheatre
The amphitheatre was built around AD90 and could seat up to 6000 spectators. Although it is the best preserved amphitheatre in Britain you'll still need to use your imagination; my favourite kind of attraction. Official excavations first started over 100 years ago with the removal of 30,000 tons of soil from the site. Informal excavations had taken place beforehand as evidenced by the use of 'Roman' stone in some local buildings!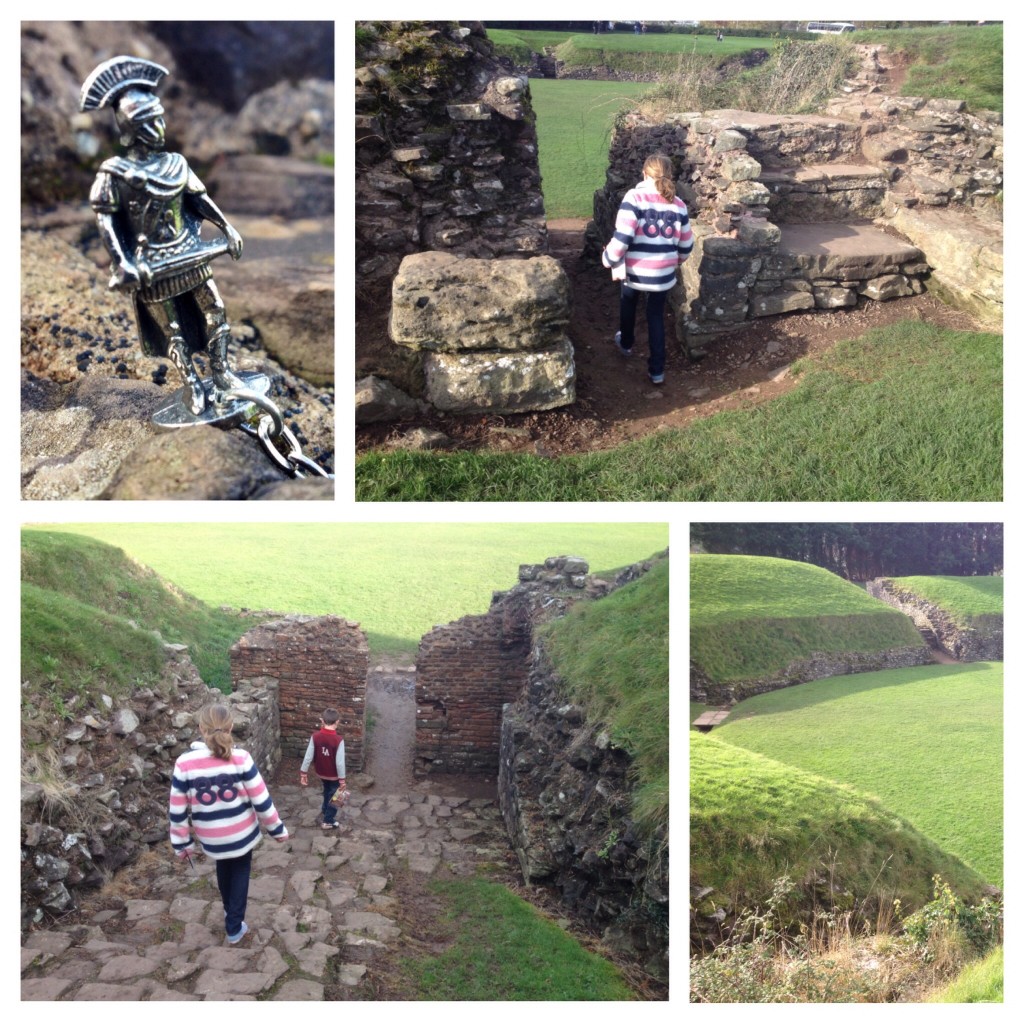 The amphitheatre is covered in grass and we were free to wander at will. In Roman times it would have had an upper seating tier made from wood and a sandy arena floor. The soldiers used it for parades, training and deadly gladiator battles. It's hard to envisage this nowadays but it must have been an incredible spectacle.
Roman barracks
Close by are the remains of the Roman barracks, home to 5,500 soldiers. There are a couple of interpretation boards around the site. These explain what the foundation walls and marks on the ground are. It's possible to make out the soldiers quarters and some large circular ovens but it would be great to see some further interpretation of the site.
We really enjoyed Caerleon. If you're driving through South Wales on the M4 make an effort to stop off; it's only a few minutes drive from Newport junction and it's definitely worth it.
More info
The National Roman Legion Museum is free to enter and open daily (although only 2-5pm on Sunday). The museum runs lots of family events throughout the year, current ones include archery, mosaic making and the chance to meet a Roman soldier.
The Roman fortress and baths  and amphitheatre are also free to enter. Both are open daily except for a short period over Christmas.