What better way to spend a wet winter's day than caving in the Mendips? The perfect way to tick off one of my 50th birthday challenges.
I'd booked a family afternoon caving session with local adventure company CaveClimb. We met our instructor, Lawrence, in the car park at Burrington Combe where he provided us each with a caving oversuit, helmet, lamp and wellies.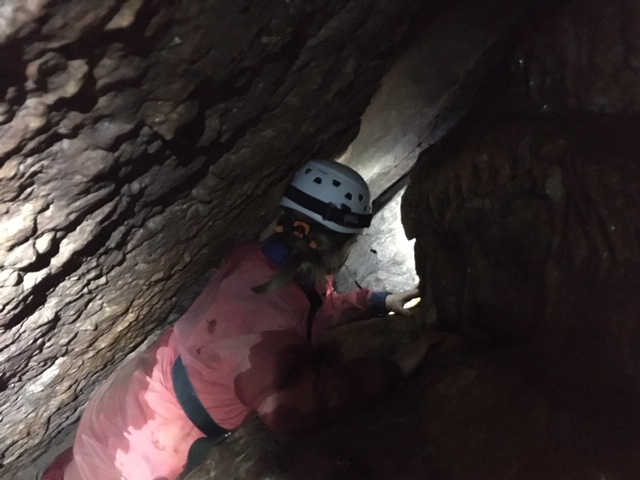 Goatchurch Cavern
From the car park it was a 15 minute walk beside the road and up the hill to Goatchurch Cavern. As we walked Lawrence told us about the geology of the area, illustrating it with a couple of stones picked up from the stream we waded through.
There are two entrances to the cave. After showing us the tradesmen's entrance that we'd exit through we walked around the corner to a much larger opening. In the Victorian times the cavern was briefly turned into a show cave and there are still remnants of the steps and iron railings used in this enterprise. You can even see marks from the candles lit to illuminate the cave. Thousands of feet have entered the cave in the intervening years, creating a polished slippery surface. As we picked our way down Lawrence pointed out a couple of cave inhabitants, cave spiders and horseshoe bats.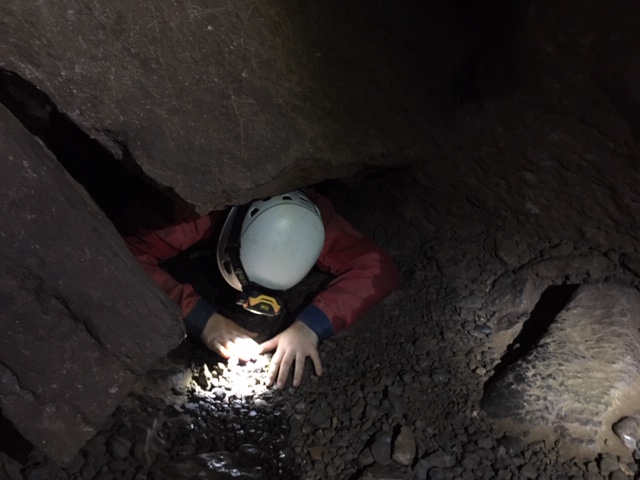 Our first challenge was to sit and slide down through a short tunnel. Easy bit over we tackled progressively smaller and trickier spaces. Over the next hour and a half we enjoyed squeezing through, under and around a variety of rocky challenges with names like Vasectomy Squeeze and the Coffin Lid. Some parts were very tight, others low; fortunately our guide gave us detailed instructions on how to tackle them.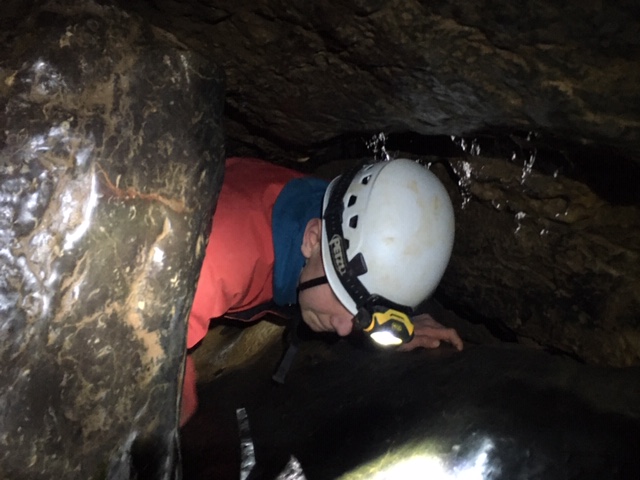 Goatchurch is a great beginner's cave as there are a variety of routes to make it as easy or as hard as you wish. I, and my son, opted out of the last challenge, the Drainpipe. This is a long narrow tube, a squeeze too far for me. Instead, we whiled away the wait by turning off our torches and sitting in complete darkness.
I discovered that I'm not a natural at caving. As I descended through a chimney the instructor joked I was the first person to perform a pirouette inside it. That said, I still managed to get where I needed to go, perhaps just not in the correct fashion. I also discovered muscles in my arms and shoulders that hadn't been used for years. Whilst I'm relatively fit from running my arms had a long overdue workout.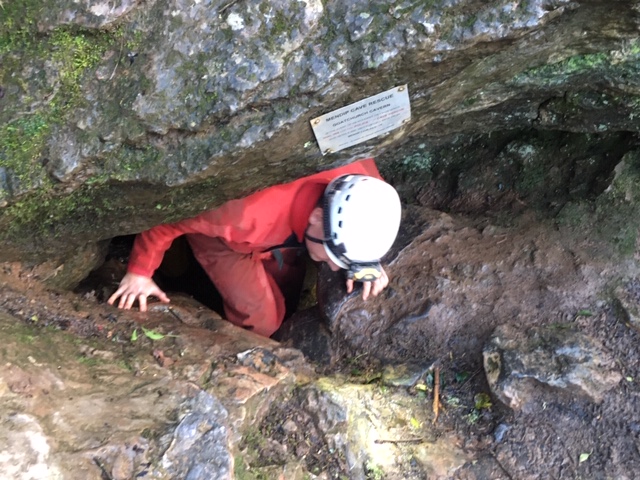 Goatchurch Cavern can get very busy. We only met one other group during our visit but Lawrence said this was unusual. Indeed we drove past the car park the following day and it was full of adventure and scout group minibuses. A wet Sunday in February is obviously the best time to avoid the crowds! (Although it may also have been something to do with Storm Dennis).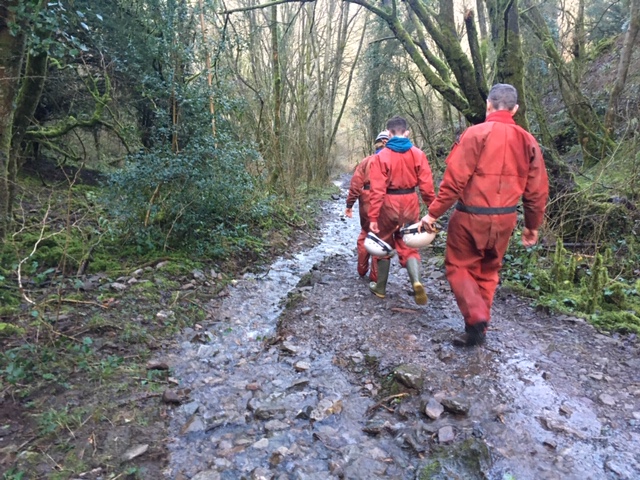 Our three hour session was soon over and we scrambled to the surface. We all agreed the caving trip was a great family experience; our instructor ensured it was safe but sufficiently challenging.  If you're tempted, go for it!
Caving also appears on my UK bucket list. Pop over to read where else I'd like to visit!
More info
There are several caving operators in the Mendips but I booked with CaveClimb on the strength of their excellent Trip Advisor reviews. Our trip cost £40 per person (it's slightly more if you book for one or two people). We were very happy with our trip and I'd highly recommend them.
Linking up with: