When I offered my teen son a weekend away of his choice I didn't expect him to request a cycling holiday. I'd had visions of us seeing the sights in a European city. But I couldn't go back on my promise so after much deliberation we settled on a cycle ride around the Isle of Wight.
The Isle of Wight promotes itself as a cycling island; no doubt helped by Lonely Planet announcing it as one of the ten best cycling destinations in the world. It has over 200 miles of cycle tracks and bridleways, it never rains (at least when I visit) and has smooth pothole free roads (Oxfordshire County Council take note).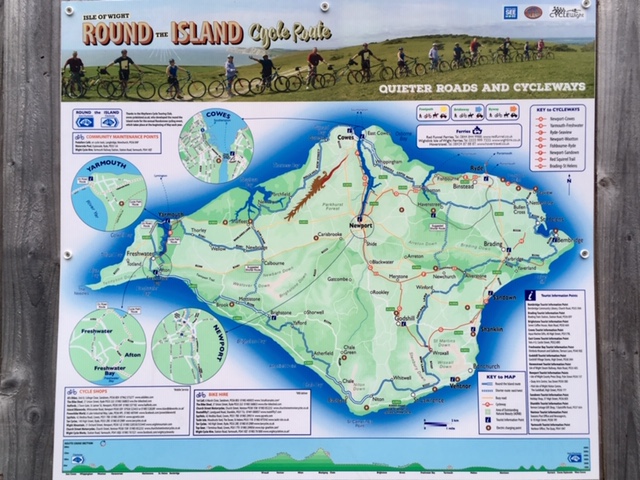 I decided we'd tackle the round island cycle route, although we did detour from this a couple of times. Whilst road cyclists can easily complete the 65 mile route in a day we split it in two, with a halfway stop at Whitwell. Although I'm reasonably fit I'm not a regular cyclist and I didn't fancy cycling from dawn to dusk just to get round the island in a day!
Day one: arrival in Cowes
It's expensive to take your car to the Isle of Wight in peak season. And it makes no sense to drive over and then find somewhere to park for the weekend. Hence my first task was to research other options, from bringing our own bikes on the train, to parking in Southampton to alternative ferry routes.
The best combination for us, in terms of price and convenience, was to take the train from our home town to West Cowes. Actually the train only goes as far as Southampton Central but our ticket included the short bus ride to Southampton Quay and the Red Jet over to Cowes.
We then hired bikes from Wight Cycle Hire, based in Yarmouth. These were delivered to our Airbnb in West Cowes the night before our ride started. They weren't fancy road bikes but they did the job and, a revelation, my saddle was much comfier than that on my own bike. The cycle hire shop also offered an island back up service which was reassuring as I didn't have a puncture repair kit or tools.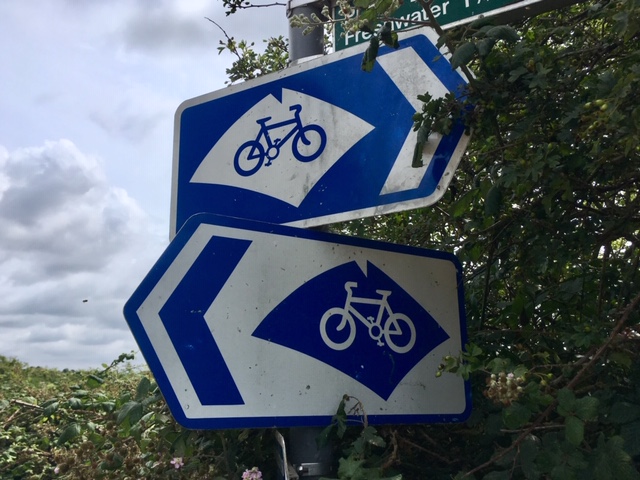 Day two: Cowes to Whitwell
Our first day of cycling dawned. The Airbnb had a posh Nespresso machine but despite watching a YouTube tutorial I couldn't work out how to use it. Fortunately Costa was only ten minutes down the hill. Half an hour later, and full of caffeine, porridge and bacon we were set to conquer the island.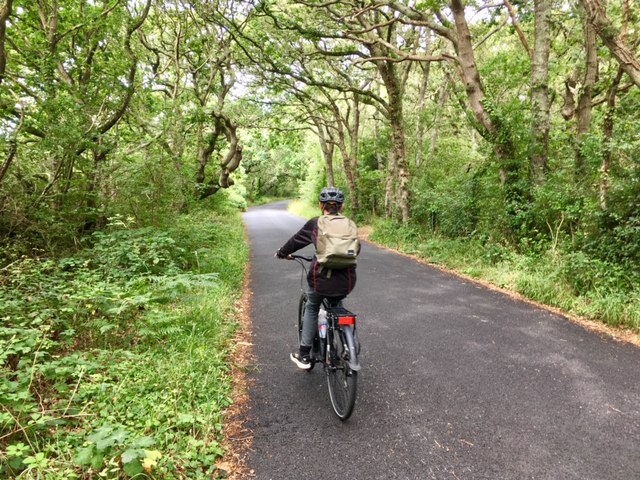 I'd decided to cycle in an anti clockwise direction, to make use of the forecast westerlies. Although there wasn't much of a breeze in Cowes I wanted the wind to be a help, not a hindrance, particularly along the south coast. It also meant we'd finish our cycle ride with a trip on the floating bridge from East to West Cowes.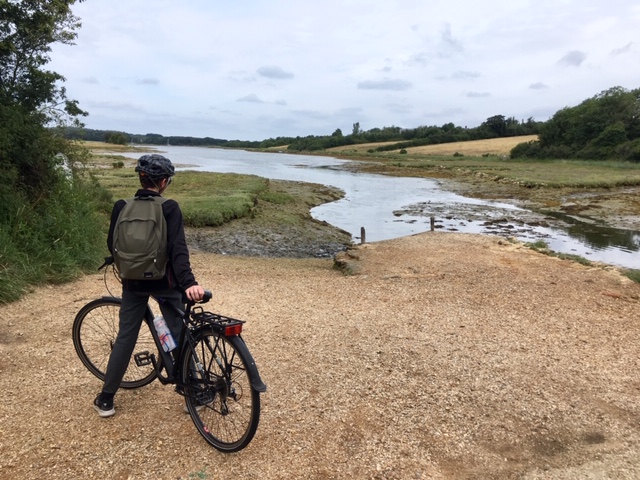 It took us a while to get used to the bikes after leaving Cowes. Faced with the first short hilly section I changed gear and my chain immediately came off. Whilst it was easy enough to put back on it did dent my confidence a little. It also gave me an excuse to walk up the first hill of the day!
After our early drama, our route took us inland along quiet lanes away from the coast. At Newtown we took a breather, stopping at the salt marshes for a few minutes to take photos, drink water and put on suncream.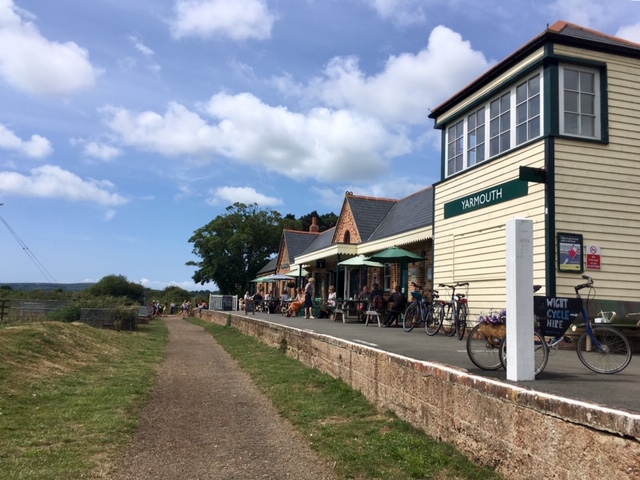 On again, along flat and quiet country roads. We didn't see much traffic but there were a few other cyclists out and about, all cheerfully saying hi to us. We felt a little out of place as we were the only cyclists in non cycling gear carrying day packs on hire bikes. Everyone else looked the part, with road bikes and cycling jerseys.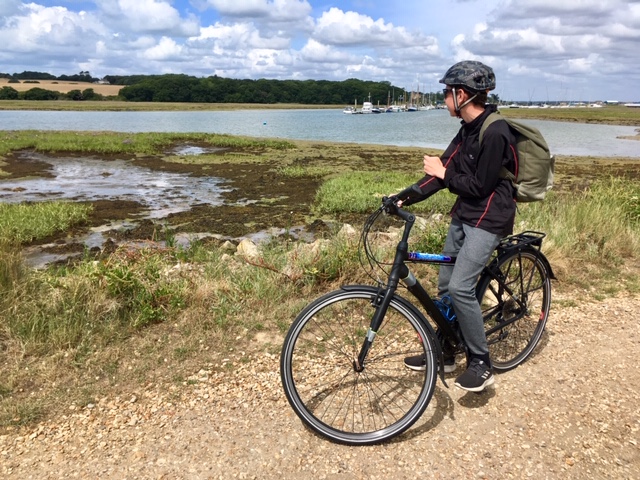 We hadn't yet paid for our bikes so stopped at the cycle hire shop in Yarmouth to do this and check route options. We also made room for elevenses at the cafe next door, Off the Rails. It would have been rude not to!
From Yarmouth we took the off road cycle route along the old railway line towards Freshwater. Although lovely to be away from road traffic the track was very busy with other bike hirers, walkers, dogs on extending leads and free range children. I almost wish we'd taken the road.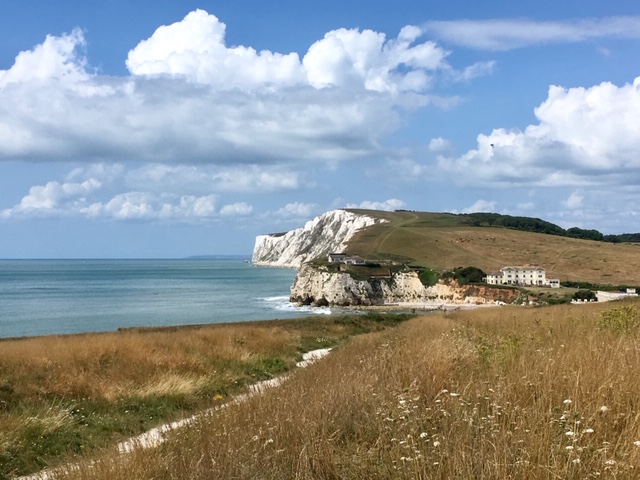 At Freshwater we turned east, hitting our first big hill of the day. I needed to stop for some photos (ahem, a rest) halfway up. My excuse was justified, as we had the best views of the weekend!
A little later, at Compton Farm I made a bad decision. Faced with another hill and lots of fast traffic I decided a better option would be to go cross country. I didn't have a detailed map but there was a byway sign pointing in the direction we wanted to go so we followed it.
The first section, to Brook Farm campsite, was flat and paved. Great. But upon leaving the farm the route took us up a very steep rutted track, not at all suitable for our bikes. We got off and pushed to the top to be greeted with spectacular coastal views and a field full of cows and calves.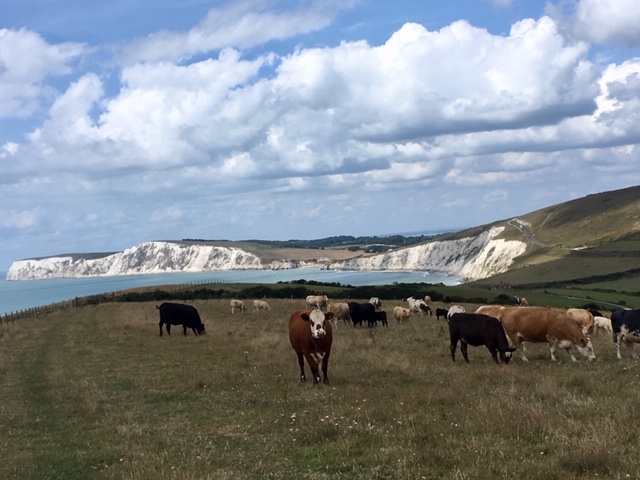 We sat on a bench just in front of the field gate, hoping they'd move away but they were intent on watching us back. Eventually I gave in, shooed them away and pushed my bike through the field. They ignored me. My son had already decided he was going to avoid them, by lifting his bike over a barbed wire fence and walking through the adjacent field.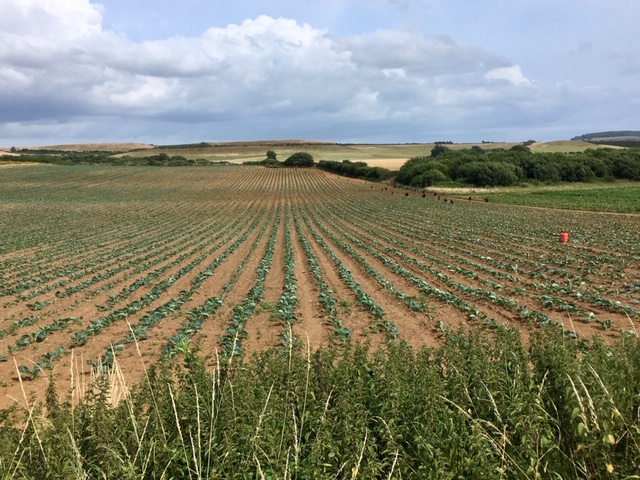 After the field of cows came a field of blue butterflies, literally three or four on every thistle head. I tried to photograph them but whenever I got near they'd fly away. It was an incredible sight.
A while later we reached a road and were finally able to get back on our bikes and head to our lunch destination, Chessell Pottery Cafe.
Our afternoon cycle from Hulverstone to Brighstone and on to Chale was almost perfect. Quiet country roads, a restored water wheel and pretty villages. We could hear, and sometimes see, the vehicles whizzing along the main coast road; it was a relief not to be on it.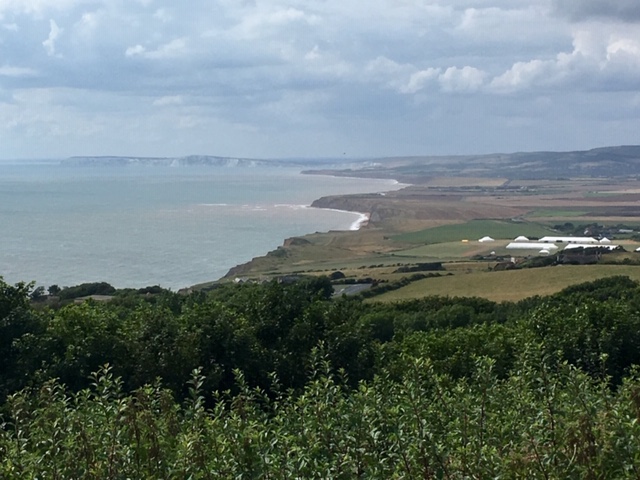 However the day ended back on the main road with a huge climb up to Blackgang Chine viewpoint. I'm not ashamed to say I walked most of it. Up top we sat on the benches, enjoyed the view and listened to the screams emanating from the theme park below us. Thankfully it wasn't too far to our B&B for the evening as I was more than ready for a shower and rest.
Overnight in Whitwell
On into Whitwell, for a perfectly located overnight stopover at Kingsmede B&B. They're used to cyclists and have a handy bike storage shed at the front of their house.
It was bliss to have a shower, make a coffee (with a kettle!) and relax in our room. Later we walked to the village pub, The White Horse Inn, for our evening meal. Good food, relatively cheap and large portions. Indeed so large that I couldn't face dessert!
Day three: Whitwell to Cowes
After a good night's sleep and a filling breakfast we set out again the next morning.
Ventnor greeted us with a big hill (another photo stop required halfway up) and tantalising views of the coast. My only regret of this trip was not having the time to stop and explore the places we passed.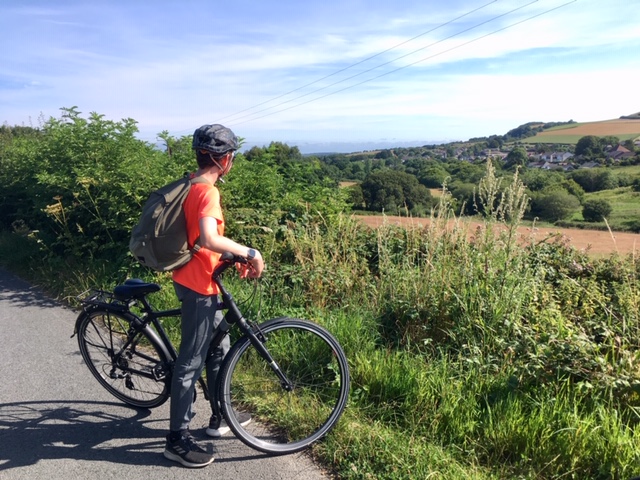 Between Ventnor and Wroxall we followed a lovely, but of course undulating, back road. At Wroxall we left the round the island cycle route to join the Red Squirrel trail.
Back in 2016 when I created my UK bucket list I included cycling the 32 mile Red Squirrel Trail on the Isle of Wight. My plans had moved on since writing that list but I still wanted to include a section of the trail on this ride.
For much of the route it follows an old railway track, but not the section we joined at Wroxall. We cycled along grassy tracks and through sandy fields. We'd been used to following the large blue and white signs and this part of the trail threw up a few route finding challenges. That was, until we discovered the route was still signposted but with much smaller signs. Despite this we missed a turning at Merstone and ended up cycling towards Newport rather than Sandown. Whoops.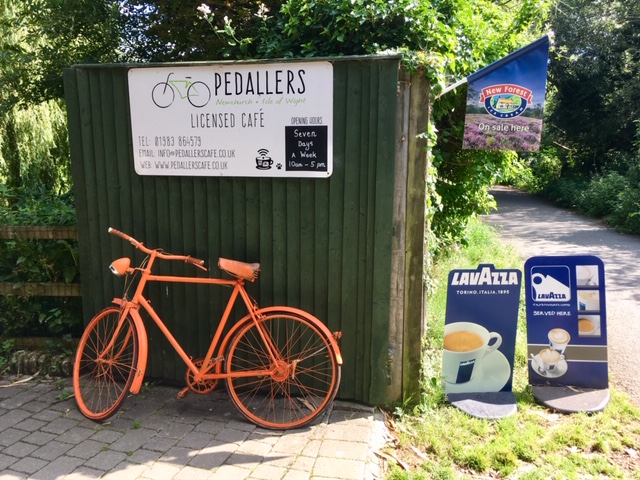 Back on track, and finally on the old railway track, we stopped for morning coffee at Pedallers' Cafe another cyclists haunt. It offers a cycle repair station which was fortunate for the chap who somehow punctured his tyre right outside the entrance!
We had another short stop at Alverstone. I have a mission to see red squirrels on the Isle of Wight. Although I've seen them in other places around the UK they've eluded me on the island. Alverstone Nature Reserve has a hide, frequented by red squirrels, so we parked the bikes whilst I took a walk through the woods. As expected they were once again hiding. My quest continues.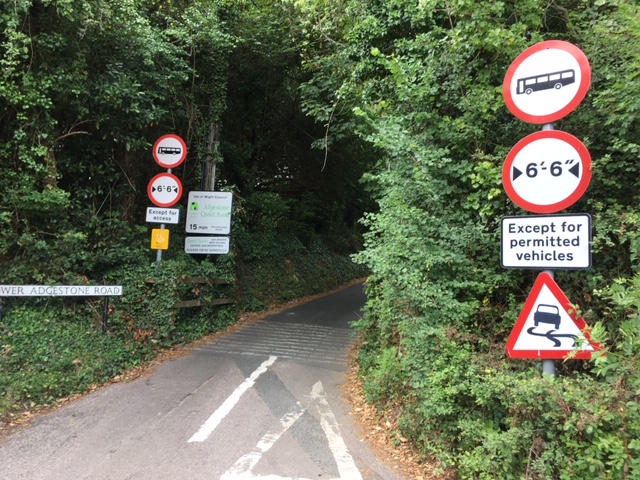 From Alverstone to Adgestone we cycled along a quiet road. This supposedly has a recommended speed of 15 mph but I'm not sure the two motorists we met along the lane knew this.
At least there were only two cars. It was a different matter in Brading. A constant stream of cars overtook us, some passing a little too close for comfort. I'd already decided that we wouldn't take the island cycle route along the busy main road to Bembridge. Instead we detoured off through Brading Marshes, an RSPB reserve, to reach St Helen's where we briefly encountered traffic madness again.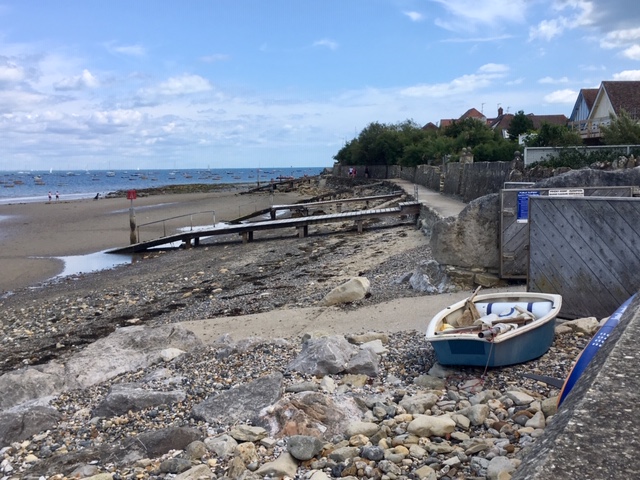 The round island cycle route splits at Nettlestone. We chose the seafront route rather than staying inland. It was an exciting moment to reach the north coast. Unlike the south coast there's lots going on in the Solent; it's easy to get distracted!
We cycled west along the seafront, looking for a lunch stop. As it was a warm sunny day the beaches and parks were incredibly busy. We stopped at one cafe but decided it would take some time to get served so carried on into central Ryde.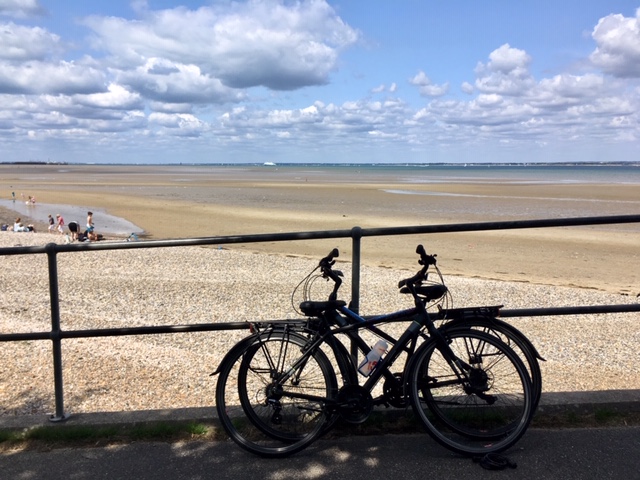 After lunch at the aptly named Cafe on the Hill we continued, slightly inland, to Fishbourne. The track was off road but with lots of downs and ups. It was almost depressing having a long downhill section as you knew you'd be paying for it as soon as you reached the bottom!
We passed Quarr Abbey, busy with afternoon sightseers. Not sweaty cyclists. At Wootton we crossed the creek and I decided the end was almost in sight. A slightly premature thought as there were yet more ups and downs to negotiate.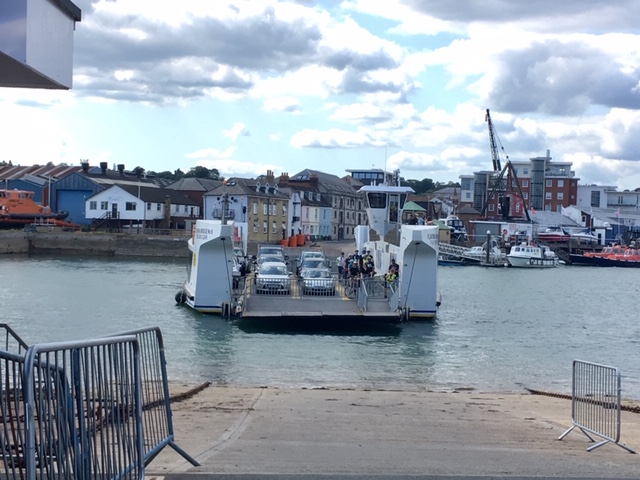 Yet, as we finally arrived into East Cowes I didn't want the ride to end. We took the chain ferry across to West Cowes, parked our bikes in the Cycle Hub and went in search of an ice cream. We'd finished. We hadn't fallen off our bikes, we were still speaking to each other and we hadn't got too lost. I call that a success!
More info
We loosely followed the Round the Island Cycle Route, with added Red Squirrel Trail. We cycled around 70 miles, height gain (and loss) was around 4700 feet.
I used the printed Isle of Wight cycle map for planning which was good value (£4.99) albeit slightly dated. It does not include contours!
This cycle ride around the Isle of Wight is achievable by most of average fitness. Take your time (2+ days) if you can as there's plenty to see along the way. If you're unsure about the hills you might like to consider hiring an electric bike.