Think of the Gower peninsula and you probably imagine holidaymakers enjoying its golden sandy beaches. But whilst the area is home to some of the most celebrated beaches in Wales, spare a thought for its quiet northern neighbour. On a recent trip we left the busier southern beaches behind and spent a day discovering just how different the northern Gower is.
Weobley Castle
We started with a visit to Weobley Castle, or more accurately, the remains of a 14th Century fortified manor house. It's a low key attraction with most of the inside area open to the elements. One room has been restored and this houses panels detailing the history of the area and the de la Bere family who lived here.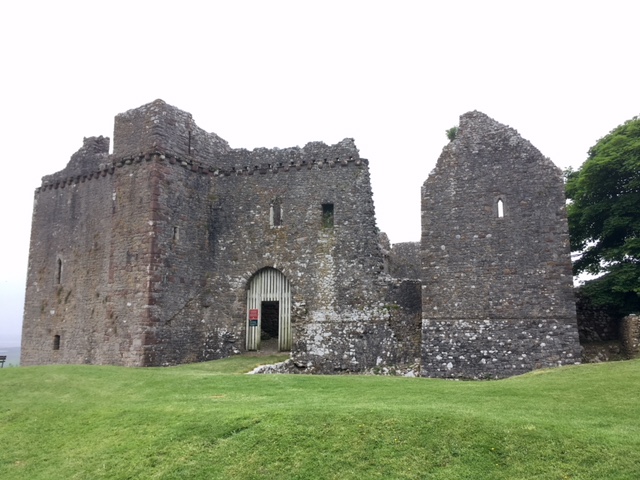 But it's the positioning of Weobley Castle that's most impressive. Standing high above the coastline a window provides a perfectly framed view of the salt marshes and mud flats that typify the north Gower coastline. Admittedly not to everyone's taste but it's my kind of place. The salt marsh is grazed by ponies and sheep whose diet of samphire, sorrel and sea lavender contribute to its unique flavour. If you fancy trying the resulting salt marsh lamb you can often buy it from the farmhouse where you pay your castle entrance fee.
Llanrhidian marsh is a great bird watching spot, particularly during the winter months when it's home to a large population of waders and wildfowl. We asked permission at the farmhouse and walked down to see what bird life we could spot. Despite a lack of binoculars we saw a couple of little egrets wading in one of the muddy channels and a fledgling nuthatch hopping along the ground. However we didn't walk far as the ponies were having fun cantering around the marsh and we decided it best to watch them from afar.
Whiteford beach
It's a ten minute drive from Weobley Castle to the small village of Llandmadoc. After a refreshment break in the community shop and a spot of hanging around in the car waiting for the rain to clear we headed out towards Whiteford Sands. This is the most northerly beach on the Gower peninsula and, thanks to the lack of a car park, one of the least visited.
After a 20 minute walk we reached the beach and were greeted with a sign warning visitors not to pick up unusual items. The area was used as a firing range in World War II and unexploded shells still turn up occasionally.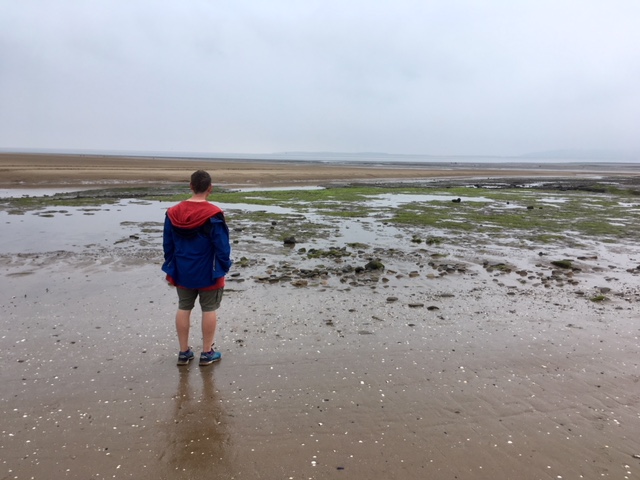 Whiteford beach stretches for about two miles, and is backed by sand dunes and trees. We visited at low tide and the waters were too far out for a paddle. Instead we walked along the tideline checking what treasures high tide had bought. We found several sea potatoes, whelk egg cases and lots of crab legs. There were a couple of small jellyfish, but nothing like the huge barrel jellyfish we'd seen on the southern beaches.
As we walked we heard our first, and only, cuckoo of the year. It was somewhere in the trees but despite it reminding us of its presence every few minutes we couldn't spot it.
Given the earlier rain it wasn't surprising we were the only ones on the beach. This was also fortunate as I subsequently discovered that Whiteford Sands is a well known naturist beach. I can only imagine how embarrassed the teens would have been if we'd come across some au naturel visitors.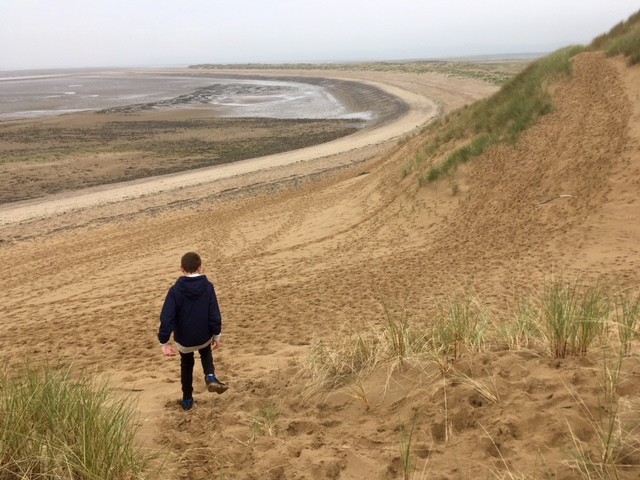 Later a couple of quad bikes passed us and we realised the beach wasn't entirely empty. Far out we could see a couple of groups of people who I guess were harvesting cockles or mussels. A backbreaking job perhaps better left to the oystercatchers!
Whiteford lighthouse
At the far end of Whiteford beach there's a cast iron lighthouse which was built in 1865. Over 30 shipwrecks have been recorded in this area, including 16 ships sailing out of Llanelli which were wrecked in just one night.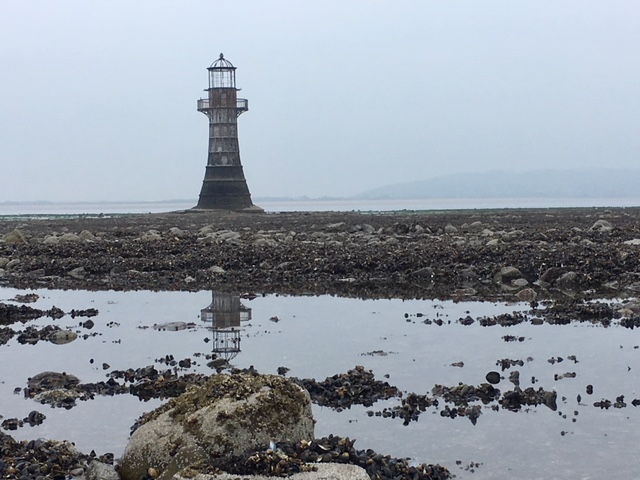 The lighthouse is accessible on foot at low tide, providing the ultimate goal for my beach walk. Although I underestimated just how far out it was. The rest of the family sensibly decided to sit it out on the beach whilst I seemingly walked several miles out to it (OK, perhaps half a mile).
Whiteford Burrows Nature Reserve
Leaving the lighthouse behind we walked past the sand dunes that make up Whiteford Burrows. The path gradually turned from sand to mud as we moved inland. Yellow irises flanked our route, indicative of the marsh that lay just off our route.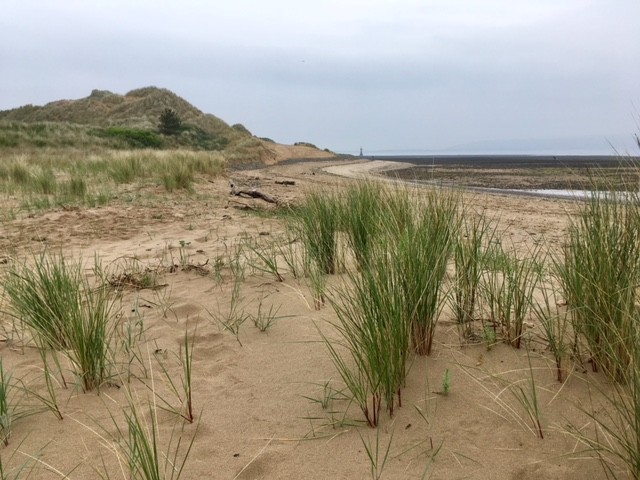 We arrived at a path junction and I was immediately drawn to the sea wall that heads out across the marsh. The wall was breached in 2014, resulting in sea water flowing into the freshwater marsh. Rather than repair it the National Trust have left nature to take its own course. This has resulted in the area previously behind the sea wall turning into salt marsh. Good news for wildlife although not so good if you wanted to take the footpath along the sea wall!
A little later we stopped in a bird hide overlooking the marsh. Our lack of binoculars once again put paid to any serious bird spotting so we didn't linger. There was also the small matter of reaching Cwm Ivy cafe before closing time.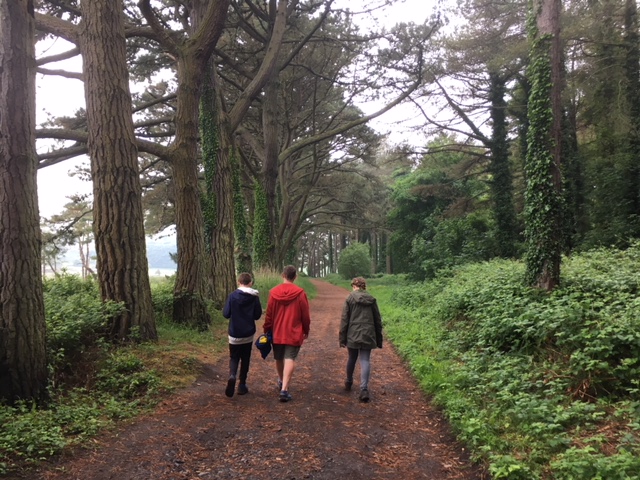 Sitting in the cafe a short time later we reflected on our northern Gower day out.  The area has a stunning coastline, nature reserves and historical attractions. Yet we'd seen less than 30 other visitors all day; it's definitely the place to visit if you're looking for a quiet day out (particularly in the rain)!
Exploring the Gower Peninsula was one of my UK bucket list challenges. As well as the above day out you might also like to read about the fun we had tackling the Worm's Head at Rhossili.
More info:
Weobley Castle is open daily between 1 April and 31 October. It's free for Cadw members, alternatively pay in the farmhouse before entering.