If you've already read my post about things to do in and around Coniston you'll know we spent a day driving over the Hardknott and Wrynose passes. The mountain scenery, challenging road conditions and smidgen of danger made this one of my favourite drives in the UK; justification enough for a longer post with added photos!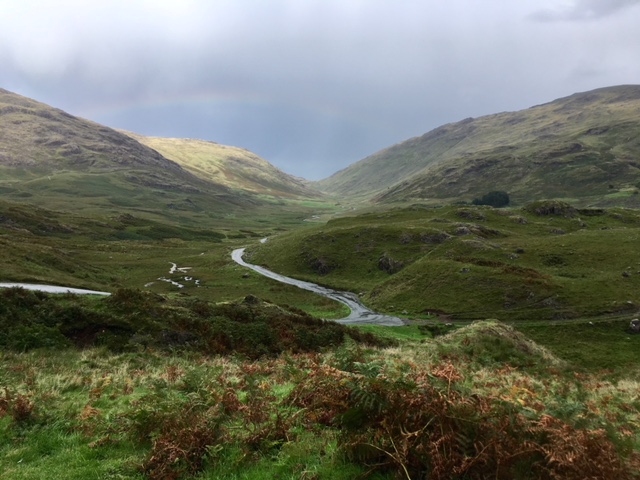 Our adventure started from our holiday cottage in Little Langdale with a drive via Coniston to our first stop in Broughton-in-Furness.
Broughton-in-Furness
The town of Broughton-in-Furness is a world away from busy Lakeland towns such as Ambleside and Keswick. It's a quiet market town, devoid of walking gear shops, twee tea rooms and tourists. Indeed its main claim to fame is that it's home to best selling author, Richard Parsons. Never heard of him? Neither had I but if you've a teen in the house you've probably got one of his CGP GCSE revision books!
Despite the low key atmosphere of Broughton I rather enjoyed our short wander around the town. There's free parking, a tourist information centre (I have a thing about always visiting these) and most importantly, a great bakery. Yes, we visited for cake.
Duddon Iron Furnace
From Broughton we drove to Duddon Iron Furnace. Built in 1736, this charcoal fired furnace was used to make pig iron. Unbeknown to us the site was closed for safety reasons and appears to have been for some time. That said, we could still view it from the bridleway which runs alongside. A little disappointing but still worth stopping for.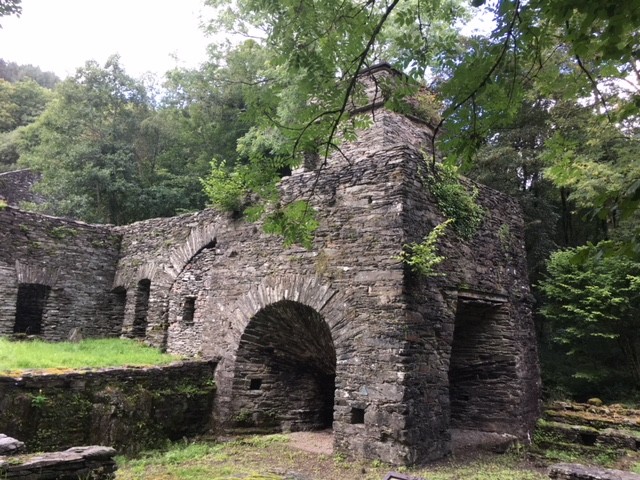 After leaving the furnace we retraced our route slightly and drove up the Duddon Valley towards Ulpha and on to Birker Fell Road. Leaden clouds and torrential showers obscured our views making me glad, for once, that I was in a car and not out on the mountains.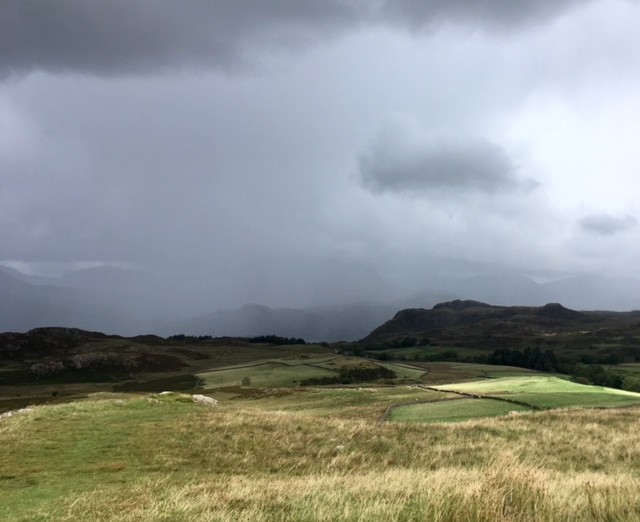 Stanley Force Waterfall
The rain stopped temporarily as we approached Dalegarth. Having seen very few visitors on the route so far I was surprised to suddenly see so many wandering beside the road. We soon realised our arrival coincided with that of the tourist train service from Ravenglass.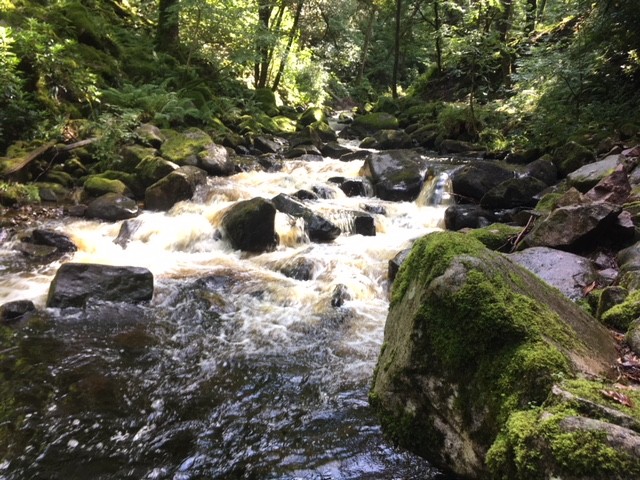 We didn't have time to ride on the train but took advantage of a break in the weather to walk to Stanley Ghyll Force. The round trip to the waterfall takes about 45 minutes from the car park at Trough House Bridge. The path runs beside the River Esk and as we walked sun glinted through the trees and water drops sparkled on the ferns and mosses. It's amazing how quickly a sliver of yellow can brighten your day.
The route crosses a couple of bridges; at the third and final bridge before the waterfall there's a sign warning visitors to take care. The remaining section of stone path is slippy and there's a steep drop into the river but it's worth walking these last few minutes to the viewpoint. You'll be rewarded with a Timotei-esque waterfall which drops 60 ft into a deep pool. Spectacular!
Retracing our steps we spent time discovering oodles of fungi around Trough House Bridge before rain hurried our retreat to the car. Time for a reviving (non-alcoholic) drink at the Woolpack Inn before our drive over the Passes.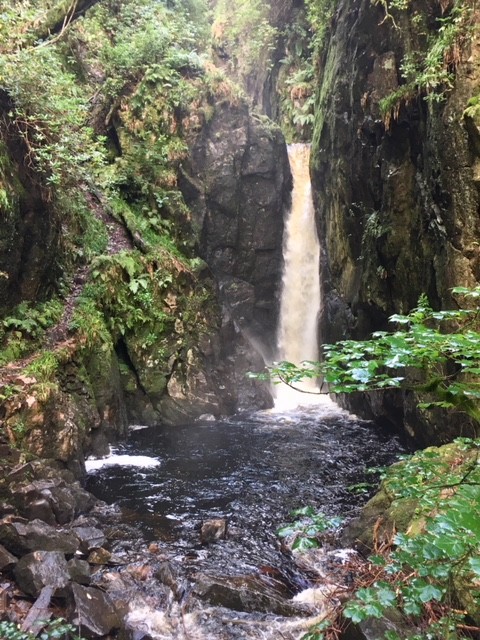 Hardknott Roman Fort
Even if you're not keen on continuing over the Pass it's worth driving as far as Hardknott Roman Fort. There's a small parking spot a few minutes after the cattle grid; alternatively you could park at the cattle grid and walk up. The steep road will give you a flavour of what's to come…..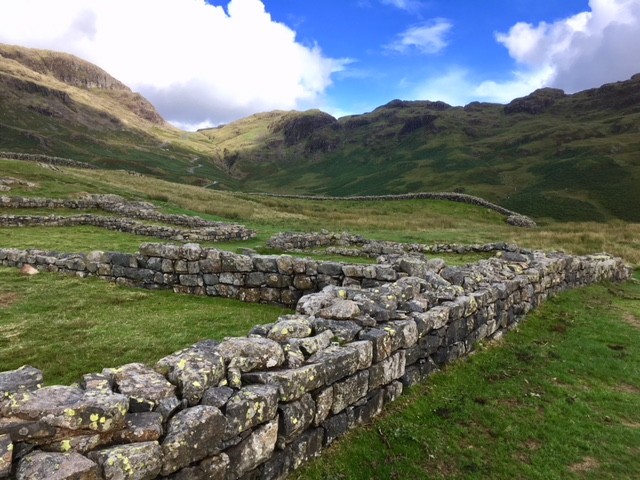 Hardknott Fort lies exposed to the elements, bordered by the rugged mountain landscape and overlooking the Eskdale valley. It's hard to imagine how tough life would have been for the 500 strong cavalry who were stationed here to protect the Pass. Particularly as they were thought to be from the rather more agreeable climate of the Dalmation coast!
The low walls of the fort were partially restored a few years back. Together with the information boards these help visitors interpret the site. It's possible to identify the location of granaries, lookout towers and garrison headquarters. There's even a bath house;  I just hope it had the famous Roman central heating.
One tip for future visitors. If there's a stream running down the road when you arrive then change into walking boots. I didn't and my feet soon discovered the bog surrounding the fort!
Hardknott and Wrynose Passes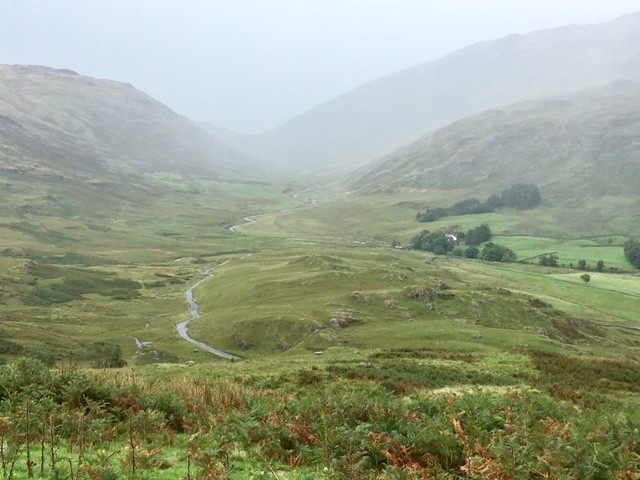 The Trip Advisor reviews for Hardknott and Wrynose Pass are five star but mostly recount how terrifying the drive is. Split tyres, vertiginous drops and scary encounters with cars on steep bends. Indeed, our first experience of the Pass was talking to a breakdown truck driver who'd come to Langdale to recover a car whose tyres had burst. Was the Pass really so terrible?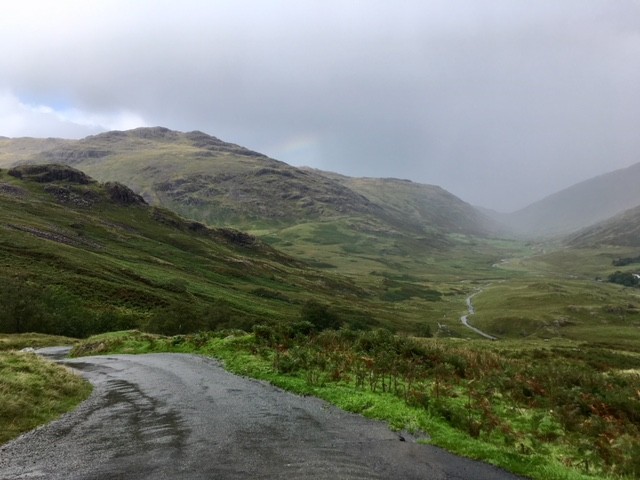 Er, no. Whilst the warning signs are ominous – 1 in 3 gradient, sharp bends, steep drops and unsuitable for caravans – it's still possible to enjoy the drive. And the five star reviews are justified.
Of course you'll need to keep your wits about you and your eyes on the road. Don't get distracted by the scenery. Watch out for the sheep. And for road users coming from the opposite direction. Make sure you give way to those coming uphill.
You'll also need a decent car. I was relieved to be driving a nifty hire car rather than our 14 year old Ford. Otherwise I fear we'd have been calling out that breakdown truck.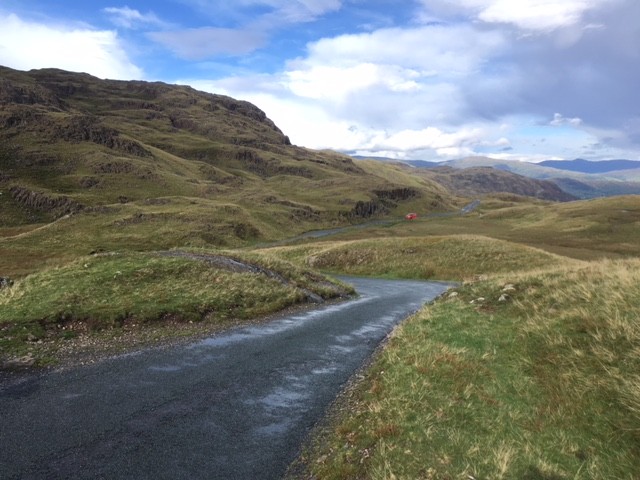 Hardknott was, for me, the harder of the two Passes. The road felt steeper and the bends sharper. I was tempted to stop and photograph the 'Well done' sign painted on the road at the end of Hardknott Pass but for obvious reasons it wasn't practical to stop in many places. And that's why the Passes look like a doddle in most of my photographs; I could only take them where it was safe to pull over.
Once over Wrynose Pass the road drops down towards Langdale and there's the opportunity to get out of second gear. Although we had an interesting moment when we met a car midway between passing points. I was relieved we weren't on the exposed side of the road!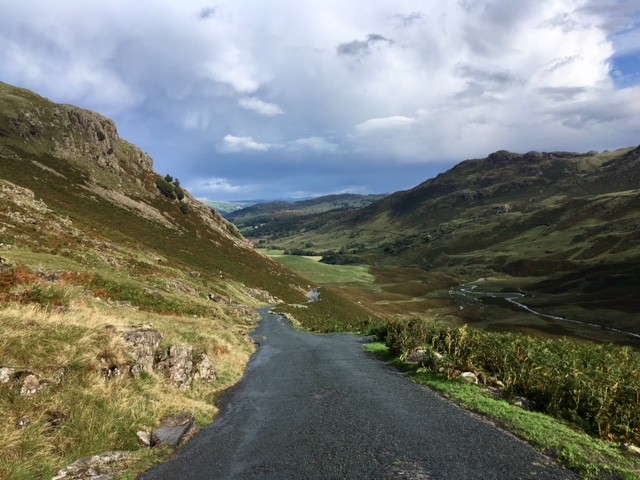 Blea Tarn
Our last stop of the day was Blea Tarn, a National Trust jewel of a lake. Its views of the Langdale Pikes are classic photograph material and we couldn't resist taking rather a lot. That said, our teens decided they'd had enough of scenery for the day and remained in the car. How could they miss this?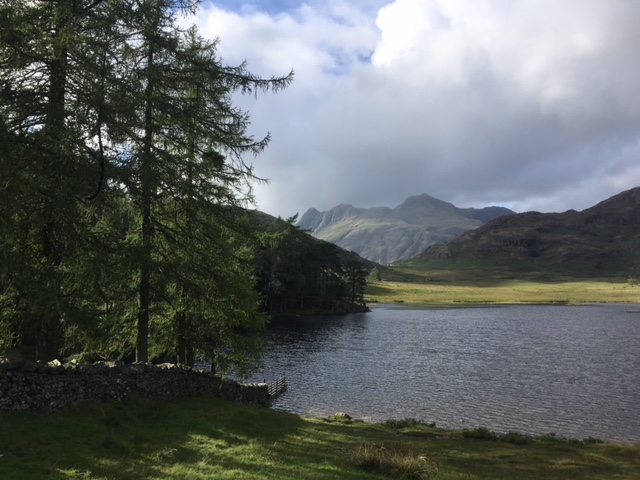 Our 40 mile driving tour ended back in Little Langdale. Our tyres and brakes were intact, our photos numerous and we'd even managed to stay mostly dry. A successful day out for all.
More info
We followed the Coniston-Duddon Valley-Eskdale drive outlined on the Lake District drives website. Highly recommended.
The Passes are closed in winter conditions. Don't attempt them in snow or ice!