Back in the summer holidays we spent a day exploring the Malvern Hills. This range of hills extends for 15 kilometres across Worcestershire and Herefordshire and offers relatively easy walking for families with older children.
We arrived by train into the town of Great Malvern, having seen glimpses of the hills from our carriage. The station is about 15 minutes walk from the centre of town. It's worth taking a quick look at its Victorian architecture, tea room and bookshop before you leave. A little twee but it's lovely to see a station so obviously well cared for.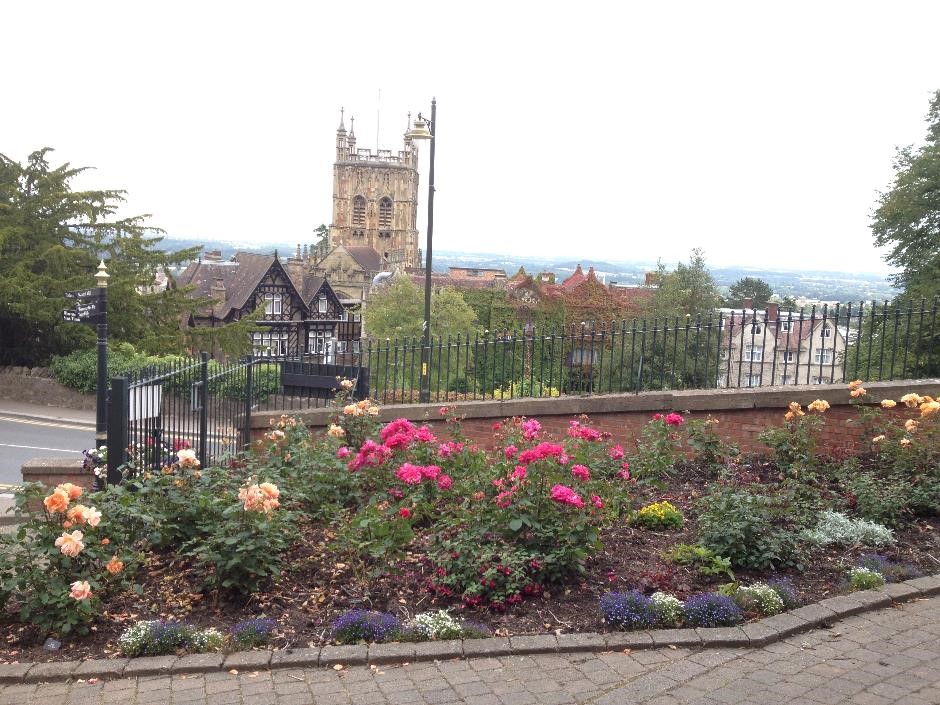 Although I've visited the Malvern Hills before I wasn't entirely sure where to walk. Given the geography of the hills it's hard to get lost but my natural sense of direction is terrible. Fortunately the tourist office provided a map showing the most popular walk options.
The route on to the hills is via ninety nine steps from the back of Rosebank Gardens which is a couple of minutes walk from the tourist office. We forgot to count how many steps there were but when you think you've finished there is a short stretch of uphill road.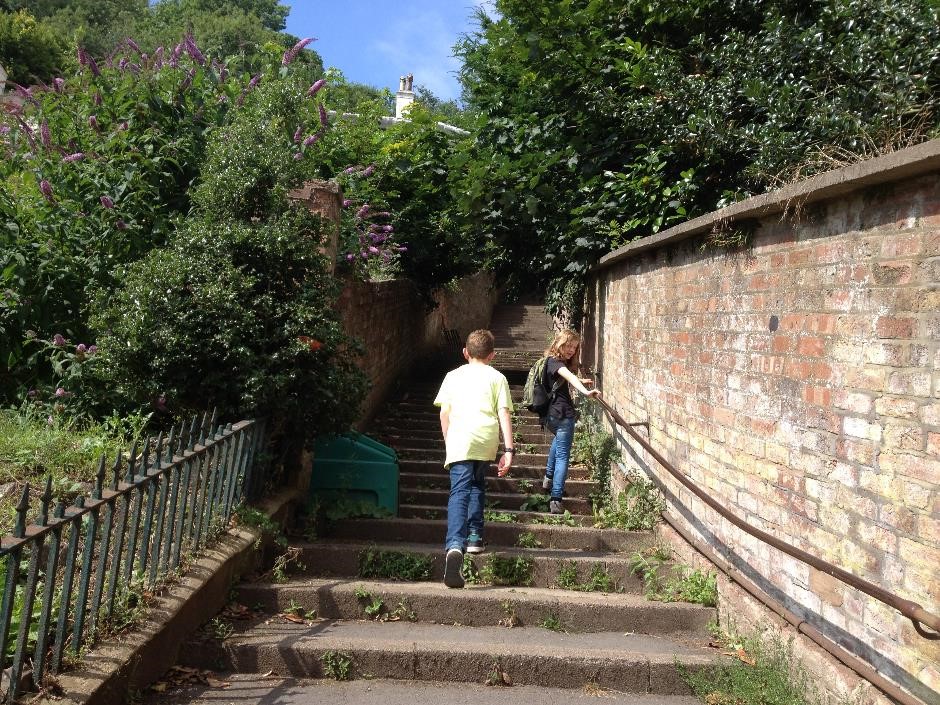 St Ann's Well cafe
Our brief uphill exertion provided the perfect excuse to stop for a drink at St Ann's Well cafe. Great Malvern was once a famous centre of hydrotherapy and visitors were transported up the hill by donkeys to drink the waters from the well. Water still flows from the well today and although there was a sign saying it isn't currently safe to drink this didn't deter one visitor who popped in to drink it during our stopover. My daughter was horrified that someone would ignore the notice!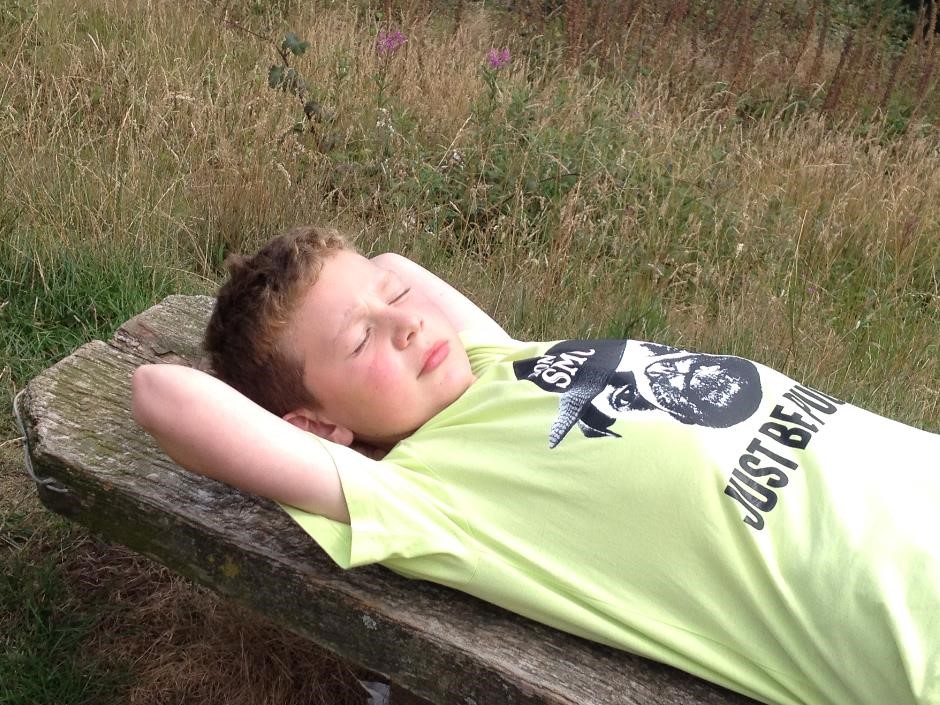 Suitably refreshed we carried on walking towards Worcestershire Beacon. My son decided he needed another rest on a bench despite him being the youngest and probably fittest out of us.
Worcester Beacon
We tackled a final steep stretch up onto the summit. At 425m Worcester Beacon is the highest point in Worcestershire so as you'd expect the views in all directions were amazing. Due to its location and height I'd imagine it's the most popular destination in the Malvern Hills but even on a sunny summer day it was pleasantly busy rather than overcrowded.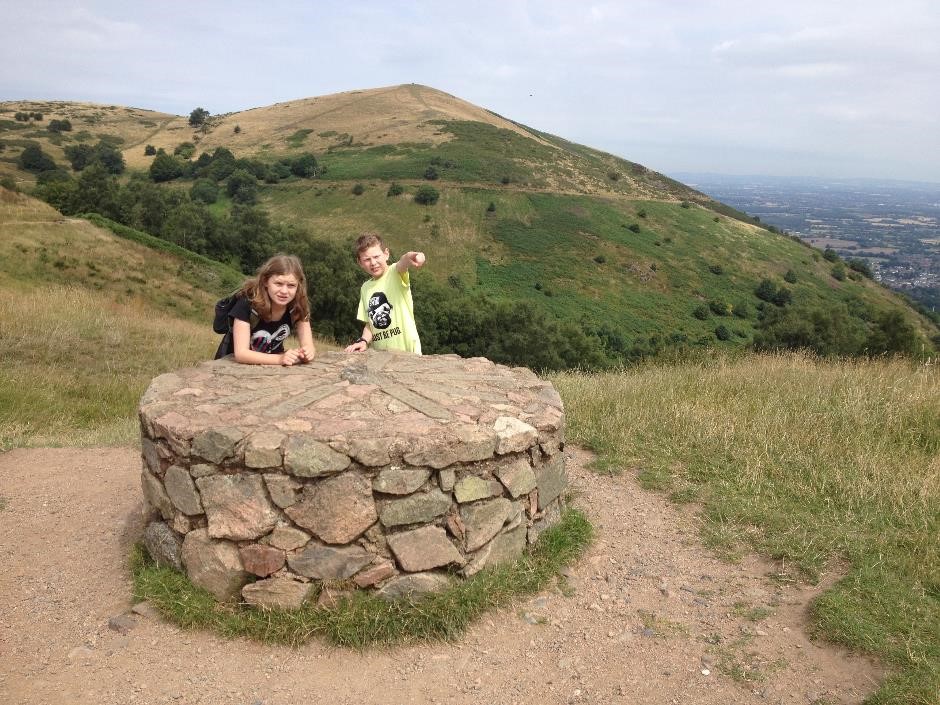 It was also a convenient lunch spot particularly as there was a group of paragliders nearby who we hoped would entertain us. However, either the thermals weren't sufficient or they were having a break too as they lay on their backs on the slope the whole time without taking off. We saw some later in the day though, circling high in the skies above Great Malvern.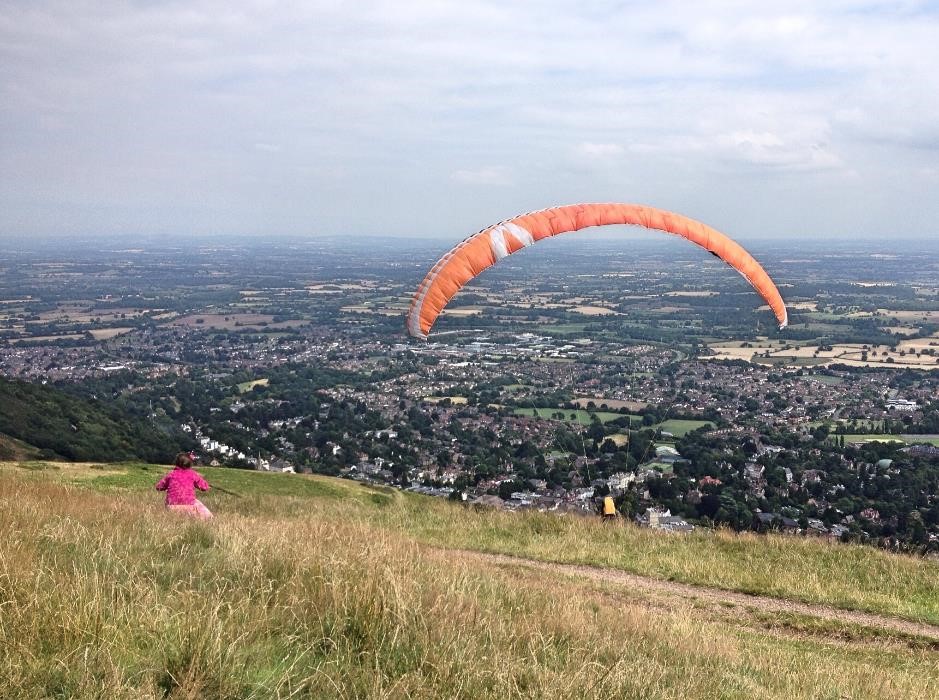 After posing for the obligatory photo at the toposcope on Worcester Beacon we continued our walk south. We'd already tackled the highest point of the day so we enjoyed an easy downhill stroll towards Wyche Cutting. Whilst it's possible to walk the full length of the hills in a day we were restricted by our return train time so I decided that from Wyche we'd return back to Great Malvern via a different route.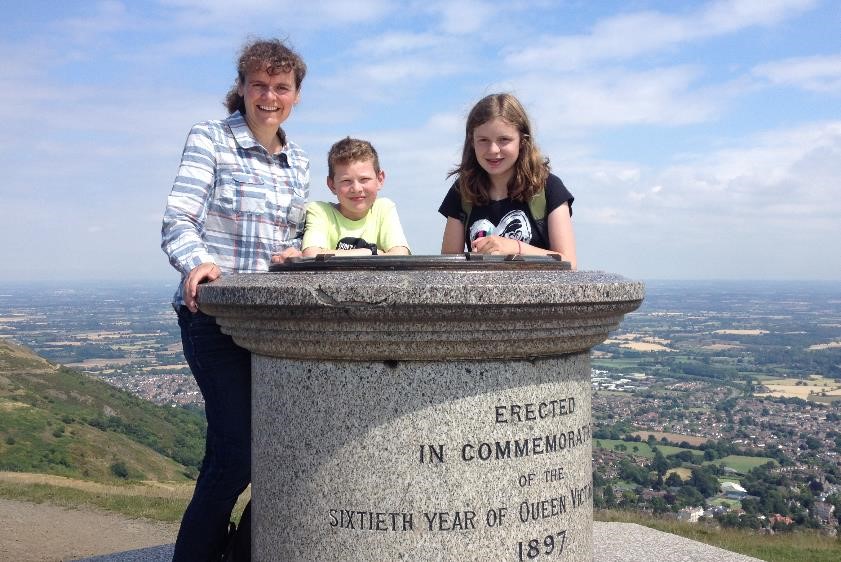 Wyche
Wyche handily provides yet another refreshment stop at the H2O cafe which is part of the Malvern Hills Geocentre. This is a small visitor centre for the Geopark Way, a 109 mile geological route from Bridgnorth to Gloucester.  The visitor information is primarily provided by iPads but there are maps and some printed information available. We were only there for coffee and cake so it was perfect for us but I wouldn't really visit it as a destination unless you're planning to walk the actual trail.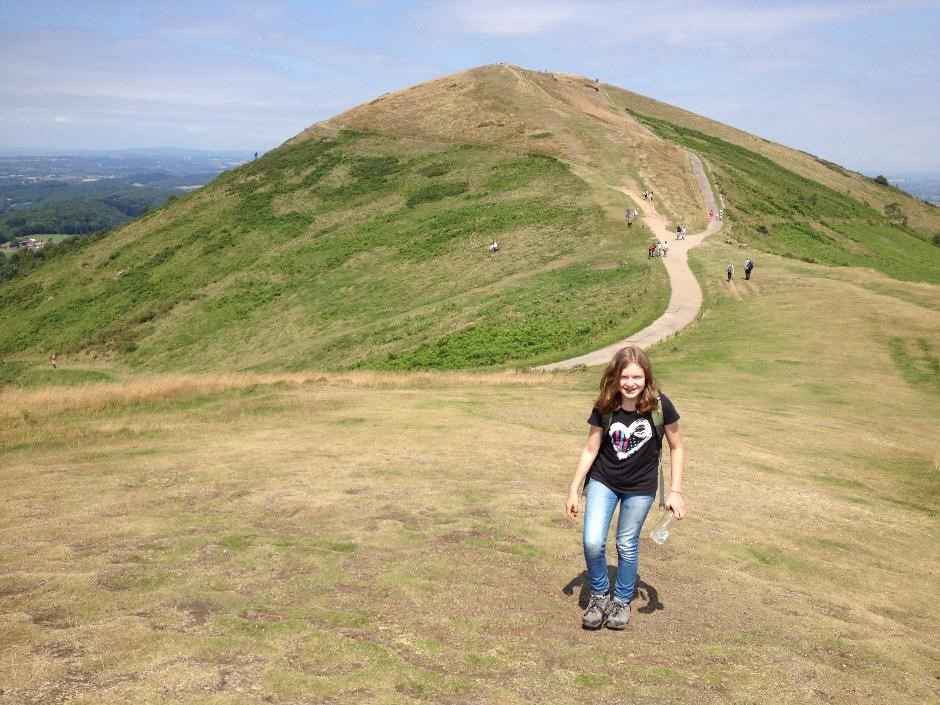 Our return route provided a complete change of scenery as it skirted along the edge of the hills through woodland and past Earnslow Lake. This is the site of an old quarry. Tales abound that gold was mined nearby but the only certainty is that granite was once taken from these hills.
The Malvern Hills Conservators have landscaped the old quarry and it's possible to walk part way around the edge of the lake. All very picturesque until the kids spotted a huge dead fish floating in the water!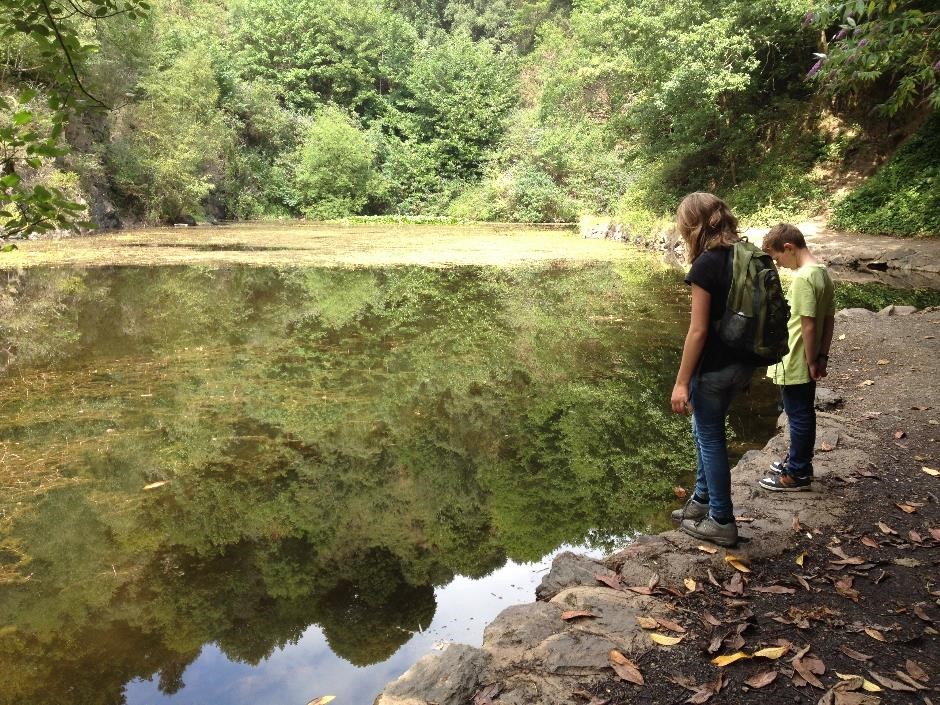 Our path led us back to the cafe at St Ann's Well. We had a much quicker descent down the 99 steps (which we still forgot to count) and into town. I managed to squeeze in one more cup of coffee before leaving; I think this walk broke a record in terms of number of cafés visited on a half day walk!
More info:
I previously linked to a leaflet outlining two walks on the north Malvern Hills but this no longer appears available and there is no obvious replacement. Instead the website suggests purchasing walk leaflets from the tourist office.