The Picos de Europa are a small mountain range in northern Spain. It's an incredibly scenic area with jagged limestone peaks and luxuriant green meadows; a world away from the Spanish Costas. Even as I write this I'm not sure why the Picos languished for so many years on my 'must visit one day' list as it's a fabulous place to visit if you like the outdoor life.
Have I tempted you? If so read on for my list of things to do in and around Potes:
1. Discover Potes
Potes is an excellent base from which to discover the Picos de Europa. It's touristy, but in a positive way. It has great facilities for visitors with plenty of dining and accommodation options, supermarkets and a smattering of souvenir shops. This is probably one of the best places to stay if you're reliant on public transport. However to get the most out of the area I'd recommend a hire car.
Potes is a tourist attraction in its own right with a medieval town centre, bisected by a river and gorgeous stone bridges. Do climb to the top of Torre del Infantado for a birds eye view of Potes and the surrounding countryside.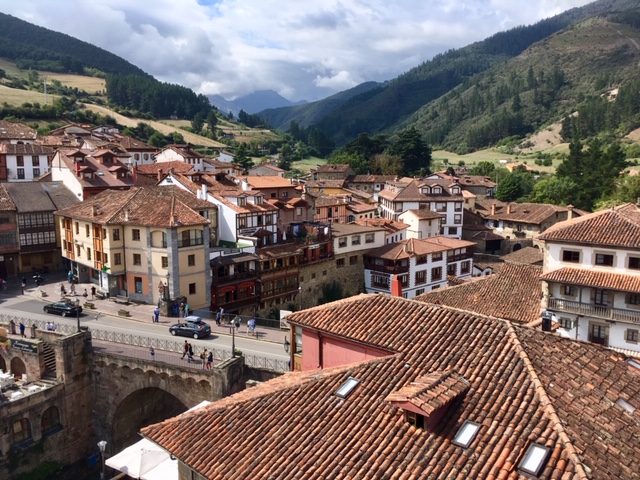 Whilst vegetarian diners can face a rather limited menu in the Picos (even the side salads come with added tuna) I had a fantastic meal at La Soldreria de Potes. Along with great pastries and people watching at Pasteleria Wences. Both highly recommended.
2. Enjoy the view from Mirador de Santa Catalina, near Piñeres
Choose a clear day and you'll be treated to a spectacular  panorama of Hermida gorge from this viewpoint. It's possible to drive the whole way up although we parked by the small chapel of Ermita de Santa Catalina (near Piñeres) and walked the final stretch. It's a steep walk up though the woodland; keep an eye out for carvings of mythological creatures.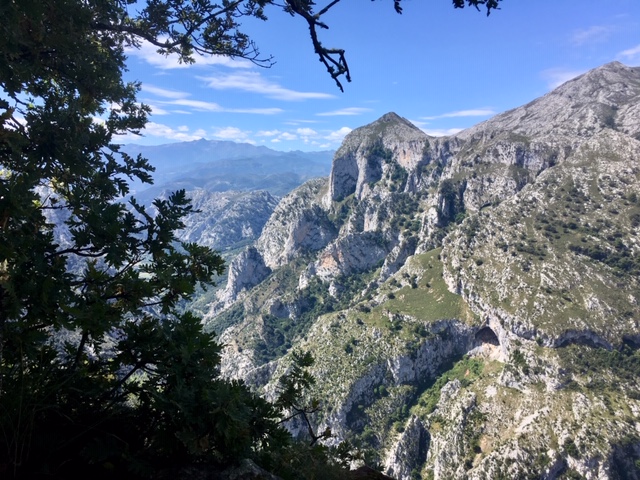 Aside from the view I had an ulterior motive for visiting. I love butterflies so when I heard that swallowtails frequent the viewpoint I had to visit. I spent most of our picnic not looking at the view but watching these spectacular butterflies instead.
3. Ride the Fuente Dé cable car
We rode the cable car as part of a longer circular walk from Fuente Dé. Even if you don't plan on a walk from the top it's a fantastic experience to ride the cable car to the top station. Although if you've a fear of heights bear in mind this is the longest single span cable car in Europe.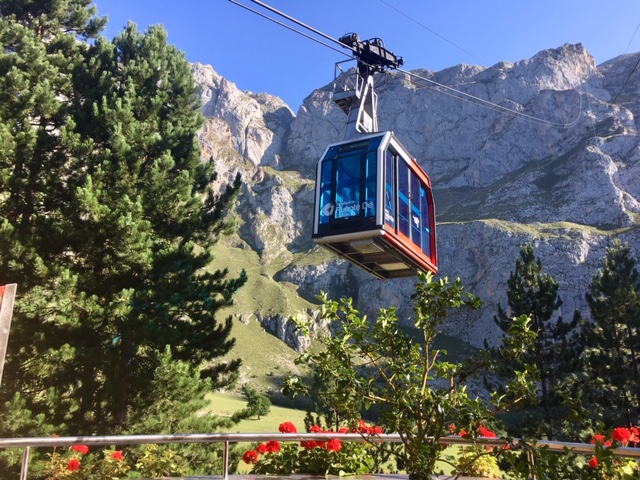 If you are walking you'll want to arrive early during peak season (before opening time). If you just want an up and down ride you can be more flexible with your arrival time although you may get stuck behind large tour groups. Choose a cloud free day to ensure you get the views. Even if you're not planning a long walk do follow the track away from the observation platform for 15 minutes or so to get a flavour of the mountain scenery.
4. Go nature spotting
The Picos de Europa are a fantastic destination for those interested in butterflies, flowers and birds. The butterflies in particular were stunning, with varieties of blue and two different types of swallowtail widely seen. We found the best spots were the Santa Catalina viewpoint, the walk down from the Fuente Dè cable car and around Cahecho.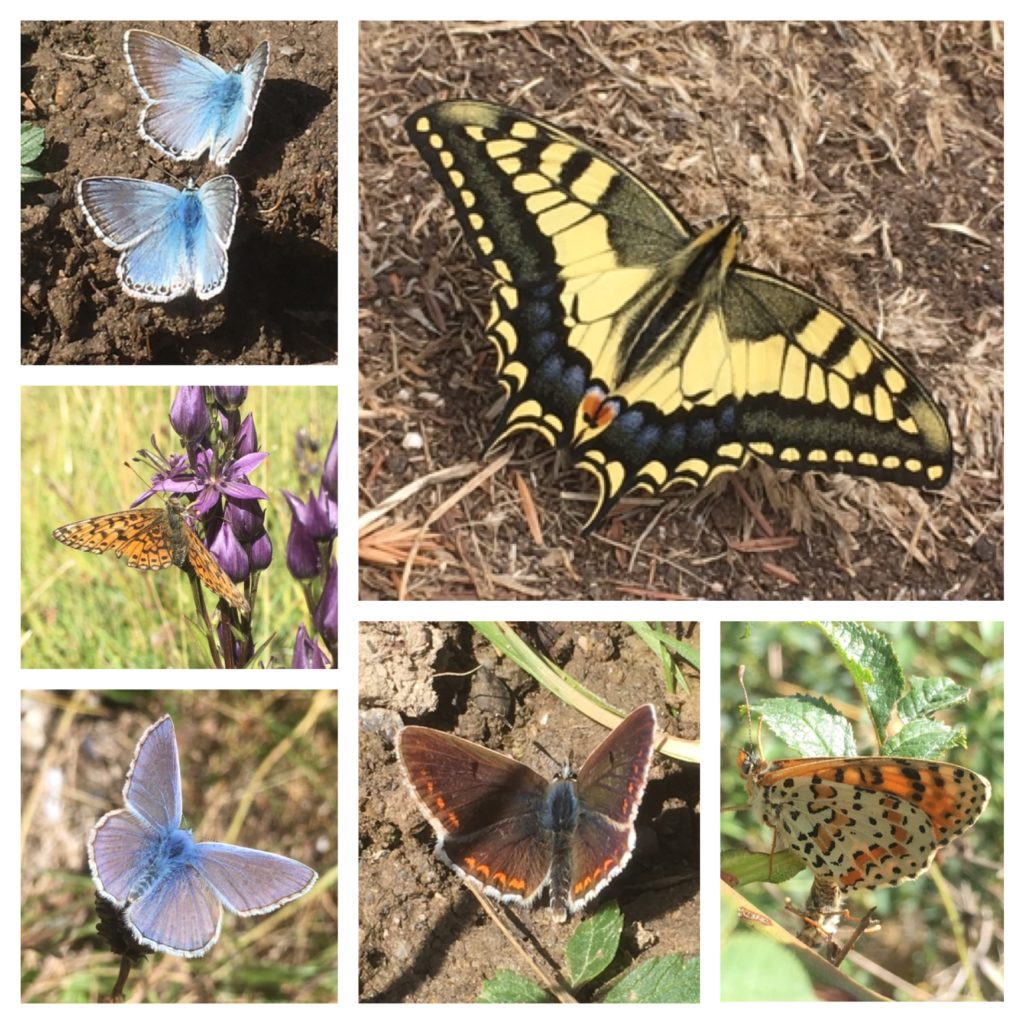 Mammals are harder to spot but we saw a red squirrel and a badger near our accommodation in Valmeo (just outside Potes). Watch out for badgers if driving on the roads at night. We both had a lucky escape!
5. Walk from Brez (Canal de las Arredondas – PR27)
This was our first walk in the Picos. It's an easy low level walk with stunning views of the mountains. Park along the road into the village and follow the route outlined on the information board. It's straightforward to follow and well signposted.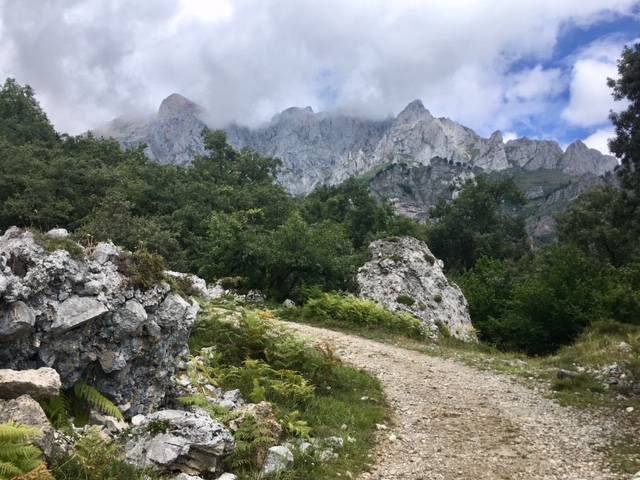 We saw several families on this walk. At around three miles long, it's suitable for most people although there are a few ups and downs along the way. The route is circular, initially through trees, and then through the Valley of Camaleño. At the highest point there are great views of the massif. Don't miss this walk!
6. Enjoy a drink with a view in Cahecho
There are many scenic watering holes in the Picos de Europa but my favourite was from the outside tables at Casa Lamadrid in Cahecho.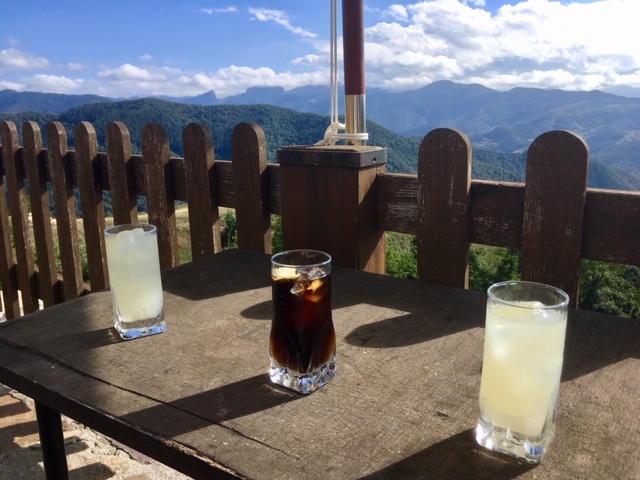 We'd initially started out on a walk from Cahecho but it was already late in the day so I decided to curtail and return to the village. Sipping drinks on the terrace, whilst watching vultures circling on thermals nearby, proved a much more popular choice.
7.Walk the Cares gorge, Cain
The trail through the Cares gorge runs from Puente Poncebos to Cain. Whilst most people tend to walk 24km out and back from Puente Poncebos, we drove to Cain and walked part of the route in reverse. Be warned, the drive to Cain is a little hairy, especially the last section from Posada de Valdeon. The walk itself, on a man made track through the gorge, is straightforward but there is a sheer drop down to the river at some points.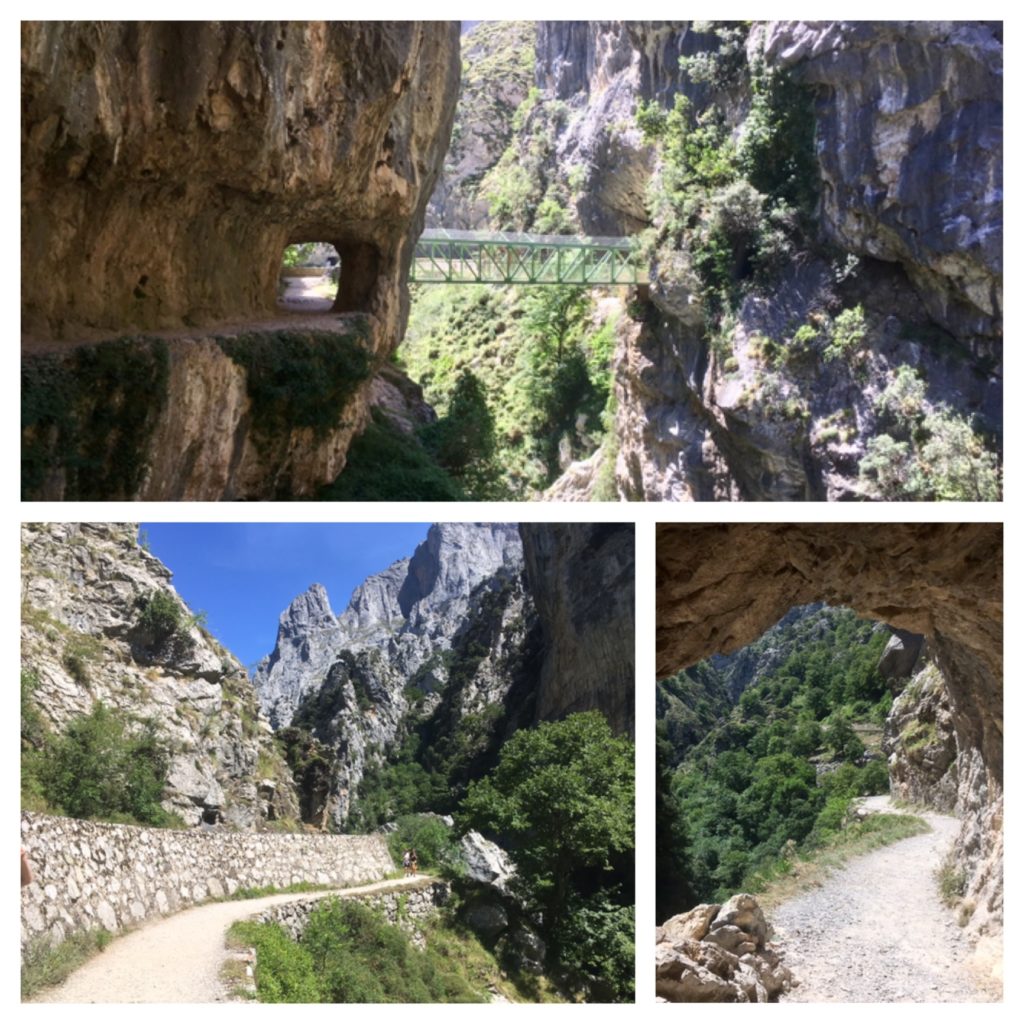 Now, an admission. The Cares gorge walk was my only disappointment in the Picos. It was stunningly beautiful but also incredibly busy in August. Perhaps I'd been spoilt by the low key tourism elsewhere in the Picos but it was a shock to encounter so many people in the gorge. Do walk the trail but perhaps not in August.
7. Explore the village of Mogrevejo
There's a reason why this part of Spain is so green, and you can probably guess it. Yes, it's rather more prone to rain than most of the country. That said, we were lucky with the weather in August and only had one wet day.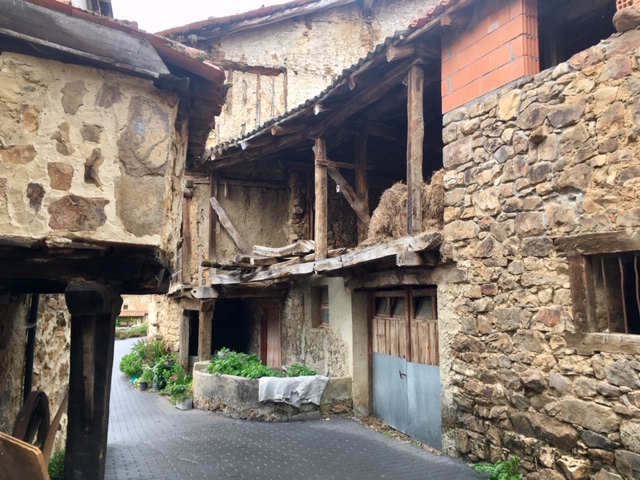 It poured with rain during our visit to Mogrevejo but that didn't detract from its beauty. This tiny village, has traditional stone houses, a medieval tower and 17th Century church. There's also a 10km walk signposted from here, best walked on dry days. When it rains head to a bar instead!
8. View from Collada de Llesba, near San Gloria Pass
The San Gloria pass, with an elevation of 1609m, is accessed via multiple hairpin bends, on a route popular with motorcyclists. Hopefully that doesn't put you off because it's worth every minute of your journey.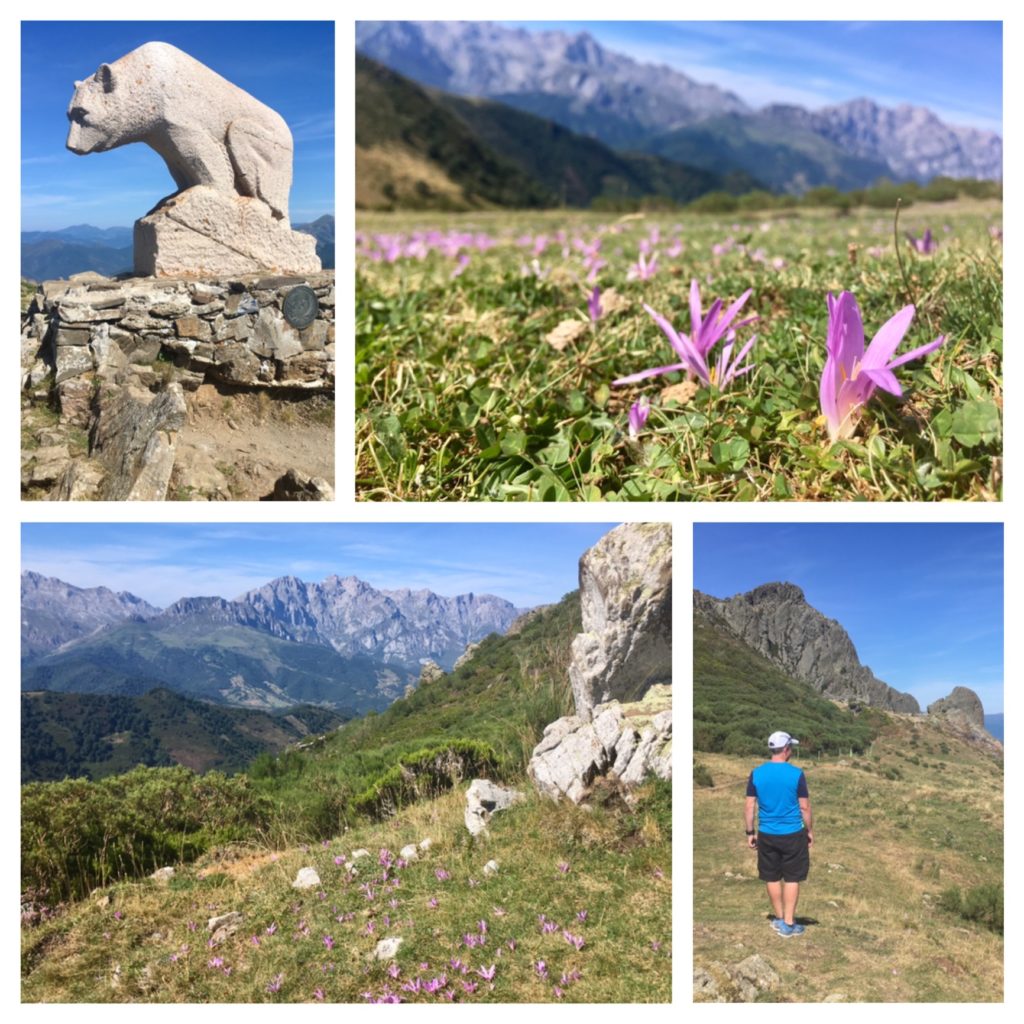 We stopped on the pass en route to and from Cain. It's a good place to break your journey and take a rest from concentrating on the roads, although be aware there are no facilities. To reach the viewpoint you can either park at the pass itself and walk 2km along the road to the viewpoint or drive up and hope there's a parking space. The viewpoint is also known as Mirador del Oso, presumably because of its huge bear sculpture overlooking the hills.
9. Visit the national park centre, Tama, near Potes
This wasn't quite what I was expecting but it's useful to get an overview of the Picos de Europa. The centre is housed in a huge building with displays on geology, ecology and the culture of the area. Entrance is free; it's one of the few indoor rainy day options in this area.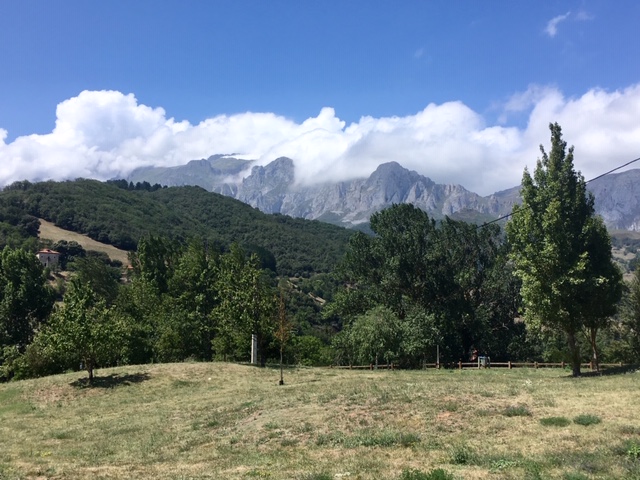 10. Iglesia de Santa Maria de Lebeña
This small church is just off the main road though the gorge. It costs a couple of euros to get in and, if you speak Spanish, this includes a tour. If not there's a leaflet in English which explains the architectural and religious features. The church dates from the 10th Century and is of the Mozarabic style. It is closed Mondays but is generally open mornings and late afternoons.
If, like us, you arrive when it's closed you'll find a small outdoor kiosk next to the car park serving drinks and (when we visited) fresh tomatoes for sale.
I hope you find this list of things to do near Potes useful. Anything you'd add?
More info:
This National Park website has a list of viewpoints and access details in English.
We found the Sunflower Guide to the Picos de Europa invaluable. Most of the main walks were too long for us but we enjoyed the shorter routes, driving and picnic suggestions.