Often called Cornwall's forgotten corner, the Rame Peninsula is in the south east of the county, just over the border from Devon. We spent a week exploring both the peninsula (which features on my UK bucket list) and further afield.
Our holiday home was in Millbrook, Cornwall's largest village. It's a couple of miles inland from the main tourist destinations of Kingsand and Cawsand. However it's an excellent base, with two small supermarkets, several pubs and cafes and a lake for evening walks.
Kingsand and Cawsand
These twin villages both have small beaches, pubs and pastel coloured houses (mostly holiday lets); indeed it's difficult to know where one village starts and the other finishes.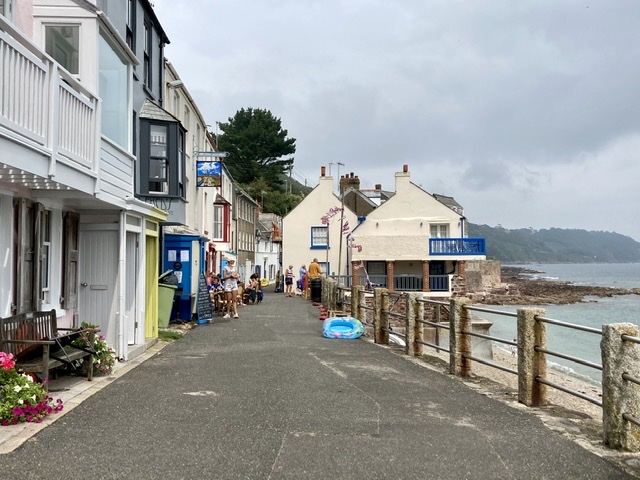 We were able to walk to Kingsand and Cawsand from our holiday house. If you're arriving by car, then parking and driving can be tricky. There are small car parks in both villages or you can leave your car at the top of the village and walk down.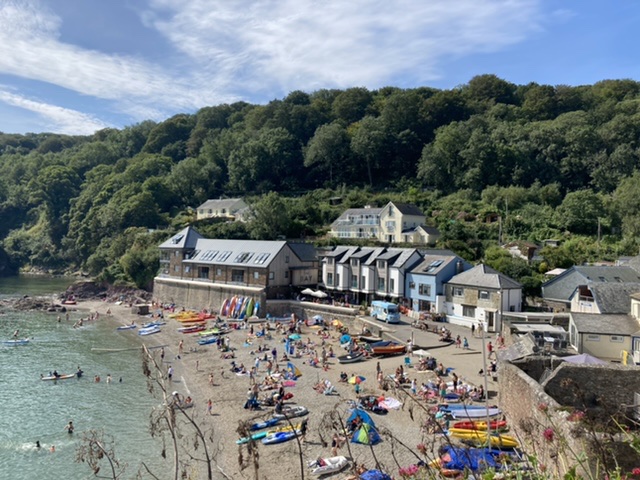 The beaches are safe for swimming and you can hire kayaks and paddle boards at Cawsand. Although be prepared for the swell when Navy ships from nearby Plymouth pass by!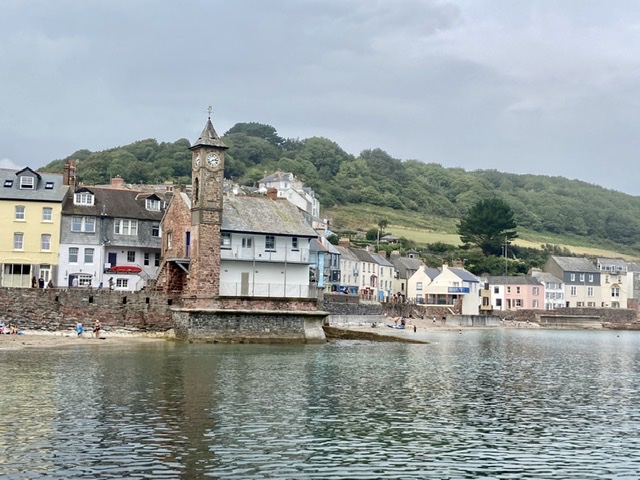 Kingsand's clock tower was badly damaged by winter storms in 2014. It's hard to reconcile the BBC reports of the storms with the calm sunny weather we experienced but it does explain the flood barriers on many of the properties. The clock tower was subsequently restored and sea defences built to protect it in future.
There are scenic walks along the coastal path in both directions; Rame Head is one way, Mount Edgcumbe the other.
Rame Head
Although you can park near Rame Head the best approach is by foot from Cawsand.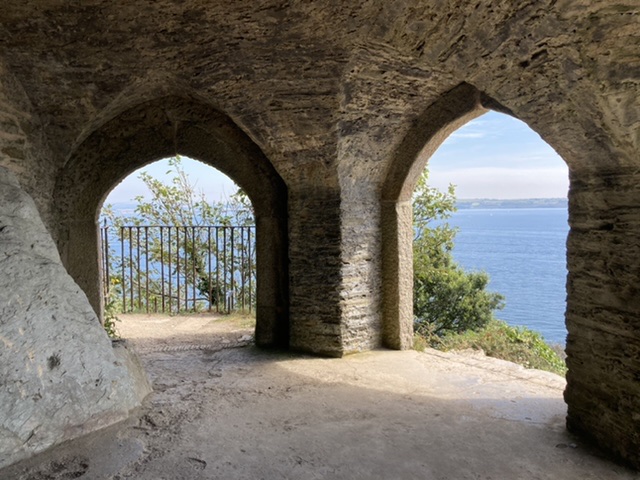 We followed a similar walk to this 3.6 mile circular route from Cawsand. The first part is through shady woodland (a relief when you're walking in a heatwave). A little further on, just above Penlee Point, is Queen Adelaide's grotto. The cave was originally a lookout point over Plymouth Sound and is a great place to watch watery comings and goings. The arches were added in 1826/7 after a visit from the soon-to-be Queen.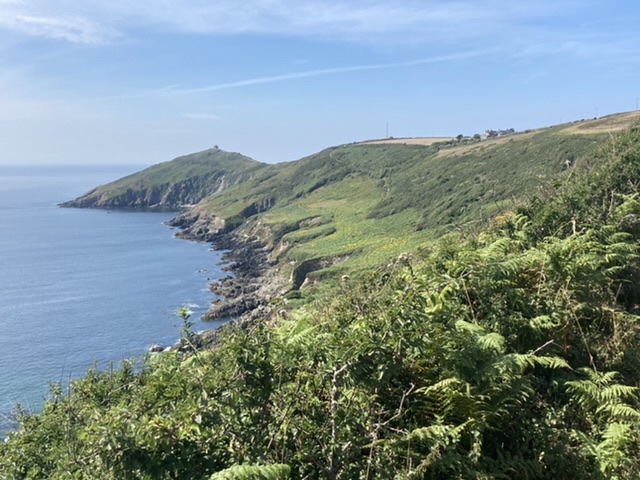 After leaving the grotto Rame Head and its little chapel are visible in the far distance. It looks a long way but is a lovely walk through coastal heathland. As you approach the headland you'll probably encounter some Dartmoor ponies who help the National Trust by grazing the vegetation.
Rame Head is home to a lookout station, manned by volunteers from the National Coastwatch Institution, and a small chapel. The chapel has stood here for at least 600 years, and is dedicated to St Michael the Archangel. It's a simple building in a stunning location although as it appears to be used by the ponies you wouldn't want to linger inside too long.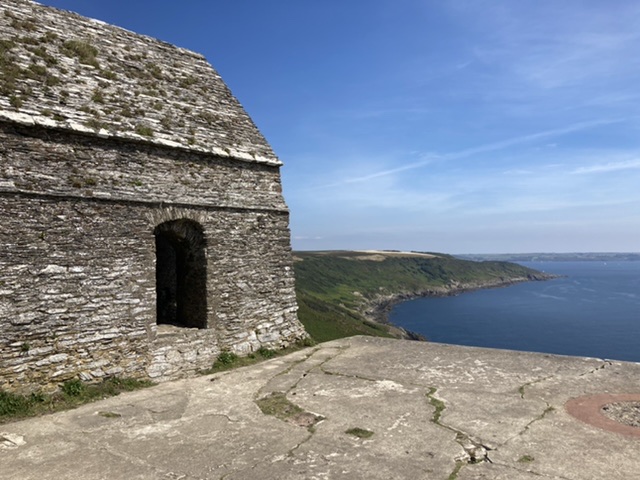 Right in front of the chapel is a huge concrete structure which was a gun emplacement in World War II. Little thought was given to the aesthetics of placing a large concrete platform right next to a holy site but that's war for you!
Mount Edgecumbe Country Park
Mount Edgcumbe covers a large proportion of the coastline on the Rame Peninsula. It's a mix of country home, extensive grounds and companies offering interesting activities (Segway tours, frisbee golf, circus skills). Whilst there is a charge for the house and activities the grounds are free.
The grounds include formal gardens, parkland and coastal stretches all the way to Rame Head. There are several car parks; if you want to see the formal gardens I'd suggest using the one at Cremyll. There's so much to see! As well as the gardens there are a variety of follies, war fortifications and boat activity in the Plymouth Sound. There are good views to Drake's Island and Plymouth.
Elsewhere on the Rame Peninsula
Antony House and Woodland Garden are two attractions on the northern side of the peninsula. The house is National Trust, whilst the woodland gardens are owned separately. Although I was tempted to visit I hadn't planned it in advance and no tickets were available.
A couple of miles from Antony is Wacker Quay. It advertises itself as part of the Tamar Valley AONB so I'm not sure if it's strictly on the Rame Peninsula but either way it's a scenic spot and a popular canoe launch site. There's a two mile walk along to Antony, or you can do as we did and eat fish and chips on the picnic bench. Do take all your rubbish and dog waste home with you though.
Beaches
If you like long sandy beaches you'll enjoy the beaches of Whitsand Bay, which stretch from Rame Head to Portwrinkle. The only downside is that many of them are difficult to access (think cliffs) and have minimal facilities. If that doesn't phase you you'll love them.
We visited a couple, including the one at Polhawn Cove. Access is via a steep narrow path off the cliff. It's my kind of beach as there are rock pools aplenty!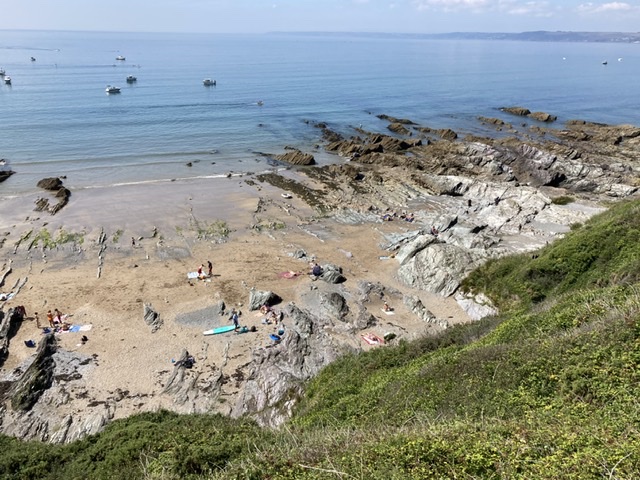 Alternatively, Finnygook beach at Portwrinkle is one of the more accessible options (but still with steps to beach); it also has a beach cafe and nearby car park.
Getting there
Whilst the A38 provides the main road route into the region the best way to arrive is by ferry. There are foot passenger services from Plymouth to Cremyll and Cawsand, or a vehicle ferry between Torpoint and Plymouth. The car ferry only takes a few minutes; it's free going to Cornwall or £2 if you're heading towards Devon. No booking is required, simply turn up and queue for the next available ferry.
Places to eat
I highly recommend The Wilcove Inn, near Torpoint. The food was excellent and the location, next to a tidal cove on the River Tamar, is stunning.
Aside from this we bought pasties from CornishPod (just outside Millbrook), ate cinnamon snails at The Old Bakery in Cawsand and had breakfast at the Marine Cafe in Millbrook. All very good.
Further afield
We used the Rame peninsula as a base for day trips to Bodmin Moor, Polperro, the South Hams area of Devon and a cycle trip along the Plym Trail. We didn't visit Plymouth but it's another good option for a day trip, particularly if you enjoy maritime history.
Have you visited the Rame Peninsula? If so, what did you enjoy?