*Update: the REME museum near Wokingham relocated in April 2015 and is now based in Lyneham, Wiltshire.*
We recently visited REME (Royal Electrical and Mechanical Engineers) museum, which is attached to Arborfield Garrison near Wokingham. REME are responsible for maintaining electrical and mechanical equipment in the British army, this includes everything from tanks and helicopters to dental tools. Whilst this might not sound the most exciting topic for kids the stand out feature for me was how family friendly they've made the museum.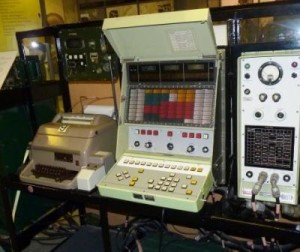 On arrival the kids were given a map each and a feedback form for them to detail what they took part in, what they enjoyed and what bored them. I found this typical of the museum; they've thought hard about how to make it more interesting for children.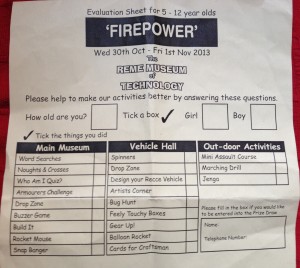 The museum exhibits included displays of uniforms, medals, armour, technology and general war memorabilia. I enjoyed the replica of the 1950s guard room, with details of the soldiers duties. Some parts of the museum are more interesting to adults rather than kids and without the additional activities I think the kids would have been finished in an hour. As it was, we spent about three hours on site and we only left as we had a swimming lesson to get to.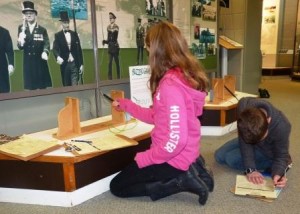 We visited the 'Firepower' event which ran during the half term holiday, but I can see from their website that they have events on most holidays. There were lots of small activity stations for the kids with word searches, colour in a Christmas card for a soldier, quizzes, make a rocket mouse and trails to complete.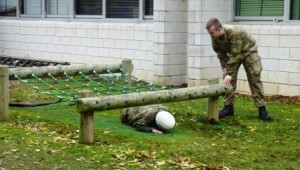 One of the activities the kids most enjoyed was the mini assault course. This had a variety of obstacles including nets to climb over, tyres to run through and a paddling pool water feature! The kids were fitted with a helmet and jacket and encouraged around the course by a soldier. These were timed and at the end they received a certificate with their timing and some sweets. Although the mini assault course was a special holiday activity it looks like it runs several times throughout the year so worth keeping an eye out for.
They also took part in a marching drill. Most of the kids taking part got confused with the steps but they all seemed to enjoy it. I was really impressed with the young soldiers helping out with the activities. They were very friendly and helpful, even though I'm guessing this was not what they signed up for!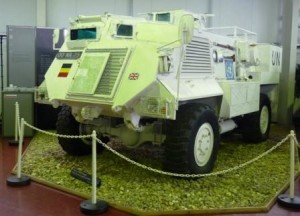 The best part of the museum, from the kids perspective, was the vehicle exhibition hall. This held vehicles associated with the Corps and had tanks, armoured vehicles and even a helicopter.  It also had the rear part of a Volkswagen Beetle that had been made into a sofa, which the kids thought was really cool.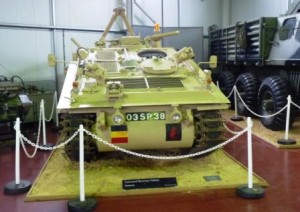 The museum has a small onsite cafe offering a range of baguettes and sandwiches, drinks and cakes. Prices were very reasonable, with baguettes costing around £2.50, tea 90p and filter coffee £1.10 for a mug. The cafe was very busy and appeared to be a popular place for the soldiers as well as visitors.
Overall REME is an excellent museum to visit. To make the most of your day I'd definitely recommend choosing a day when they have additional family activities.
More info:
Further details can be found on the REME website. The museum is closed on Saturdays and for a short period over the Christmas break.
Almost all of the museum is accessible to wheelchairs.
Activities are best suited to 5-12 year olds. The museum would have limited appeal for pre-school children.