A visit to the Imperial War Museum in London has been on the cards for some time but we wanted to wait until the children were old enough to understand and appreciate it. They've both learnt about the Second World War at school now so during half-term we combined the museum with a trip round London to view some of the other war legacies.
If you're interested in a similar exploration I've listed below the places we visited and further suggestions that could be incorporated. I wouldn't advise following our exact route; I had specific plans for lunch so our itinerary is based as much around our stomachs as World War 2 sites!
Site of the first bomb on the city of London, Fore Street
We started in Moorgate, looking for a plaque which commemorates the first bomb of World War 2 to fall in the City of London. It's thought that German bombers were heading for an oil refinery along the Thames but dropped them, possibly mistakenly, over the city instead.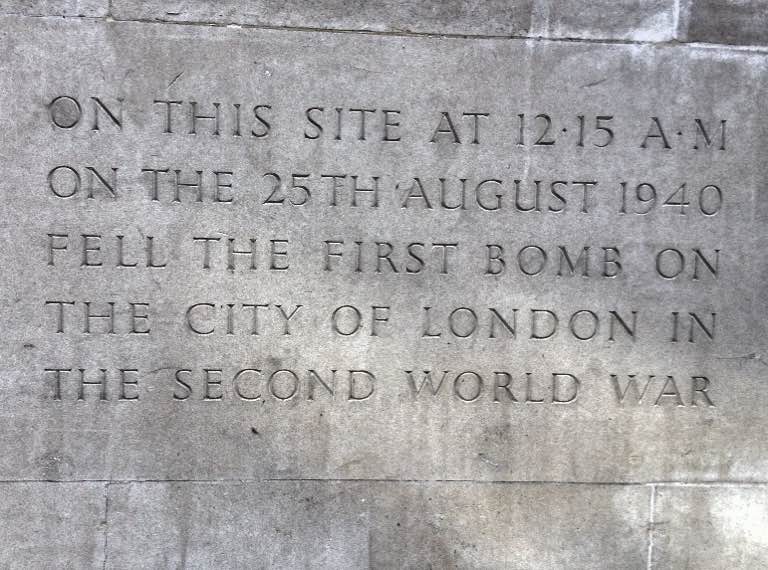 Much of the City was rebuilt after the war but it seems to me that it's being rebuilt again. The whole area around Moorgate Underground station is a building site which made it a little difficult for us to find the plaque. When we finally found Fore Street a construction worker kindly pointed out where to see it (down the end near St Giles Cripplegate Church).
Christ Church Greyfriars
We walked from Moorgate to Christ Church Greyfriars. Almost all churches in the City of London were damaged during the Blitz, including many designed by Christopher Wren after the Great Fire of London. Christ Church was one of eight Wren churches hit on the night of 29th December 1940.
The church was almost completely destroyed although the west tower survived and is now a private house; what an amazing place to live! The remains of the church are a public rose garden, perfect for lunchtime breaks.
St Paul's Cathedral, just a few minutes from Greyfriars, escaped major damage despite almost all of the surrounding buildings being destroyed. This was mainly due to a group of fire fighters who took special care to protect the cathedral.
World War 2 shelter sign – 36 Longmoore Street
Although the Underground stations famously doubled as air raid shelters during the war many other places were also put to use. These were signed to help the public locate them, some of these are still visible today.
One sign can be found at 36 Longmoore Street. Walking along the road you can see that most of the residents have converted their basements to kitchens. Back in World War 2 public shelters were found in vaults in these basements. We could just make out the writing on one of the walls directing people down the stairs to the shelters.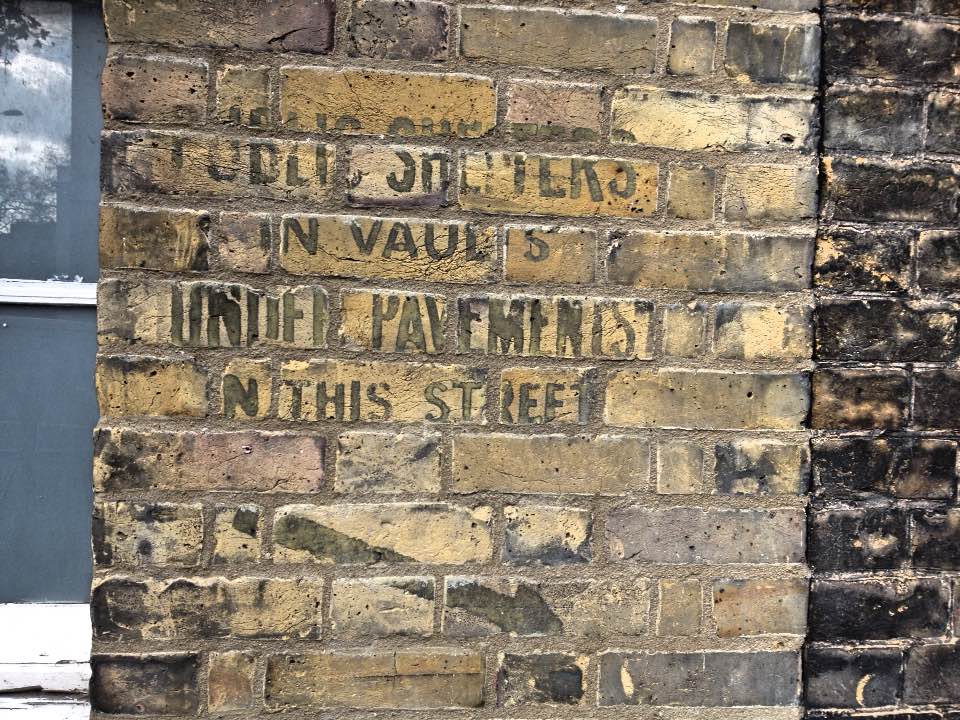 Whilst trying to find out more history of the street I couldn't resist a peak at property prices. The relatively modest 3 bedroom houses all appear to be worth upwards of £1.8 million, wow!
Tate Britain bomb damage
Few places in London were immune to bombing damage in the Second World War. Even Tate Britain suffered as you can see from the photos below. I wonder how many people notice this when they visit the galleries?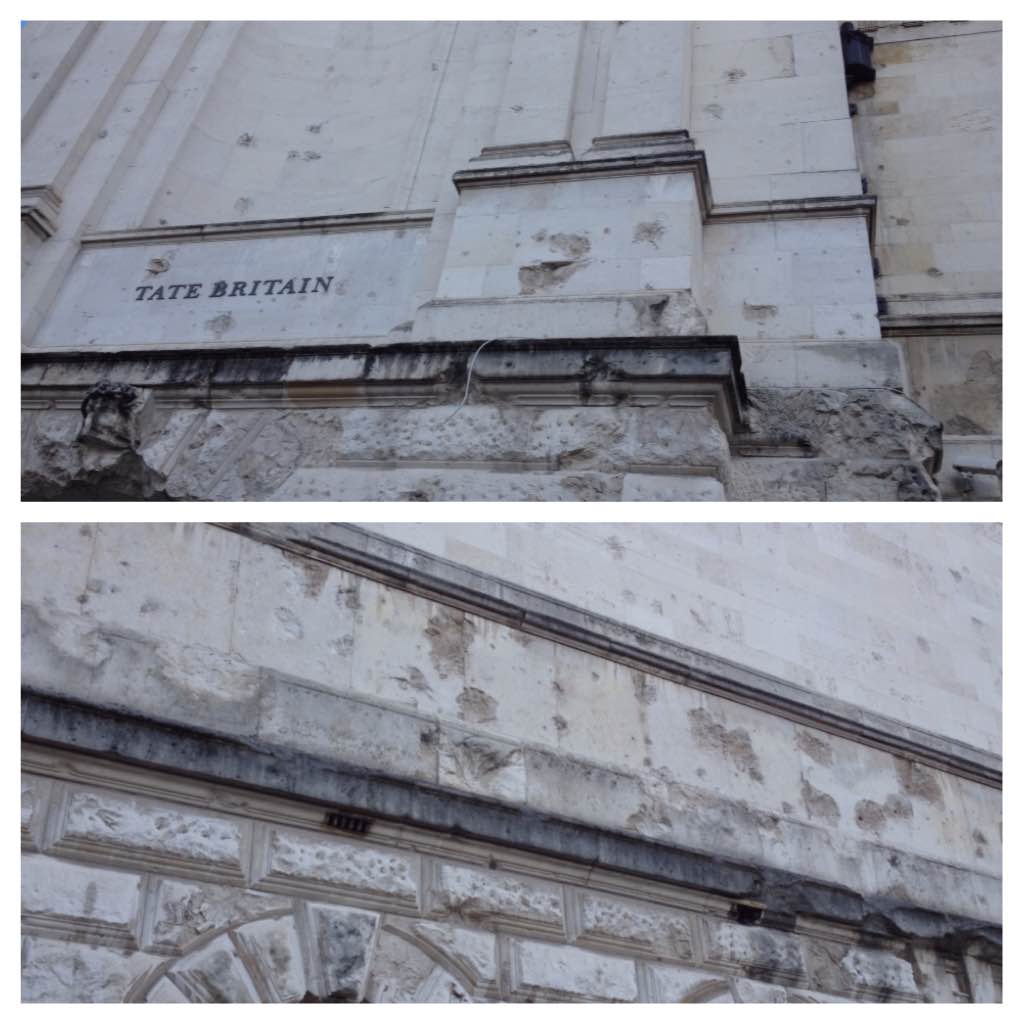 I popped inside briefly to confirm that we were actually looking at bomb damage and spoke with a helpful assistant. He told us that the gallery was damaged by bombs several times in the war but most of the art was moved to Picadilly Underground tunnels for safe storage (the door key is on display in the gallery).
Imperial War Museum
Our main destination was the Imperial War Museum which covers conflicts from World War I onward. Although we were primarily there for World War 2 we also visited the Great War exhibits and had a brief look around at the more recent collections.
I thought the World War I rooms were by far the best, although busy due to school holidays. In comparison the World War II rooms didn't seem as comprehensive although there was still plenty to see.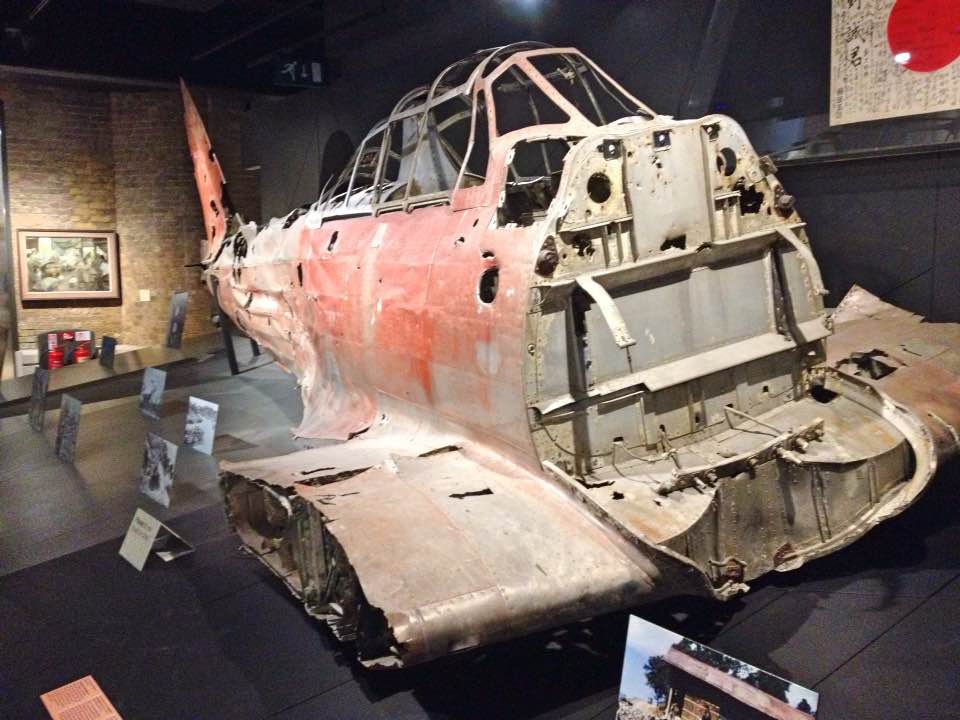 Whilst the children liked the big and obvious military exhibits I preferred the personal aspect of war stories. For this reason I focused on the Family in Wartime exhibition which explored the life of the Allpress family during the Second World War. As well as reading and listening to audio clips about how their lives were affected there was a model of their home and an Anderson shelter.
I enjoyed seeing this letter from an evacuee, particularly the postscripts. I could imagine writing them myself as a child!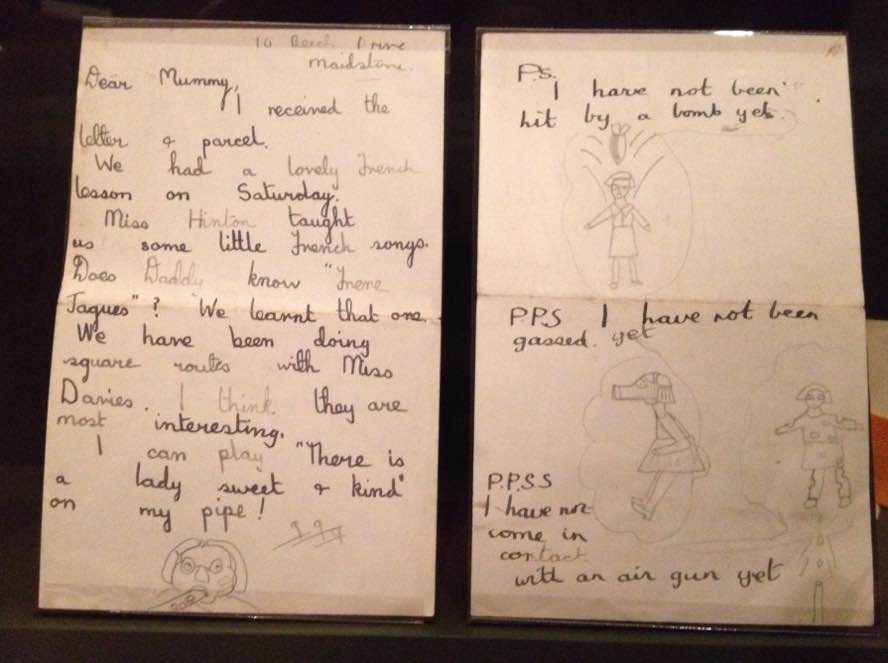 We missed the Holocaust exhibition out as it's only recommended for children aged 14 and older. I've read that it's incredibly moving and sobering; definitely worth a visit on a future trip.
Admiralty Citadel
Our last stop of the day was the Admiralty Citadel. I loved seeing this! The Citadel is one of the ugliest and most out of place buildings you can imagine. It's 'hidden' in full view of the public just off of Horse Guards Parade. Can you imagine this getting planning permission nowadays?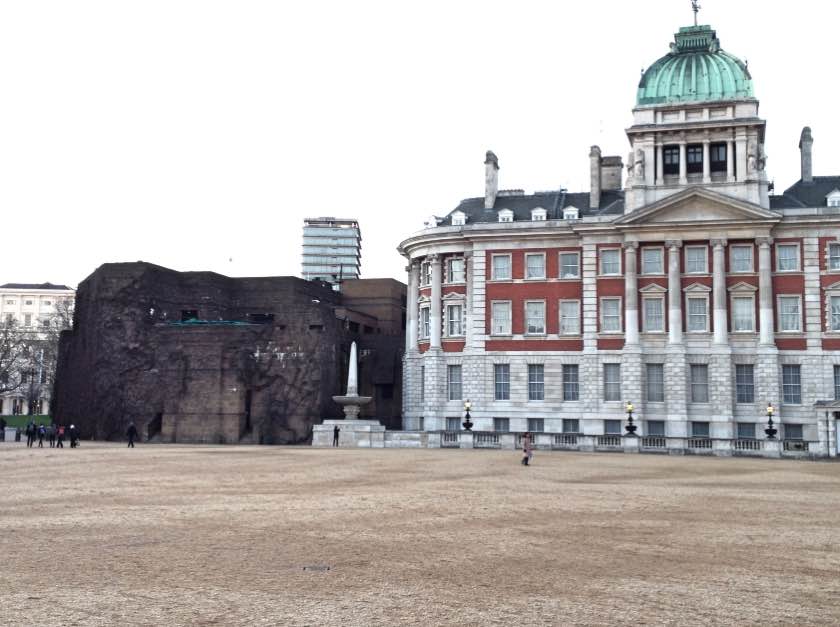 The bomb proof citadel was built as the Admiralty communications centre in 1940 and is linked by tunnels to government buildings. It has a 6 metre thick concrete roof which was laid with a grass lawn to help camouflage it. Take a look at this British Pathé film of the roof grass being cut and raked back in 1950.
The building is still in use today; I'd love to pop in for a nose around!
More World War 2 sites in London
We only scratched the surface during our trip. Other World War 2 sites in central London which I came across during my research are shown below.
Cabinet War Rooms, King Charles Street: the secret underground bunker used by Winston Churchill during Word War II. We had planned to visit this but ran out of time. Entrance charge applies.
HMS Belfast: highly recommended. This floating museum ship shows how life was on board during and after the second world war. Lots of stairs and ladders so not for those with mobility issues. Entrance charge applies.
Churches: All Hallows-by-the-Tower survived the Great Fire of London but was almost destroyed in the Blitz; you can still see lead from the roof which melted during the bombing. St Dunstan-in-the-East was destroyed in the war but the ruins have also been turned into a public garden.
Air raid shelter signs: can be found in Queen Anne's Gate, Brook Street and Lord North Street
Memorials: The Cenotaph and Monument to the Women of World War II are both on Whitehall. The Animals in War memorial can be found in Brook Gate, Park Lane.
Have I missed any? Let me know if you can suggest other central London World War 2 sites.