With a sunny spring day forecast what better way to experience it than with a walk in the Cotswolds. We decided on a 5 mile circular route from Winchcombe via Belas Knap, one of the best preserved long barrows in the area.
Walkers welcome
I hadn't realised that Winchcombe is the unofficial walking capital of the Cotswolds. It lays claim to more long distance walking routes than any other town, holds its own walking festival and has 'Walkers are Welcome' status. Hence there was an abundance of booted middle-aged walkers (er, us) wandering through the town.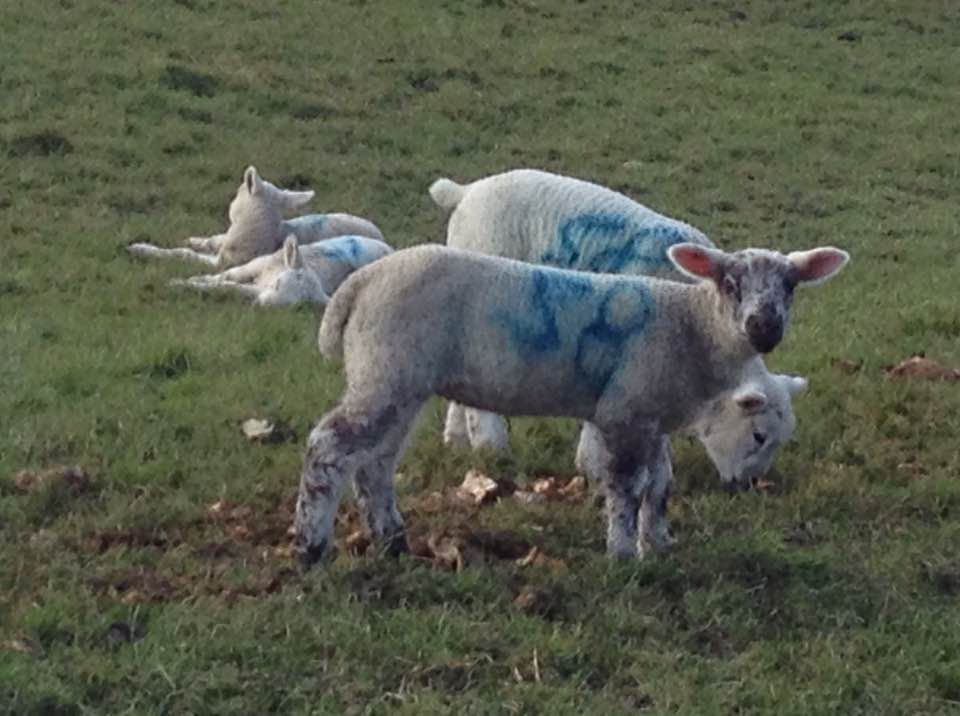 Winchcombe isn't the Himalayas though, or even the Lake District. Think leisurely afternoon rambles through Cotswold scenery followed by a cream tea instead.
After lunch and a visit to the bakery for mid-walk cake supplies we headed out of town. Our route took us gradually uphill through a field of lambs, probably one of the springiest spring sights. Fortunately they weren't too bothered by four humans traipsing through their field.
As we gained height we had a great view back over Sudeley Castle, a private residence which is open to the public. The castle is supposedly haunted by Catherine Parr, the sixth wife of Henry VIII, who is buried in the chapel. Of course, with my cynical head on this may just be a rumour for the tourists.
Onwards and upwards we walked. Our jumpers were off by now, partly due to the sun's warmth and not just the exertion. Spring really had arrived! A skylark was singing somewhere above us and gorgeously tactile pussy willow adorned several branches. Ominous small patches of stinging nettles were just starting to grow again too, ready to ambush walkers in the months ahead.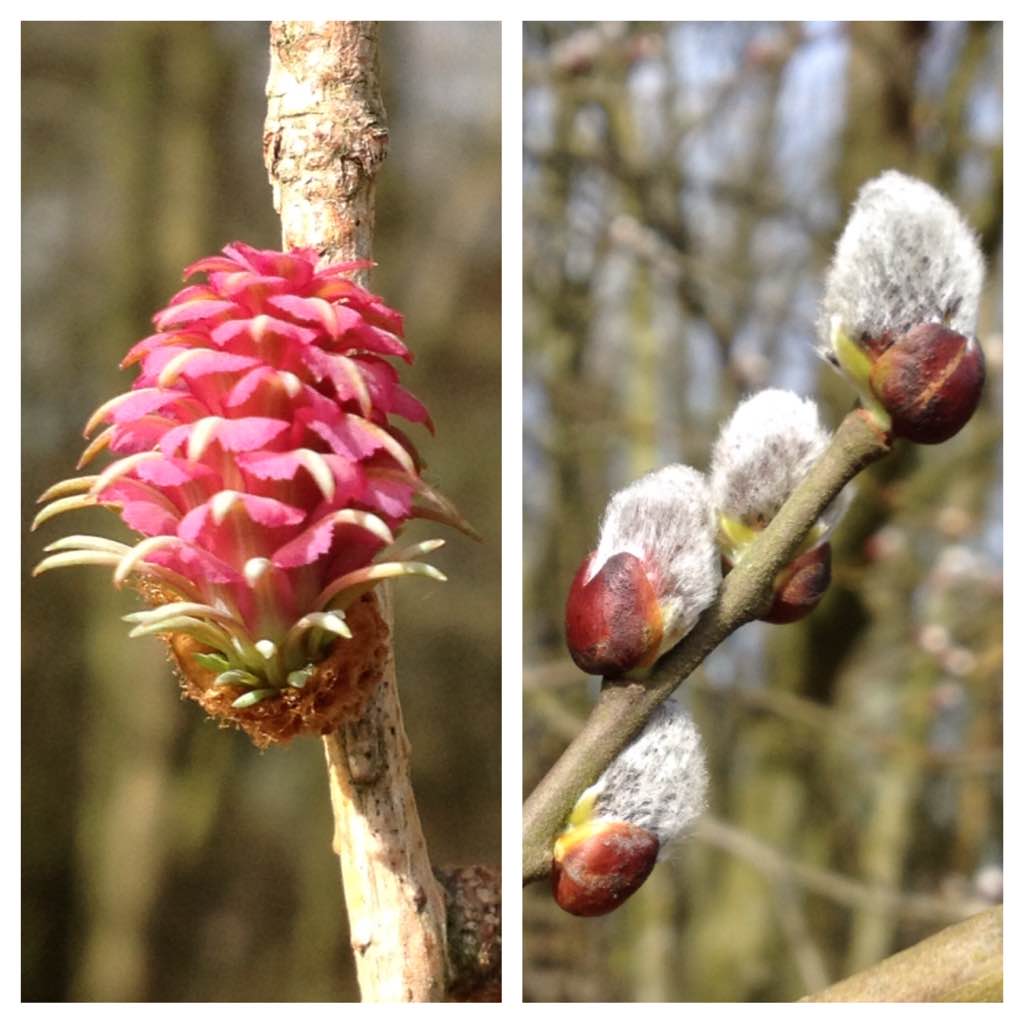 We passed a small copse with an intriguing building in amongst the trees. Someone's house? A woodland retreat? A sauna? The Keep Out sign made it clear we wouldn't be able to investigate.
Belas Knap
As we neared Belas Knap we joined up with the car walkers. The long barrow is sufficiently away from the road that you'll still face a 15 minute uphill walk even if you do choose to visit by car.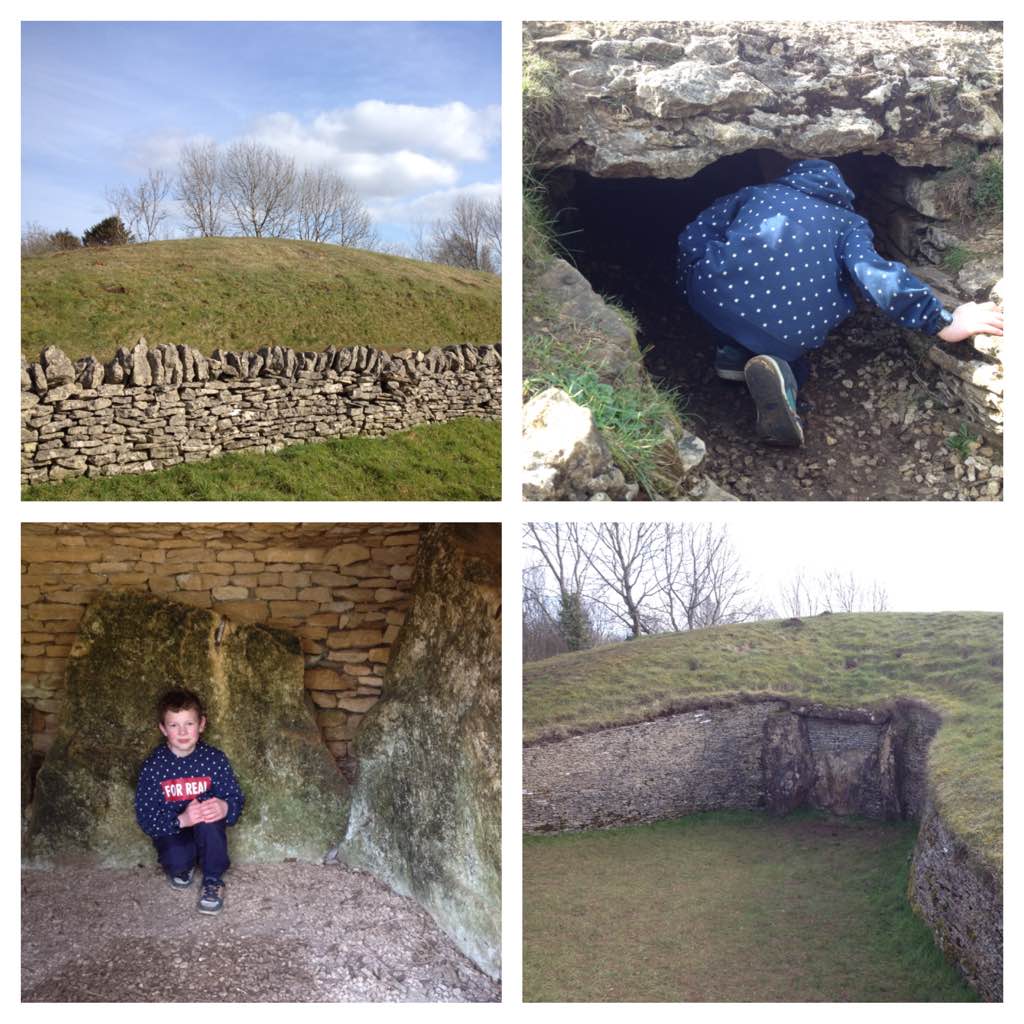 Belas Knap is a hilltop long barrow estimated to have been built around 3000 BC. The ancient tomb has several burial chambers, including a false entrance. During the 19th Century several excavations uncovered the remains of 31 people, some of whom are thought to originate from the early Bronze Age. You can crawl into and explore a couple of the chambers if you're brave enough!
The barrow is a popular picnic spot for visitors; slightly surreal given it's history but I can understand the appeal. There are great views in all directions and the surrounding stone wall offers protection from the wind. It certainly proved a good cake stop.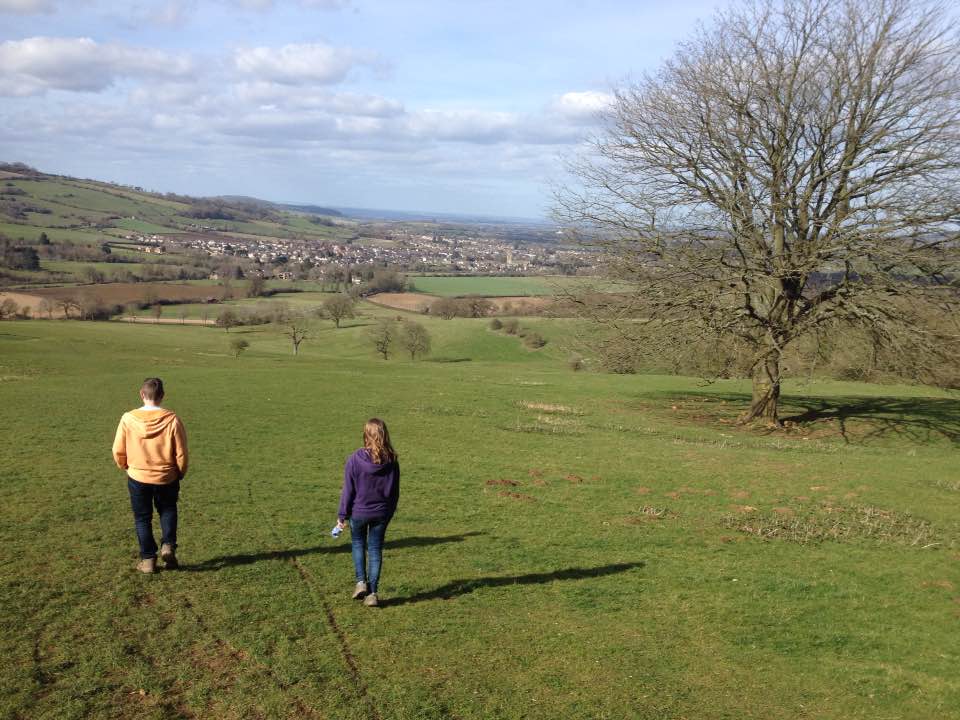 Back to Winchcombe
Our return to Winchcombe was all downhill. We dropped down quite steeply, past a ménage where a rider was practising dressage, to walk beside a cricket pitch. We were intrigued by the number of stiles punctuating two fences but I can only imagine it was to allow easy access to wayward cricket balls. The last stretch followed the Cotswold Way into town where I was happy to find the tea rooms still open.
We'll definitely head back to Winchcombe for more walks. In addition to several long distance paths which pass through the town there's also the remains of a Roman villa, an abbey and a castle to explore locally.
More info
We followed the route in our AA Walks in the Cotswolds walks book. Whilst I cannot find the exact route online it's near enough the one here – but in reverse.
I thought parking in Winchcombe was going to be a nightmare as cars were parked on either side of the main road when we first drove through. However we followed signs to the long stay car park which was only a 5 minute walk to the town centre. There were plenty of spaces and it only cost £1!