We often drive past Winchester when heading to the south coast but I've never visited before. Whilst it has quite a few attractions I thought they were probably more suited to older tourists rather than families. I was wrong though, as proved by an enjoyable visit recently.
Military museums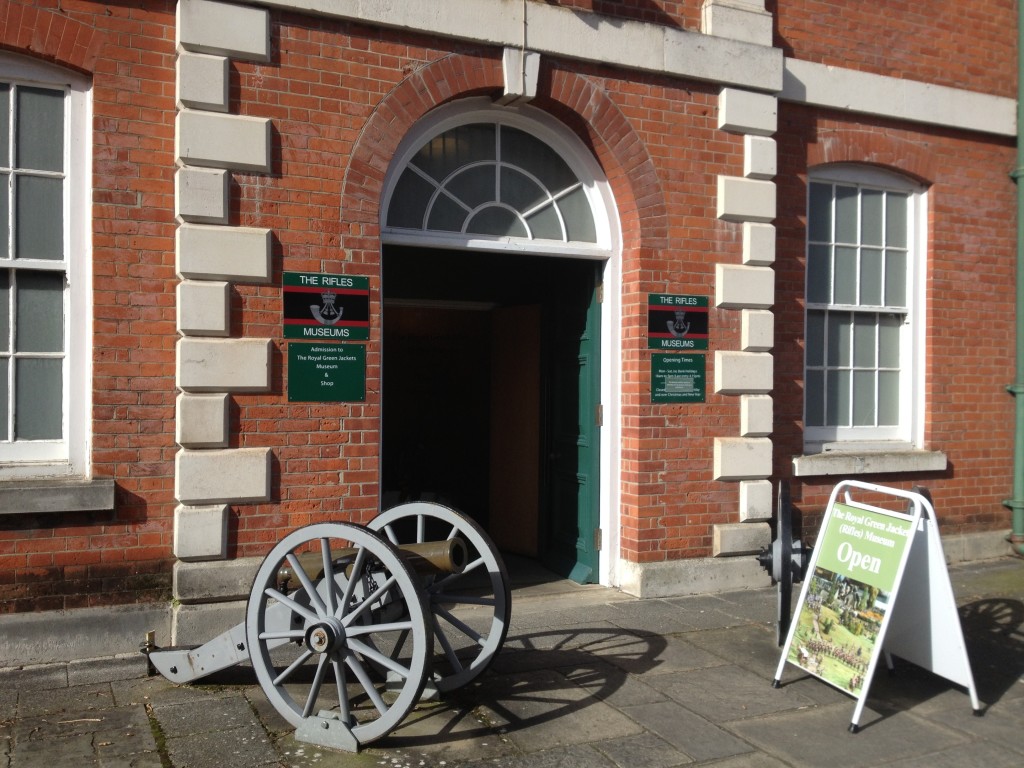 We started with a visit to the Military Museums, a group of five museums focused on various aspects of the British Army. They're located next to each other in an area close to the city centre. We visited two – the Royal Green Jackets (Rifles) Museum and Horsepower, the Museum of the King's Royal Hussars.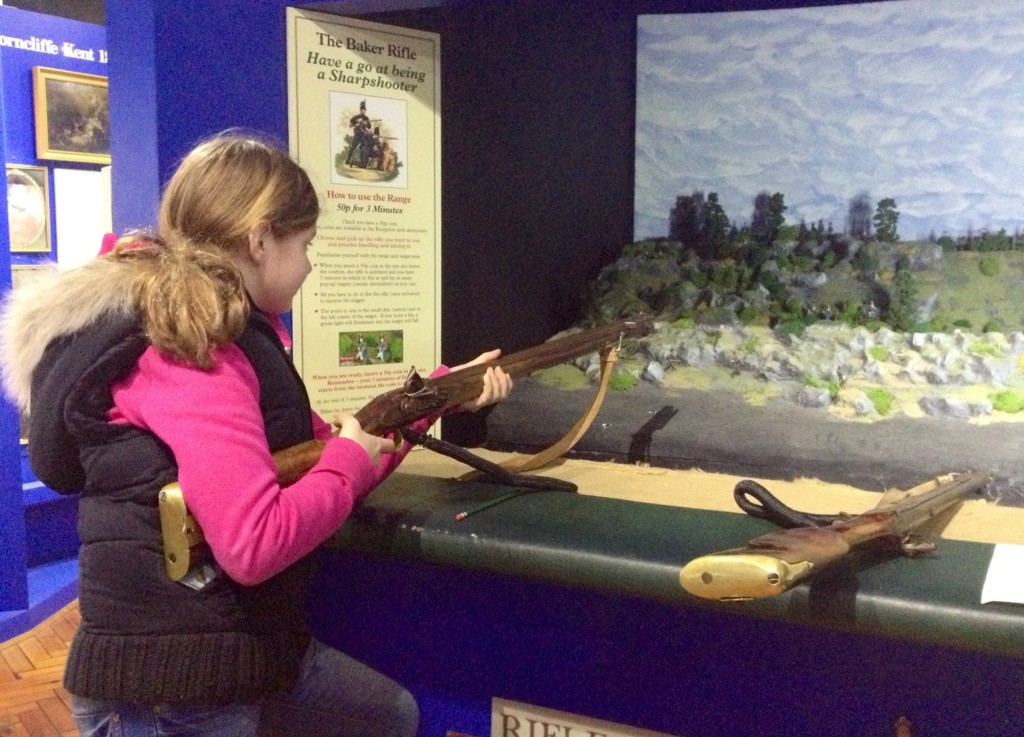 The Royal Green Jackets Museum traces the involvement of the regiment in various conflicts over the last 250 years ranging from the American War of Independence through to Iraq. There are over 40,000 objects to see in the museum and lots of information boards to read. I found it very interesting but would recommend it to older kids and adults rather than younger children. That said, younger visitors can dress up and get the opportunity to shoot a laser Baker rifle.
The highlight for us was the Waterloo diorama. This is a huge model of the battlefield with 22,000 model soldiers and horses. It's accompanied by a 7 minute recording which tells you all about the day of the battle. It really was impressive and we spent a lot of time in the room looking at the detailed scenes.
We followed with a short visit to Horsepower, the museum of the King's Royal Hussars. This was a smaller museum which covers the contribution made by horses in the army. There were quite a few life size models of horses, which were strangely accompanied by realistic horse smells. Again there's quite a lot to read so another museum for interested teens or adults.
The Great Hall
The Great Hall is a short walk from the Military Museums so we popped in for a quick look. The medieval hall is the only surviving part of Winchester Castle and supposedly contains King Arthur's Round Table. The table hangs on the wall and is the main point of interest for most visitors. It certainly looks the part, but following carbon dating they've discovered it probably isn't old enough to have been used by King Arthur and his knights.
City museum
The City Museum is spread across three floors and tells the story of Winchester from the Iron Age to today. The Roman history of Winchester was probably our favourite part of the museum, particularly a large mosaic floor and a recreation of underfloor heating.
We visited whilst the 'Romans' were in town which made it more interesting. They'd bought replica items to handle and I was impressed by how well one of them managed to explain an instrument for dealing with haemorrhoids to my kids.
Downstairs we met a visiting academic from Southampton University. He was researching whether the public would be able to better engage with museum objects if printed in 3D. He'd bought along a 3D printer and was creating 3D versions of various artefacts. It was the first time I'd seen a 3D printer live in action!
Winchester cathedral grounds
After our cultural morning we had a late lunch and took a wander around the city centre. There were plenty of shops I'd have liked to pop into, but browsing in shops doesn't have the same appeal with kids in tow. Instead we walked past the house where Jane Austen lived for a short time, checked out Winchester College (fees of £33K per year!) and then returned through the grounds of Winchester Cathedral. It was a lovely area and great for strolling.
The cathedral is the most popular attraction in Winchester with over 300,000 visitors each year. I considered visiting but as the kids were having a noisy moment I thought it best not to spoil the serene atmosphere inside. If you do plan to go download a copy of their excellent kids trail in advance from the Winchester Cathedral website.
There were several more attractions in the area to visit, but not all were open. So a future visit has been earmarked for visiting the City Mill, the ruins of Wolvesey Castle and a walk through Winnalls Moor Nature Reserve. We'll definitely be back!
More info: