I wasn't sure whether to be nervous or excited when my partner bought me a birthday voucher for Zip World caverns. Billed as an exhilarating underground journey using zip lines, rope bridges, via ferrata and tunnels, it's one of the experiences that's taking adventure tourism to a new level in North Wales.
Based at Llechwedd Slate Mine the site also provides the opportunity to ride on a four person zip line and bounce on an underground trampoline. But I think the Caverns Experience is definitely the most exciting!
Kitting up
My adventure started in the kit room. As well as myself, there were two family groups ranging in age from 11-55 years. Following the instructor, the eight of us stepped into harnesses, tightened belts and buckles, attached the trolley (zip lining device) then donned helmet and gloves. We almost looked like we knew what we were doing.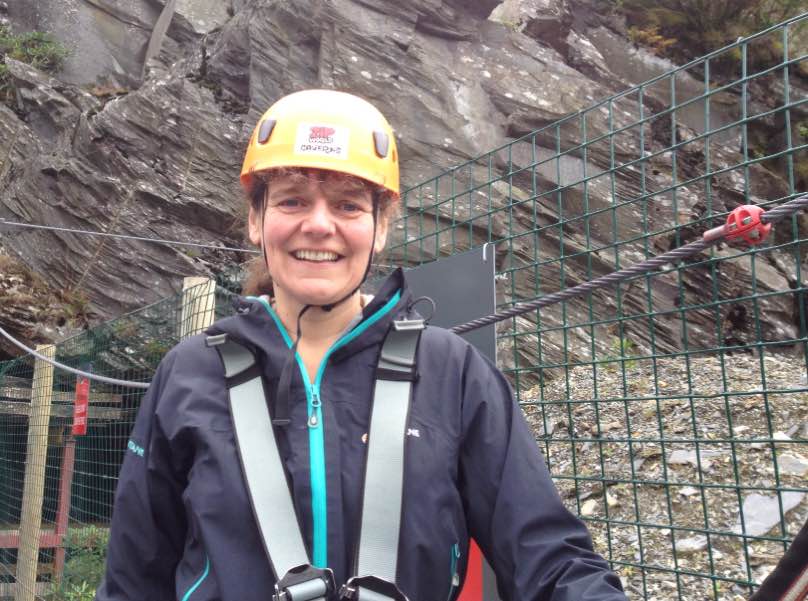 Part 1 training
After a brief introduction we stepped outside for our first training session. On the ground we were shown how to click our harness system onto the safety cable.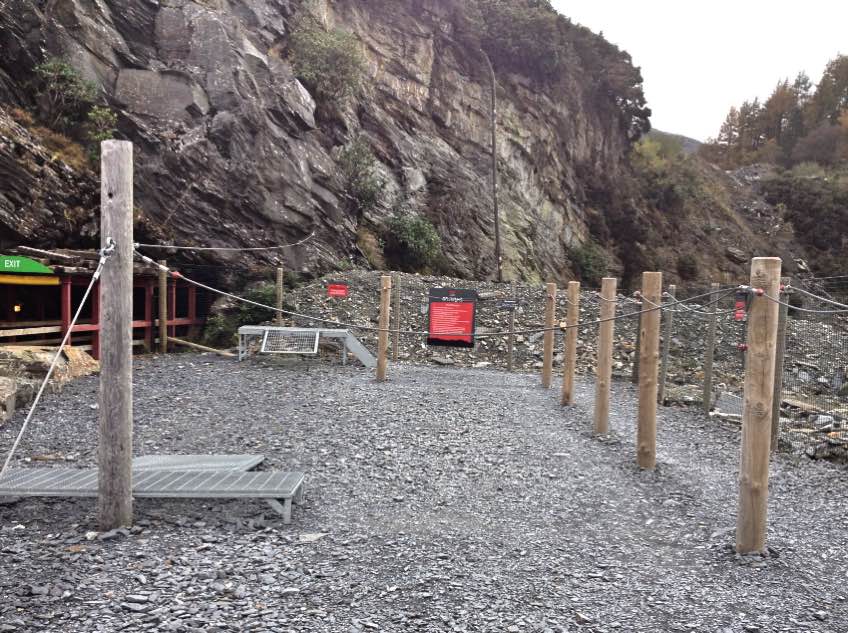 If you've tackled a Go Ape course you'll be familiar with the safety cable system. Zip World uses something slightly different, CliC-iT, which relies on magnets between the two lanyard connectors to stop accidental unclipping. You are only able to have one connector unattached at any one time which is reassuring. However it does require practice and this was our opportunity. Best to perfect it on the ground in daylight.
Part 2 training
We soon graduated into the second training area. Led inside the cave, we passed the underground trampolines in Bounce Below, where my kids were burning off some energy, to reach a ladder and small set of zip wires.
Here we were shown how to attach the trolley to the zip line (with the wobbly bit next to your nose) and how to hold the device when ziplining. And then we were let loose on the mini zip wire course.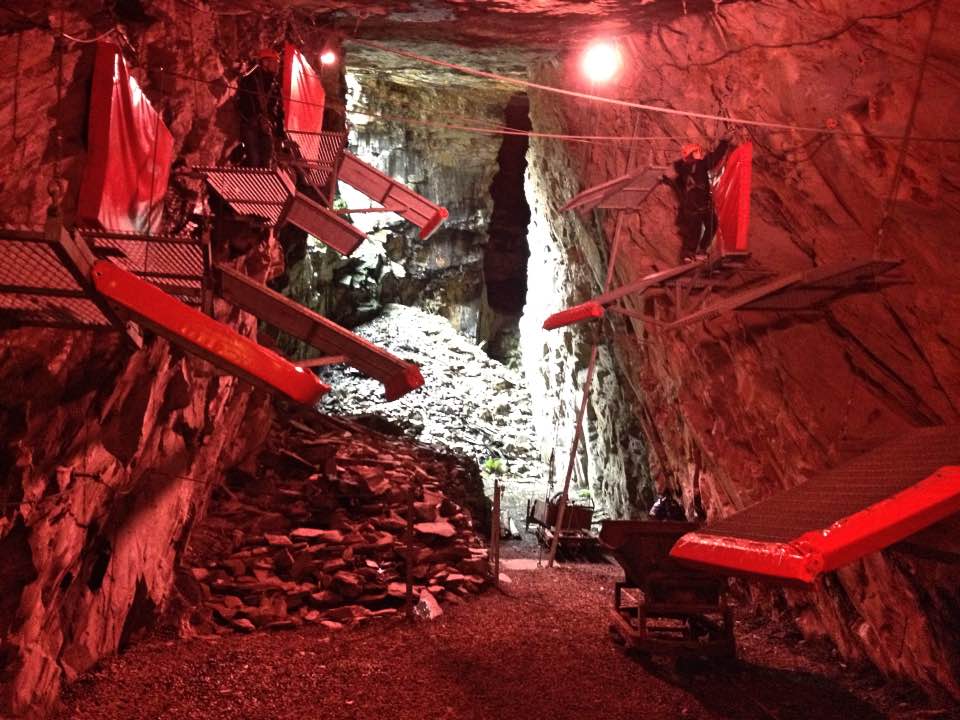 Rather nervously, I climbed the ladder to the highest zip line, clipped on and launched myself off. Although daunting I've tackled enough zip lines to know that the step off the safety ledge is the hardest part. Before long, I had zoomed back and forth across the cave several times until I reached floor level.
If, after this stage, you decide you don't want to go into the caverns there's a chance to pull out and get a full refund. Everyone in our group was happy to continue so we walked back through to the caverns.
Onto the caverns
The instructor leaves you after the training sessions and you complete the course at your own pace (although you'll always have people in front and behind). The caverns are monitored by a myriad of CCTV cameras so if you get stuck you can raise your hand and wait for help.
The training sessions were very good at familiarising us with the equipment. But they in no way prepare you for the environment that you encounter in the caverns themselves. From my perspective that's actually a good thing; I prefer not to know. But if you want to, then read on.
The zip wires
The first part of the cavern adventure is all about the zip wires. There are evidently ten of them but I wasn't counting!
The zip wires start high then get lower and longer as you progress through the course. A couple at the end have a very fast landing. I discovered the trick is to start moving your legs a little just as you approach the end so that you're ready. I'm not sure this makes the slightest difference but it gave me something to focus on apart from the impending cavern wall. If all else fails there's plenty of crash mat protection!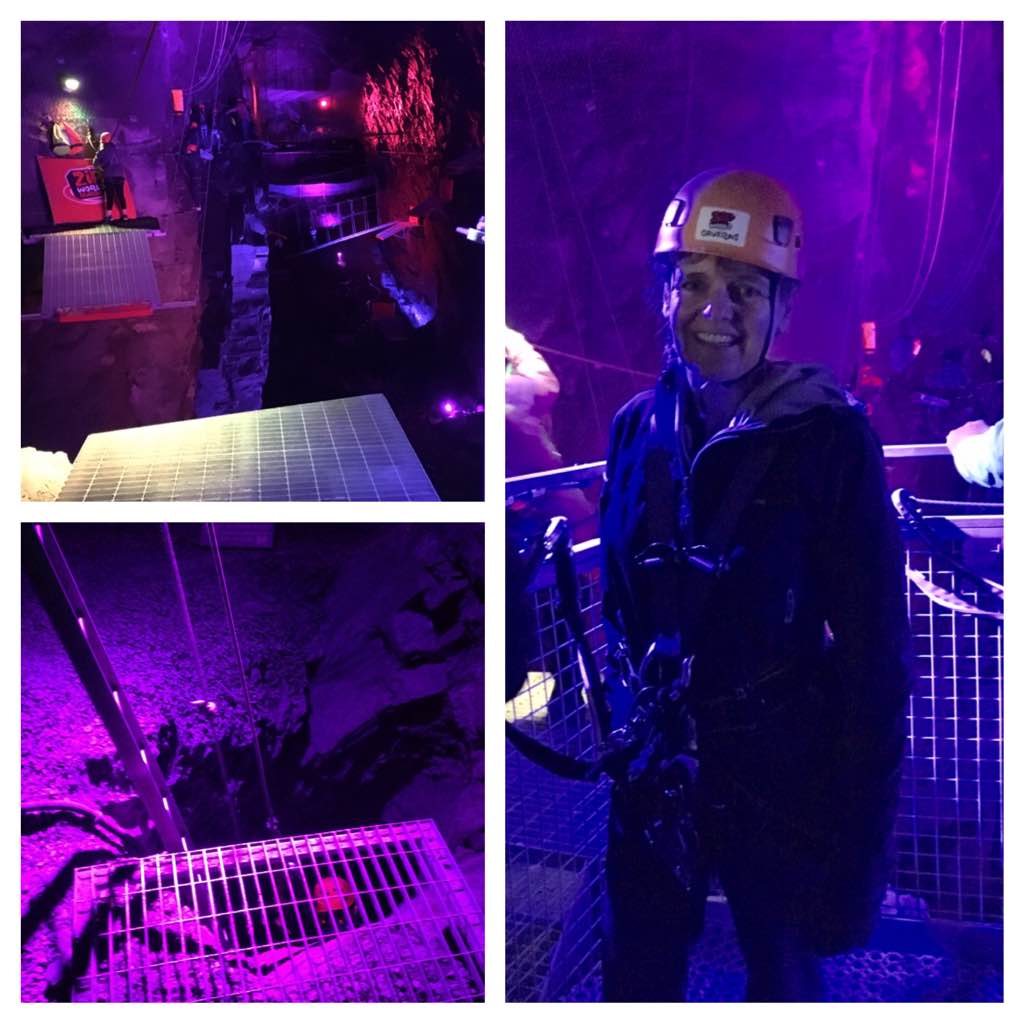 There's a photo opportunity on zip line number nine and although I remembered to smile for the camera I also put my arm in front of my face. No souvenir photograph for me then.
The via ferrata
Popular in the Italian Dolomites, via ferrata are a way of traversing cliffs using metal rungs, ladders and bridges. The second half of our route took us along the edge of the cavern wall, up and down ladders and across a variety of bridges. I shuffled across tree trunks, crawled through tunnels and clambered up rope nets.
This part of the course was much harder for me as I don't like the exposure that comes with heights. I found it tricky balancing on an iron foot hold, holding on to a rung above me and attempting to re-clip my leads on to the next wire. All the time trying not to look down. I admit it, I was scared.
I wasn't the only scared person. There were plenty of shrieks coming from all around, which did little to reassure me. Although the family in front kept an eye on me, gleefully telling me how difficult the next parts were. After an hour or so I was happy and relieved to reach the end of the course, but slightly disappointed there wasn't a final zip wire to ride.
Would I go again? As most of the adventure relates to not knowing what to expect I wouldn't rush back to do the same thing. However there's lots of other experiences to try out. In fact, I've already added a trip on Velocity, Europe's longest zip ride, to my UK bucket list so I'll be back.
More info
Are you brave enough? If so the Zip World website details a myriad of adventure options to part you from your cash. The caverns adventure lasts 2-3 hours and costs £60.