If the canal path from Bath to Bradford-on-Avon had its own theme tune it would consist of bicycle bells and whirring tyres; to say it's a popular cycling route is an understatement. Indeed, if you've arrived here from my UK bucket list link you're probably expecting to read about our cycle ride beside the canal. But, for various reasons, we ended up walking instead; read on to find out how we got on.
Bath to Bathwick
We joined the Kennet and Avon canal path immediately behind Bath railway station. Connecting Bristol to Reading, the canal opened in 1810 but fell into disuse and dereliction following the opening of the railway in 1841. Restored and fully reopened in 1990 it's now a popular amenity for locals and visitors.
The first mile or so winds through the city; past locks, under bridges and opposite mansions with their honeyed stone and pristine gardens. Two hundred years ago the canal would have been busy carrying coal into Bath and stone out. Several features along the route hark back to those days, including the pumphouse chimney. This was built in an ornate style as the local wealthy residents didn't want to look out on to an industrial structure!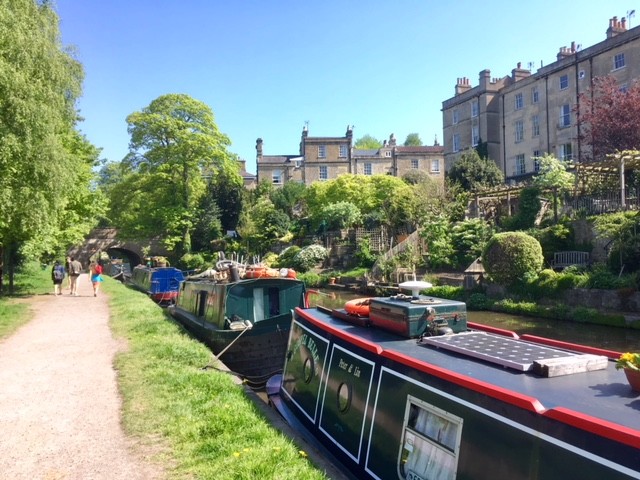 At Darlington Wharf we came across a floating market. Narrow boat businesses were moored alongside the path offering, amongst others, a sweet shop, wooden crafts and clothing. A little further on we spotted a boat with a Polling Station sign; not sure if it really was or whether the sign had been relocated from elsewhere!
On a warm spring weekend the canal towpath was busy with dog walkers, weekend joggers and cyclists. Ah yes, the cyclists. I'm far from anti-cyclist but when they whoosh past at great speed or cycle in groups across the entire path it's hard to have a positive view. Of course there were plenty of considerate people too but given that we rarely walked more than 100m without meeting cyclists it only took a few to spoil our enjoyment.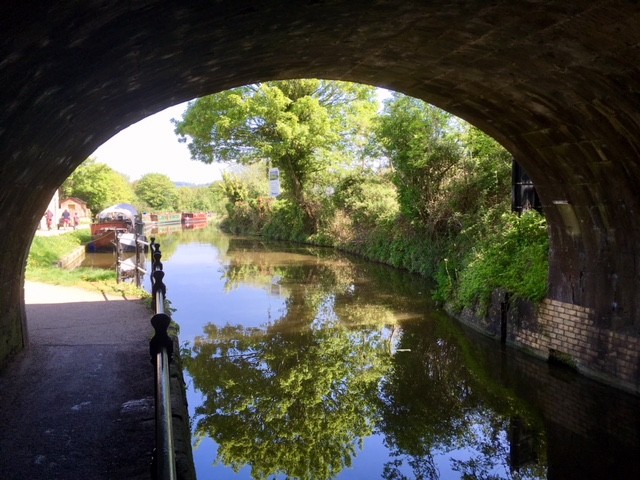 Bathampton
At Bathampton we couldn't resist a stop at the Cafe on the Barge, a tiny café in a narrow boat. Primarily offering drinks and cakes, I highly recommend the carrot cake. We sat on the small open deck, completely forgetting we were on a boat until another craft came by and rocked the waters. There are seats on the canal towpath too as there's not much room on the boat itself.
Walking on we enjoyed watching the variety of canal users. A mix of holiday barges, day rentals, homes and (further on) a defunct lifeboat chug up the canal and line the moorings. It's easy to tell the difference. Those belonging to long term residents are often laden with bikes, wood, pot plants and Buddha statues. The hire boats were usually more pristine, with traditional decoration aside from the holiday company logos.
Claverton
We heard the swimmers and picnickers at Warleigh Weir, near Claverton, way before we saw them. This beauty spot on the river (not the canal) can be reached by a short walk downhill and across the railway line. I've no idea what it's normally like but on a sunny Bank Holiday Monday the field beside the river was packed with people. Rather like Bournemouth beach on a sunny day.
Elsewhere in Claverton there's a pumping station which was built to transport water from the River Avon to the canal. Fully restored it operates on selected dates (advertised on the canal noticeboards). It was closed during our walk but reviews suggest it's worth a visit when it's open.
Leaving Claverton behind we walked a rural stretch of the canal. The bees and butterflies were out  and everything looked a vibrant green in the spring sunshine. A little further on there's a small wooded area beside the path where the garlic smell hits you before you see the white carpet of ramsons.
Dundas Aqueduct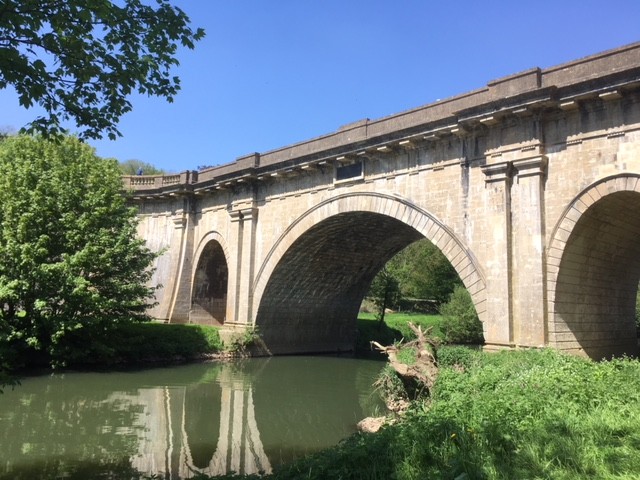 One of the highlights of this walk are the two aqueducts built to carry the canal over the River Avon.
Completed in 1805, Dundas Aqueduct is 137 metres long with three arches. We walked across it and down the steps to the river bank for the best view. It's a grand imposing structure but has had its problems over the years. It spent much of the 1960s and 1970s drained dry due to leaks and has now been lined with polythene and concrete. Materials not available to the original builders!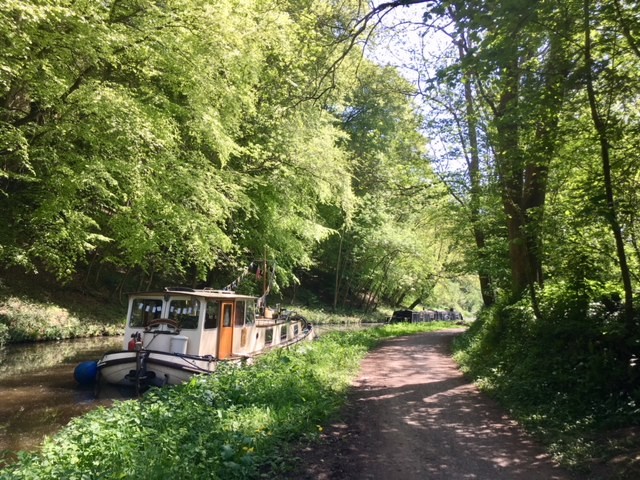 Avoncliff Aqueduct
It was another three miles to Avoncliff aqueduct. Three more miles of cyclists. Three very warm miles with empty water bottles. You can hardly blame us for another cafe stop. This time at the No 10 Tea Gardens, handily located alongside the aqueduct. I smiled inwardly as I watched a couple of teens revising for their GCSEs in the tea garden; well, their books were open but I think they were on a break.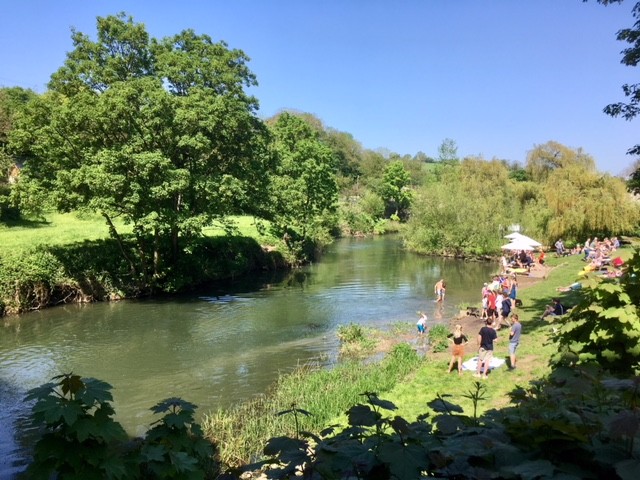 Avoncliff Aqueduct was designed by John Rennie (who also designed Dundas Aqueduct). Not bad for a first attempt at an aqueduct, albeit the central span sagged soon after completion and had to be repaired several times. Where were the Romans when you need them?
I had a navigation 'moment' after leaving the tea room. Seriously, how can anyone get lost following a canal? Er, it's quite easy if you end up on the road because you can't find the canal path! (Hint, walk under the aqueduct). Navigation error aside the last couple of miles passed uneventfully. Still plenty of cyclists but this time along a broad track so plenty of room for all.
The very last section took us through Barton Farm Country Park. Not quite Bournemouth beach busy this time but it appeared very popular with family groups.
Bradford-on-Avon
We reached Bradford-on-Avon late afternoon. I've only driven through the town before so thought we'd do a spot of sightseeing before taking the train back to Bath. But our cafe studded walk meant we arrived later than planned. And everywhere appeared shut. And we were hot and tired. So after a celebratory ice cream we headed straight to the railway station. Next time…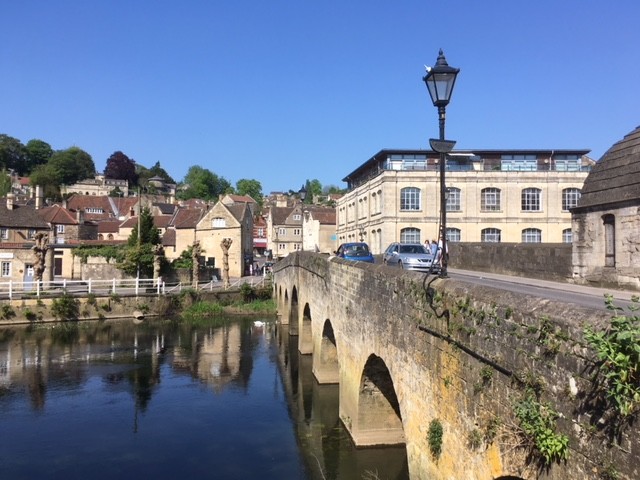 If you're looking for an alternative route in Bath (without cyclists) head over to my Bath Skyline walk report.
More info:
The route from Bath to Bradford-on-Avon is approximately 10 miles. For further details on the Kennet and Avon Canal pop over to the Canal & River Trust website.