There aren't many places in this world that I plan to return to (too many other places to see) but Soller is one of them. We loved our spring visit to Majorca!
Soller is an inland town in the mountainous north west of the island. Famed for its oranges and olive groves the town is popular with walkers and cyclists who use it as a base to explore the surrounding Tramuntana mountains.
Aside from walking there's plenty of things to do and see around Soller, read on to find out more.
1. Visit the orange and lemon groves at Ecovinyassa
Whilst oranges and lemons abound it's not easy to randomly stroll through the groves. That's where Ecovinyassa comes in.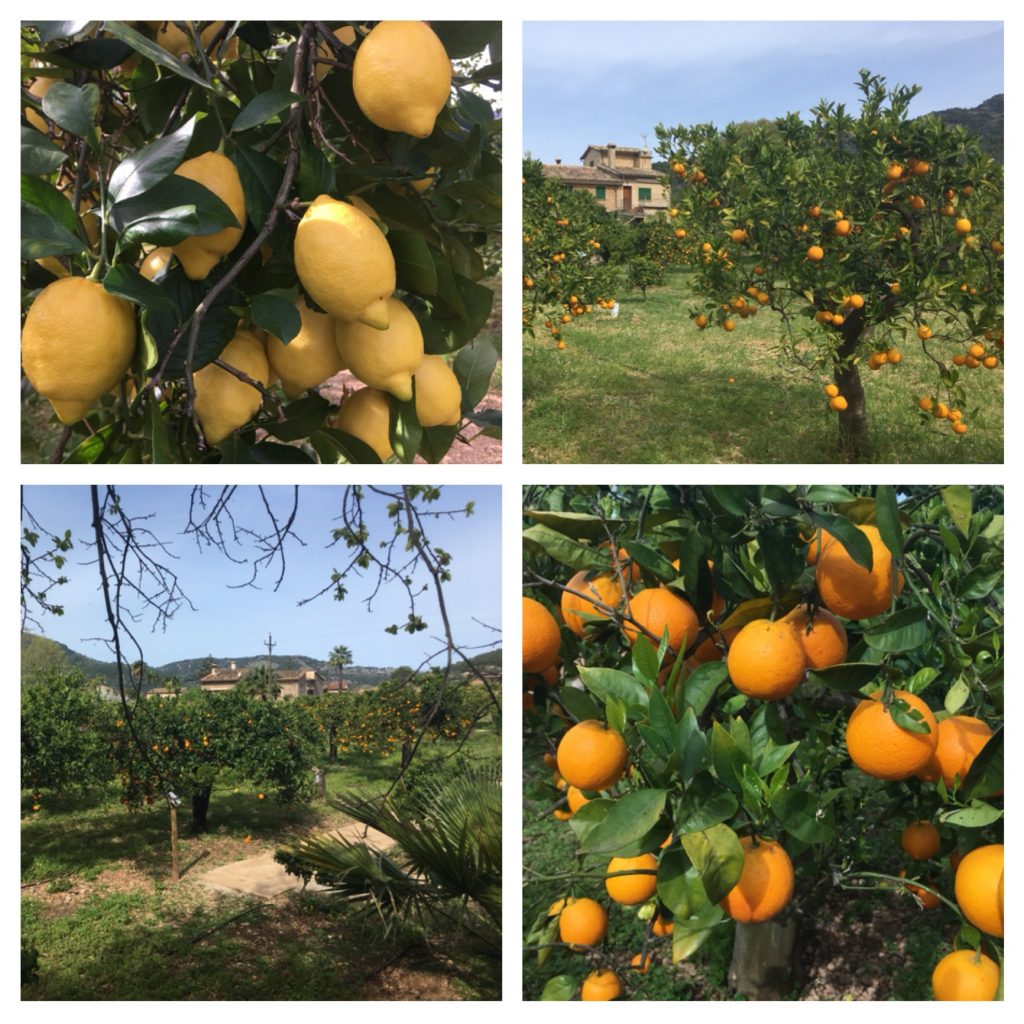 Visitors to Ecovinyassa follow a self guided tour around the aromatic orange and lemon trees, learning all about the different varieties. There are other species too; in fact I saw my first ever avocado tree laden with its ripe fruits. We stopped for oranges halfway round and sat down to a freshly squeezed orange juice and Pa Amb Oli (bread with olive oil and tomatoes) at the end. Like many great ideas, it's a simple concept done well.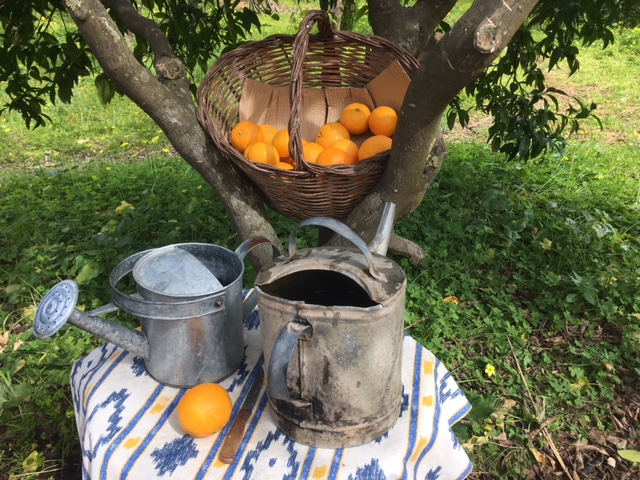 Book your visit to Ecovinyassa in advance via their website; they're currently open three days per week.
2. Enjoy the view from the Mirador de ses Barques
There are several walks from Soller which take you up to this viewpoint.  We took a rather roundabout route but whichever way you walk it's worth the uphill slog for the impressive views across the Soller valley and surrounding sea. If you're not feeling energetic you can also drive to the viewpoint, but keep a watchful eye out for the hordes of road cyclists who use the hill for training.
Conveniently located next to the viewpoint is a restaurant. This is where we experienced our first taste of freshly squeezed Majorcan orange juice, sitting on the terrace overlooking the bay. Although we didn't sit there for long after we discovered how windy it was!
3. Ride the tram to or from Port de Soller
Lots of visitors combine a trip on the tram with the train ride from Palma to Soller. As we were already in town we walked down to Port de Soller along the GR221 (long distance walking track), spent a couple of hours in the resort and then took the tram back to Soller.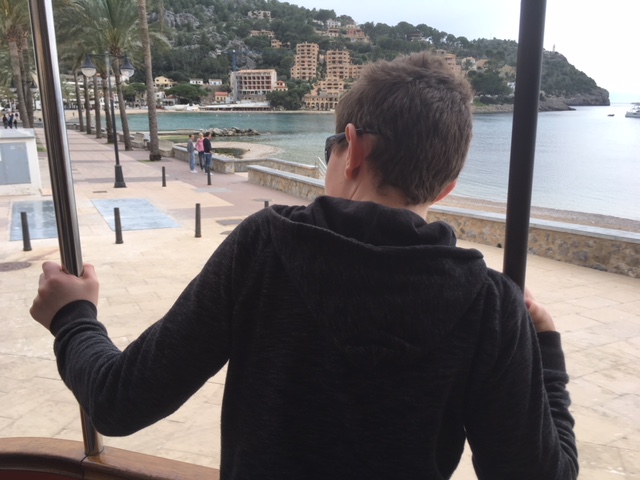 The wooden tram is touristy and expensive (7 euros per person each way) but sod it, you're on holiday and it's a fun way to travel. The journey takes about 20 minutes, passing people's back gardens and small orange groves before popping back out in the centre of Soller.
4. Explore Port de Soller
The resort of Port de Soller is about 3 miles from Soller, and could be used as a base for visiting the area. I personally preferred Soller but if you're keen to stay in a resort it's a good alternative. There are loads of places to eat out, accommodation options and boat trips.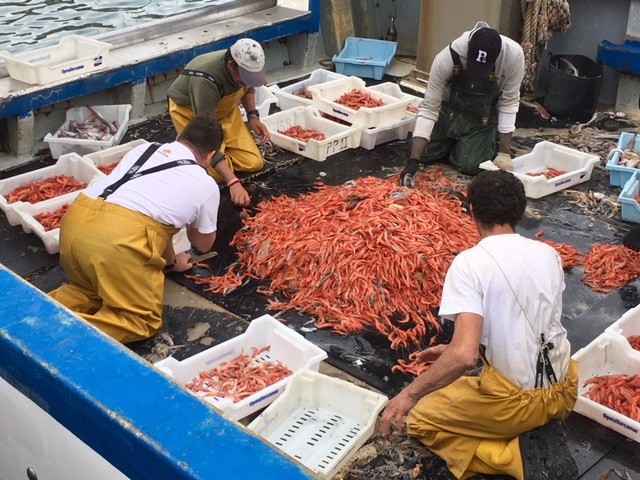 If you happen to be there late afternoon, when the fishing boats arrive home, head to the harbour and watch the fishermen sorting their catch. Follow this up with a mooch around the yachts; it's always fun trying to spot the most expensive ones.
5. Visit the chapel at Sa Capelleta
The chapel is a short walk (albeit uphill) from Soller and is an ideal evening stroll.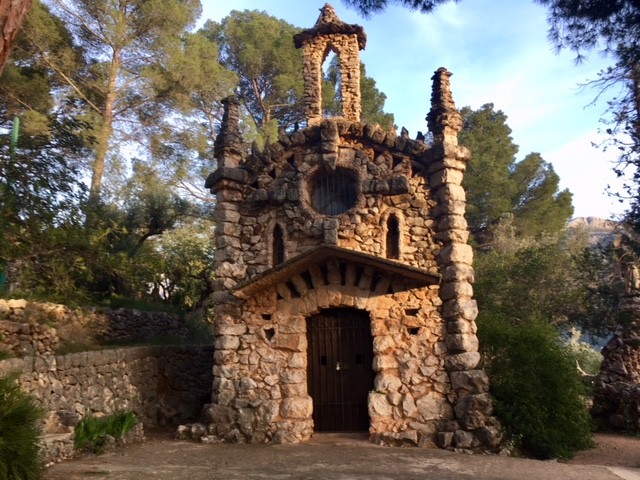 The chapel was locked on our visit but you can peak through the doors. It's hard to describe the inside but imagine a cave with religious icons designed by Gaudi and you'll be on the right track.
If you visit at sunset keep an eye on the mountains on your return journey; we were lucky to see them turn the most spectacular pink as the sun went down.
6. Take a hike
There are many walks around Soller for all abilities. Our favourite was a linear route from Deia to Soller along the GR221. We also enjoyed a more strenuous walk from Cuber Reservoir to the summit of L'Ofre. Spring and autumn are the best seasons for walking, it's too hot in the summer!
The main routes are well signposted. We purchased a Soller walking guide from the Tramuntana shop in Soller; this covers walks to and from all of the local villages, directions to Sa Capelleta  and several more challenging hikes.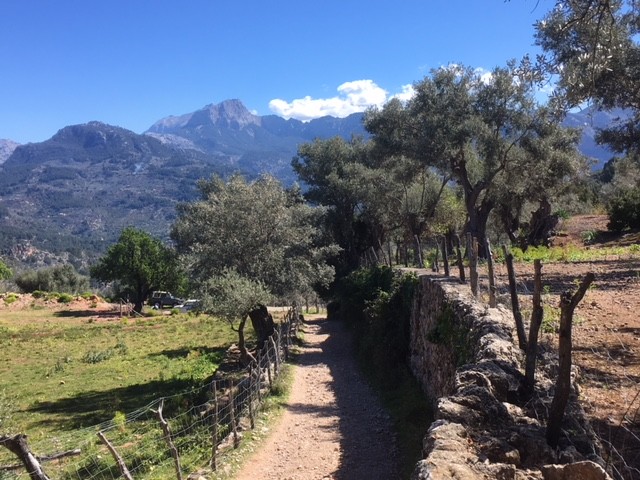 7. Stroll around Fornalutx
A couple of miles from Soller, this has been voted one of Spain's prettiest villages. We passed through on one of our walks and whilst it's undeniably beautiful it was just a little too manicured for me.
Another local village that vies for prettiest contender is Llucalcari, just off the road to Deia. Why not check them both out and see which one you prefer?
8. View Pablo Picasso and Joan Miro at the station
One for the art lovers. If modern art is your thing head to the railway station where you'll find a room of Picasso ceramics and another of Miro's works. The two artists were friends during their lifetimes, hence the joint exhibition. It's a great way to bring art to the masses; if you're waiting for a train and there's a free exhibition why wouldn't you visit?
Soller is also home to a Modernist museum, Can Prunera which offers a small permanent collection and visiting exhibitions.
9. Visit the Jardines de Alfabia
We hadn't originally planned to visit these but some hire car trouble resulted in a change of destination. Located close to the Soller tunnel entrance you can easily while away an hour or two in the house and gardens.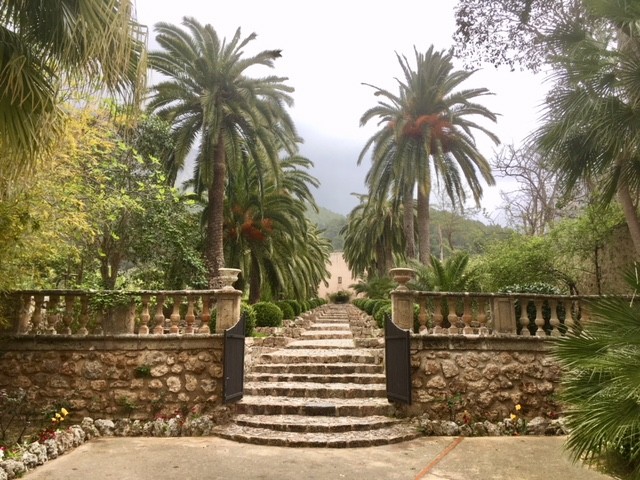 We visited whilst the wisteria was blooming although we couldn't see all of it as part of the garden was closed due to storm damage. This in itself was sadly impressive with large stone colonnades smashed onto the walkways; it must have been some storm!
The highlights of the garden are the towering palm trees and the many water features. You might also enjoy playing spot the frog. It's easy to hear them croaking but they're masters of disguise in the ponds!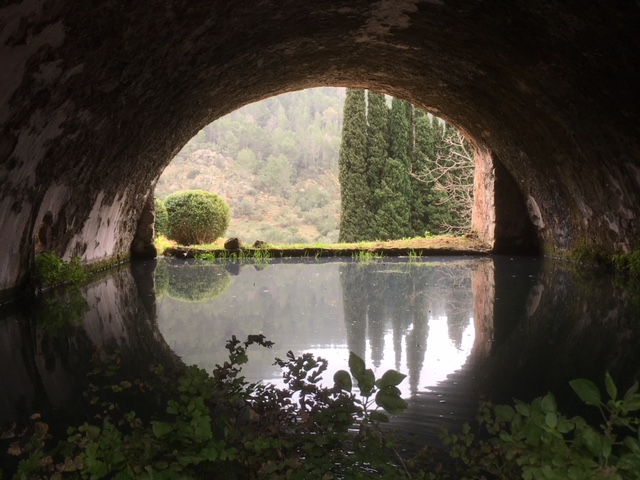 10. People watch in the Plaza Constitucion
Soller's town square is the focal point for most visitors. Dominated by the church of Sant Bartomeu, it houses a wide range of pavement cafes, ice cream parlours and restaurants. It's THE place to sit and people watch!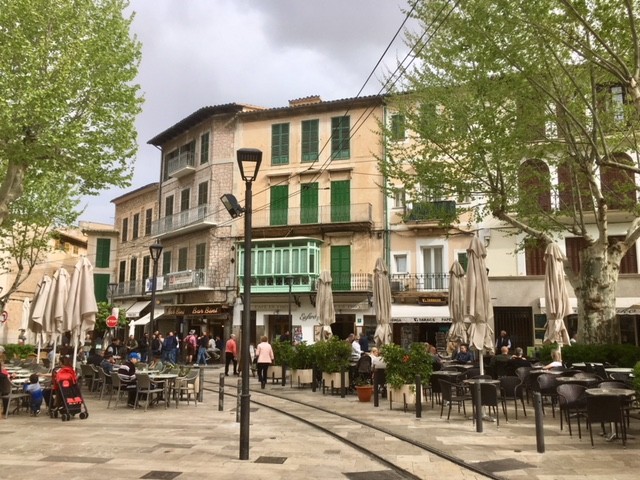 On Saturday morning the square, and some of the surrounding roads, are taken over by the town market. This is a mix of your standard market stalls (clothes, household goods, fruit and veg) along with some craft and local produce stalls. Worth visiting if you're in town.
More info:
We visited in April. The weather was perfect for walking (our main activity) and the sun shone almost all week. That said, the spring weather can also be very wet so pack accordingly.
We hired a car as part of our flight deal. Parking costs 6 euros per day in the main town car park, assuming you're lucky enough to find a space. As of December 2017 there is no longer a charge to drive through the Soller tunnel. There's a good cheap local bus service (except Sundays); useful for linear walks.