Art galleries and kids tend not to mix that well. Combining priceless art works and contemplative visitors with exuberant kids certainly makes me a little uneasy. Fortunately we found that street art is a great alternative when we enjoyed a great day out spotting it in London.
Street art without permission is illegal, and I wouldn't condone it in inappropriate places, but in the right context it can enhance an area and attract visitors. One such place where it works really well is in and around Brick Lane, London.
We decided to go on a family street art walk from Aldgate East tube station to Shoreditch Overground station. As well as art on Brick Lane you'll find plenty on the streets either side of the main thoroughfare and around Shoreditch station. Although some pieces are relatively long lived, the nature of street art is that it changes constantly. We came across some new street art being created in a rather forlorn car park off Brick Lane.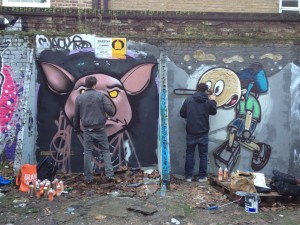 Most people will immediately think of Banksy when asked to name a street artist. Once you start your street art hunt you'll realise just how many other artists there are. Two of our favourites were Jonesy and Stik. Stik paints simple stick like figures, whilst Jonesy creates brass sculptures as well as paintings with an environmental message.
There are various styles of street art, and we saw most types during our walk. This giant hedgehog is by Belgian artist, Roa, and adorns an entire wall. Whilst he is renowned for his large animal murals, other artists may specialise in stencils, wheatpaste or posters. Even yarn bombing is a type of street art and examples adorn lamp posts in our local village. Interestingly, this is technically as illegal as graffiti!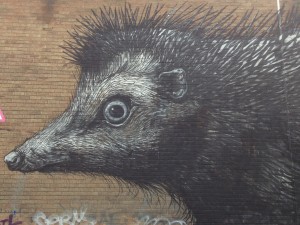 Brick Lane has an interesting history. As its name suggests it was originally a centre of brick and tile manufacturing. Over the years it has seen successive waves of immigrants, with two of the most notable groups being the French Huguenots in the 17th century and more recently the Bangladeshis. The Huguenots established weaving in the area, whilst the Bangladeshis have led to this area being called the curry capital of the UK.
We didn't stop for a curry but we did pick up a cheap lunch in another Brick Lane institution, the Beigel Shop. This bakery vies with another a couple of doors down to sell the best salt beef bagel but being a vegetarian I'm not able to comment on who wins. My son certainly enjoyed his smoked salmon and cream cheese bagel though!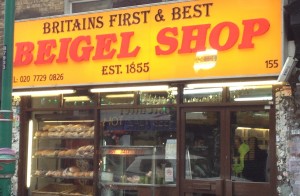 More info:
The nearest tube station is Aldgate East. Brick Lane is signposted and about a 5 minute walk from the tube.
Brick Lane is probably most famous for its Sunday market. I would suggest visiting on an alternative day if you're street art spotting as the area gets incredibly crowded.
Give your kids a camera so they can snap the art they enjoy. My daughter took loads of photos!