I've really enjoyed Stargazing LIVE on BBC2 this past week. The kids have been watching it too, and although some of it has gone over their heads they were really interested in the programmes. I was therefore quite excited about visiting Stargazing Oxford, a festival of astronomy based activities hosted by the Oxford University Physics Department.
We arrived early afternoon and as it was a lovely sunny day one of our first activities was solar observing. Astronomers had set up a telescope with a special solar filter that allowed us to see the sun safely. Looking through the telescope we could clearly see several sun spots; the kids were particularly impressed!
The lecture theatre had talks throughout the day, covering various aspects of astronomy and planetary science. We attended a presentation about the solar system where one of the scientists talked about the planets and some of the moons orbiting these. This was a perfect introductory level talk, most of the others sounded interesting but were probably more suited to teenagers or adults.
Next stop, some AstroCrafts. These were science based activities, where the kids got to make barometers and a magnetometer. There was also the opportunity to make a comet and to present the weather forecast for Mars. Back on Earth we've set the barometers up at home so no need to watch the weather forecast anymore!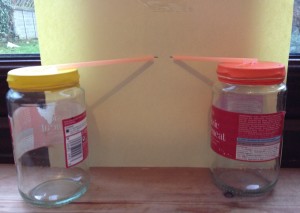 After cake and coffee at the Science Cafe we looked around the stalls on offer and spoke to the scientists about topics such as meteorites and infrared thermal imaging.We also met a student who was going through the selection process to be one of the participants on a one-way mission to Mars (whenever that may be). The kids were excited to see Chris Lintott who they'd been watching on Stargazing Live earlier in the week.
We queued for a while to visit a show in the inflatable planetarium. After taking our shoes off we had to crawl through a darkened tunnel into the planetarium where we listened to a short night sky talk. It was a little hard to hear the presenter as the sides of the planetarium seemed to magnify whispers between people, but the kids enjoyed the novelty.
Onto my favourite part of the day, night sky observing. Several telescopes had been set up outside for visitors to look through. These were focused on the Moon and Jupiter. It was fantastic to see Jupiter along with four of its moons, wow! Back when I was a kid I remember going to see Halley's Comet through a telescope. This memory has stayed with me so I hope my kids remember viewing Jupiter and its moons when they're older.
Overall we had a great afternoon and evening at the event, helped by clear skies. There was plenty to see and do and even though we spent several hours there we didn't cover everything. Although a family friendly event there was definitely more of interest to the 8+ age group.
One final point, it was refreshing to see so many female students and scientists, they've certainly helped inspire my daughter. I don't think anyone could persuade her to go to Mars though (thankfully).