Bristol is only an hour from home but most of our previous visits have been to two of its outlying attractions, the airport and IKEA. Our recent two night trip allowed us to discover the city at leisure, without the distraction of missed flights or Swedish meatballs!
There's plenty to keep younger children occupied in the city, from At-Bristol to SS Great Britain, but what's there to do for older children in Bristol?
Ferry boat trip
Faced with a longish walk from Bristol Temple Meads railway station to our accommodation I thought a ferry trip into the centre might head off some of the grumbles.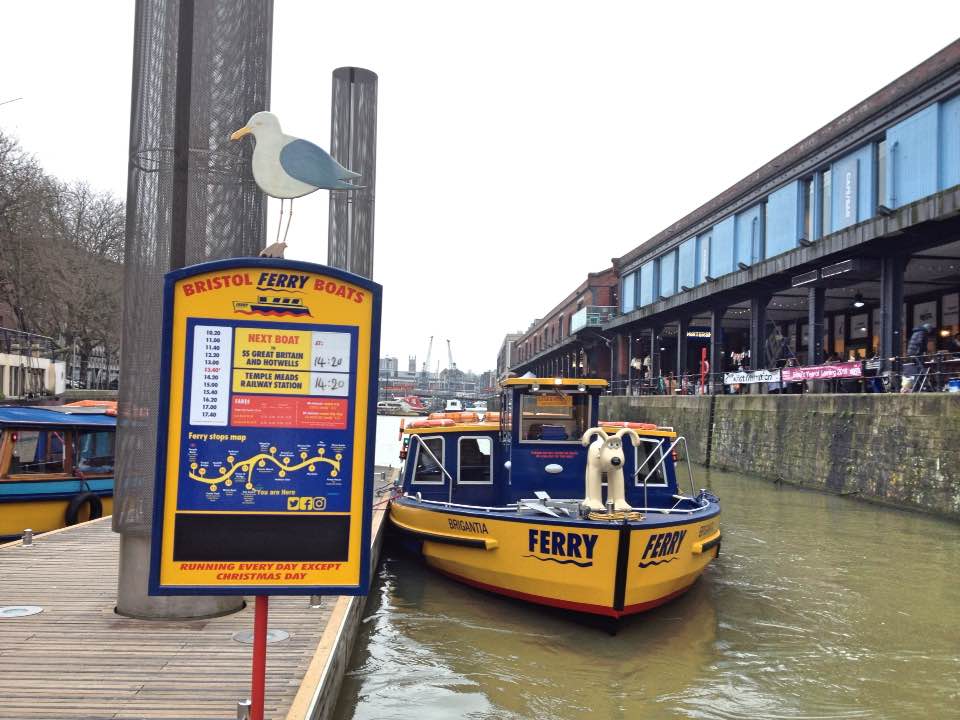 It was the right decision. We were the only customers on board so the ticket lady treated us to a mini-tour of the river highlights. En route we passed another Bristol Ferry Boat full of litter pickers fishing rubbish out of the river. It may well be due to their efforts that we later spotted a kingfisher, watching us from the river bank.
Street art tour
Back in 2009 we visited the Banksy Bristol Museum takeover and in 2015 we enjoyed Dismaland in Weston-super-Mare so you'll probably realise I'm a Banksy fan. Discovering Banksy art in Bristol is also on my 100 things to do in the UK bucket list so I was looking forward to ticking off another item.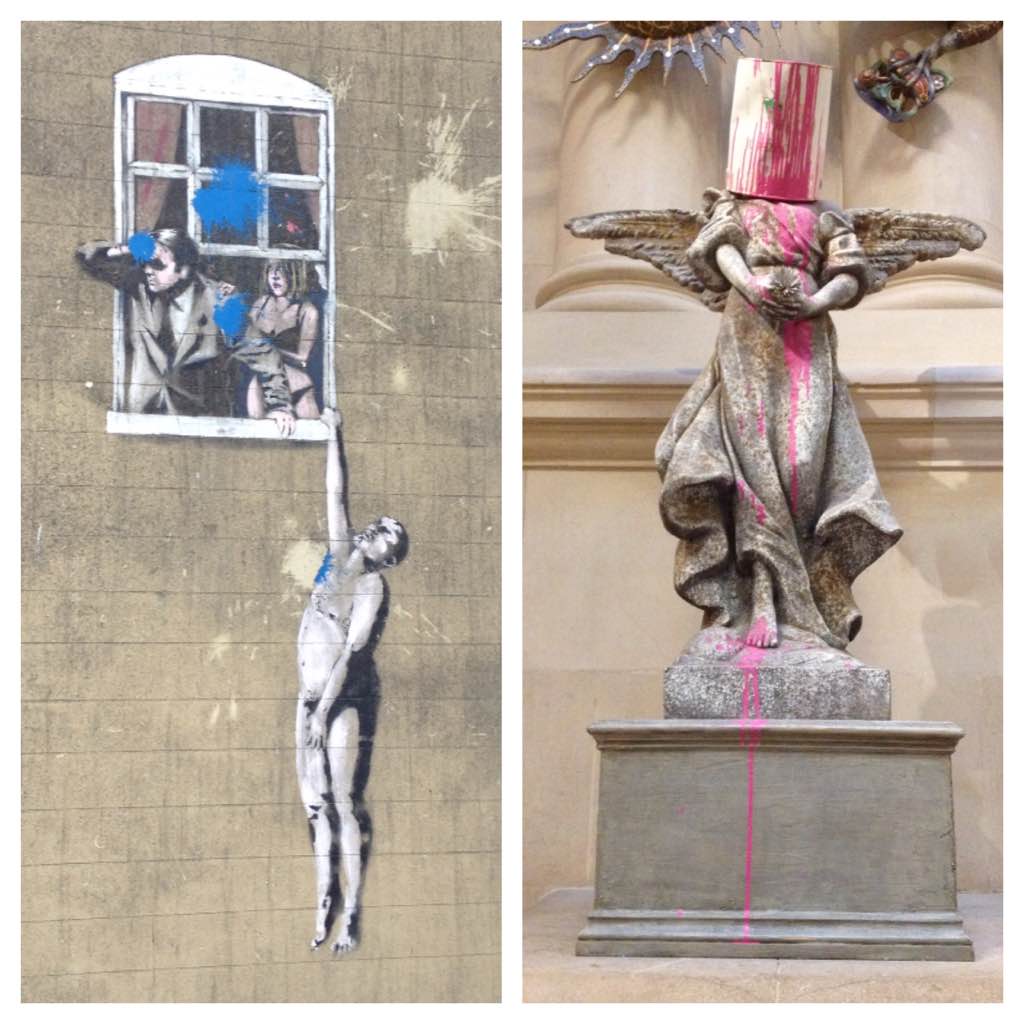 But there's a lot more to Bristol than Banksy as we found on a street art tour. Starting from City Hall and winding our way up through the city centre to Stokes Croft we learnt about the techniques used, artist backgrounds and the meaning behind some of the pieces.
One artist that stood out for me was JPS, who stencilled Spartacus (below, left). Previously homeless and addicted to drugs and alcohol JPS was inspired to paint after visiting Banksy's Bristol museum takeover. There's a definite Banksy likeness to some of his creations but he's now a well known street artist in his own right. Heck, he's even appeared in the Guardian and has a street art trail in his home town of Weston-super-Mare.
Part way through our tour the guide managed to loose half of the group at a busy traffic crossing. We watched from afar as the rest of the group disappeared down an alley. Ten minutes later, with the help of Head Office, we were reunited, but not before we'd jokingly decided to run our own self-directed tour.
Depending on your point of view, our final destination, Stokes Croft, is either full of drug dens and brothels, bohemian and edgy or gentrified and expensive to live in. Whatever your thoughts there's definitely lots of street art to see.
St Nicholas Market
Leaving our street art tour behind we headed back to the city centre via the indoor St Nicholas Market. The market has the usual clothing and knick-knack stalls but what sets it apart are the food outlets. With options from all over the world it wouldn't look out of place in Borough Market. One particularly alluring stand, Aah Toots, was named after my childhood nickname and aptly full of cake.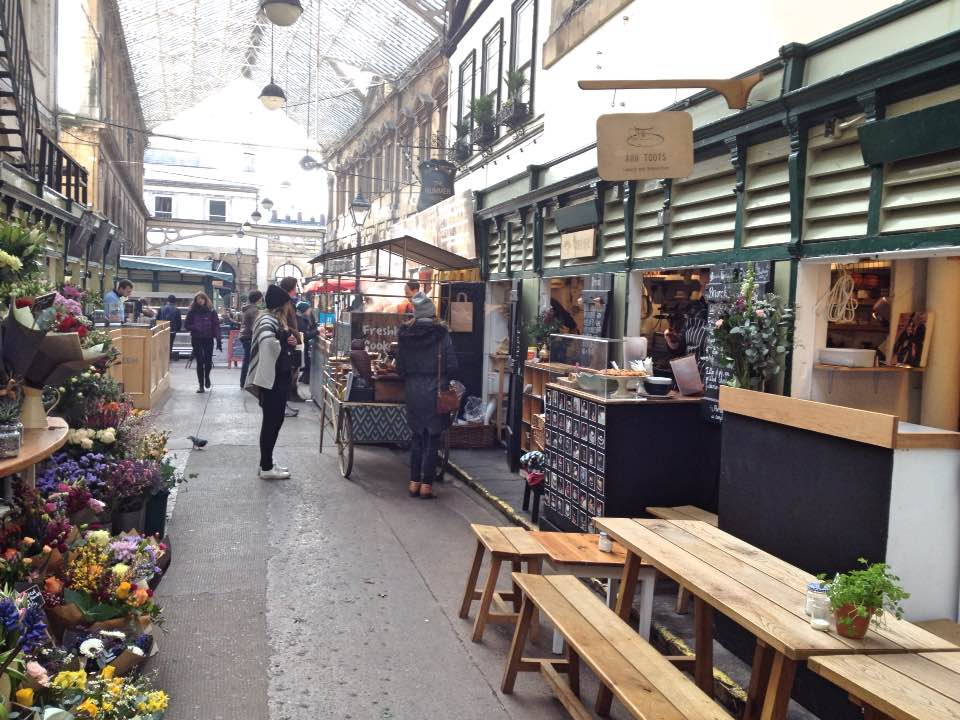 Cabot tower
Whenever I visit somewhere new I always climb a tower for a bird's eye view of the area. For someone with particularly bad spatial skills it's my way of making sense of my surroundings. Cabot Tower, set in parkland on Brandon Hill, gave me the views I needed to decipher Bristol.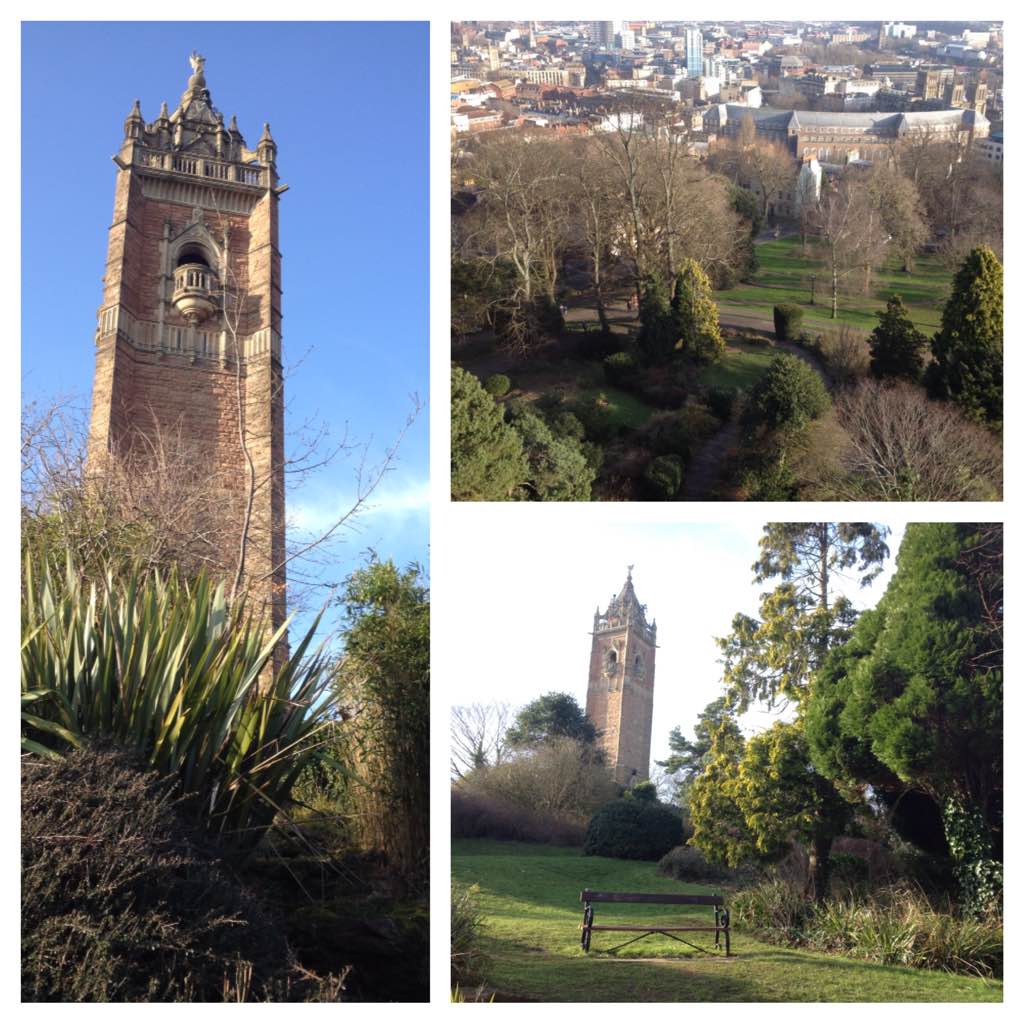 Built in the 1890s to commemorate the journey of John Cabot from Bristol to Canada the tower is free to visit. There's a 360 degree panoramic view from the top although getting there may involve a squeeze. The spiral stairs are pretty narrow and things get interesting when you meet someone coming the opposite direction!
Bristol harbourside
Continuing our Bristol exploration we finished our day with a riverside walk. I'd originally planned a short stroll to see the SS Matthew, a replica of the ship that John Cabot used for his voyage to Newfoundland. Yet we arrived at its mooring point to discover a missing ship, along with a note stating it was in dry dock further along at Underfall Yard.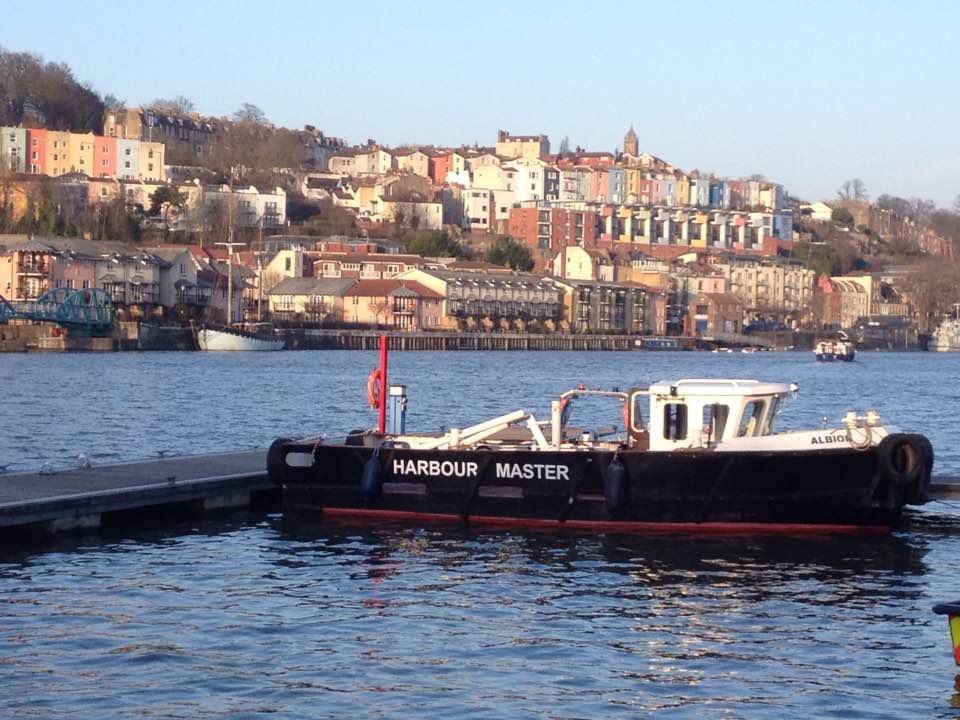 For some reason I thought it would be good to continue walking on to Underfall Yard, a historic boatyard. Twenty minutes later we found SS Matthew, closed to visitors. As was most of Underfall Yard. Despite trying its best to attract tourists it's probably better to visit when the cafe and visitor centre are open.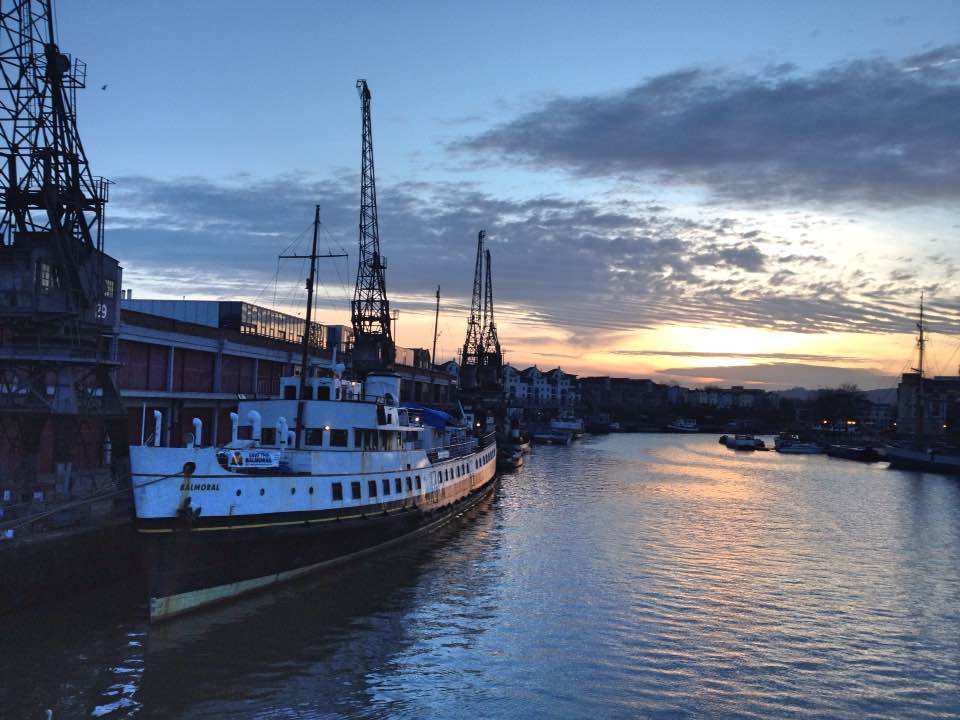 The kids were wilting by this time. Not surprising really as I later discovered we'd walked about 10 miles. Fortunately our walk home was accompanied by a paddle boarding dog (OK, its owner was paddling, the dog just balancing) and a great sunset.
Clifton Observatory – The Giant's Cave
Next morning we continued our walking theme with a stroll out to the affluent suburb of Clifton. Clifton is the polar opposite of Stokes Croft with expensive interior shops, lots of coffee shops and estate agents full of houses we could never afford. We were there to visit one of Bristol's most iconic attractions, Clifton Suspension Bridge, but were side-tracked into visiting Clifton Observatory first.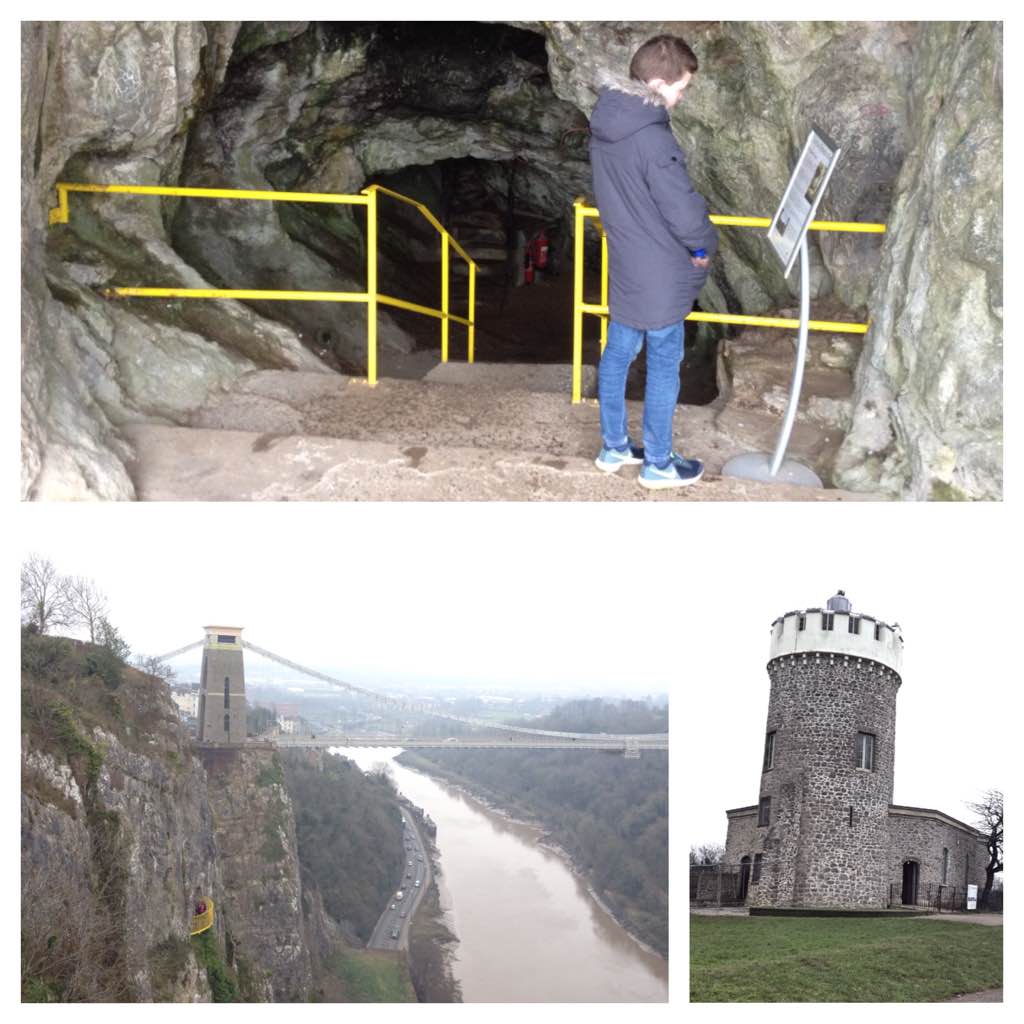 Clifton Observatory is home to two attractions, a Camera Obscura and Giant's Cave. We took advice from the ticket lady and left the Camera Obscura for a sunny day. Instead we opted for the cave, once home to two giants, Goram and Ghyston. It would be wrong to suggest this is pure myth but I wonder how the giants negotiated the 200ft tunnel to the cave. I bent my head as I walked down the steps and I'm definitely no giant.
Even if there is a touch of make believe about the tale, the steps lead out onto a platform with an impressive view of the gorge and bridge. You can just make out the bright yellow platform jutting out in the picture above. It's probably not for you if you're nervous of heights!
Clifton Suspension Bridge
I've seen Clifton Suspension Bridge from afar many times but its taken me 40+ years to walk over it. Was it worth the wait? Yes, of course. The bridge spans the Avon Gorge and is probably one of Brunel's most famous designs (although some dispute the extent of his involvement).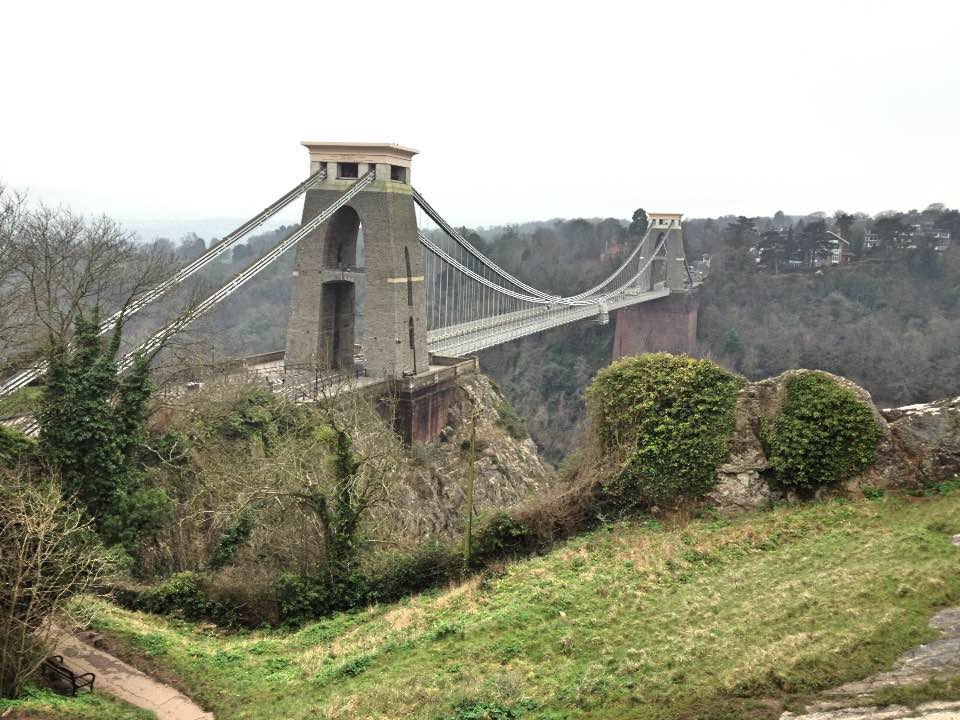 On the far side there's a small visitor centre. I enjoyed looking at the drawings submitted for the bridge design competitions. The kids played with a weighing machine that tells you how many of yourself can stand on the bridge without it collapsing. Quite a few fortunately!
I had a vague plan to walk beside the river back into the city but we decided it was probably a step too far after the previous day. Instead we explored Clifton further before returning to our hotel to pick up our luggage.
Eating out
One of the great treats on our city breaks is eating out. The family seem to think I'm a little fussy in my choice of venue. After I've checked the Trip Advisor reviews I'll generally check their hygiene score and the menu. And did I mention I'm vegetarian? Anyway, the following met my standards:
For mice and men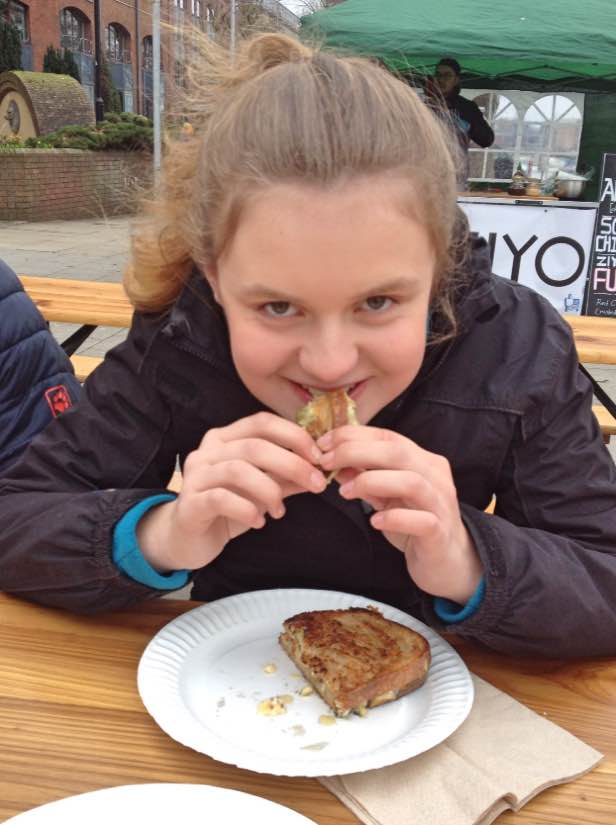 Advertised as a travelling grilled cheese muncheonette we found this pop up stall at the Harbourside Market. My daughter and I highly recommend one of their bespoke toasted cheese sandwiches.
Under the stars
A floating tapas boat moored at the Harbourside. Lots of tasty veggie options, reasonable size portions and a quirky venue.
Urban Tandoor
An Indian restaurant with great service in a small (and dark) venue so book in advance. I probably chose the wrong item as it was a lot spicier than I expected but everyone else enjoyed their meals.
Swoon gelato
An ice cream treat for the kids with lots of different flavours to choose from. As it was a cold February day I stuck to coffee but quality checked both ice creams. Very tasty.
Accommodation
We stayed in a Premier Inn. Not quirky or characterful but a central location and very good value for a family room. And we love the breakfasts.
More info
Cabot Tower is free. Check opening times before you visit; it is currently closed on Friday afternoons.
Clifton Observatory is usually open daily. Entry to the cave costs £2.50 for adults, £1.50 for children (must be 4 or older).
Clifton Suspension Bridge is free to walk over (£1 for drivers). The visitor centre is open every day except Christmas Day and New Year from 10am-5pm.