There are more than 80 miles of Dorset coastline, much of it with World Heritage Status. We spent a couple of days exploring the eight mile section between Charmouth and West Bay, an area packed full of fossils, great walks and spectacular views.
West Bay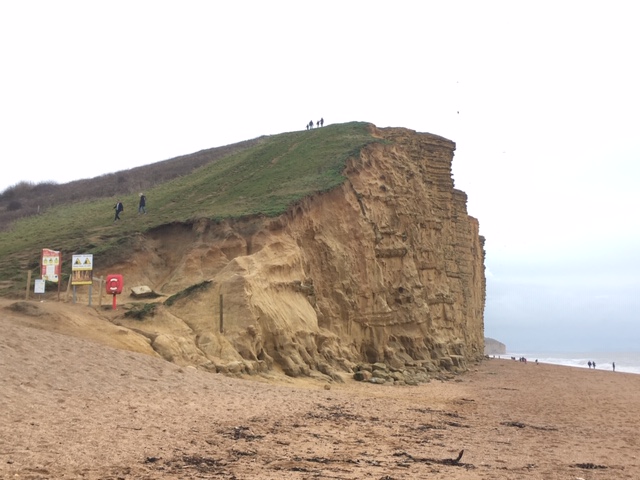 Our first stop was West Bay, the village made famous by the TV drama, Broadchurch.
We visited out of season, early on a grey Monday morning. Although many places were open the village felt a little 'closed for winter'. We mooched around the harbour, got buffeted by the wind on the pier and then lost ourselves in a huge building full of crafts and antiques.
However, it's the cliffs which West Bay is famous for so, once we'd seen the village, we headed towards the beach and its towering golden sandstone cliffs.
Our walk started, as expected,with a steep uphill climb to blow the cobwebs away. Once up top we enjoyed a fabulous walk along a stretch of the rollercoaster Dorset coast. This area isn't without its dangers. A short while after we visited a huge rockfall temporarily closed both the beach and the cliff path. After seeing the photographs it's a sobering thought that we were walking beside the collapsed cliff section. Do visit, but abide by all warning notices.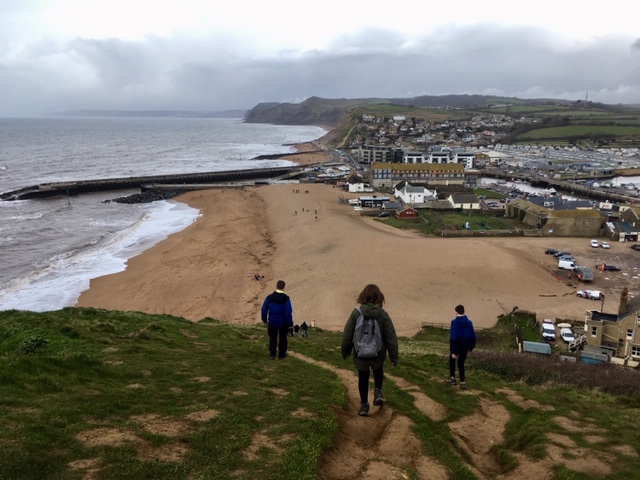 We didn't walk far. The weather wasn't conducive to staying on the cliffs and we had a longer walk planned for the afternoon so we soon retraced our steps to the village to find a cafe for lunch. If it's a nice day, and you fancy seafood for lunch, I'd suggest checking out the kiosks by the harbour. However it was too cold for us to mill around outside and most were still closed for winter so we opted for indoor comfort at West Bay Tea Rooms. This was a great choice with friendly service and good size portions.
Golden Cap walk
After lunch we drove over to Seatown, our starting point for a walk to the summit of Golden Cap. This is a flat topped hill that looked distinctly un-golden when we arrived at Seatown car park. Obscured by heavy rain I decided it best to shelter in the car whilst we waited for the rain to blow over. If you're without a car and looking for shelter the alternative is a quick half in the Anchor Inn. Although you might be tempted to stay longer than strictly necessary…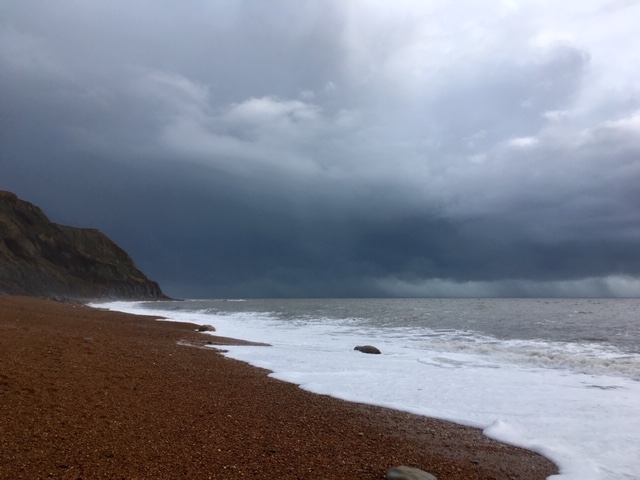 At 191 metres Golden Cap is the highest point on the south coast. We followed the 4 mile AA Golden Cap in Trust route. As per our morning walk it started with a steep schlep up to the summit. The heavy rain had made it much muddier and slippier than I'd envisaged. Although when the sun came out a few minutes later all was forgiven. The route to the top took us around half an hour or so; by then we'd jettisoned our outer layers as spring appeared!
On a clear day it is evidently possible to see as far as Dartmoor from the summit. Whenever facts like this are pointed out to me I'm always disappointed as I can never see as far as some people obviously can. I could certainly see Portland Bill and, in the opposite direction, Lyme Regis. But not Dartmoor.
Our route continued down the far side, passing the ruins of St Gabriel's Church. There are some fabulously located National Trust holiday cottages here if you fancy getting away from it all (or as much as you can in Dorset). These buildings are all that remain of Stanton St Gabriel, a village deserted in the 18th Century after residents moved to nearby towns for work.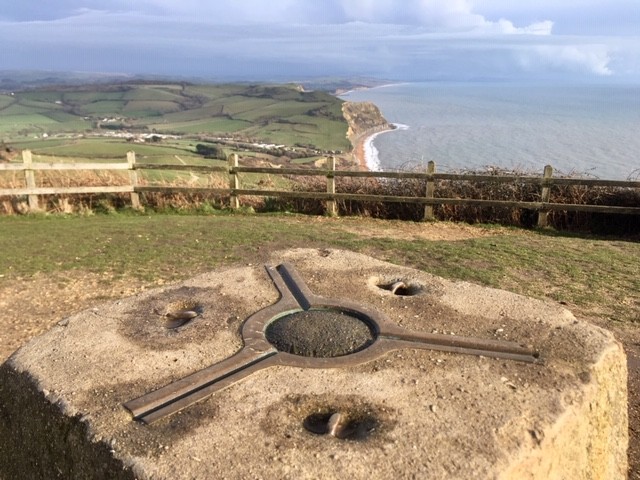 The rest of the route took us on a tour of green and quiet lanes. We cut back beneath Langdon Hill, which is still part of the National Trust estate and offers an alternative starting point for the Golden Cap ascent. As you return to Seatown the views of the Dorset coast return too, it's even more beautiful when the sun is shining!
Charmouth fossil hunt
The following day saw us in Charmouth, exploring a stretch of Dorset coastline marketed as the Jurassic Coast. The cliffs and beaches are full of fossils that reveal the Earth's history, from prehistoric Triassic deserts to tropical Jurassic sea. Fossil hunting in Charmouth has long featured on my UK bucket list so I was looking forward to our next activity, a walk with a fossil expert.
We'd booked a walk with fossilwalks.com; at just £5 per head it was excellent value. They run most days during the school holidays or alternatively you can book a rather more expensive private walk. Whatever you choose, book early.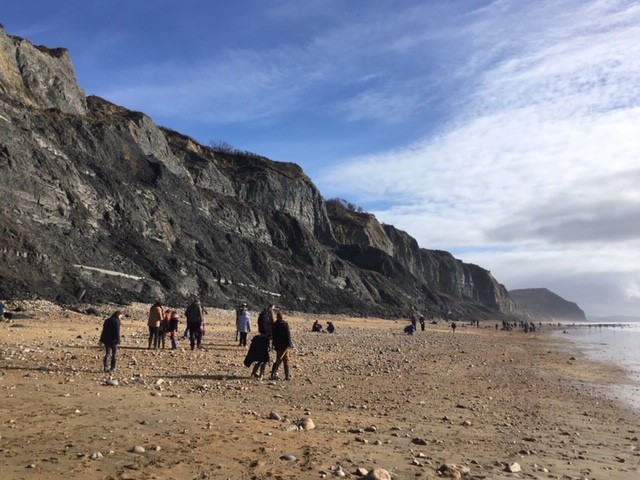 The walk starts with a half hour introductory talk about where to find the fossils, what to look out for and what you might find. Chris, our guide, passed around samples of the different fossils for us to handle. We also learnt how to use our hammers correctly (additional cost, book in advance through the guide).
After our briefing we set off to find fossils on the beach. This is a key safety point. Fossil hunting takes place on the beach, not the cliffs! I was sceptical at first to think that fossils would just be lying around on the beach. That was until I found my first ammonite on the sandy shore. Followed by further ammonites, belemnites and, what I'll call, stones with fossils in. Perhaps not exciting finds in geological terms but I was happy with my haul.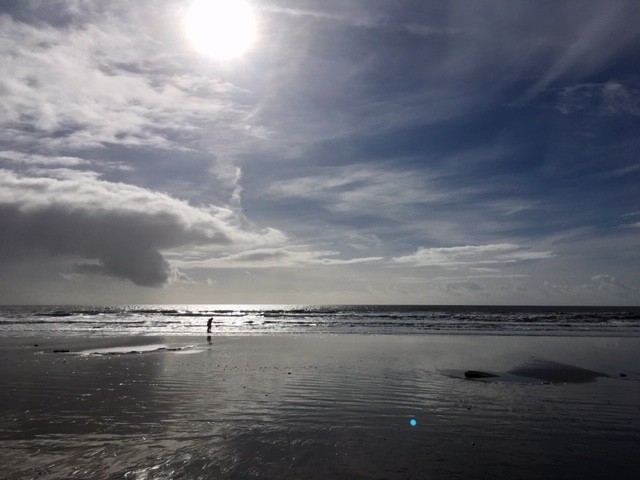 Charmouth Heritage Centre
After the walk we visited Charmouth Heritage Centre which houses some larger fossil finds information about the area's history and geology. Entrance is free (although do leave a donation) and highly recommended; they also offer guided walks and hammer hire.
If you haven't managed to find any fossils on the beach there's also a fossil shop next door. Shush, no-one need ever know you've bought one.
So, there you have it. Two days exploring the Dorset coast. I now need a few more months to explore the rest of it!