I'm not going to beat around the bush. Thistledown, an organic farm on the western edge of the Cotswolds, makes it onto my list of favourite ever campsites.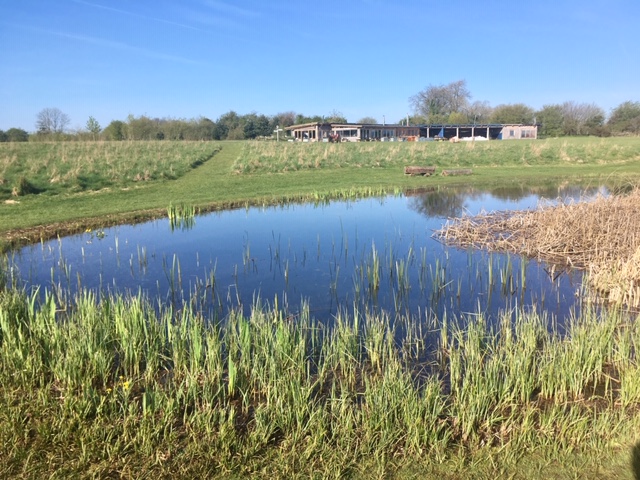 That said, if you prefer organised entertainment and extensive facilities it's probably not the site for you. Read on to find out more.
The negatives?
You need to know…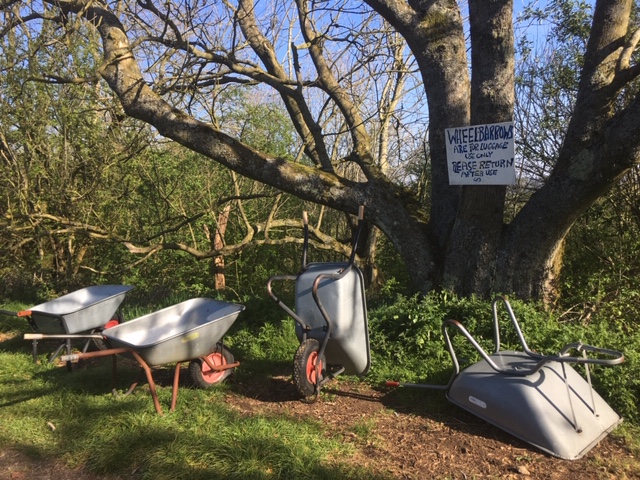 No cars are allowed on the pastures, yay! Depending on where you camp it's a 5-10 minute steep walk downhill with your gear. There are wheelbarrows to borrow. Or, for £5, you can have your gear transported to your chosen pitch in a buggy.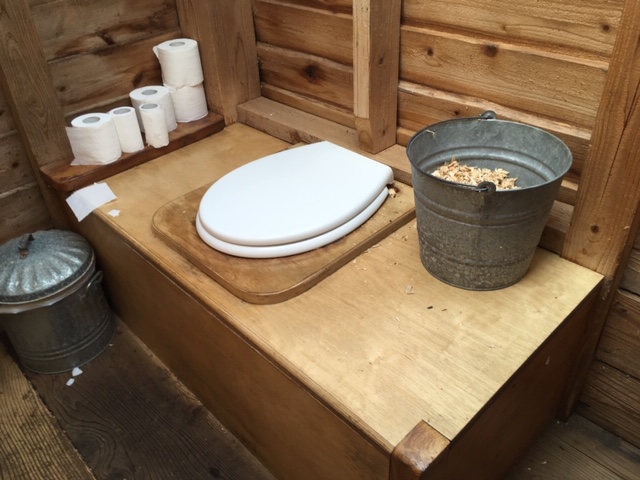 There are no flushing toilets. It's compost only if you're camping in the pastures. Three simple rules – men and boys must sit, you add a handful of wood chips after a poo and put the lid down after you've finished.
There are event style portable loos in the elderflower orchard (where cars are also allowed) if you really cannot cope.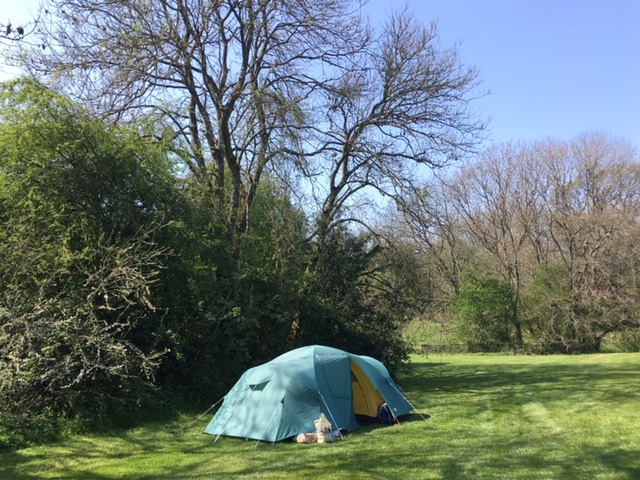 There are no electrical hook ups. This doesn't bother me one jot as we've never needed it. At least not until the teen discovered hair straighteners.
If you're not fazed by the above then you will love Thistledown Farm. We did! As for the positives. Well, where do I start?
The space
We camped over a Bank Holiday weekend. The site was rammed (as described by the chap who works there). You can see what I mean below. Hardly room to move.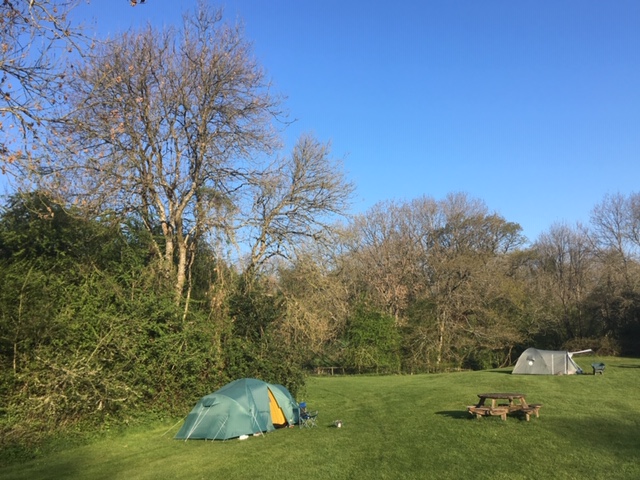 There are three different camping areas, split between the car free pastures and the elderflower orchard. There are no designated pitches, campsite rules state you should leave six metres between tents. Yes, you read that correctly, six metres. Even though the 70 acres of woodland and meadow could accommodate many more tents the owners wisely choose to restrict the numbers that can camp.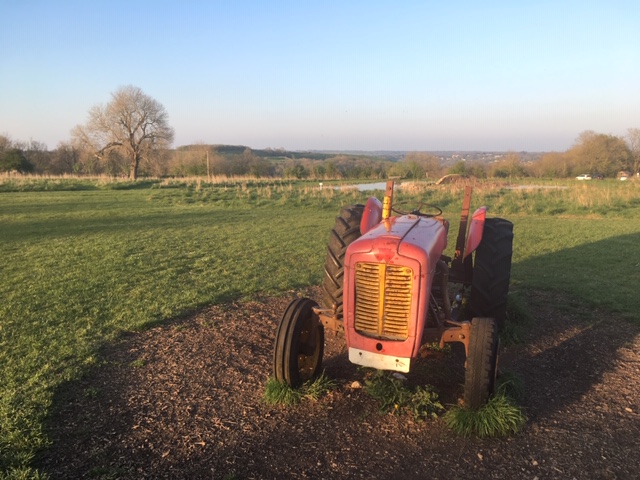 For children there's a tractor. Marshmallows toasted over the camp fire. A stream. Kunekune pigs and rare breed sheep. And rope swings in the wood. There's no artificial playground. Why would you need it?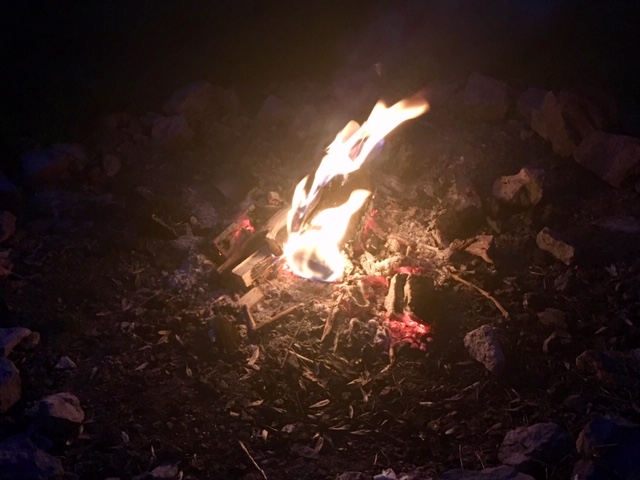 Camp fires are encouraged. Bring your own wood or buy a bag on site (£7.50). Just don't collect it from the woods; it's a habitat!
Remember to look up from your fire too. Once your eyes have acclimatised you'll be amazed by the stars. The lack of light pollution allows you to spot many more stars than usual.
The cafe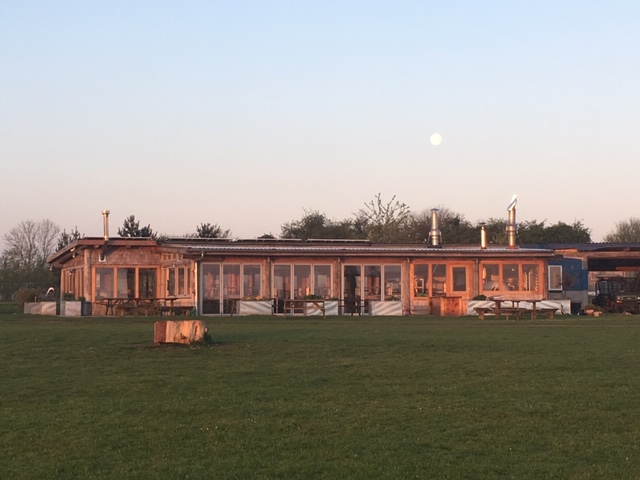 There's a fabulous cafe on site (but do book in advance). It's open for breakfast and lunch from Wednesday to Sunday. It also offers  pizza on Friday and Saturday evenings from April to October. It's not cheap but the food is mostly organic, local and incredibly tasty.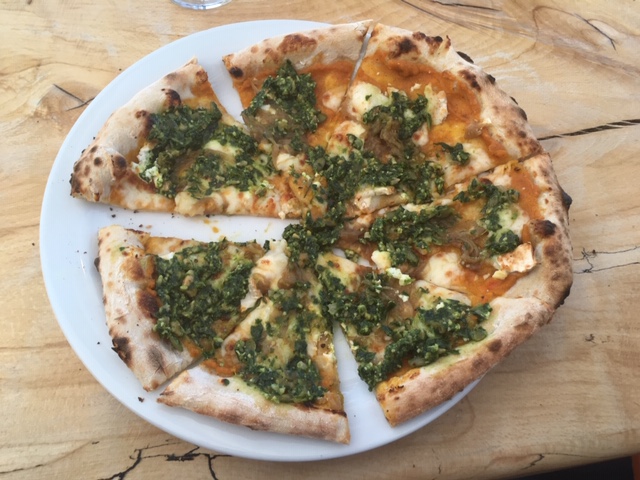 Indeed I ate the best pizza of my life. A sour dough base, topped with spiced butternut squash puree, caramelised onions, goats cheese and wild garlic pesto. The pesto, made with fresh leaves from the wood, was out of this world. If it's in season (April) when you visit you must try some!
The wildlife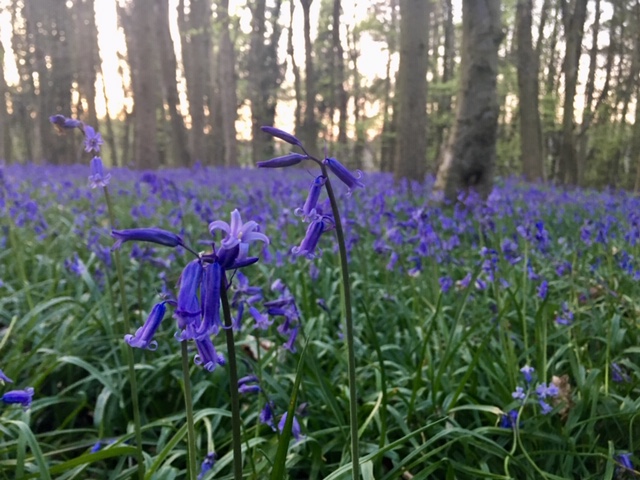 The camping pastures are surrounded by mixed native woodland. In spring bluebells and wild garlic carpet the ground. Trails lead through the wood but get a map from reception otherwise you'll probably end up following a badger track.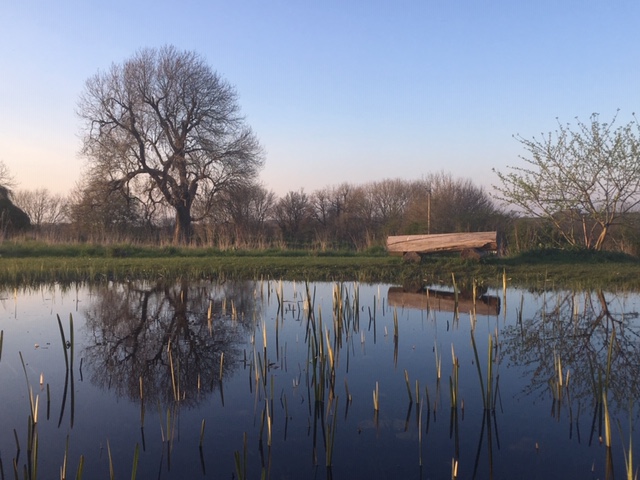 The whole site is set up to encourage wildlife. It's a receptor (rehoming) site for slow worms and grass snakes. The pond by the cafe is full of newts.
There are badger sets throughout the wood; tidy your food away at night to stop the badgers helping themselves. Tawny owls might keep you awake; the dawn chorus will probably wake you up!
The sunrise
Sunrise is incredible. I'd got up early to look for badgers, but not early enough it seems. Instead I walked up to the pond and stone circle to watch the most magical sunrise. Aside from three geese and a couple of newly arrived swallows I was the only one there (well, it was 6am on a Sunday morning).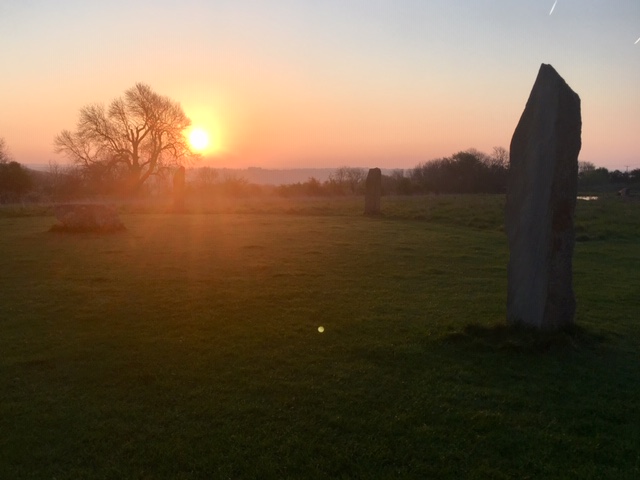 Later we ate breakfast in the early morning sun, watching the birds flitting between trees. Butterflies were out enjoying the warm weather. I couldn't imagine wanting to be anywhere else.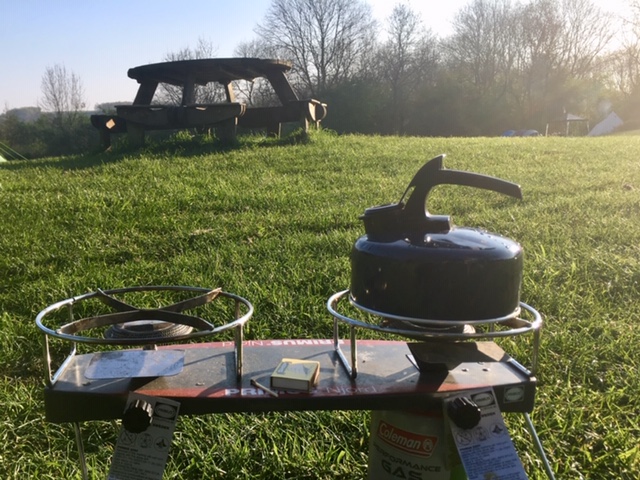 We did tear ourselves away from the campsite as there's plenty to see locally, including Stroud farmer's market on Saturday mornings, Woodchester Mansion (walkable from the campsite) and the viewpoint at Coaley Peak. All coming soon in another blog post!
More info:
We paid £68 for a family of four for two nights camping in the 3rd pasture. It's cheaper to camp in the elderflower orchard, but for the full experience head to the pastures. Further details and online booking can be found on the Thistledown Farm website.