Edinburgh Festival Fringe, which takes place each August, is an incredible collection of over 30,000 performances ranging from comedy to music to theatre. There's bound to be something to suit your tastes, however weird and wacky they are. Yet with so much on offer, knowing how to tackle the Fringe can be a little daunting for first timers. Our family has just returned so I've put together some top tips for enjoying your Fringe trip.
1. Don't make this your first trip to Edinburgh. If you've never been before visit outside of festival season and get the tourist sights out of the way.
2. Book accommodation early as you'll be competing with Fringe performers, festival goers and tourists. We found it cheaper to stay in an Airbnb house outside of Edinburgh and travel in via train each day. You'll need at least a couple of days to experience the Fringe; ideally longer!
3. The Fringe programme is released in early June and it's worth obtaining in advance of your visit.  It's free from the Fringe website but postage and packing is extra. The programme is split into different types of performance and includes information on age suitability, timings etc. Alternatively you can download the brochure from the Edinburgh Fringe website or just pick up a copy when you're in Edinburgh.
4. Book specific shows that you don't want to miss in advance but wait until you arrive for the rest. The streets are full of performers and people handing out show flyers and you'll regret not  having the flexibility to see some of these if you book everything beforehand. If you're visiting halfway through the Fringe you can take advantage of the show reviews. The List publishes links to all reviews and categorises the shows with stars according to the reviews; definitely worth checking out before buying several tickets.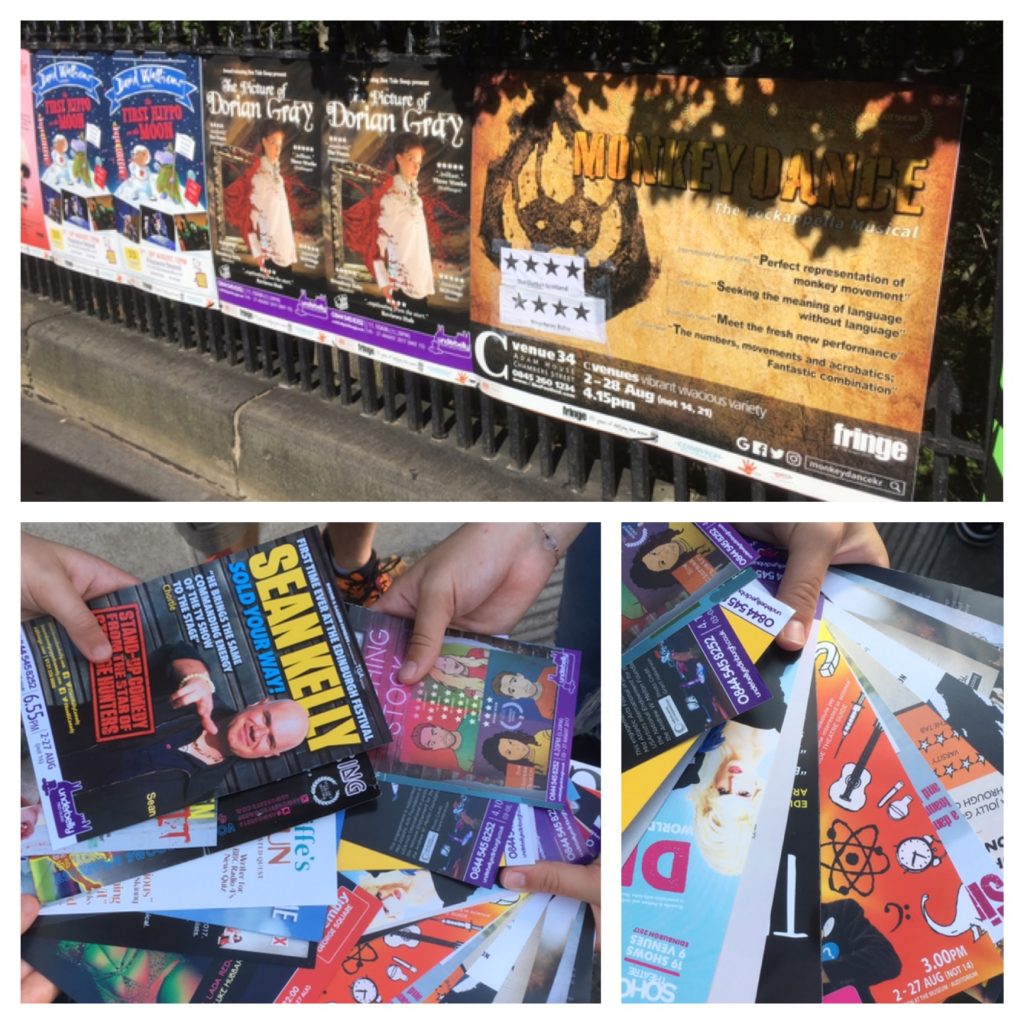 5. Check age restrictions on both shows and venues. Evening shows will generally be more risqué but that also applies to some of the daytime shows. We found there were plenty of family shows for young children but it was tricky finding the right shows for our older children. We ended up watching a couple of 14+ events; these included swearing but probably nothing more than they're exposed to at school.
6. Even if you're primarily visiting for the comedy it's good to choose a variety of shows otherwise it might get a little repetitive. Aside from comedy we saw a musical about two serial killers, a slapstick Dutch group who played over 100 instruments and an improvised musical based on The Hobbit.
7. Our first port of call each day was the half price Virgin hut. The hut sells half price tickets for shows on the same day. After 5.30pm you can also book for shows up until 2pm following day. There's a huge variety of shows available (although obviously not the well known names) but you need to know what you want to see before you get to the cashier. The Edinburgh Fringe app lists the half price shows which is useful for planning but you still need to buy the tickets in person.
8. Leave 30 minute travel time between shows as a minimum. There's a map on the back page of the festival guide which lists the venues; some people advocate seeing all the shows in one place to save on travel time. Although many venues are relatively close together it takes longer than you expect to walk between them as the city is so busy. Most shows last for one hour but check timings as some are longer (indeed, some are much longer!). We saw three shows each day; you could see more if you're staying in the city but remember to factor in time to eat, drink and use the loo too.
9. Shows are unreserved seating so get to the venue early if you want to sit at the front. If you're booked for an evening show be aware some venues have security screening in place.
10. The Free Fringe, as it is aptly named, offers hundreds of free shows and can be a good way to see something more experimental. Although if you've enjoyed the show the performers expect a contribution in the hat afterwards. And remember that it's not just the Fringe. There's also the Military Tattoo, the Book Festival, the Art Festival and the International Festival. Did I mention Edinburgh is a tad busy in August?
I hope you've enjoyed this round up of tips. Our family really enjoyed visiting the Fringe shows, and it's another experience to tick off my UK bucket list. Have you been to the Edinburgh Fringe?