After the success of our short break to Lille a while back I was keen to explore other destinations  accessible via Eurostar. Ghent fitted the bill perfectly; a Belgian city just a couple of hours from London.
What did we do in Ghent?
We travelled as a family of  four; two adults and two teenagers. With this in mind you'll appreciate our sightseeing and food choices were attuned to pleasing the whole family. Or attempting to at least!
So, how did we spend our time?
1. Climb the Belfry
I always make a beeline for the highest viewpoint in any new city. In Ghent it's the 91 metre belfry, the highest one in Belgium.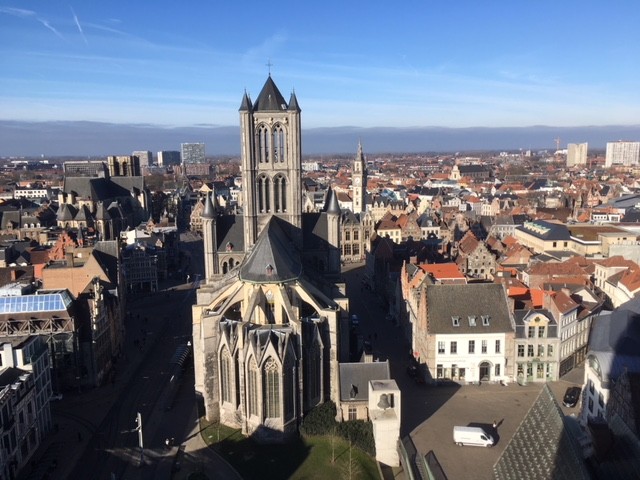 A lift can take you part of the way up but we climbed the steps (to offset the waffles later). At the top there's a 360 degree viewing platform with excellent views over the town centre, churches and cathedral. You'll also discover how much building work is happening in the city.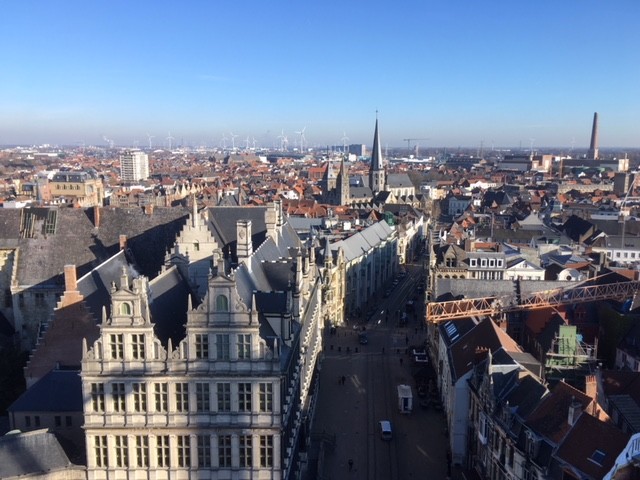 Aside from the views check out the Roeland Bell (which was chimed to warn of approaching enemies) and listen to the carillon which plays every 15 minutes.
2. Wander the streets around Graslei and Korenlei
In the Middle Ages this area was a busy port and the centre of the Flanders grain trade. Nowadays it's tourism central but for good reason; cobbled streets, historical buildings and, in the summer at least, pavement cafes. It's a good place to take a boat tour or simply wander.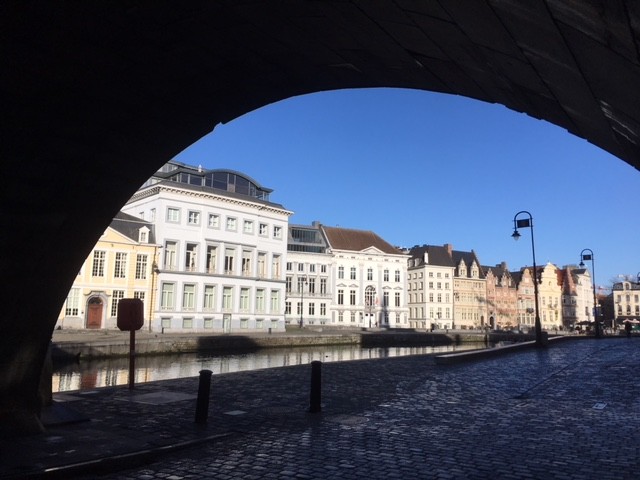 After dark it's a completely different view with the illuminated buildings reflected in the water. Visit it as part of the Ghent light tour (see below).
3. Visit Gravensteen (Castle of the Counts)
This medieval fortress has seen many changes of use in its lifetime. From the seat of the Council of Flanders to a prison to cotton mills; at one point it was even going to be demolished and the land sold for development. Fortunately saved by locals it was restored extensively and is now one of Ghent's main attractions.
Don't expect lavish decorations inside the castle. For me the appeal was very much around the physical architecture, the towers, turrets and staircases. Although, thanks to those restorations, it was rather weird to walk up a heated staircase; the last thing you expect in a castle.
One room that is decorated, in a macabre way, houses the torture equipment. A reminder of the castle's gruesome history. I found this fascinating but you might want to avoid it if you have younger children.
4. Ghent by light
We missed the Ghent Light Festival by a few days. Held every three years this would have been a spectacular sight but sadly it didn't correspond with half term.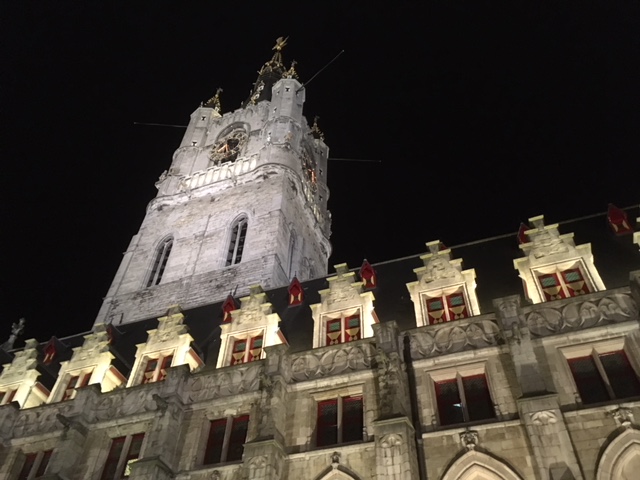 Even though we'd missed the festival Ghent illuminates many of its key buildings and monuments after dark, making an evening stroll obligatory. We followed the route on the Ghent light plan which took us to parts of the city we hadn't seen in daylight. I highly recommend the walk but wrap up warm in winter.
5. Eat frites with mayo
A Belgian classic. We got ours from De Frietketel, a student hangout famous for its fries and burgers. Oh my word, the portion size! We ordered two small portions with mayo between the four of us and couldn't even finish one portion.
It's not haute cuisine but is tasty and cheap. Veggies and vegans can have their fill of junk food too; there are loads of options for non meat eaters. Indeed Ghent is known as the veggie capital of Europe.
6. Discover the city history at Stadsmuseum Gent (STAM)
I really enjoyed STAM, a museum covering the history of Ghent. I'd suggest visiting as early as possible during your visit to get an overview of the city. I've chosen my highlights below.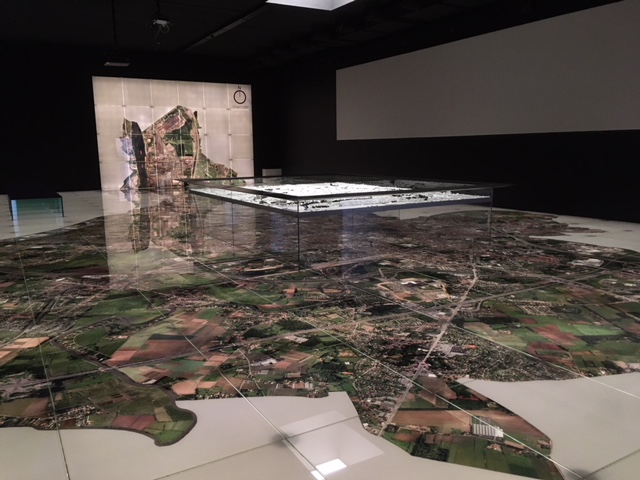 The first room houses a huge map of Ghent printed on the floor. Once you've donned protective shoe covers visitors can walk across it. It gives a sense of scale and geography of the city, particularly outside of the main tourist area.
The museum also includes a room dedicated to the Ghent Altarpiece (evidently one of Europe's premier art works) which is in St Bavo's Cathedral. I discovered it's the most frequently stolen artwork of all time; one of the panels is still missing from the 1934 theft. It was really interesting to read about the police investigation and conspiracy theories, even if, ahem, we didn't visit the actual painting whilst in Ghent.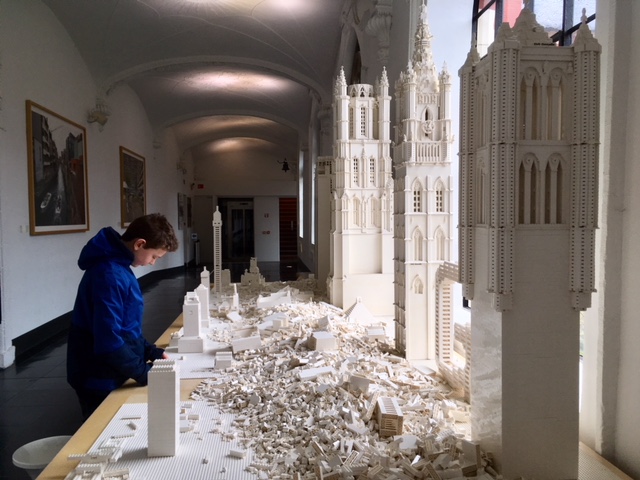 The family dived into the huge pile of white Lego bricks left out for visitors to enjoy. Experts can attempt to recreate Ghent's towers. Mere mortals can build small block houses.
7. Enjoy some warmth at the Botanic garden
If, like me, you prefer warm weather then head for the greenhouses at the University botanical gardens. It's a little way out of the city centre but you can combine it with a walk through Citadelpark.
The outside garden didn't contain a huge amount of interest in February but there was plenty to see inside the tropical and sub-tropical greenhouses – and they were warm!
8. Eat waffles
Another Belgian speciality. I realised halfway through my chocolate and cream covered concoction that I'd never eaten waffles in Belgium. It bore no resemblance to any waffle I've ever eaten before. It was sweet, light and slightly chewy, delicious!
Waffles cost a couple of euros from most street vendors, more if you cover them in melted Nutella. Ignore the calories, you're on holiday.
9. Saviour the view from St Michael's Bridge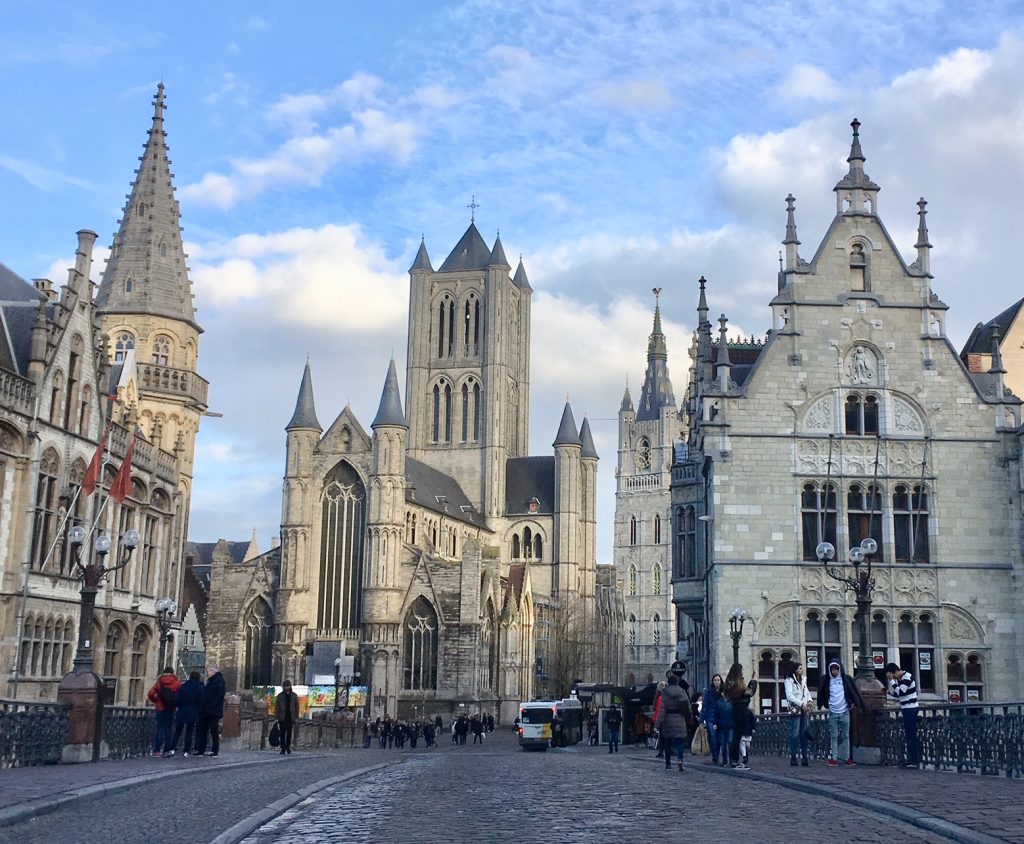 This is the quintessential Ghent view, described as the Manhattan of the Middle Ages. Or, in non-tourist talk, it's the opportunity to see three towers in a row; those of the Belfry, Saint Bavo's Cathedral and Saint Nicholas' Church. I think it's the one picture all tourists attempt to take even if it does mean getting mown down by a bus whilst you're standing in the road.
10. Wander the streets around Patershol
This trendy neighbourhood is a small area of cobbled streets and restored houses. A place to wander aimlessly.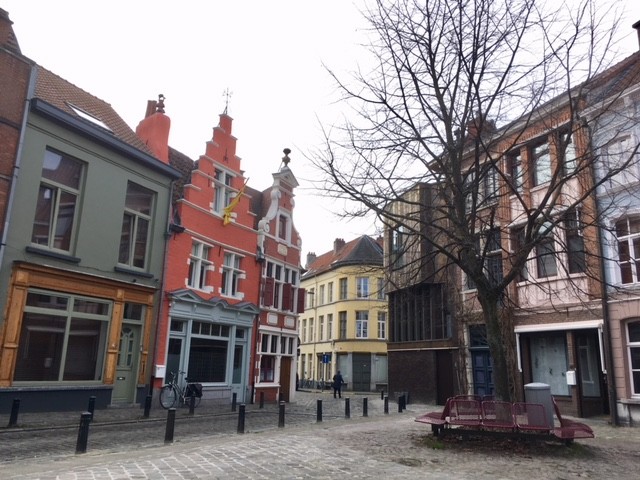 We visited during the afternoon when it was very quiet. Lovely to look at but almost deserted. I assume the restaurants liven things up in the evenings.
11. See the vineyard at St Peter's Abbey
We stopped here on our walk back from the botanical garden as I wanted to see another city centre garden.
This garden is unique as it contains a vineyard. In the middle of a city. Although only planted in the 1980s there are references to earlier vineyards onsite from the 9th Century. The monks must have loved their wine. I wonder what it tasted like?
12. Graffiti street, off Hoogpoort
This is a pedestrianised alleyway full of graffiti which gives you a break from the medieval-ness of Ghent. It is as its name says; full of tags rather than street art. The teens liked it.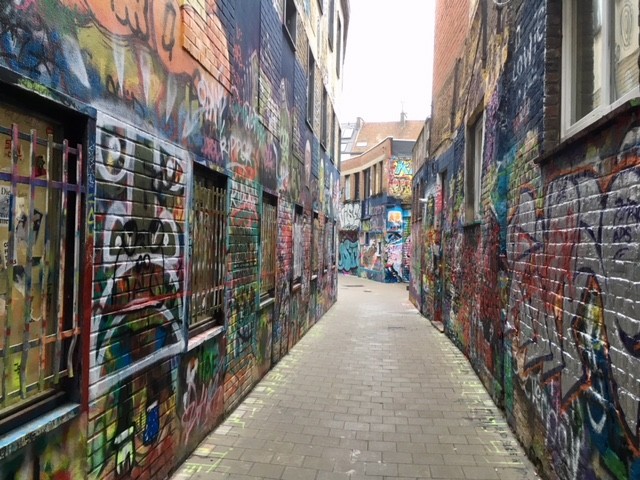 13. Ride a tram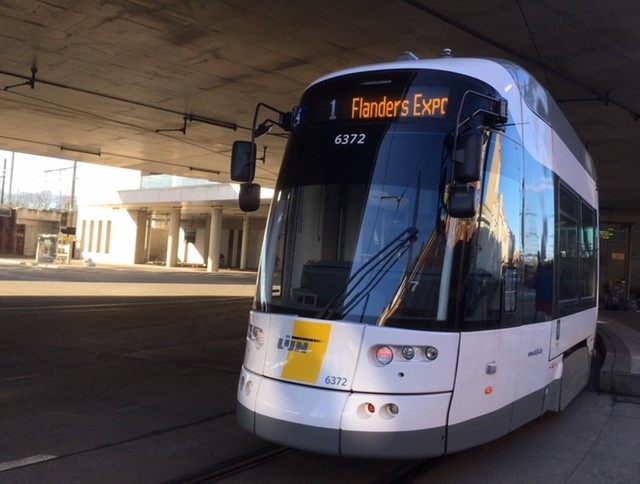 The centre of Ghent is easily walkable so there's no great need to use the trams. However my son was desperate to ride one so we took a tram to the railway station on our final day. It would have been cheaper to use a taxi but nowhere near as novel.
14. Little noses (cuberdons)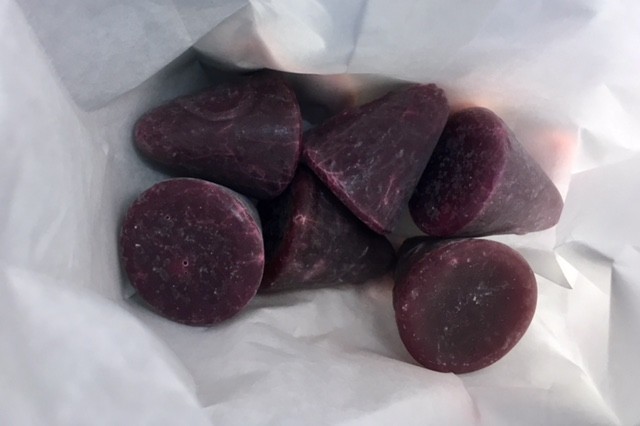 These cone shaped sweets (like noses) are a Ghent speciality. You can buy them for around 3-5 euros from street vendors. Fruit flavoured, with a hard shell and soft filling, they were an acquired taste but my son insisted he liked them.
15. Visit the cathedrals and churches
I'm not religious but do appreciate the history and architecture of churches, particularly ones as huge and ornate as those in Ghent. That said, with teens in tow visiting the cathedrals and churches was never going to be top of the sightseeing list.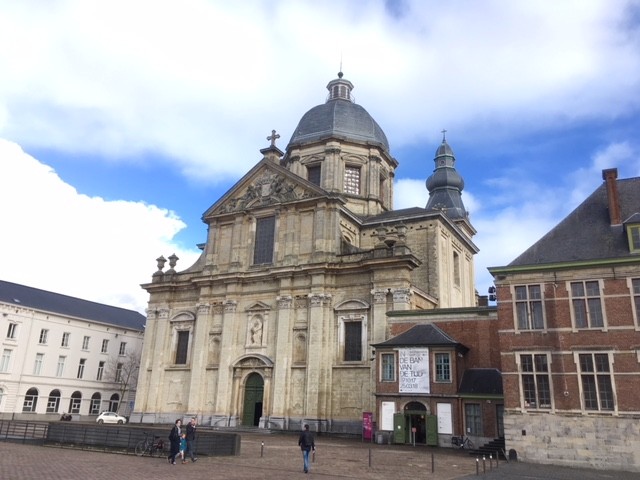 Despite this we visited St Bavo's Cathedral, where we spotted a whale skeleton but missed out the Ghent Altarpiece.
We also popped into St Peter's church (next to the Abbey) and admired several others from outside.
Ghent – the verdict
We loved Ghent and I'd highly recommend it as a short break destination. We easily filled two full days with sightseeing. Another day, or even two, would have been ideal so we could see more museums and perhaps take a boat tour.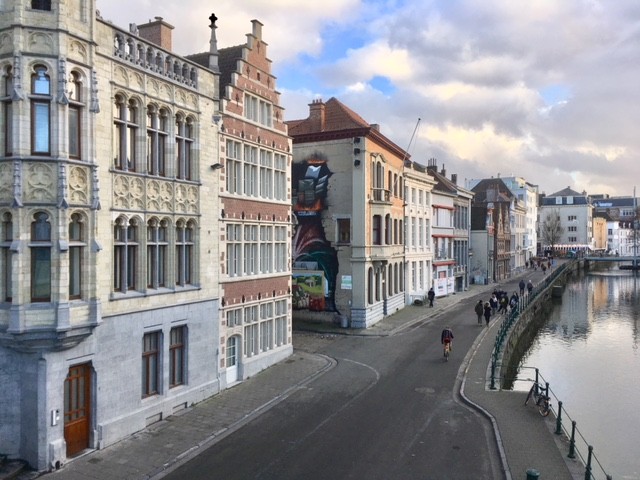 Ghent isn't as overtly pretty as Bruges but I preferred it. There are far fewer tourists (in February at least) but lots of students which gives it a different feel.
More info:
We travelled by Eurostar to Brussels. From Brussels we took a train to Gent-Sint-Pieters Station. The train takes about 30 minutes; we'd already bought a Eurostar ticket which was valid to any Belgium station so there was no need to purchase a separate ticket.
We stayed in a studio apartment which you can see on the Stay at Ghent website. The second floor duplex studio was perfect for us but had a mezzanine and is reached via a steep staircase so not suitable for those with mobility difficulties or young children.
Belgium has two official languages; Flemish and French. Whilst I can get by in French Ghent is in the Flemish speaking area. It pains me to say but you're better off speaking English.