On to Northumberland, and Hadrian's Wall, one of the attractions I was looking forward to the most.
The weather forecast for the next few days was pretty dire so we opted for an early walk before the rain arrived.
Walk to the Howk, Caldbeck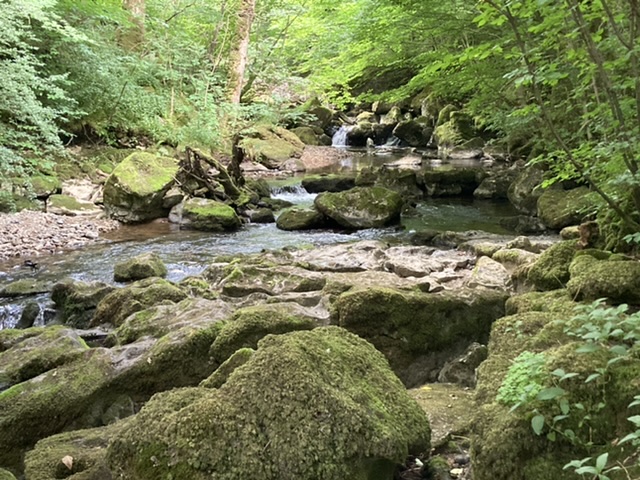 Caldbeck is a small picturesque village just north of the Lakes. It's famous as the home of John Peel, a huntsman I'd never heard of. It's also the home of Chris Bonington, a mountaineering legend that I am in awe of!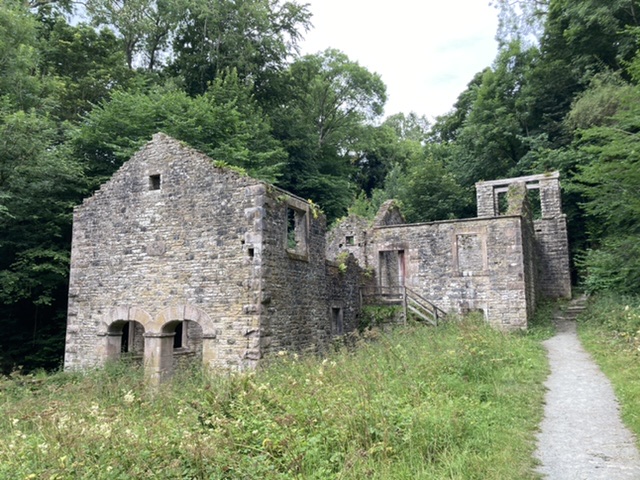 Our walk followed the river passing a derelict bobbin mill up to the Howk, a picturesque limestone gorge with small waterfalls. We carried on a little further before heading uphill through sheep fields and then circling back around to the village.
We stopped for a quick drink at the Muddy Duck cafe, where eldest teen had a super size milkshake. Annoyingly the wasps were out so we retreated to the car to finish the drinks.
Roman Army Museum, near Greenhead
Leaving Cumbria we drove into Northumberland, heading east through the rain showers. This part of the country is littered with Roman attractions, from forts to museums and, of course, Hadrian's Wall.
Our first stop, the Roman Army Museum, was small but informative. We watched a 20 minute film, shot in and around the area, and browsed life size displays and a variety of artefacts relating to the Roman army. I prefer my museums small and specific so this was perfect for my attention span.
Hadrian's Wall, Walltown Crags
We then visited a section of Hadrian's Wall at Walltown Crags, just a short steep walk up from the Roman Army Museum. Although the museum had been busy it was interesting to see that relatively few visitors made it to the wall itself. Little did they know what they were missing out on!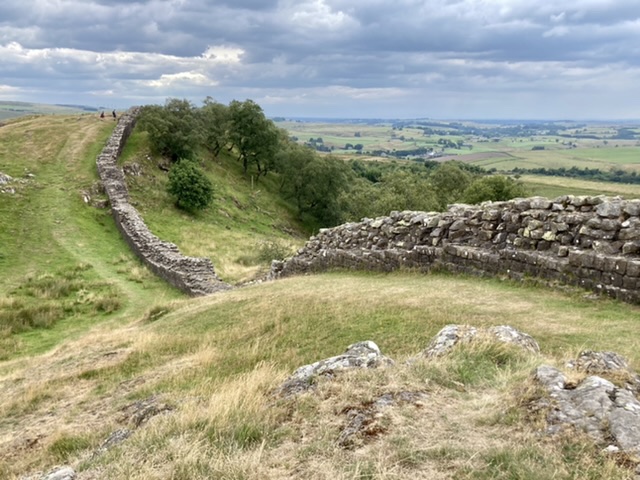 Hadrian's Wall stretched 73 miles from the west to east coast. Originally 5 metres high and 3 metres wide it defined the northern limit of the Roman Empire. Given that it was built almost 2000 years ago it's amazing that much remains of it today. Particularly as many stones were requisitioned for use in local castles, churches and homes.
Nowadays the wall is protected as a World Heritage Site. At Walltown Crags it winds over the ridge of Whin Sill; a geological feature of the North Pennines. This, for me, was an unexpected highlight. The cliffs, made from hard rock, provide a natural barrier across the landscape. Adding a wall on top seems superfluous!
Hadrian's Wall, Walltown Crags
Suffice to say, I loved Walltown Crags. I've wanted to visit Hadrian's Wall for a long time and am pleased it lived up to my expectations.
Overnight stop
Our next Airbnb was at Bardon Mill. I was a little nervous how it would work out as we were all going to share one large bedroom. It was also close to the main road, so subject to traffic noise. Fortunately it was fine for our short stay. We were impressed by a brilliantly stocked breakfast box, perfect for teenage son and his never-ending eating!