This was forecast to be the last sunny day of the week. Where better to spend it than the Lake District?
I usually visit the Lakes out of season so to visit the fells on a warm summer day was a treat. Rather than a big mountain day we opted for a couple of gentle walks; one summit and a lakeside circular.
Low Fell
Our walk up Low Fell started from Thackthwaite. Road signs in the village warned of red squirrels but, as is often the case, they were hiding during our visit. Slightly disappointed, we headed uphill through a farmer's field and gradually ascended a well defined track.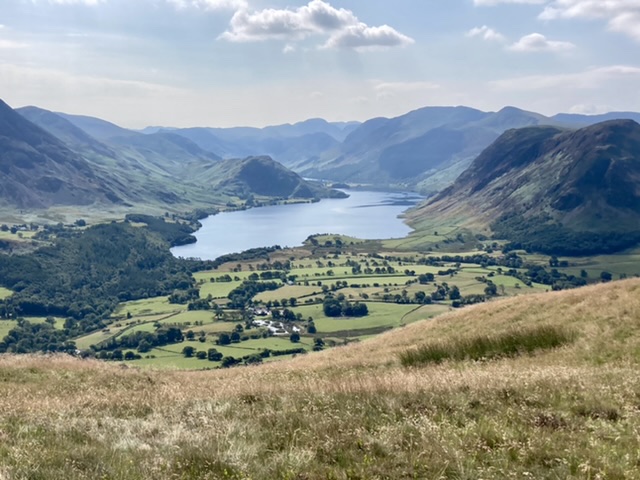 Low Fell is only 423 metres high and it didn't take us long to reach the top. We sat awhile and enjoyed the summit view over Crummock Water and the surrounding peaks. Incredibly we had the hill all to ourselves!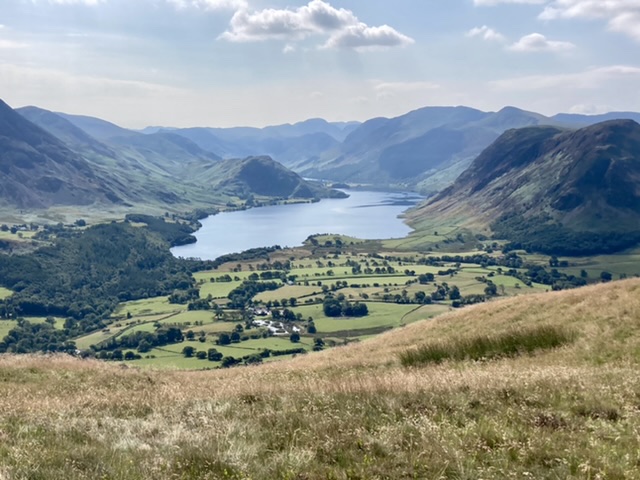 The only slight downside was the sun, which was in the way of a perfect shot – but how can I possibly complain about sun in the Lake District?
We walked back to the car via the same route, not very imaginative but navigation isn't always my strong point so I like to keep things simple.
Buttermere Lake
After a picnic lunch overlooking Crummock Water we drove onto Buttermere.
Unlike Low Fell, Buttermere was heaving. Fortunately the crowds didn't detract from the spectacular scenery surrounding the lake.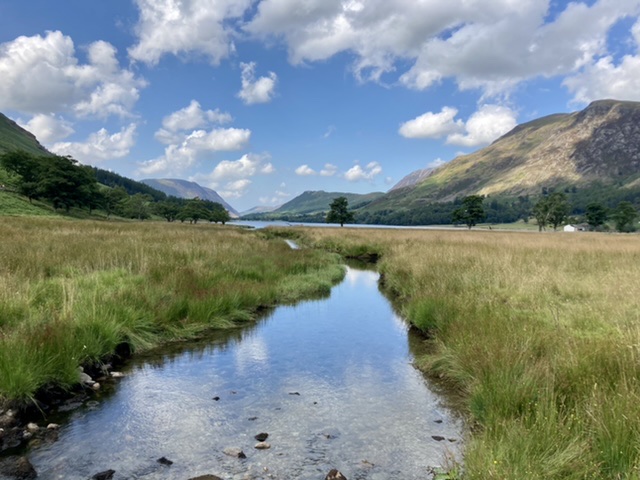 We managed to park in a farmer's field, and then used the public toilets nearby. I'm only mentioning these as it's the first time I've ever paid for a loo visit (30p) via contactless!
Our walk took a while to get started as we passed Syke Farm Tea Room and it would have been rude not to stop. The kids had gooey chocolate brownies whereas I opted for, in my opinion, a slightly healthier cream tea. (There's fruit in the jam!)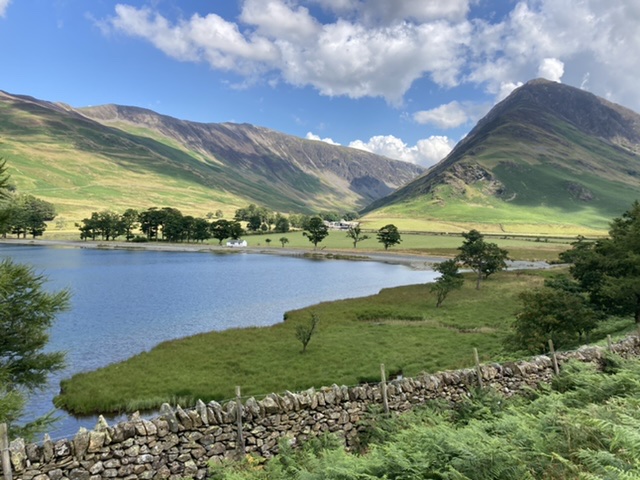 To walk off our calorific intake we followed the lakeshore path around Buttermere. The walk is around 4 miles long, flat and easy to follow. Whilst the path had a steady flow of walkers (including another family from our hometown) it wasn't too crowded away from the car parks.
There is a short road section, and a tunnel to pass through, but it's the stupendous views in all directions  that grab your attention. The most famous peak is undoubtedly Haystacks, often climbed from Buttermere and notable as the resting place of Alfred Wainwright's ashes. One of my early blogs, back in 2013, details our walk up Haystacks and our overnight stay at Black Sail Youth Hostel.
Buttermere lakeside view
It was late afternoon by the time we'd finished our second walk. Our journey home required a stopover in Cockermouth as my other half had forgotten to pack any jeans or trousers. The shops were just closing when we arrived but fortunately one of the charity shops came up trumps.
Overnight stop
After a full on day in the Lakes we retreated back to our Arkleby Airbnb for a second night. We all slept well!