The kids could barely contain their excitement when I told them we were going to visit a lavender field. Followed by a Cold War bunker. A strange combination perhaps but as they're only a few miles apart I thought it was the perfect opportunity to visit two more places on my UK bucket list.
My youngest stated he'd prefer to stay at home on the Xbox and the eldest asked why we couldn't just go to Thorpe Park instead (like normal people). Surely, I suggested to them, it's more fun to experience an authentic Cold War bunker….
Cotswold Lavender Farm, near Snowshill
Lavender fields have become a 'thing' in the last couple of years. Similar to bluebell woods. Everyone jostling to get a photo of their loved ones sitting amongst the flowers. But there's a reason for their popularity. They're incredibly photogenic!
Cotswold Lavender is open from mid-June until the flowers are harvested in early August. We visited the first weekend in July, a good but busy time to choose.
Our visit began with a walk past some of the 40 different varieties of lavender grown at the farm. Ranging in colour from pale lilac to a dark purple I never realised there were so many different varieties.
We progressed to walking around the main fields. These were planted with homogeneous dark purple bushes; very pretty but I couldn't actually smell any lavender.
Regardless of the smell the bees were loving the flowers. It was great to see, and hear, so many varieties. The fields were literally buzzing.
Visitors are free to walk as they wish around the fields. It was lovely to have this freedom but I would have liked the option of a guided tour to learn more about the farm.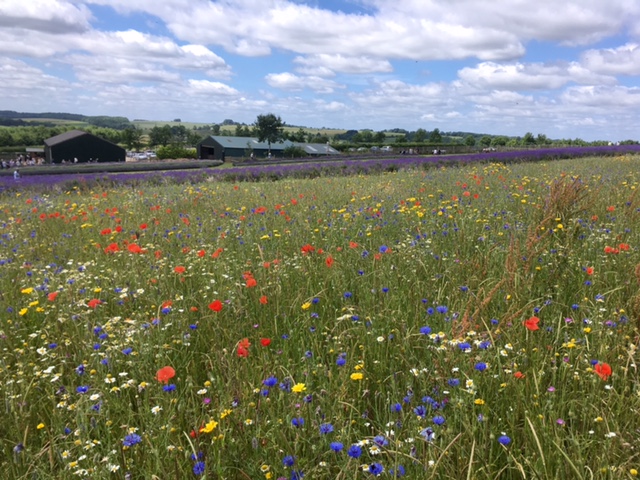 Almost as photogenic as the lavender field was the wildflower meadow. The reds, yellows and blues of once common flowers nodding in the breeze. My enjoyment tinged with the sad recognition that I haven't seen a single wild cornflower this year.
We ended with a trip to the gift shop and cafe. I resisted all of the lavender perfumed and flavoured items in the shop. But not the lavender brownie in the cafe. Although we played it safe and bought a non-lavender cake too just in case it tasted awful (it didn't).
Cold War bunker, Broadway Tower
After lunch in Broadway we drove onto Broadway Tower. We climbed the tower a few years ago but missed out on its underground attraction, a restored Cold War bunker.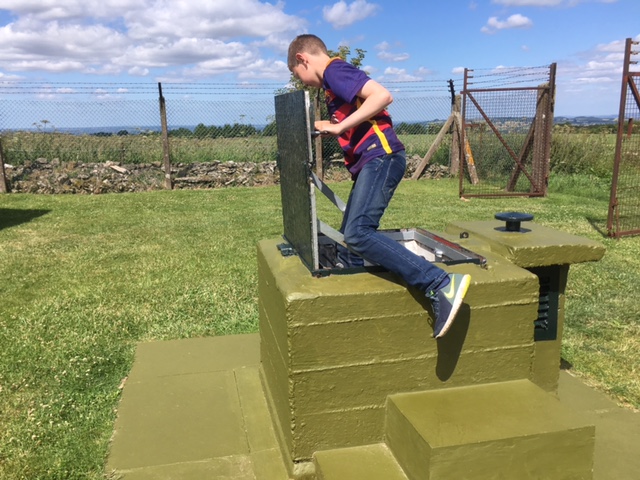 The bunker is a few minutes walk from the tower. Accessed via a ladder, down a 14 foot shaft, this is not for those with a fear of heights or claustrophobia. We descended one at a time; the family next to us helpfully shouting up encouragement to their children. Along the lines of "It's a lot harder than it looks!"
Once we'd all descended our guide explained that the bunker was built in the late 1950s and operated until 1991. It formed part of a nationwide monitoring network of bunkers, all built to the same design and equipped with state of the art (as was) detection facilities.
The bunkers weren't designed to protect occupants from a direct nuclear hit. Manned by volunteers from the Royal Observer Corp their aim was to help determine the location of bombs and direction of fallout.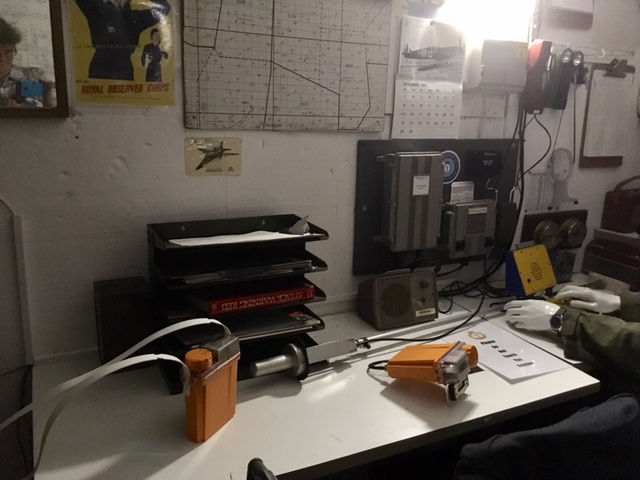 We listened to a short recording as our guide pointed out the various pieces of equipment. I was strangely excited to see a nuclear warning siren!
In addition to the scientific instruments the room was kitted out with bunk beds, a separate toilet and sufficient food and water for three weeks. Minimal privacy though, you'd get to know your fellow workers very well.
I'm sure my kids thought this was all ancient history but I was a teenager in the 1980s and remember the threat of nuclear war. The bunker provides a fascinating insight into the Government's emergency plans and precautions. Although with hindsight I do wonder how effective they'd be.
Despite the kid's grumbles both loved the Cold War bunker, a definite hit. As was the lavender brownie!
More info:
Check the Cotswold Lavender Farm website for exact opening dates. Entrance is £3.50 for adults and £2.50 for children aged 5-15 yrs.
Entrance to the Cold War bunker is by guided tour only. These generally run hourly throughout summer weekends. There's a maximum of 12 people and a minimum age of 12 years, tickets cost £4.50 per visitor.