I've driven through Llangollen many times whilst en route to the mountains in Snowdonia. But it was only during a visit to the town last autumn that I discovered what fantastic family friendly walks we've missed out on.
Llangollen has a number of attractions dotted around the town and local area. This circular walk covers many of them but it's easy to add in others such as Valle Crucis Abbey, Llangollen Railway or Motor Museum and make a full day out.
Coed Hyrddyn – Velvet Hill
As we were staying in a holiday cottage at the foot of Velvet Hill it made sense for us to start our walk here, with a trip to the top of the hill.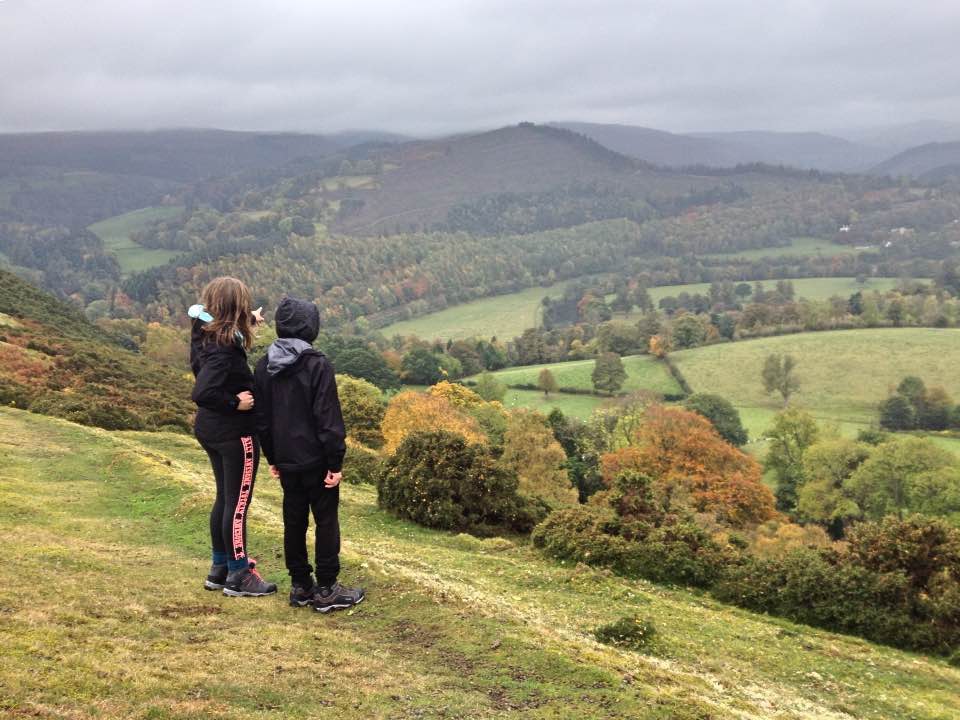 It was good to start with a brisk uphill walk; these days my knees much prefer going up than down. Although a damp day, with a touch of drizzle, this didn't detract from the views out towards Llantysilio.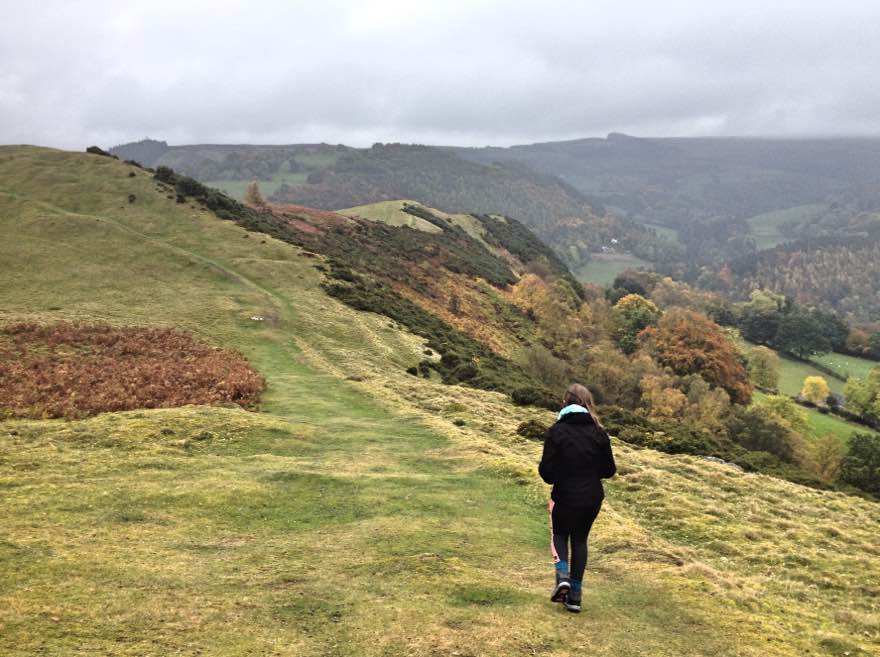 Horseshoe Falls
From the summit of Velvet Hill it was downhill all the way to Horseshoe Falls. Don't get too excited by the name. This is not a thundering waterfall but a semi-circular weir designed by Thomas Telford. Of course, it is impressive in an industrial heritage way, but personally I prefer the natural alternative.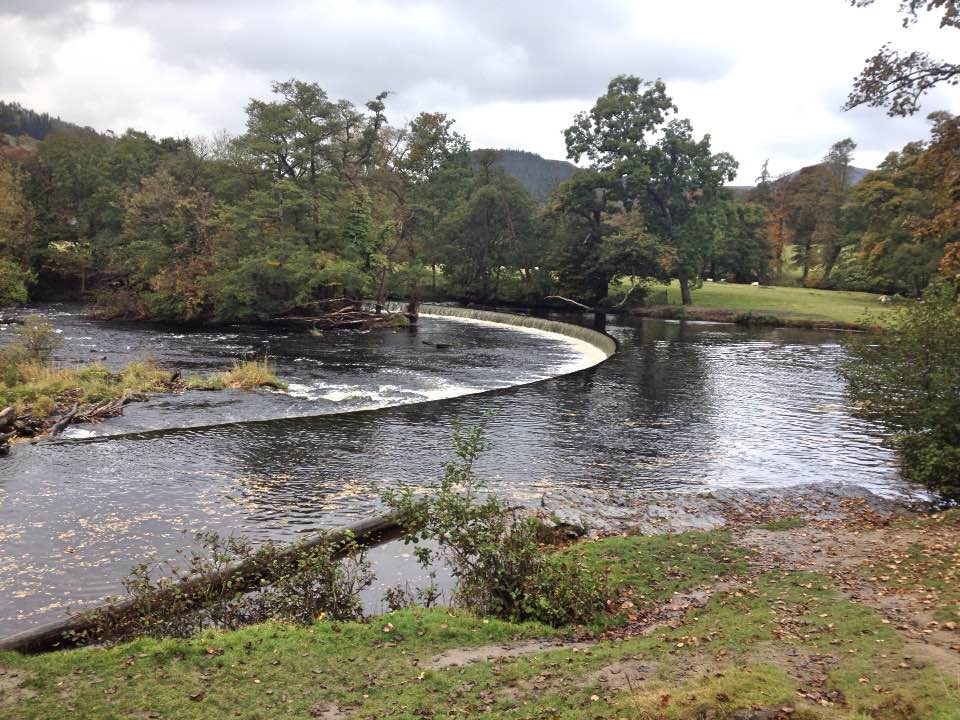 Nowadays the Falls appear to be the starting point for an entirely different activity, presumably never envisaged by Thomas Telford. White water rafting along the River Dee into Llangollen. We walked past several groups of rafters still on dry land and kept hoping to see them on the rapids later on but no such luck. Perhaps they chickened out.
You may notice Mr Telford's name pops up a lot in these parts. Head over to my post about Pontcysyllte Aqueduct to see another of his masterpieces.
Chain Bridge
From the Falls we walked towards Llangollen, bordered either side by the River Dee and Llangollen Canal.
The Chain Bridge, a footbridge over the River Dee, reopened in 2015. We didn't need to cross it on our walking route but it would have been a shame to miss out so we diverted through the hotel terrace to do so. On the far bank there's an information board which shows what the bridge looked like pre-restoration. Wow. That would have been an exciting crossing!
Llangollen Canal
We followed the canal towpath into Llangollen. Opened in 1805 to transport slate and to feed the Shropshire Union Canal it's much narrower than our local canal. In some spots it was only wide enough for one boat, although there are plenty of passing places. Horse drawn boat trips are popular along this stretch, they're certainly the way to travel if you want a slow relaxing trip.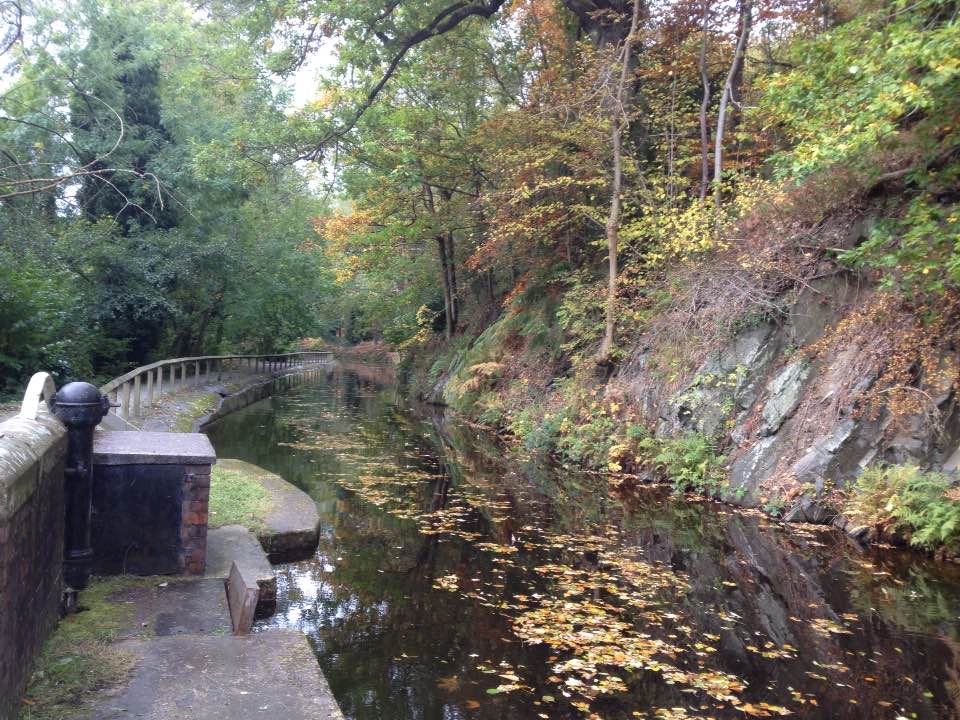 We passed a lot of canoeists as we walked. I was intrigued by one man wading in the water beside his canoe rather than actually sitting in it. I'm sure he had a perfectly valid reason but I didn't think to ask him why!
Castell Dinas Brân
The canal took us directly into Llangollen where we stopped for a coffee break and to view the birds and animals in the taxidermy shop. I wonder if they do much business?
From Llangollen town centre we crossed back over the canal and walked up the hill to Castell Dinas Brân. I'd been eyeing this up since we'd arrived the previous day. The ruined medieval castle sits imposingly atop a hill overlooking Llangollen. I rather like the English translation – the crow's fortress, or crow castle.
After a short sharp walk up we mooched around the ruins for a while, enjoying the views over to the limestone escarpment of Trevor Rocks. The castle only had a brief working life, destroyed by Edward I's troops just a few decades after it was built. It once featured a gatehouse, keep, hall, D shaped tower and a courtyard but only ruins remain nowadays. Given its exposed location it's pretty impressive that even these are left.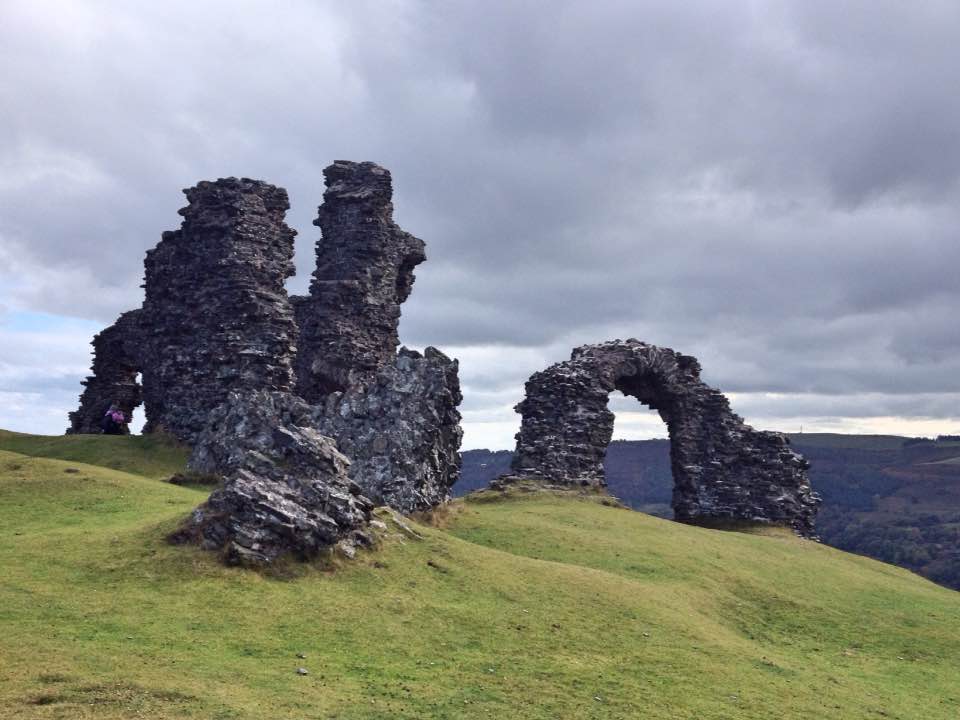 Clwydian Way
From the castle we walked down to join the Clwydian Way. This circular route covers 120 miles of Welsh countryside and was created as part of the millennium celebrations.
Our route took us through beech woods and along bracken lined paths, back towards our holiday cottage. There was time for a short break and photo stop at a handily placed viewpoint.
We could have extended our afternoon by popping into the Cistercian Valle Crucis Abbey. I actually feel rather guilty about not visiting. But there was a tea room, next door at the Abbey Farm caravan site. And I really needed a cup of coffee!
If you've enjoyed this post you might also like to read about the short break I enjoyed, walking the Llantysilio hills and Trevor Rocks escarpments.
More info
Our walk was approximately 7 miles. Much of it is flat easy walking but there are a couple of steeper sections up Velvet Hill and Castell Dinas Brân.