If you're a regular blog reader you'll have probably seen my posts about our walks around Llangollen and over the Pontcysyllte Aqueduct. Little did I know when I booked our earlier trip that I'd be returning so soon!
Every year I treat myself to a walking break with Country Adventures, usually in the Lakes or Peak District. But this time the destination was Llangollen, staying a mile or so from the holiday house I'd rented with the family two months earlier. I had mixed feelings about heading back somewhere so soon but I needn't have worried. The walks, the weather and of course the people were all different.
Our base was the White Waters Country Hotel in Llangollen; a step up from the usual youth hostel accommodation. I met the rest of the group for a welcome talk the first evening; lovely to catch up with some familiar faces from previous holidays before settling down to our evening meal.
Day 1 – Llantysilio hills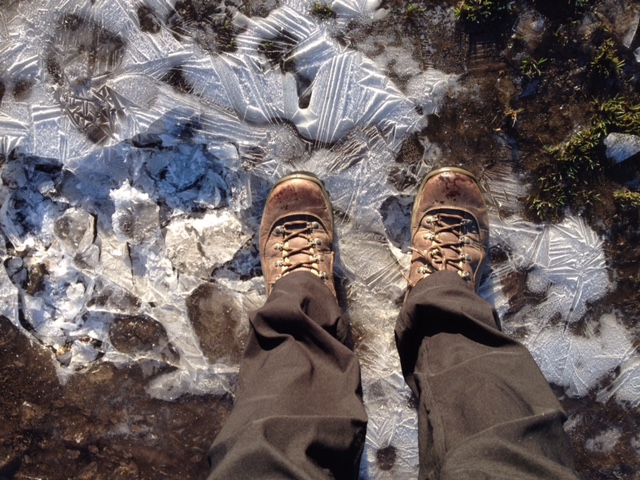 The day started with a minibus journey along the Horseshoe Pass to the Ponderosa cafe. We'd driven up here on our previous visit but only stopped briefly, rather put off by the sights and sounds of a hundred or so motorbikes. This time we were walking along Llantysilio mountain, a range of hills running from the Pass, before dropping down into Rhewl and back to Llangollen.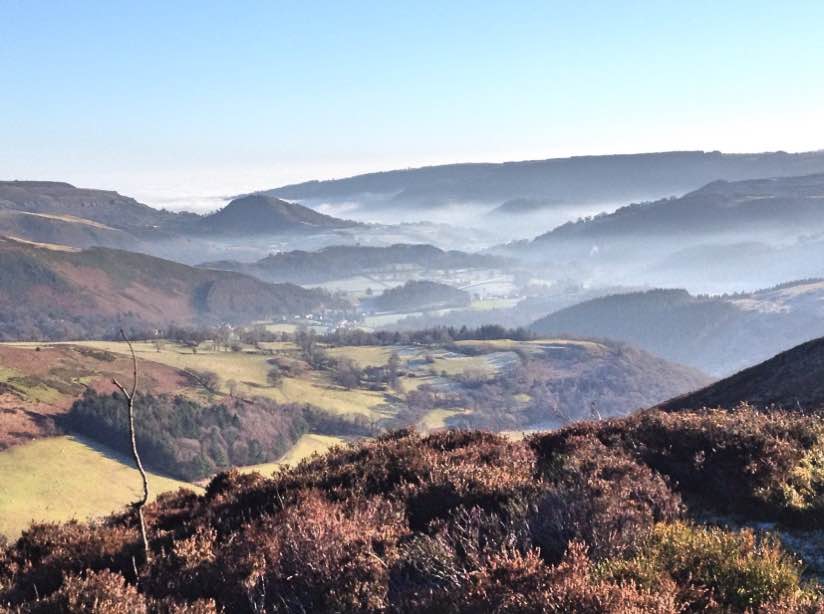 Leaving the minibus behind we headed towards our first peak, stopping frequently to enjoy the glorious views of the mist settled over Llangollen. Although the sunny picture above doesn't manage to convey how cold it was!
Our route ahead was plain to see; an up and over track taking in the summits of Moel y Gamelin, Moel y Gaer and Moel Morfyyd. We'd already started from a high point so the walking wasn't too strenuous. However there were a couple of steeper downhill stretches to negotiate, complete with icy patches, which slowed some of the group.
We eventually reached the far summit of Moel Morfyd. Looking back from the trig point I tried to work out the ramparts of the Iron Age hillfort on Moel y Gaer but had no luck. Although it's immediately obvious when you look at aerial photos afterwards.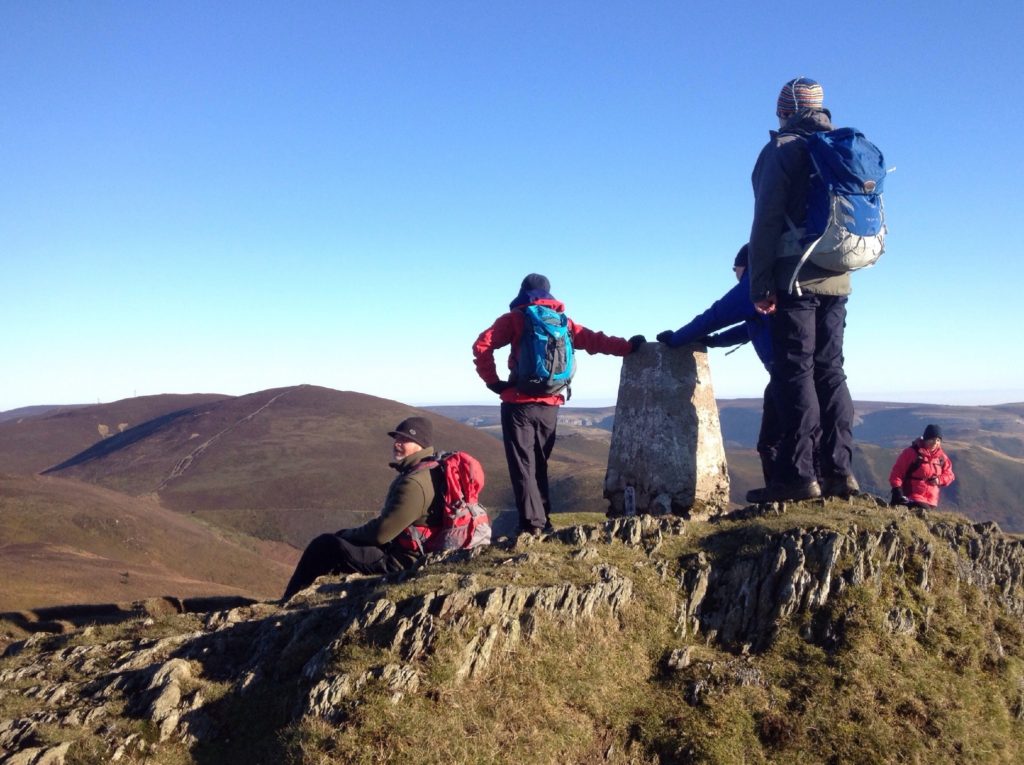 The summits of Snowdonia were much easier to spot. It's rare that I've seen them bathed in sunlight and clear of cloud. I've walked in Snowdonia many times and can barely remember a trip where it didn't rain!
After a lunch break we headed downhill towards Rhewl, passing near some paragliders taking advantage of the weather. It was great to chat with the group members as we walked; both those I already knew from and others who I hadn't met before.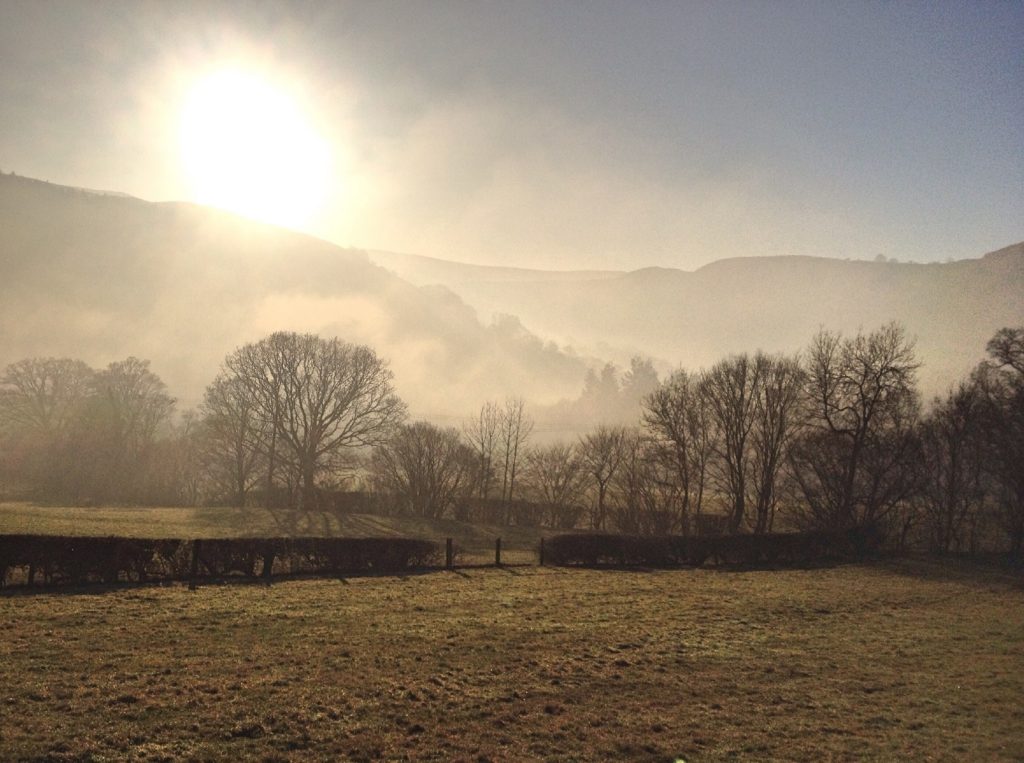 Our route took us along an old drovers track. In years gone by drovers moving their livestock would stop for a drink in the Sun Inn at Rhewl. It's a pity it was closed when we passed as it looked like the kind of place where you could easily while away an afternoon.
We paused for a while to peer down the driveway of Llantysilio Hall, a large Victorian house once owned by the locomotive designer Charles Beyer. Rather fittingly he's buried in the graveyard at nearby Llantysilio Church, which he'd helped restore and modify.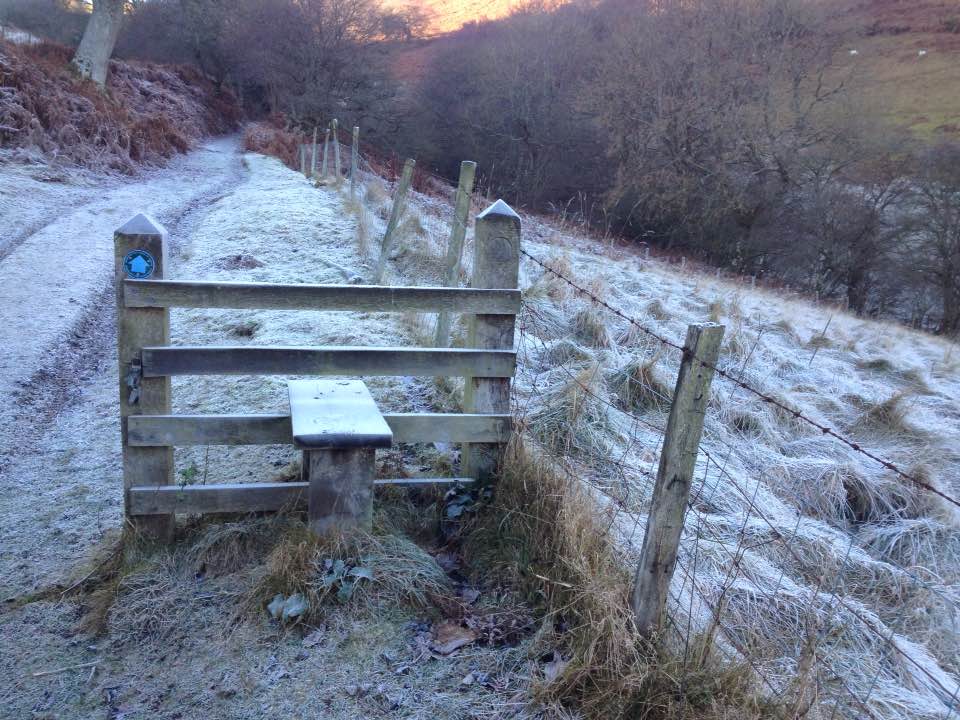 We'd been spoilt by the glorious sunshine up on Llantysilio. It was a stark contrast as we walked through the fog that cloaked Llangollen. How different Horseshoe Falls looked from my previous visit!
Fortunately the warmth of our hotel was only a short  walk from the Falls. Plenty of time to relax before one further walk; a trip to The Corn Mill in Llangollen for a tasty curry and an evening of enjoyable conversation.
Day 2 – Trevor Rocks
Our walk on the second day covered some of the places I'd visited on my previous trips so I'm focusing this report on Trevor Rocks, my favourite part.
We started out from Ty Mawr Country Park, initially walking to Pontcysyllte aqueduct and then onwards through Trevor Hall wood towards the limestone escarpment of Trevor Rocks.
I hadn't realised how popular the area around Trevor Rocks would be. With the dead. After spotting several memorial plaques it became apparent that a lot of people have enjoyed the views during their lifetime.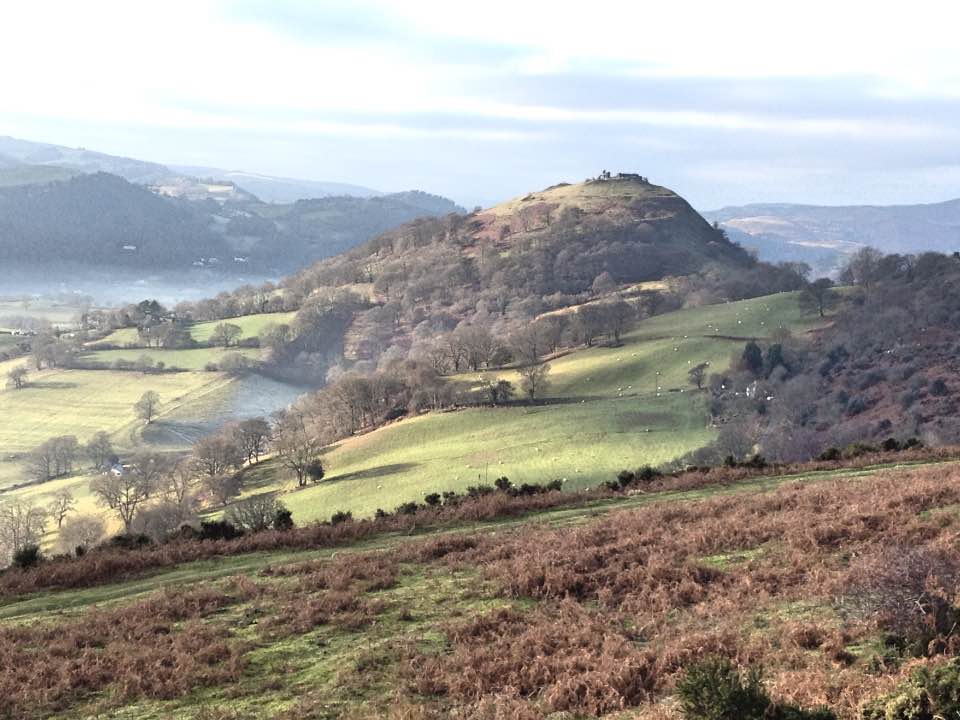 It's easy to see why as they stretch for miles in all directions. If you live in Llangollen I guess this is your local beauty spot. We stopped for lunch and to enjoy the views too but when it became obvious that a family group were meeting to scatter ashes nearby it was time to move on.
We worked off our lunch with a short uphill climb. It was worth the effort when we reached the top, being treated once more to views of Dinas Castle, on the hill opposite.
This ruined medieval castle stands on top of an Iron Age hill fort. Climbing to the castle from Trevor Rocks gave me a completely different perspective from my previous visit when I'd walked from the town centre. It certainly seemed much steeper!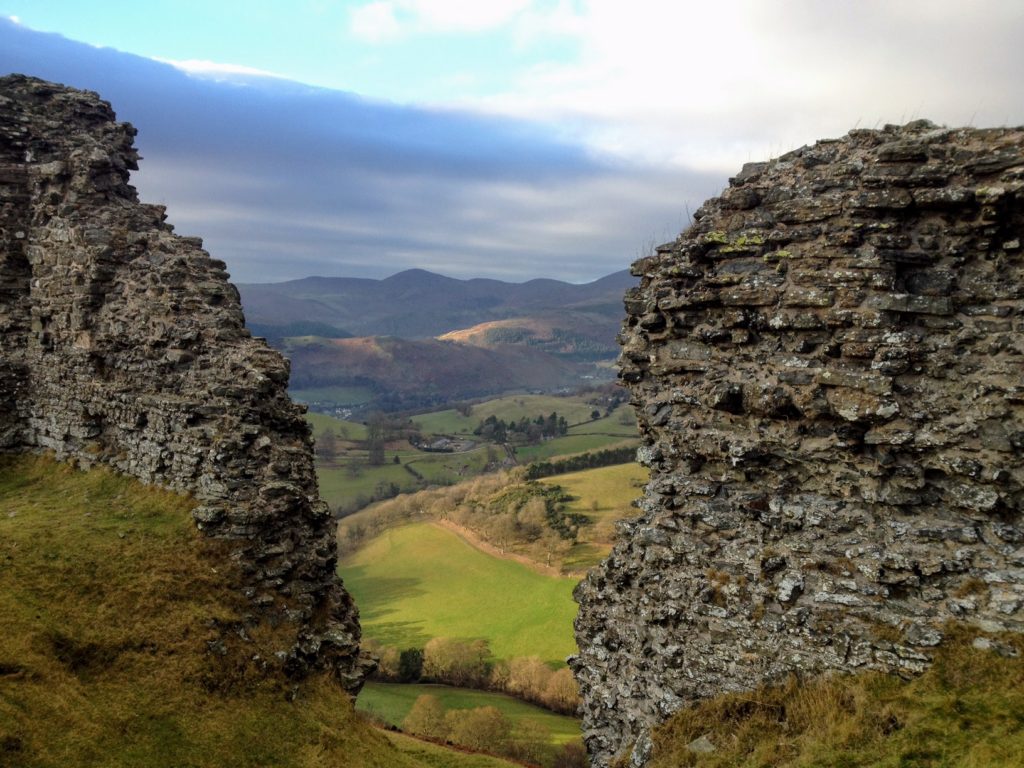 After mooching around the ruins and experiencing the buffeting winds we returned to Llangollen where the group split and we headed our own ways for coffee, photographs and a spot of shopping.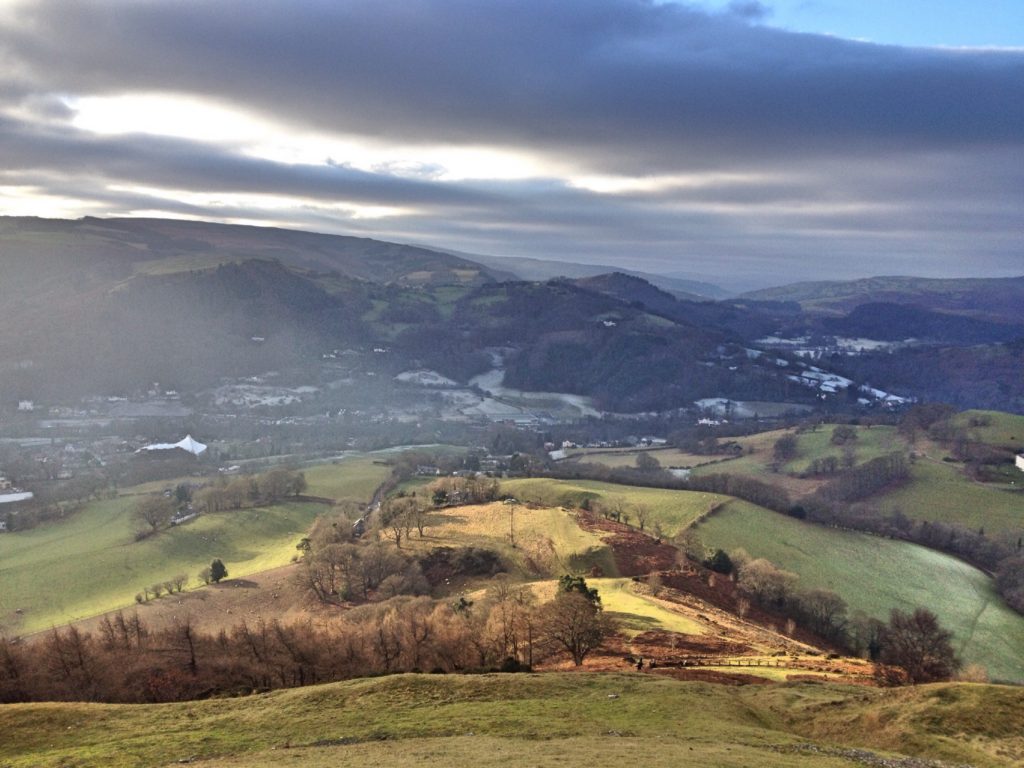 Day 3 – Llangollen walk
Some of the group were leaving early on day three so it was a depleted number who set out for a morning stroll from Llangollen.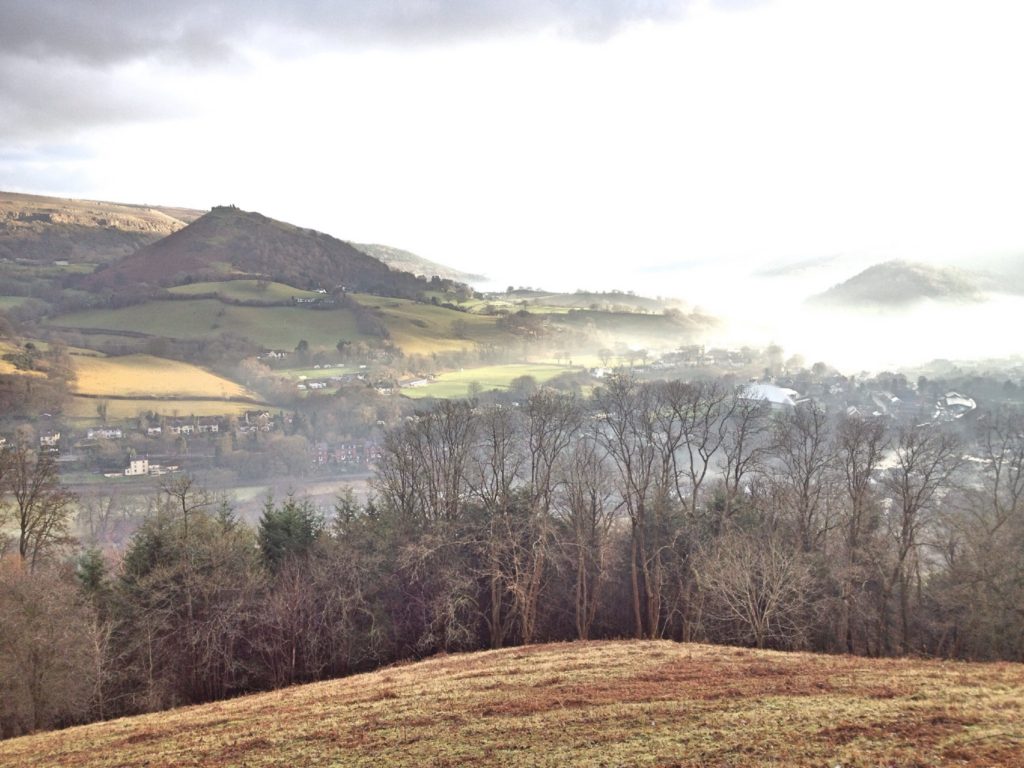 It was only a short walk, from the town up into the hills and back down to Berwyn but a perfect leg stretch before a long drive. The sun didn't make much of an appearance but this didn't seem to bother the kayakers on the River Dee. Rather them than me, the water must have been freezing!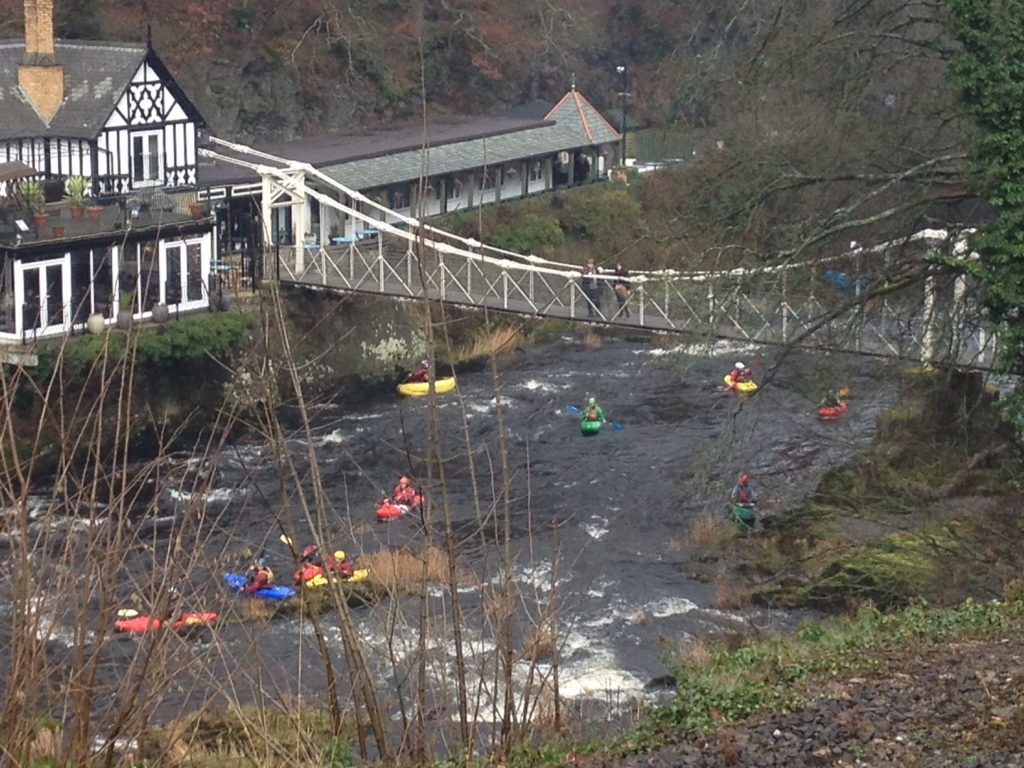 The highlight? Finding the cafe open at Berwyn Station and enjoying bara brith before an impromptu trip on the steam train back into Llangollen.
A little later we headed our separate ways, another excellent break over. Roll on next year!
More info:
If you're looking for a guided walking break in the UK I highly recommend Country Adventures. Joe, the owner, runs day and weekend trips primarily  in and around the Lakes, Yorkshire, Peak District and Welsh hills. Pop over to their website for further details.