Tucked inside the North Circular and close to the temples of football (Wembley) and shopping (Brent Cross), is BAPS Shri Swaminarayan Mandir, also known as Neasden Temple.
Made from 5000 tonnes of Italian and Indian marble this Hindu temple dominates the local area, a spectacular building in a pretty nondescript area of London. Opened in 1995, it was funded entirely through donations from local worshippers and is the first traditional Hindu temple built outside of India in modern times.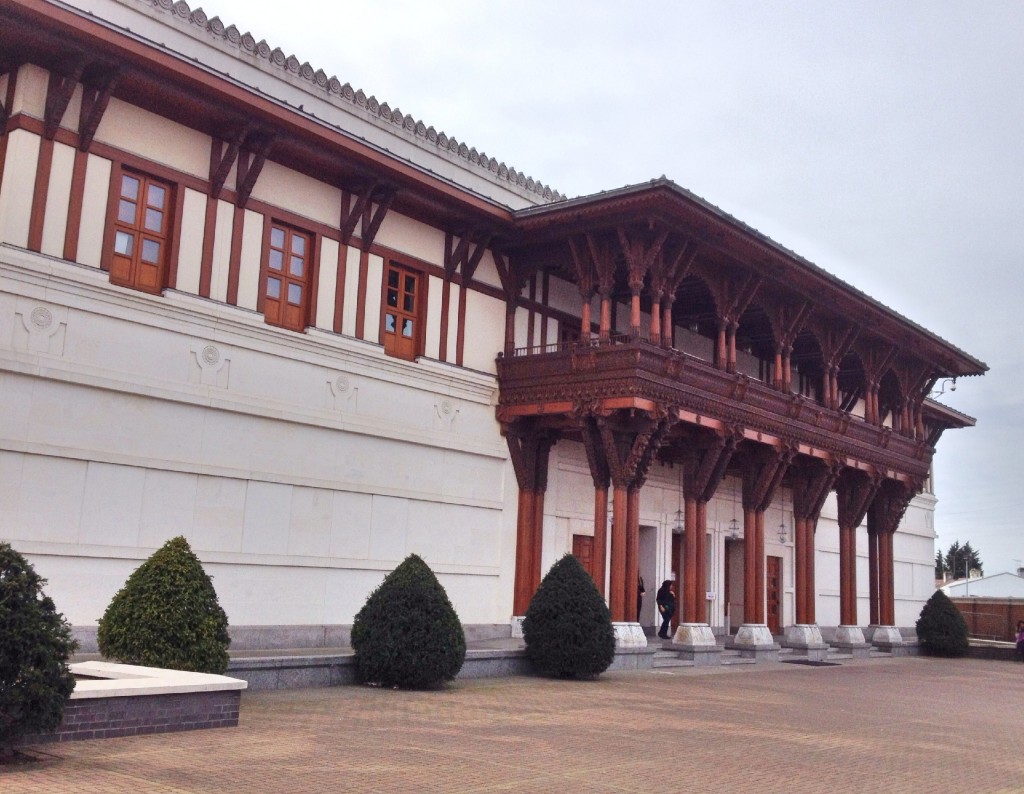 As the kids and I walked through the entrance gate I was a little concerned. Would we be the only non-Hindu visitors? Would it be obvious what to do once inside? I needn't have worried. The temple welcomes half a million visitors each year; friendly volunteers and explanatory signs help those unfamiliar with Hindu beliefs.
We entered via the haveli, a cultural centre, whose facade and courtyard are carved from teak and oak. I wish I'd taken more time to look at the carvings but after leaving our shoes in lockers we were directed to join a school party and ushered in to the Prayer Hall to watch a short film about the temple's history.
The facts and figures relating to the Mandir are astounding. Neasden temple comprises 26,000 stone pieces which were hand-carved in India and then shipped to the UK. Back in London, 100 full-time and 1000 part-time volunteers worked alongside 80 stonemasons to help assemble the temple from its constituent parts over a two year period.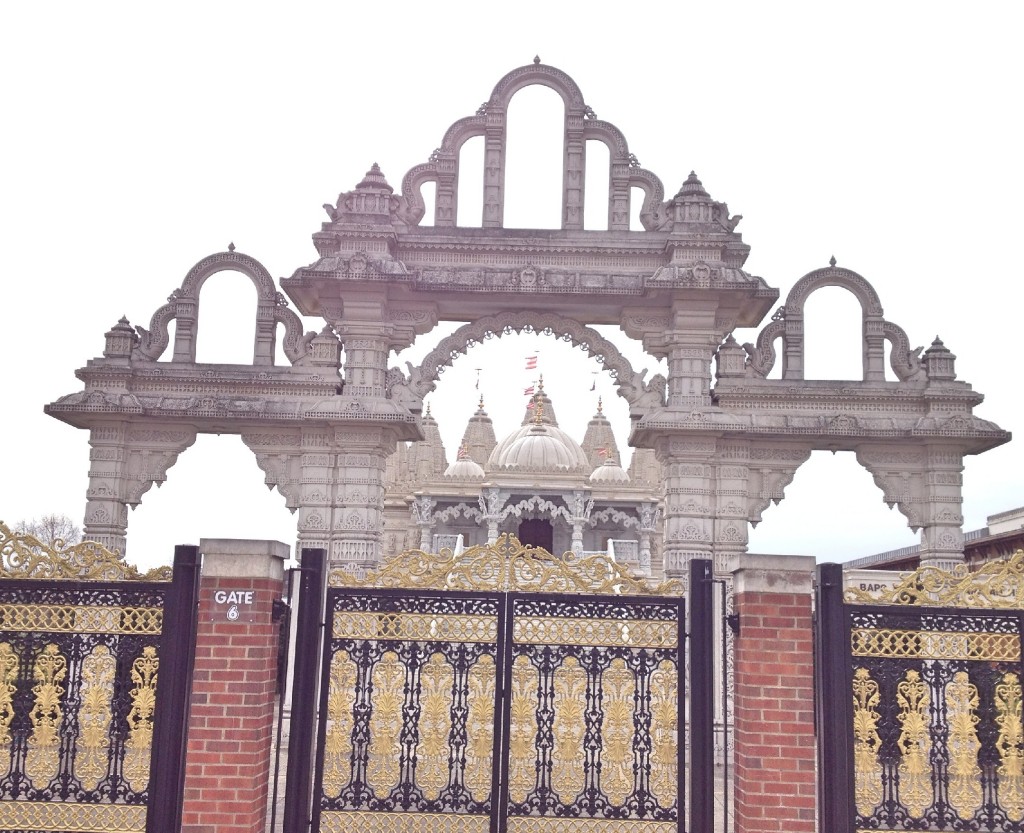 After the film we headed up the marble staircase to the Mandir. Photography is not permitted inside the temple so you'll have to take my word that the interior is even more impressive than the exterior. Intricate carvings of Hindu figures adorned every column, punctuated by patterns and friezes.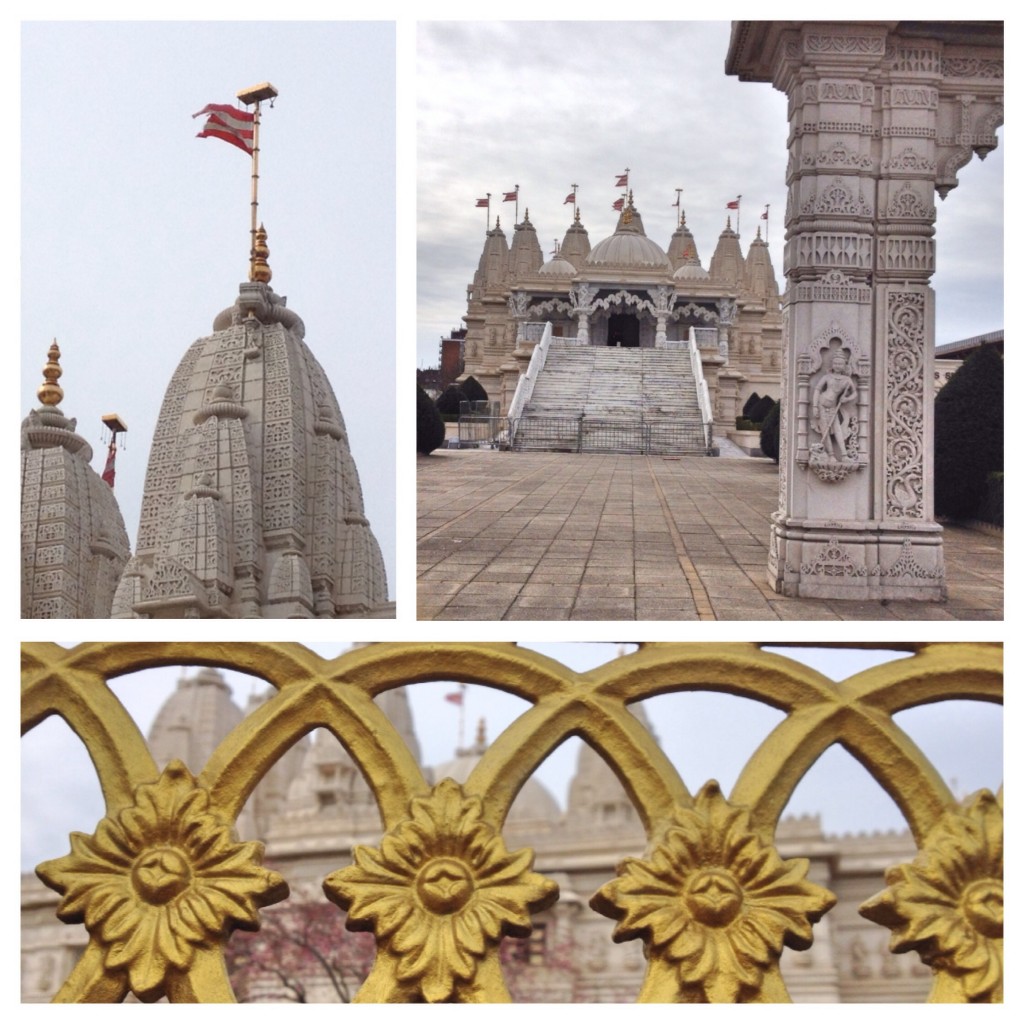 We stayed for Arti, a prayer ceremony which takes place daily at 11.45am. Male and female visitors sit in separate areas during the ceremony, and my son was initially a little hesitant about being directed to sit on his own in a different section. However, he wasn't alone for long as the room filled with visitors and several school groups (who weren't as silent as they should have been!).
The Arti ceremony involves the waving of lighted wicks in front of the sacred images, to the sound of music and prayer. It seemed like a joyous and happy occasion, plenty of worshippers were clapping along to the music. Afterwards we were directed to walk clockwise past the shrines which enabled us to take a closer look at the deities.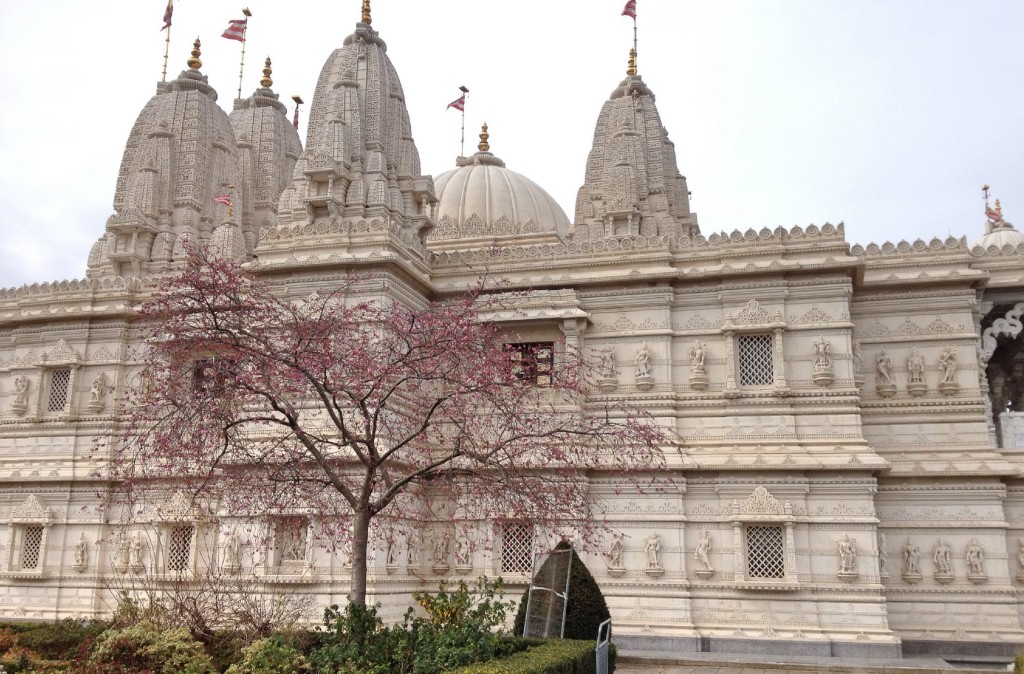 It's easy to spend a couple of hours at the temple, particularly if you co-ordinate your trip with the Arti ceremony and visit the exhibition about Hinduism. I'm embarrassed to say that we missed this out as my materialistic twosome were desperate to go to the temple souvenir shop instead!
It takes some effort to get to Neasden Temple from central London but I wholeheartedly recommend a visit. The architecture is truly stunning and we felt welcomed by everyone we encountered at the temple.
More info
BAPS Shri Swaminarayam Mandir is open daily between 9am-6pm; entrance is free although there is a small extra charge for the exhibition. Respectable clothing is required and bags should be left in the storage facility across the road.
The temple is about 20 minutes walk away from the nearest Underground stations. We travelled to Stonebridge Park, but Neasden is equi-distant.