The Nuts Challenge is presumably so called because you need to be nuts to enter. It's an adventure race over a military assault course, although their Facebook page markets it as "a fun obstacle course". My other half had been talking about entering an adventure race for a while, so guess what he got for his birthday…..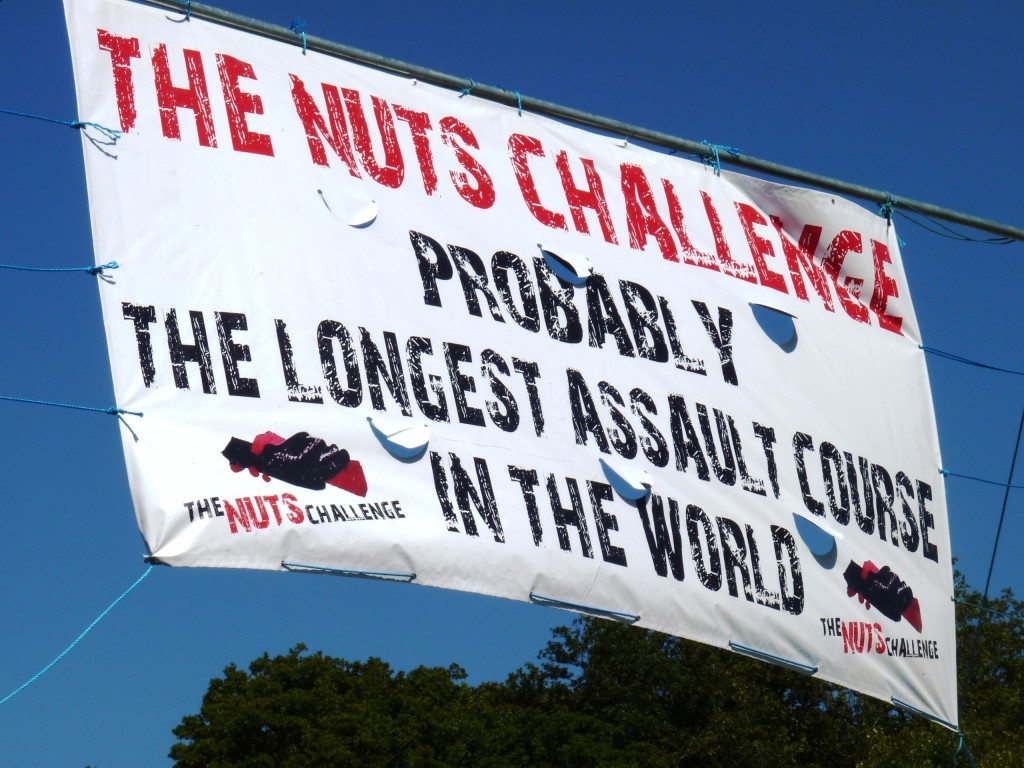 The two day event is held twice a year in March and September in Dorking, Surrey. The Saturday is for those running the 7 or 14 km course (1 or 2 laps), with approximately 120 obstacles per loop. This day has a family feel to it, with entertainment and kids activities available. Sunday is for the hardcore athletes, who are completing 21km or 28km (3 or 4 laps), but despite their fitness the majority of contestants entering the 4 lap course don't complete it.
These courses have become very popular over the last few years. I expected, and saw, plenty of mid life crisis men but was pleasantly surprised there were probably an equal number of women taking part on the Saturday. There were lots of people running for charity, as well as fancy dress galore. The kids had great fun spotting Batman, Where's Wally (there were lots of them), Superman and the Smurfs.
Spectator review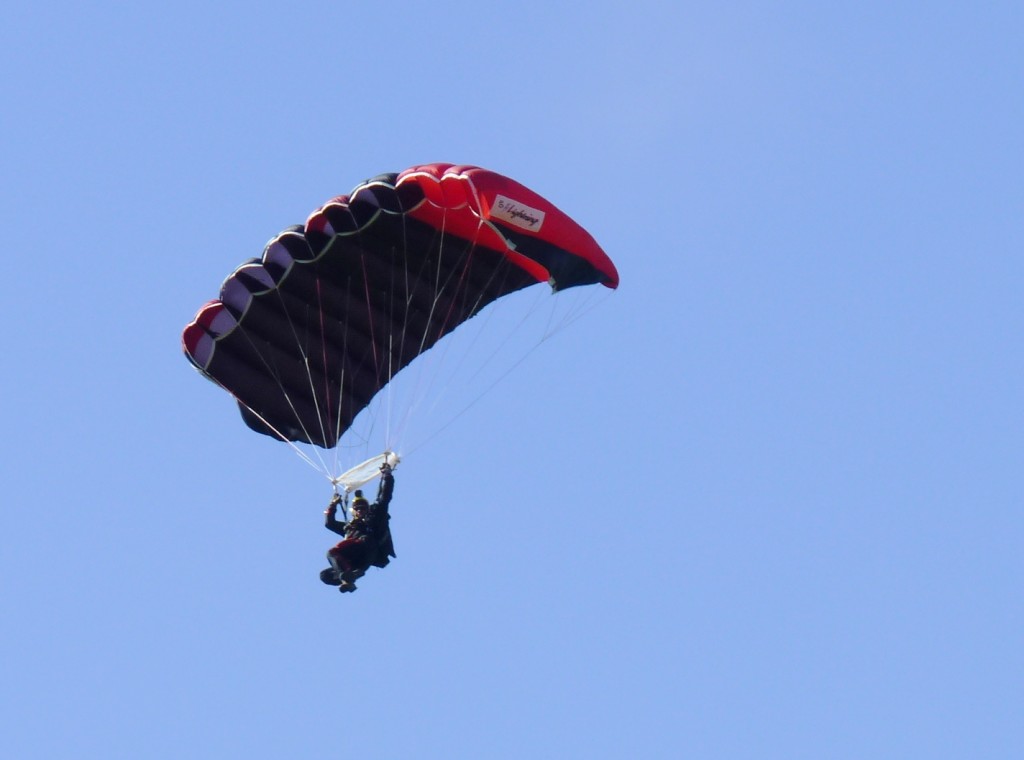 The day started with a display from 4 skydivers. The location is very close to Gatwick airport and on a couple of occasions a passenger jet flew over which looked like it would be lower than the skydivers plane. Fortunately they landed safely, I wonder if any went on to complete the assault course?
Onto the main event. In the race area there are a reasonable number of  obstacles where spectators can stand and watch. We wandered around these whilst the other half was competing.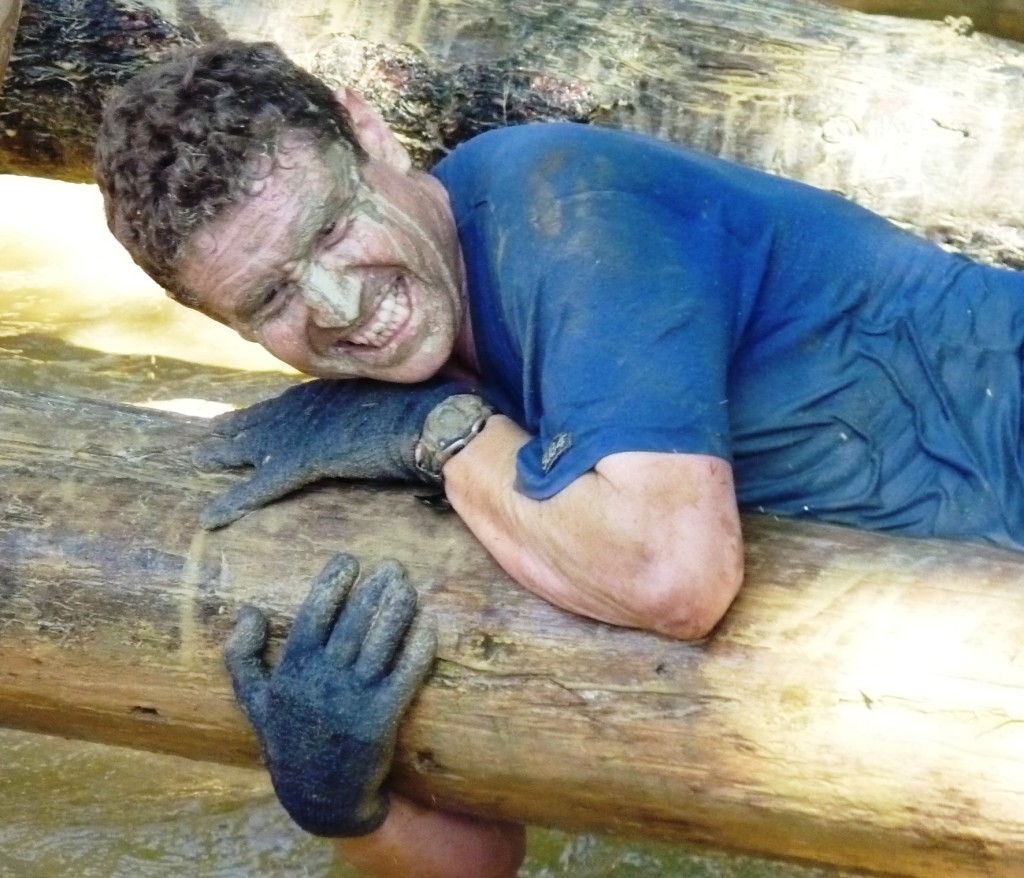 The course was pretty quiet early on in the day but very busy from around lunchtime, with people queuing up to go over the obstacles.  There was also a lot more mud and general slippiness once a few people had gone through.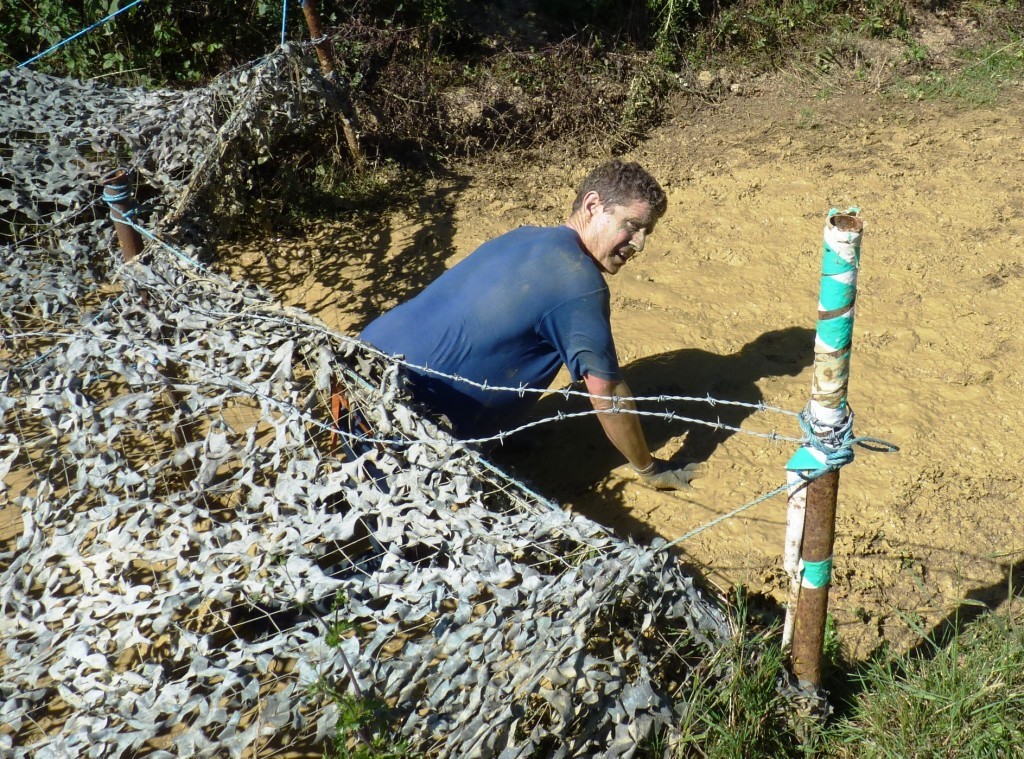 There were tunnels to crawl through, muddy banks to slide down and logs to pull yourself over. In all, it was one big mud bath!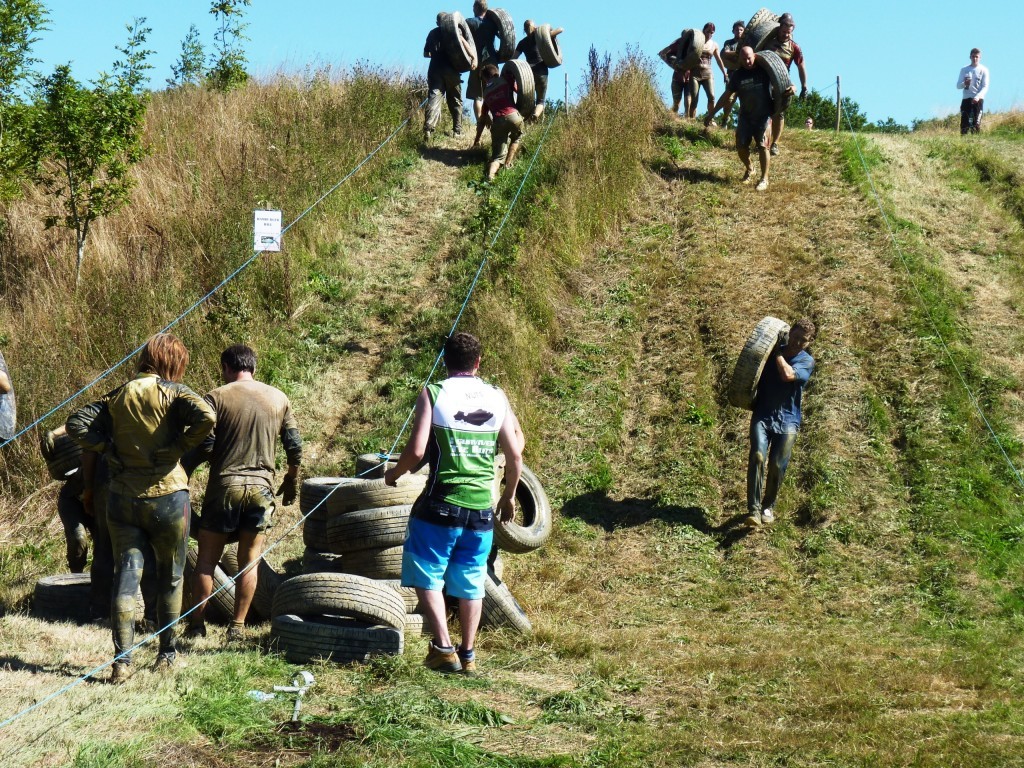 The tyre challenge involved hauling a tyre up a hill and then running back down with it. Competitors who asked for small tyres seemed to get given the biggest ones!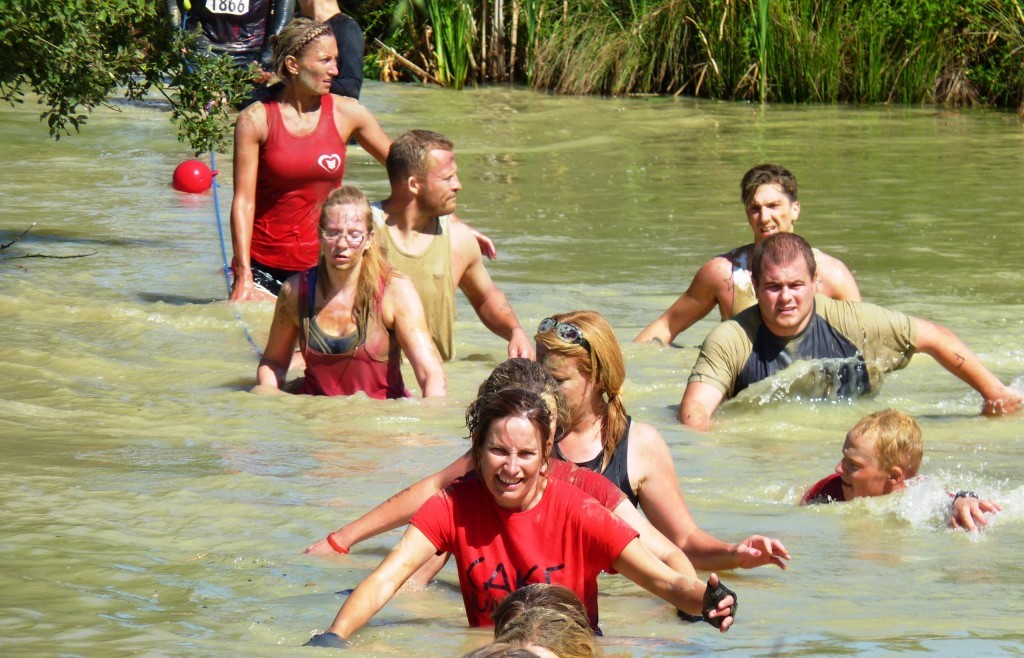 It was a warm day so the lake crossings were probably useful for cooling off in, although it would be my idea of hell.
The event seemed well set up to cater for spectators, although it's not something you would visit (or know about) unless you were supporting an entrant. There were pony rides and a climbing wall for children, along with an ice cream stand and a tent selling burgers. There was also a band on Saturday afternoon, singing covers of recent hits. It was a relief to listen to the band as the inane chatter of the commentator was starting to grate on me by this time.
You may have gathered from this review that this race wasn't something I'd have enjoyed – and you're right. Whilst I quite enjoy running I do my best not to get wet or muddy whilst I'm doing it!  So in the spirit of a balanced view I've asked my other half to write his thoughts on the race.
Competitor review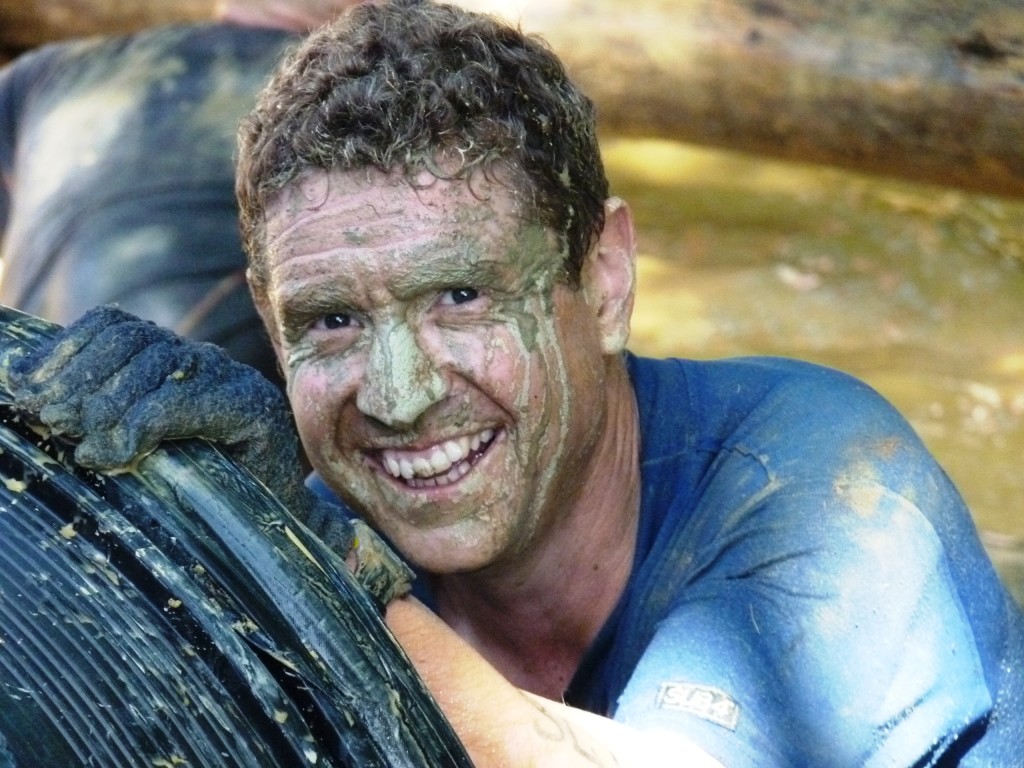 I must admit, when I got this I thought it was a great present but the closer to the day it got and the more I looked at previous photos the more nervous I became.  On the day itself, the registration process was pretty straightforward, there was a bag and key drop for competitors, all very well organised with no queues.
When it came to the race there was a zumba warm up beforehand (not my kind of thing) and then we were off. From the start there was a range of obstacles from hurdles to deep stream beds.
Any trace of nervousness disappeared and adrenalin kicked in. I threw myself into streams, climbed over netting, swam through seas of mud and water and crawled through pipes. I was absolutely covered in mud. But, did I enjoy it? Absolutely. Would I do it again? Certainly.. Now, when is the next one…
More info
The course states it is for all abilities, and that less fit people can walk 1 lap. However, I think to gain any enjoyment from it you would need to have a reasonable level of fitness first. The First Aid tent looked busy all day with broken bones, sprained ankles and cuts. The waiver you sign as part of the entry specifies these are all common.
Children aged 14+ can enter, subject to their parent signing a waiver and them being accompanied by an adult. The small number of kids I saw looked like they were having a great time and finding it much easier than some of the adults.
Entry form and further details can be found on the Nuts Challenge website.