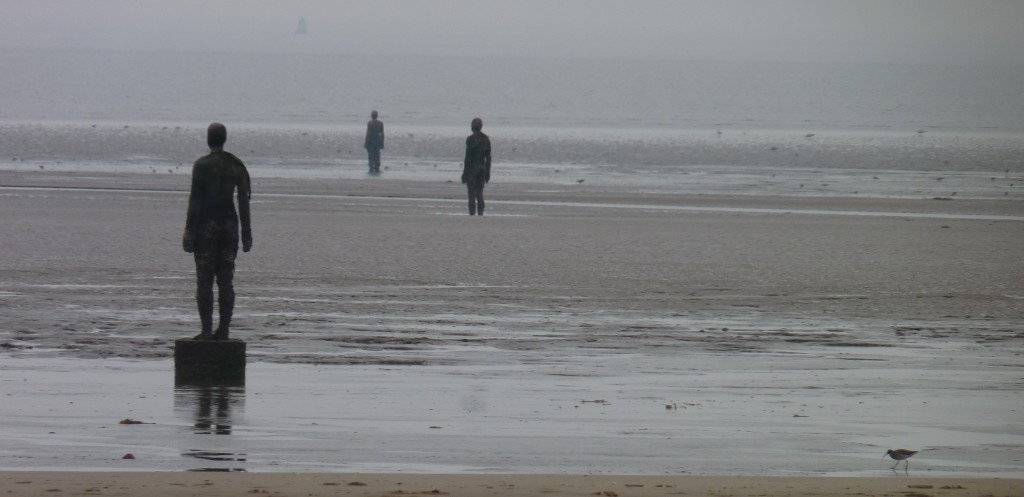 Most people know Antony Gormley as the creator of the "Angel of the North", but being a southerner I tend to associate him with a solitary statue on top of Exeter College in Oxford.
I was keen to see more of his work so on a recent trip to Liverpool our first port of call was Crosby Beach.  This is the site of "Another Place", an installation which has been exhibited in Norway, Germany and Belgium but now has a permanent home at Crosby.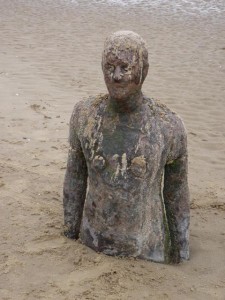 The kids were initially excited about visiting the beach but when I mentioned it was to see some statues, rather than to go paddling (it's a non-bathing beach), it lost some of its appeal.  Never mind that it was a freezing cold day with a biting wind!
We took the train from Liverpool to Blundellsands and Crosby station.  From the station it's a 5 minute walk down to the beach front.  I'd seen quite a few photos of the statues beforehand but even so I was suitably impressed on arrival.
There are 100 statues, along a 2 mile stretch of beach, facing out to sea.   They're made from casts of the sculptors own body so are realistic to a level of detail which made the kids snigger (if you get where I'm coming from).
A few statues are sunk into the sand and that's a warning you should heed – the mud is particularly sticky so don't attempt to walk out to the statues away from those closest to the promenade.
Some of the statues have been dressed or painted.  Others are covered in barnacles. Most have a liberal dosing of seagull poo. We visited at low tide so you can see the statues stretching out into the distance.  Every so often your eyes play tricks and you think it's a real person out on the horizon.
We walked alongside the promenade until we reached the coastguard station, and then followed the signs to Hall Road station, the next stop along on the railway. It's only as I write this that I realise our tickets were only valid to the stop we got off at. I've no idea if there is a price difference but best to check in advance if you plan to do a similar walk!
Kids view:
We liked seeing the statues stuck in the sand, although it would have been better if it was warm and sunny.  The statues must get really cold!
More info:
I wish we'd bought a pair of binoculars with us.  In addition to the furthest statues, there are plenty of birds and large container ships to look out for.

Wellies might also have been useful. Although the tide was out, and we didn't venture far from the promenade, we still got wet feet visiting some of the statues.
The train takes about 20 minutes from the centre of Liverpool. You can also drive to Crosby and then follow the brown tourist signs to Antony Gormley's Another Place.
There's not much in the way of facilities en route apart from an ice cream van and a stall selling drinks and hot snacks in the car park at the lifeguard station.
The promenade runs alongside the beach and is fully accessible.
The statues are free to visit.