I've climbed Pen-y-Fan, the highest hill in southern Britain, a couple of times without the kids. As the kids are older now I thought it would be the perfect opportunity to stretch our legs on the way back from our holiday in Pembrokeshire.
Having only visited outside of the summer season previously I had no idea how popular the walk was. Our first hint was the long line of cars parked along the edge of the main road. There are a couple of off road car parks but as these were both full we parked on the grass verge like everyone else.
There are several routes up Pen-y-Fan. If we'd had the time and energy it would have been good to tackle one of the circular routes which takes in several of the peaks. However with a 2 hour journey behind us and another 2 hour drive home we settled on the standard route up from Pont ar Daf car park, also known as 'The motorway'.
The Pen-y-Fan motorway
The main track is broad and well made, obviously used to thousands of walking boots. The route was straightforward and relatively easy; it was just a pity that some people had decided to leave dog poo bags alongside the track.
As we walked my son recounted part of the Bear Grylls book he'd just read. Bear's SAS selection process took place in these hills and although we had an easier time than Bear this mountain shouldn't be under-estimated. The ease of access means that people can and do get into difficulty, particularly in poor weather.
The first summit (with the flat top shown in the picture above) is actually Corn Du. We skirted around the edge, saving it for our return journey, and walked on to Pen-y-Fan. The views open up at this point and it's a pretty spectacular view down the Neuadd valley.
A short final climb took us up onto the summit of Pen-y-Fan. I would guess there were a couple of hundred people up there enjoying the views, many more than I've seen on any other hill. Families with children of all ages, runners, walking groups and plenty of dogs.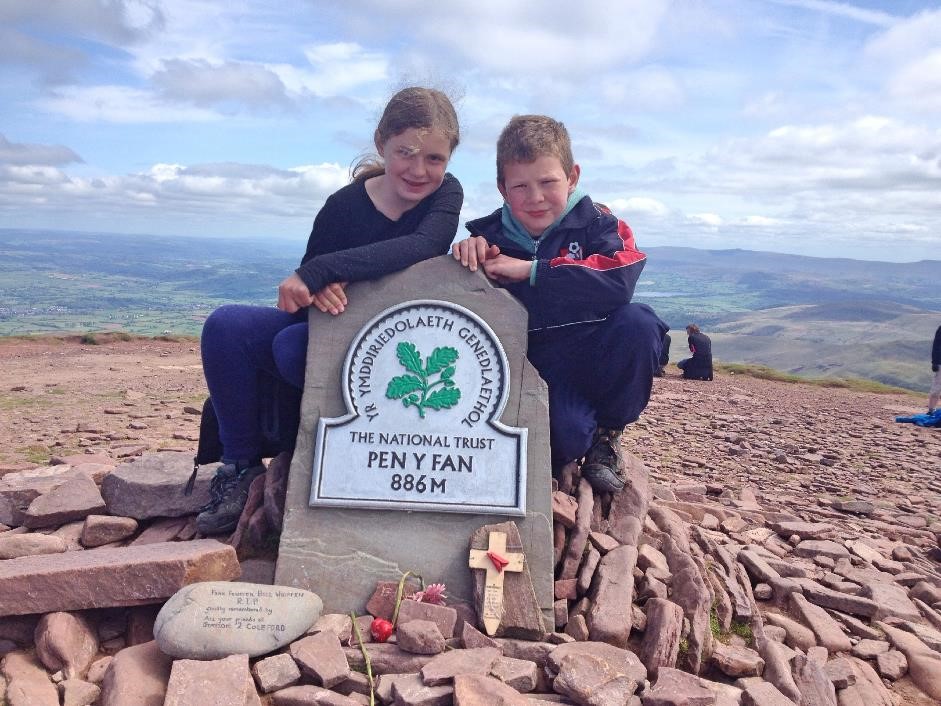 We queued for a few minutes to take the obligatory summit photo. Just behind us is the view you see in the feature photo at the top of this post, incredible!
We'd been organised enough to bring a picnic and managed to find a relatively empty spot to eat it in. On bad weather days the wind would be howling across the summit but we were lucky and enjoyed our sandwiches in glorious sunshine.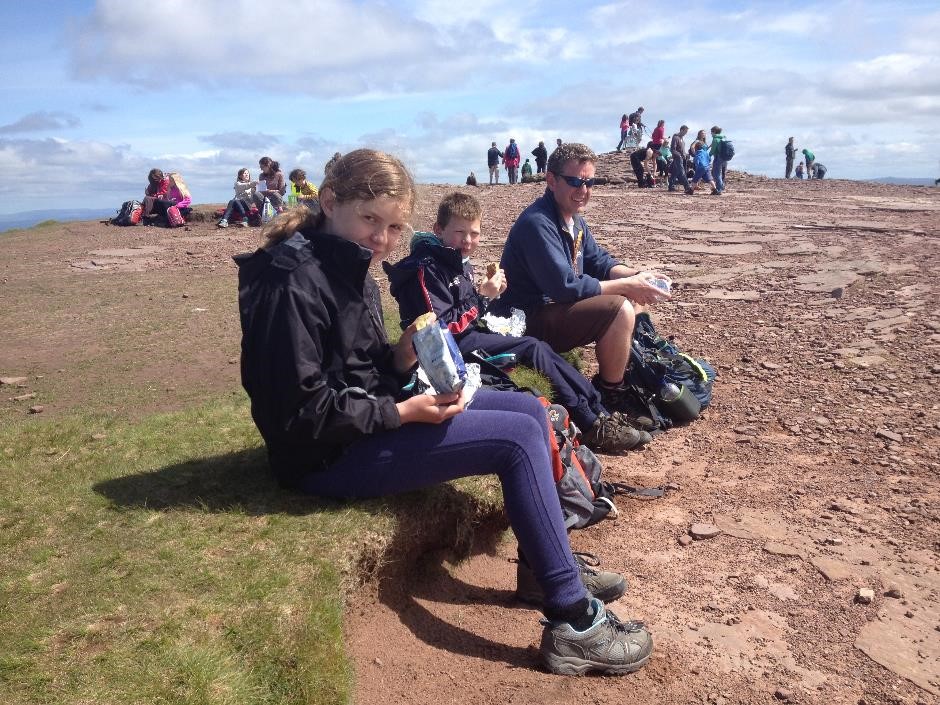 On to Corn Du
Heading off of Pen-y-Fan we tackled the summit of Corn Du, the second highest peak in South Wales. It's similar to the summit of Pen-y-Fan; in fact I had to let one family know that they weren't quite on Pen-y-Fan, much to their kids disappointment.
It's pretty steep coming down from Corn Du and I was pleased we'd chosen to walk up the route from Pont ar Daf rather than Storey Arms. The path drops down to a stream before climbing back up a little. We saw a couple of runners filling their water bottles in the stream but rather them than me. I've seen too many dead sheep in streams higher up the mountains to even consider this!
We were soon back at the car, ready to hit the M4 again. I'm glad to report that we all enjoyed Pen-y-Fan more than the usual motorway stopover.
If you're looking for other walks in the Brecon Beacons check out my family walks near Abergavenny post. On a wet day you might like to explore Caerleon's Roman history or Blaenavon's industrial heritage.
More info:
This route starts from the Pont ar Daf car park on the A470 between Brecon and Merthyr Tydfil. We followed the 4 mile walk outlined on the National Trust website.
There are a couple of burger vans and some pretty foul toilets at the start of the walk.
We visited on a sunny clear day and there were loads of families walking the hill. However remember that the weather and visibility on top may be very different from your starting point. Always take appropriate equipment and clothing, check the weather forecast and walk within your abilities.