St Davids is Britain's smallest city (population 1800) and makes an excellent base to explore Pembrokeshire. Despite being a city St Davids is the ideal place to visit if you enjoy the outdoors, be it walking the Pembrokeshire coastal path, surfing or coasteering. Read on to find out things to do in and around St Davids, Pembrokeshire.
1. Bishop's Palace, St Davids
Located adjacent to St Davids cathedral, Bishop's Palace was built in the 13th Century to house the bishops and entertain guests. Nowadays it's a ruin but an impressive one and well worth an hour of your time.
Inside there are plenty of areas to discover, up and down winding staircases. The dark undercrofts were great for hiding and jumping out on the kids, whilst the towers provided great views. Information boards are dotted around the site to give you an insight into how life would have been.
Check the CADW website for Bishop's Palace opening times as they vary according to season. A family ticket for 2 adults and 2 children costs £10.50.
2. Solva
Just a couple of miles from St Davids, Solva wins my award for the most picturesque harbour in Pembrokeshire, possibly even in Wales. It's particularly lovely when the sandy beach is revealed at low tide. Wander along Trinity Quay for a spot of boat and people watching or head into the village to visit cafés and galleries.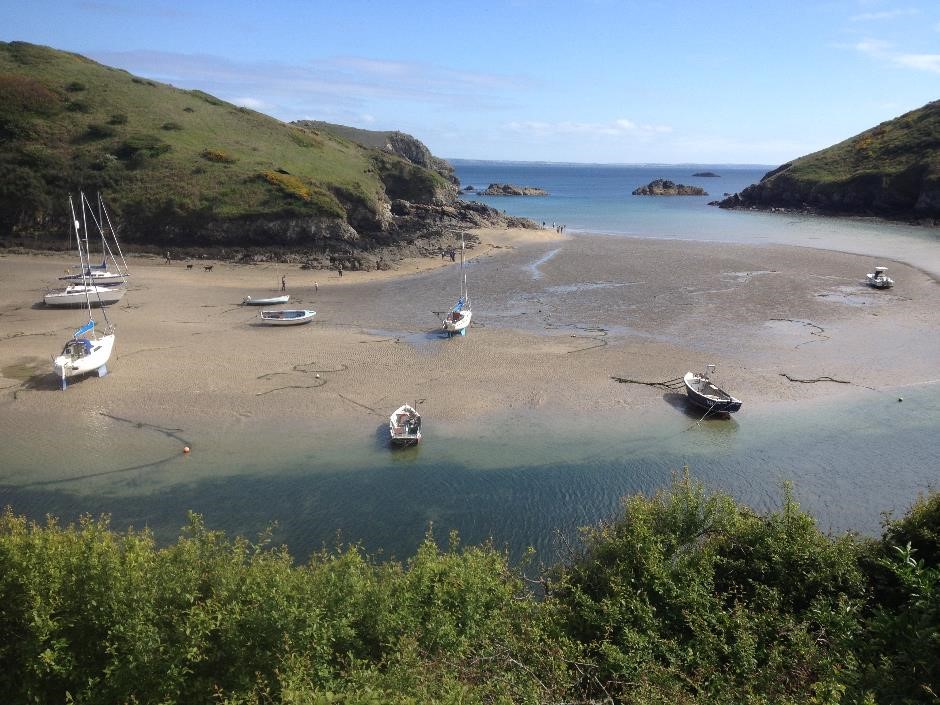 We walked from Solva over Gribin ridge to the pebble beach at Gwadn. The kids messed around in the stream before walking inland up the valley. At this point we discovered the stream the kids had been playing in earlier was the (treated) outflow from the sewage works! Despite this late discovery we all enjoyed the walk and the sudden need to wash our hands was a good excuse to visit a cafe.
3. Enjoy an ice cream at Gianni's, St Davids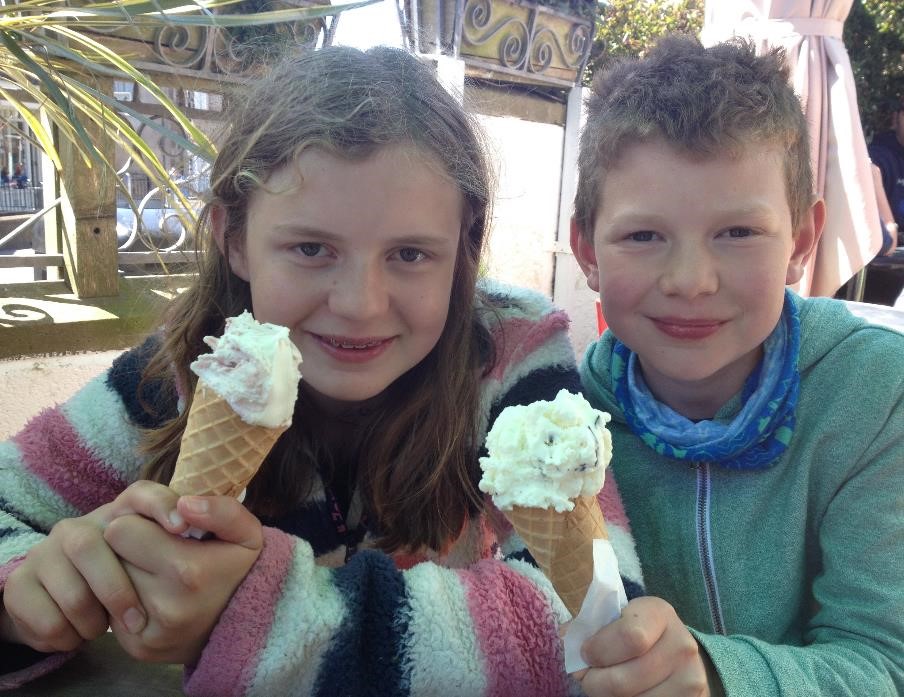 It's not the cheapest but you get what you pay for. £2.50 buys you a cone of Gianni's organic home-made ice cream in a huge variety of flavours. We sampled many of these throughout the week, including salted caramel, raspberry dodge and mango sorbet. There's a daily alcoholic choice, a dairy and sugar free option and even bacon flavour ice cream for your dog! Gianni's is located in the High Street in St Davids; easily identified by the queues in sunny weather!
4. Whitesands Bay
Looking at the photo below you could almost imagine it was taken in sunny California. Although you can guess from the lack of people sunbathing that it was taken in colder climes.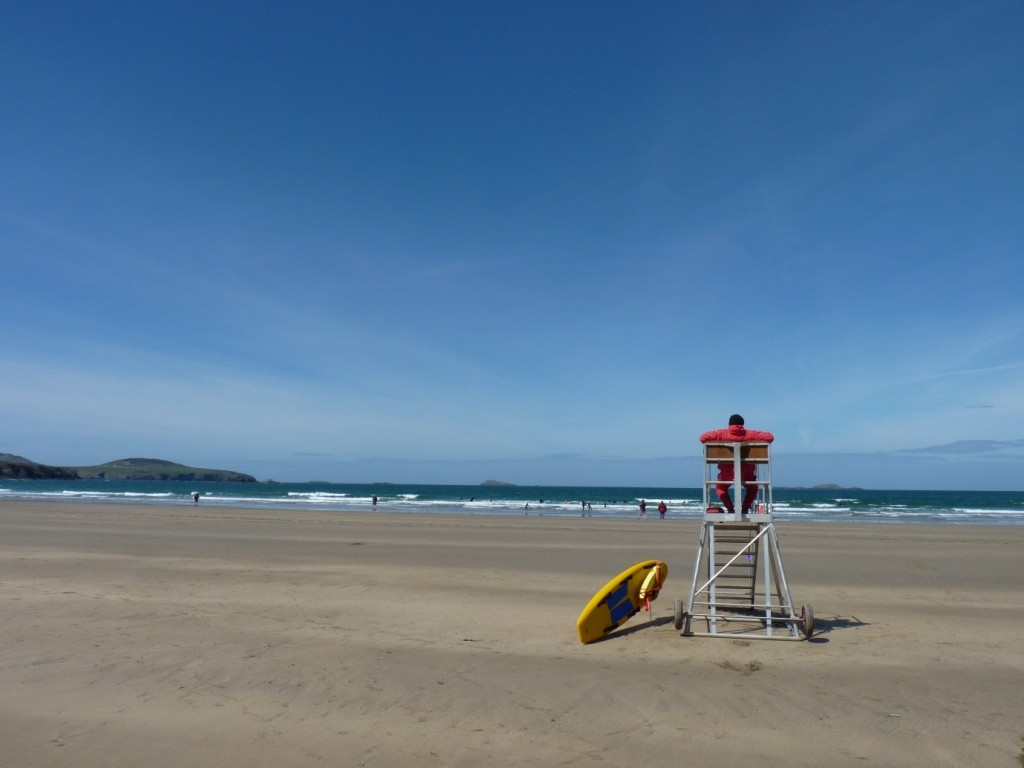 If you're a fan of golden sandy beaches then you'll love Whitesands Bay, just outside St Davids. This large beach is popular with families and is one of the best in Wales for surfing. There's a large car park, cafe, toilets and lifeguard service throughout the summer months.
If you prefer smaller beaches take a short walk north along the coastal path to Porthmeigan. There are no facilities here but it's a quieter choice if Whitesands is too busy.
5. Walk around Ramsey Head
Just about any walk along the Pembrokeshire coastal path will reward you with spectacular scenery and wildlife sightings. If, like me, you prefer circular walks, you'll enjoy a walk on the Treginnis Peninsula.
We started at Porthclais, a couple of miles from St Davids, and followed the coastal path around Ramsey Head. We headed inland near St Justinian's back to our starting point. A highlight of this walk are the views over to Ramsey Island, which is separated from the mainland by a treacherous reef called The Bitches. Popular with experienced kayakers, the tides race through the channel creating whirlpools and eddies.
6. St Non's chapel
St Non's chapel is a 20 minute walk (or short drive) from the city and is said to mark the birthplace of St David. The small ruin and holy well are located in the middle of a cattle field.
There's not much to see but it's a peaceful place to spend a few minutes. From the chapel you can walk down through the field to reach the coastal path. Bring a picnic and enjoy the view.
7. St Davids cathedral
The cathedral is the reason for St Davids city status. Although we didn't go inside we walked down through the cemetery to reach Bishop's Palace so were able to appreciate its architecture.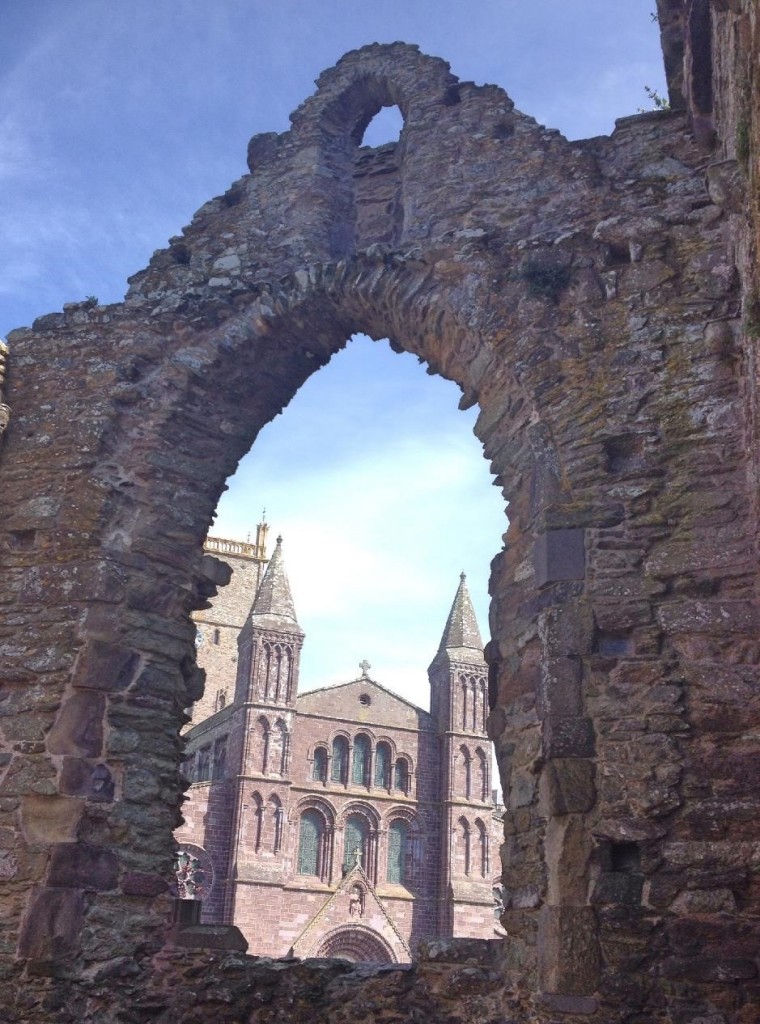 It's in a beautiful location, evidently built in a dip to hide it from invaders coming from the sea. It survived an earthquake in the 13th Century but was almost destroyed by Cromwell's forces. Fortunately it has been restored and visitors can enjoy its splendour. Find out more details here.
8. Watch the jumpers at the Blue Lagoon, Abereiddy
The Blue Lagoon, a few minutes walk from the beach at Abereiddy, is an old slate quarry. Popular with coastering groups, the quarry has several high ledges that brave souls can dive from into the incredibly blue waters. Alternatively, scaredy cats (like me) can just sit and watch.
9. Climb Carn Llidi
If you're feeling energetic the 595ft summit of Carn Llidi makes a good destination for an afternoon walk. We parked at Whitesands Bay and walked north along the coastal path around the headland before walking up the shoulder of Carn Llidi.
The last few feet to the summit requires a scramble which I opted out of as it was quite windy on top. Fortunately the views are just as good a few feet below. You can supposedly see Ireland on a clear day but I was quite content with views of the coastline and Whitesands Bay.
10. Go on a boat trip
There are several boat operators vying for business in St Davids. These offer plenty of choice, from landing trips on the RSPB reserve of Ramsey Island to evening wildlife cruises and jet boat rides.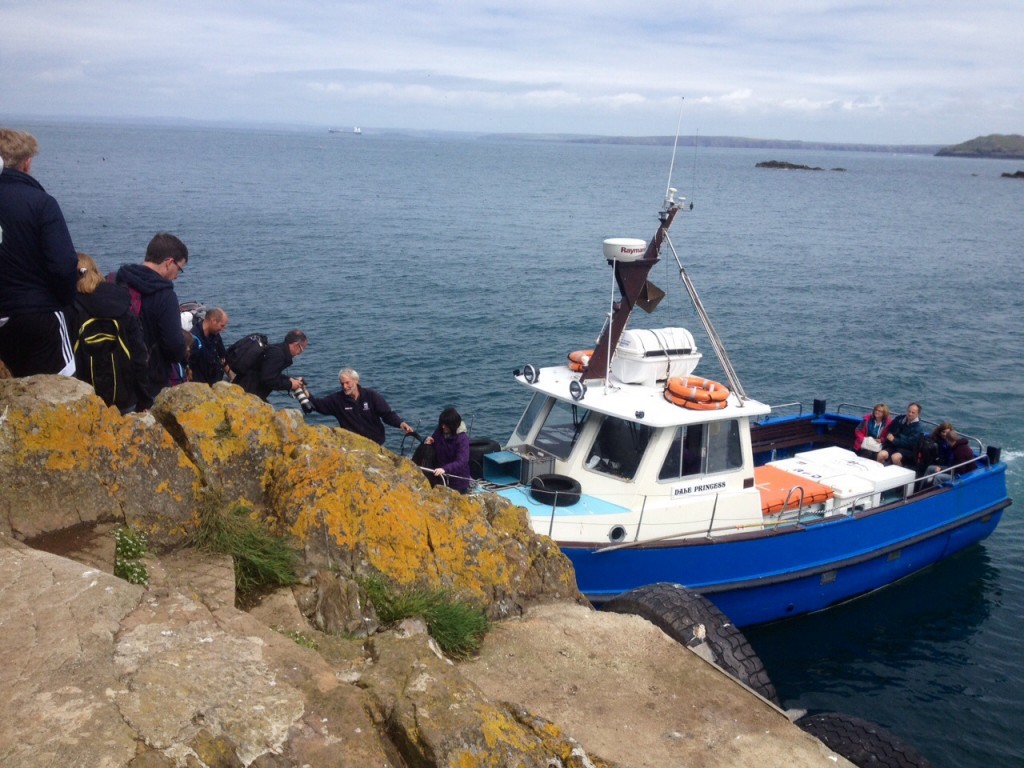 We chose to visit Skomer island which necessitated a longer drive to the boat departure point at Martin's Haven. It was worth the extra effort and early start; you can read about our trip here.
11. Have a BBQ on the beach
One of our most memorable evenings was spent barbecuing chocolate stuffed bananas and toasting marshmallows on the beach. We carried foil wrapped bananas and a disposable barbecue down to the beach. I kept watch whilst the kids went off to play on a rope swing in the woods behind Aber Mawr beach.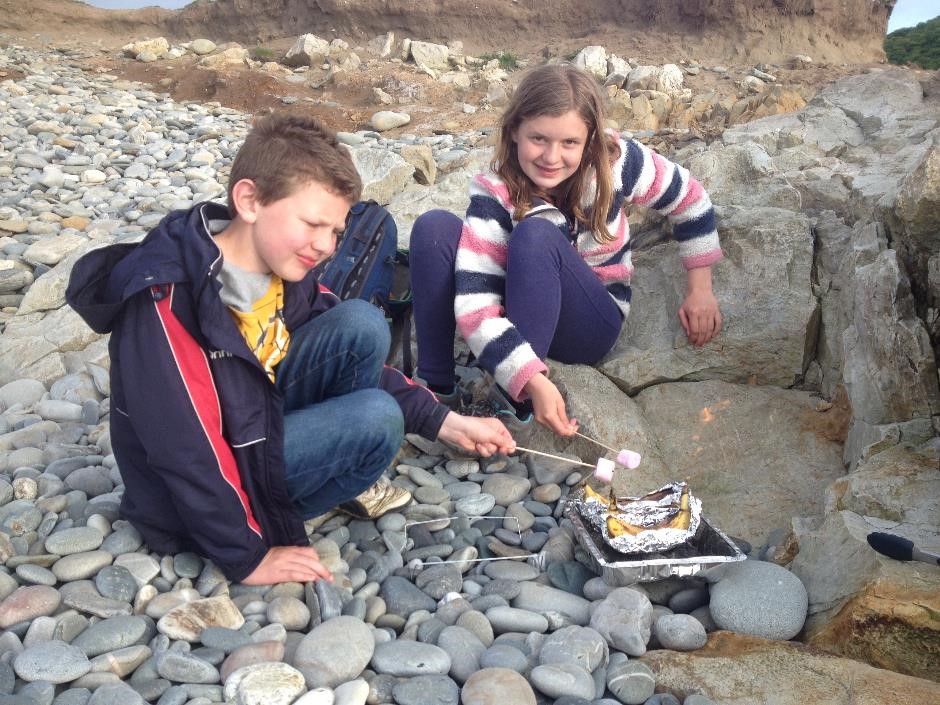 The chocolate bananas took a while to cook but were definitely worth the wait. Although next time I'll remember to bring some tissues as they were rather messy to eat!
If you're going to do something similar remember to take all litter home with you and leave no trace of your visit.
12. Rockpooling at Caerfai Bay, near St Davids
We joined a sea safari at Caerfai Bay organised by Pembrokeshire National Park. Starting from the top of the beach our guide pointed out the different rocks, mosses and flowers. We walked down towards the sea, stopping often to explore the different creatures in the rock pools. We learnt lots about barnacles, sea anemones and limpets; a couple of the group got to taste seaweed too.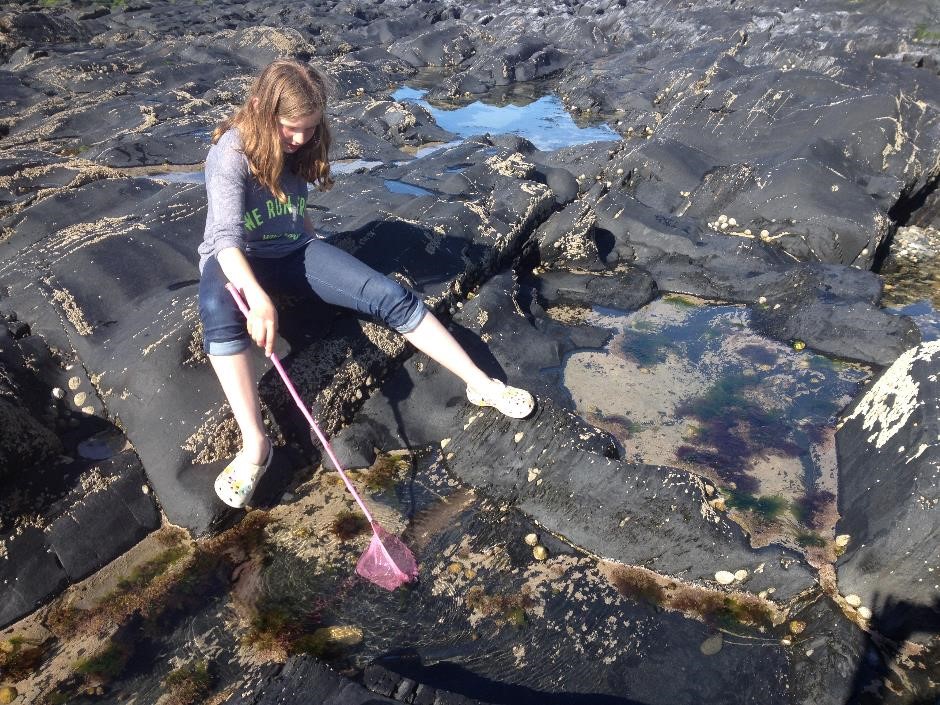 13. Enjoy the wildflowers along the Pembrokeshire coastal path
Spring and early summer are a great time to enjoy the wild flowers. Thrift and brightly coloured gorse bushes line the coastal path and helpfully cheer up photos on dull days.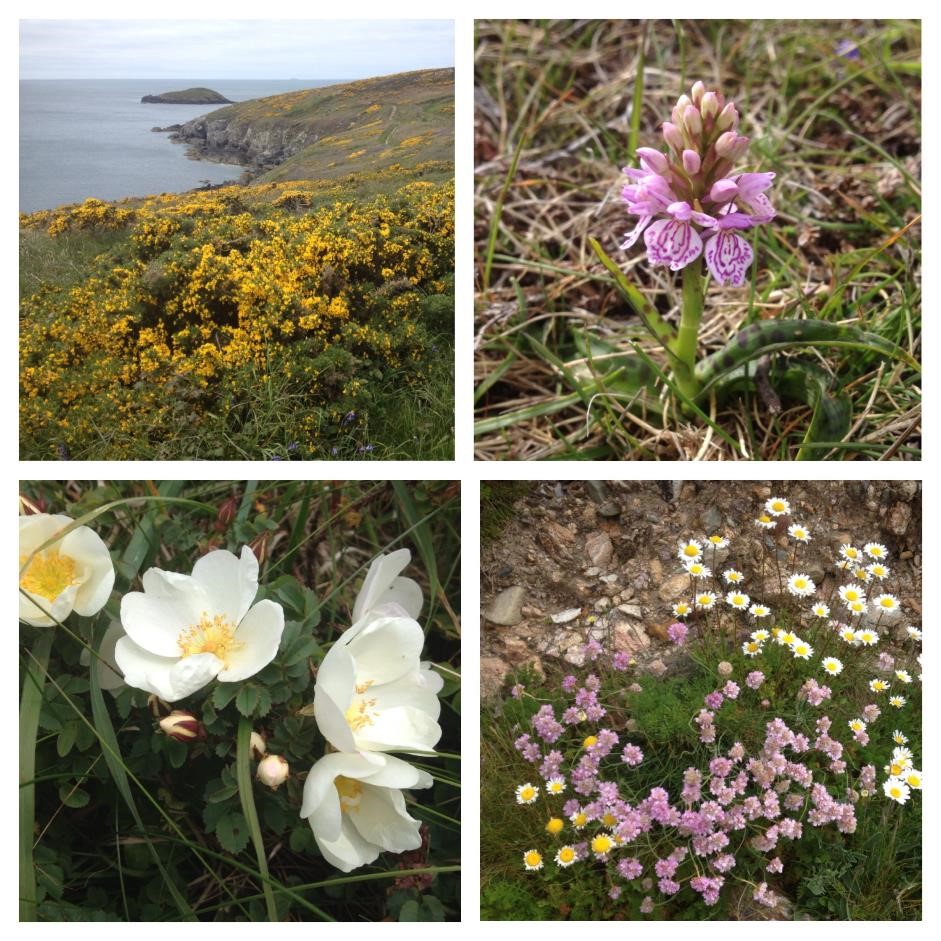 We found groups of heath spotted orchids whilst walking on Carn Llidi, bluebells on Skomer and campion, spring squill and foxgloves almost everywhere along the coast. There were also plenty of others that I didn't get around to identifying!
14. Visit the art galleries
Pembrokeshire is home to a large number of artists and many villages have galleries and craft shops. Whilst keeping an eye out for child related breakages isn't the most relaxing way to spend your time we do enjoy picking up mementos of our stay. St Davids in particular has a couple of good options including Oriel y Parc and Oriel y Felin. Some of the artists also have their own galleries, including one of our favourites, Chris Neale.
15. Seal spotting
We only saw one seal on our most recent visit; however if you're visiting in autumn you're in for a treat. The seals come ashore to pup so keep an eye out for them from the coastal path or alternatively visit Skomer or Ramsey islands.
Have you visited the area? If so, let me know if you've any further suggestions for things to do with children in Pembrokeshire.