It has taken a while to write but this is my final post about our holiday in the Haute-Loire region of central France. I've already reviewed our CosyCamp lodgings and written a round up of things to do in the Haute-Loire but felt the town of Le Puy deserved a post of its own.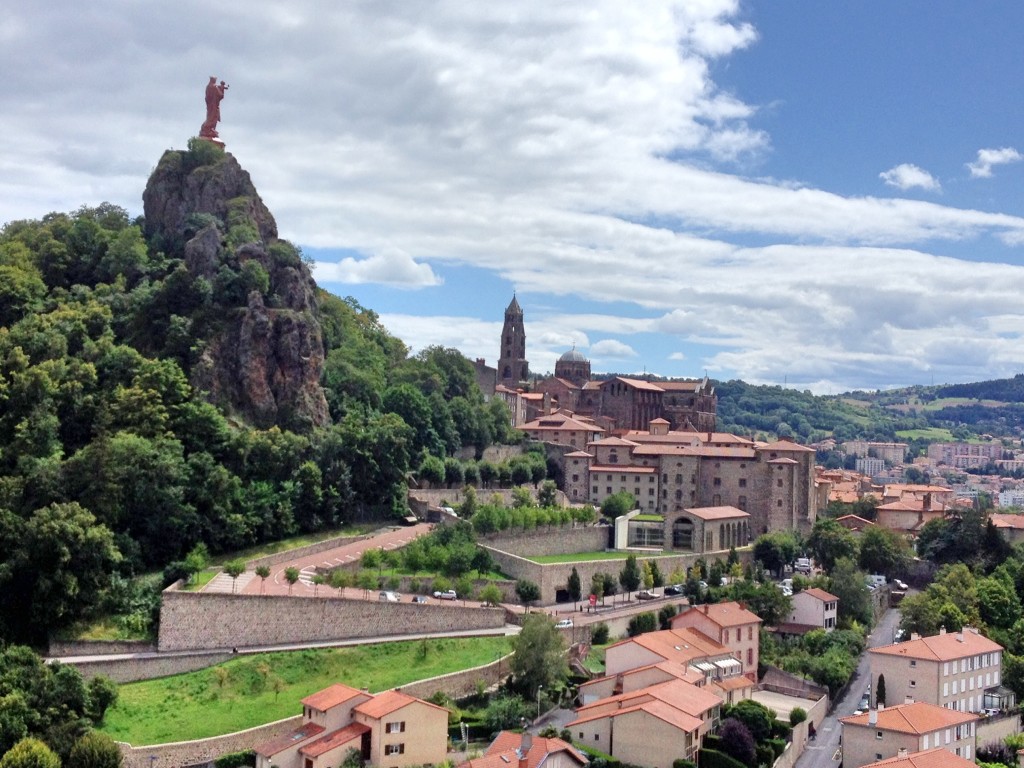 Le Puy-en-Velay is the most popular tourist destination in the Haute-Loire; it's enjoyably busy rather than overrun with visitors. The town is famous for lace, Le Puy lentils and its rather unique geography. Situated in a caldera the main tourist sites sit atop volcanic plugs and tower over the surrounding streets. So what did we see?
Le Puy-en-Velay market
We visited on Saturday which is market day. The produce stalls were full of cheeses to sample, giant bulbs of garlic, weird and wonderful mushrooms as well as fresh fruit and vegetables. There was even a stall selling live rabbits and chickens. I assumed these were for the pot but a young girl appeared to be buying one as a pet so perhaps not.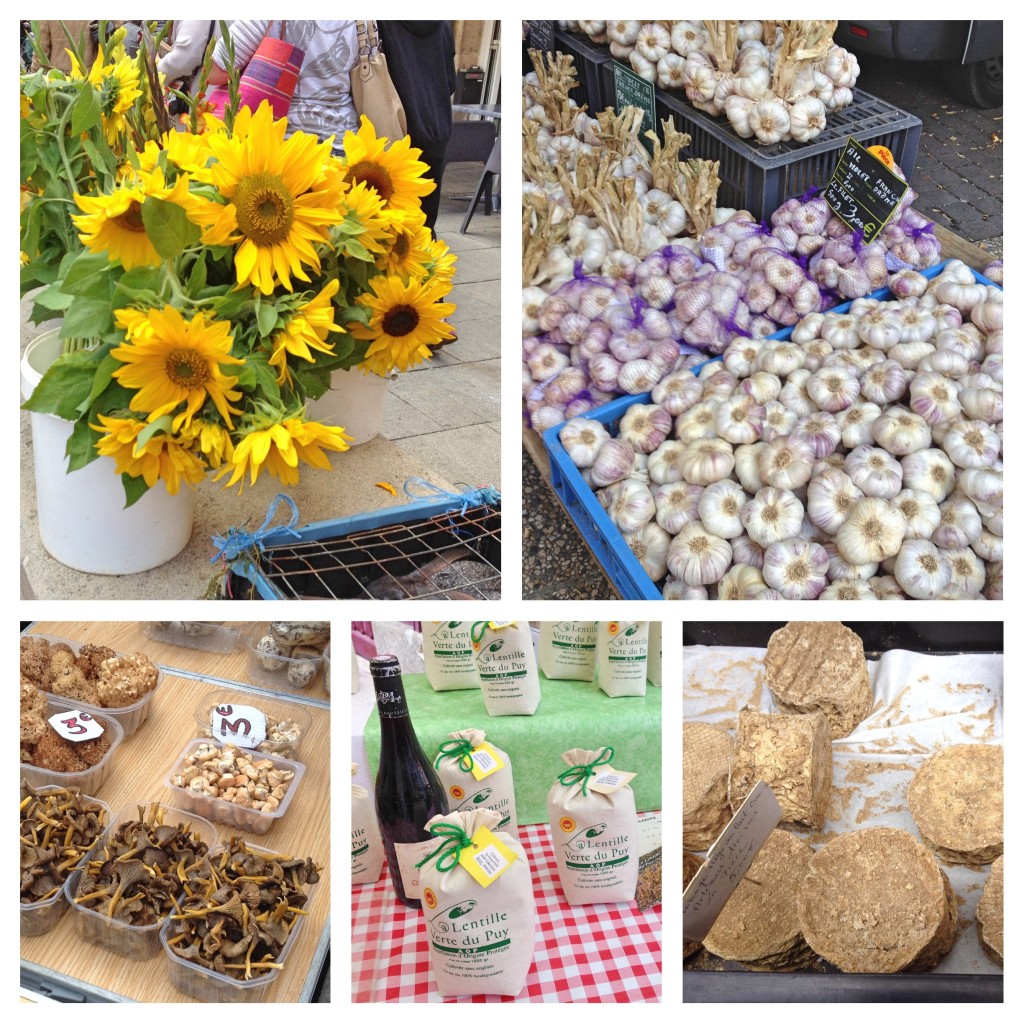 You can guess which stall was my daughter's favourite though……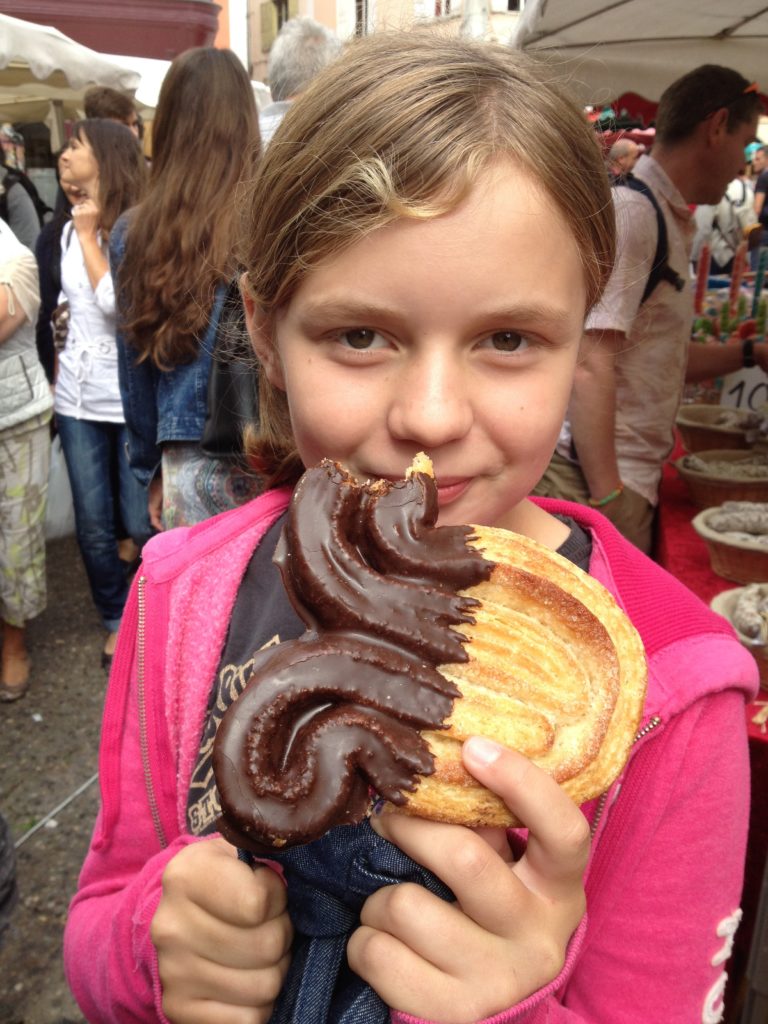 Cathédrale Notre Dame du Puy
After the market we tackled our first steps of the day and walked up to the Roman Catholic cathedral. Le Puy is the starting point for the pilgrimage to Santiago de Compestela and pilgrims gather at the cathedral each morning to be blessed.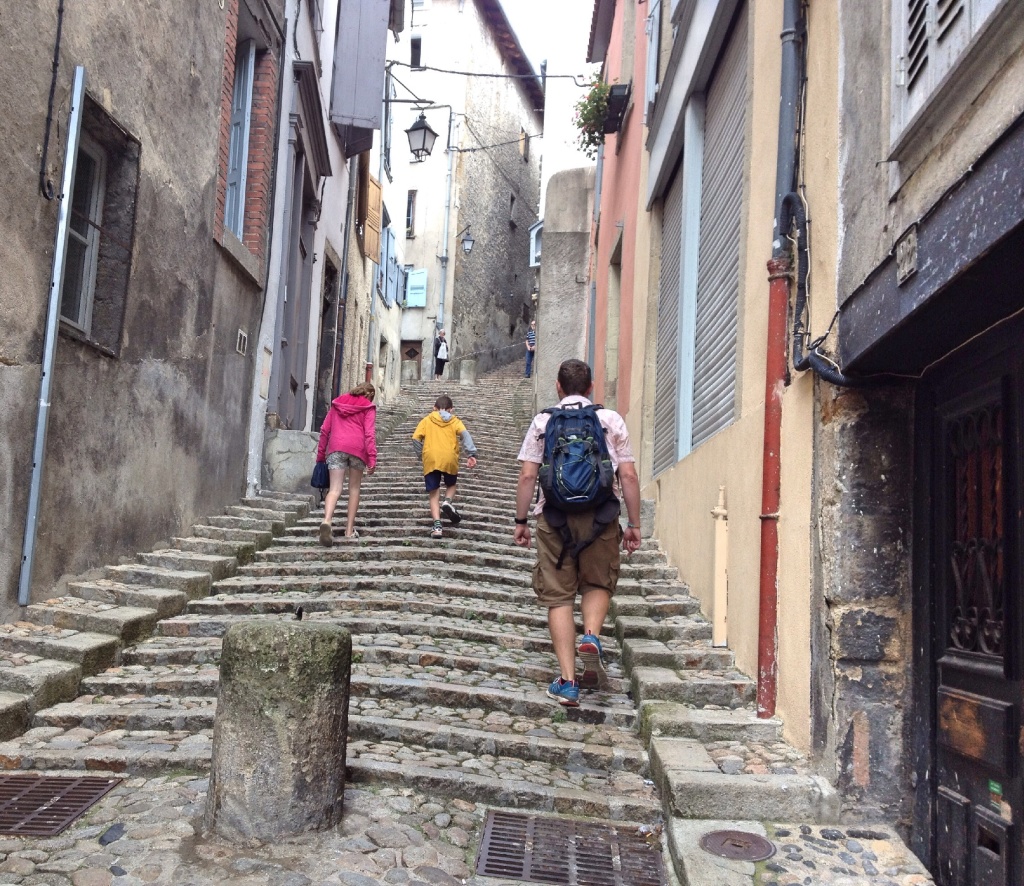 The striped facade makes for an impressive entrance but I found the inside pretty austere.
Statue of Notre-Dame de France
From the cathedral it's a 10 minute walk, up more steps, to the statue of Notre-Dame de France. This pink statue has an impressive history; it was built from melted down cannons seized during the Siege of Sevastapol.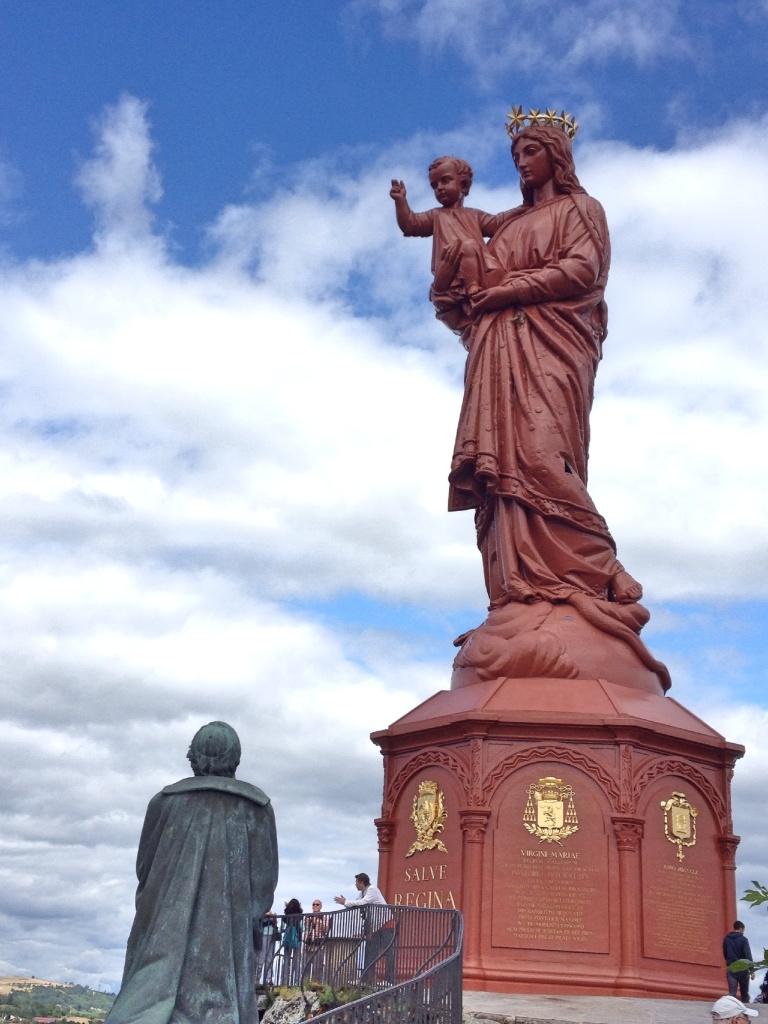 You can walk up a spiral staircase inside the statue and peek out through the top. The final part is up a narrow ladder. Be prepared to queue as only one person can go up and down at a time.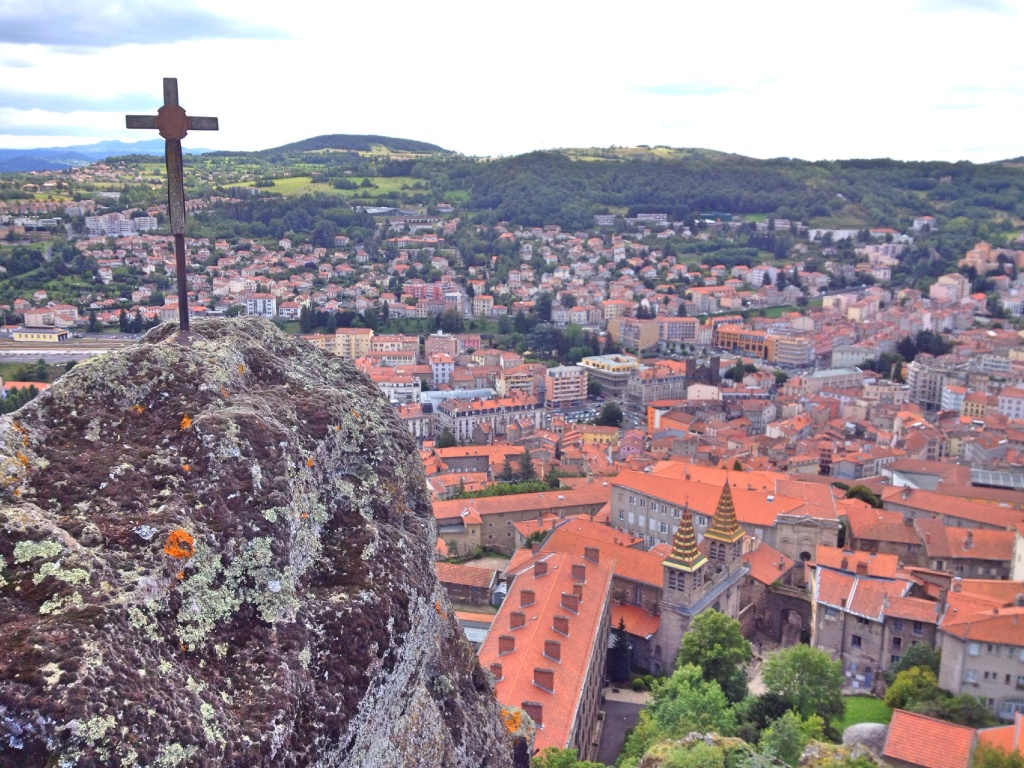 Even if you don't fancy climbing inside the statue there are impressive views from the surrounding grounds. You can look down over the terracotta rooftops and across to the cathedral.
Rocher et chapelle Saint-Michel D'Aiguilhe
Our final visit of the day was to the chapel of St Michel. This was built over 1000 years ago when men thought it was possible to get closer to gods by putting places of worship on top of rocks. For modern day visitors this means yet more steps, 268 to be exact, which wind up around the rock.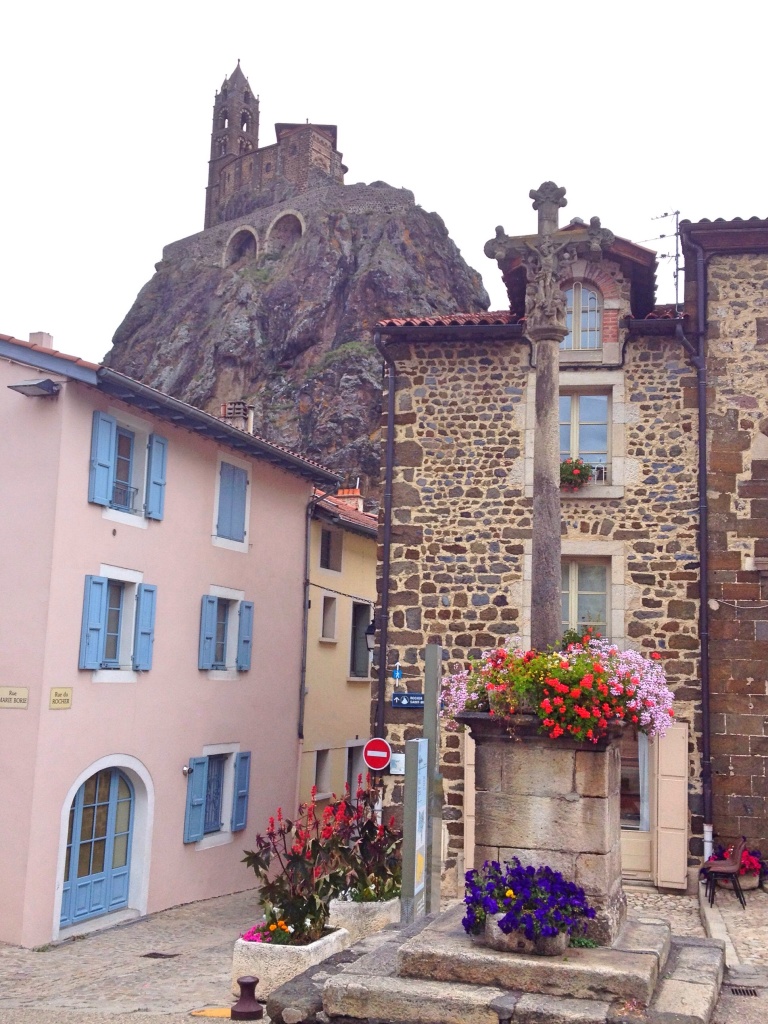 My son decided he'd had enough walking at this point, fortunately there are several benches to sit and rest on as you climb the rock.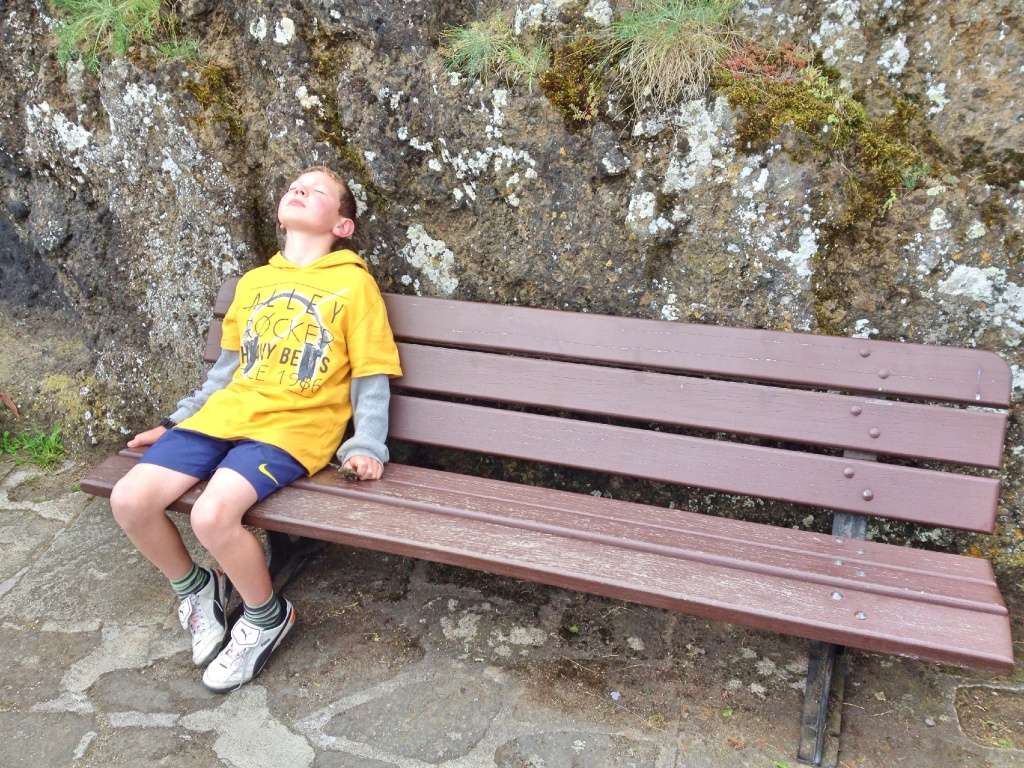 It's definitely worth making the effort as there are yet more great views and an atmospheric chapel to explore on the summit. Inside we found stone arches, ceilings adorned with frescoes and stained glass windows.
If you have walking difficulties or young children you'll find it hard to negotiate all the steps. An alternative option is to make use of Le Petit Train, a tourist train which takes you on a 45 minute circuit of the major sights.
As we headed back into town, past the tourist lace shops, we came across a wedding party in the Place du Clauzel. There were some impressive 'Just Married' decorations on the back of the wedding car.
We had a great day out in Le Puy and definitely recommend a visit, just remember to wear a good pair of walking shoes!
More info:
It's relatively easy to find your way around the main attractions but it's worth picking up a free map from the tourist office. Alternatively you can download one here.
We drove to Le Puy from our campsite. We found a parking spot pretty easily in the Place du Breuil; pay at the ticket machine when you leave.
The Cathédrale Notre Dame du Puy is open daily and free to visitors.
You can see the statue of Notre-Dame de France from many places across town but if you wish to visit there's a charge of 4 euros for adults, 2 euros for children. It's open from mid-February to mid-November.
Adult entrance to Rocher Saint-Michel D'Aiguilhe costs 3.50 euros, children aged between 6-18 years pay 2 euros. It's open from February-mid November; check the website for opening hours as these vary according to season.