We decided to venture to France for our holiday this year, and after much trawling of the internet came across CosyCamp. This campsite only opened in 2013 and already has plenty of positive feedback on the various review sites. Read on to find out how we got on.
Location
CosyCamp is situated on the outskirts of Chamaliéres-sur-Loire, a small village in the Haute-Loire department. It's in central France, in the southern part of the Auvergne region. The area hasn't been discovered by the tourist masses but there's plenty to do locally.
I've detailed some of the attractions we enjoyed in my things to do in the Haute-Loire post and our day out in Le Puy-en-Velay post.
Getting to the campsite
We flew to Lyon with British Airways and took advantage of a combined hire car offer with Avis. It was a straightforward 1.5 hour drive to the campsite, although we did have a moment when the Sat Nav suggested a U turn on a dual carriageway!
By the looks of the car park, the majority of guests drive to the site, either from the Netherlands or the UK. According to Google it's a 9 hour, 548 mile, journey from Calais.
The grounds
The campsite runs alongside the River Loire. There's a grassy area between the tents and the river bank but it's not fenced off so you need to keep an eye on young children. A big positive is that cars are not allowed on site. There's a car park just outside the main entrance along with trolleys for transporting luggage and camping gear.
The different types of accommodation and tent pitches are mixed throughout the 4 acre site so there's no regimented feel. The grounds are flat with well maintained garden areas, including herbs and vegetables.
Accommodation
Whilst most guests bring their own tents we decided to hire a safari tent for the week. This was the basic accommodation option but it was luxurious compared to our usual camping experience. The other lodgings include wooden cottages, luxury safari lodges, a treehouse and a gypsy caravan. There is a separate area for camper vans.
Our safari tent had two bedrooms, split between a double room and a kids bunk room. The bed was incredibly comfortable and I slept well the entire week. The kitchen area had a fridge, microwave, kettle and camping stove. We used the communal campsite toilets and washing up areas. Outside on the deck we had chairs and a small table.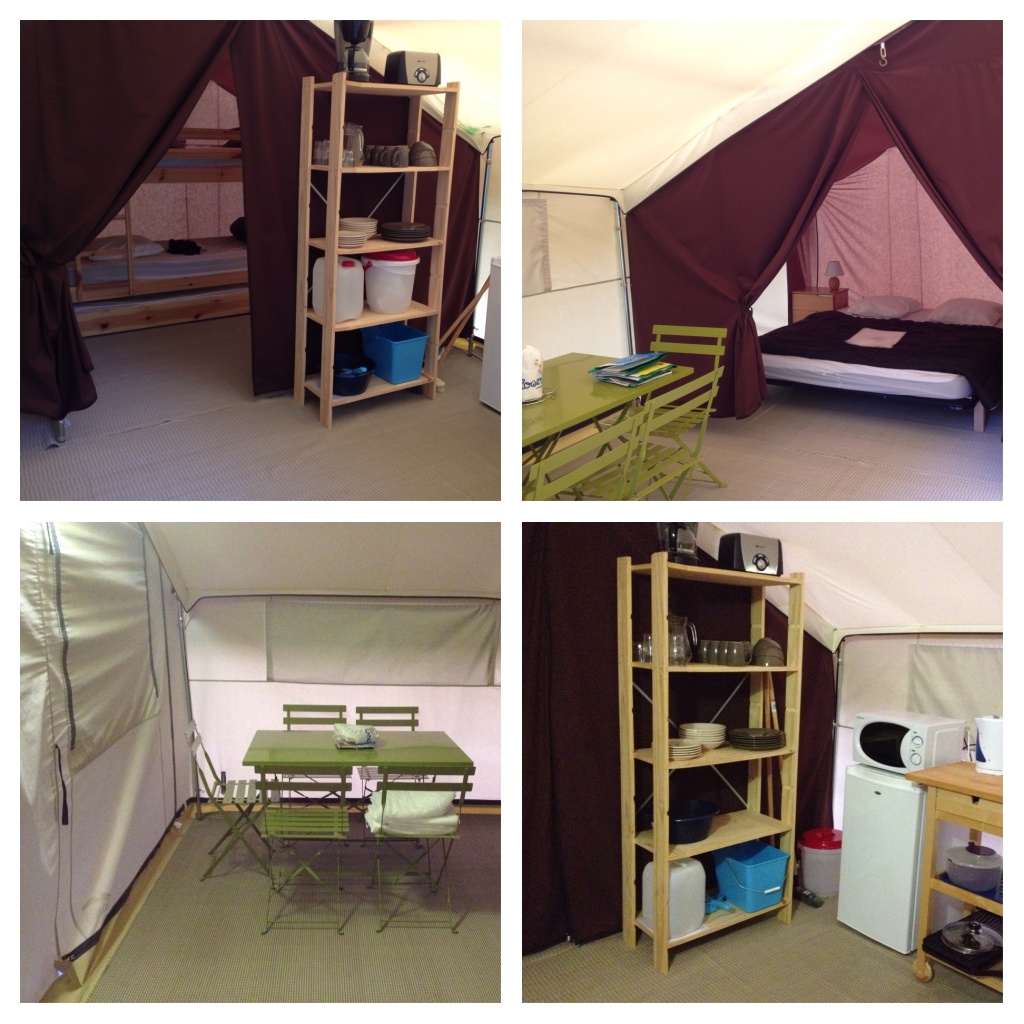 We took our own duvet covers and pillowcases, although you can hire them. We had a slight issue with ours, as the pillows were square but we'd brought standard oblong pillowcases, whoops! Fortunately we managed to make them fit with a bit of fiddling.
For some reason our tent attracted earwigs and we had to clear them out every evening (sorry earwigs). On a positive note there weren't any mosquitoes.
Campsite facilities
There are three toilet and shower blocks. These were unisex and contained a mix of showers, toilets and washbasins in cubicles. We sometimes had to queue for toilets, particularly if parts were closed off for cleaning. The showers were warm and free.
The campsite has a strong environmental ethos. We were given a recycling bag for plastics, glass, cans and cardboard. There were also compost bins for food waste, conveniently located near the washing up areas. The lights in the wash blocks were motion activated and the showers had push buttons rather than a constant flow of water.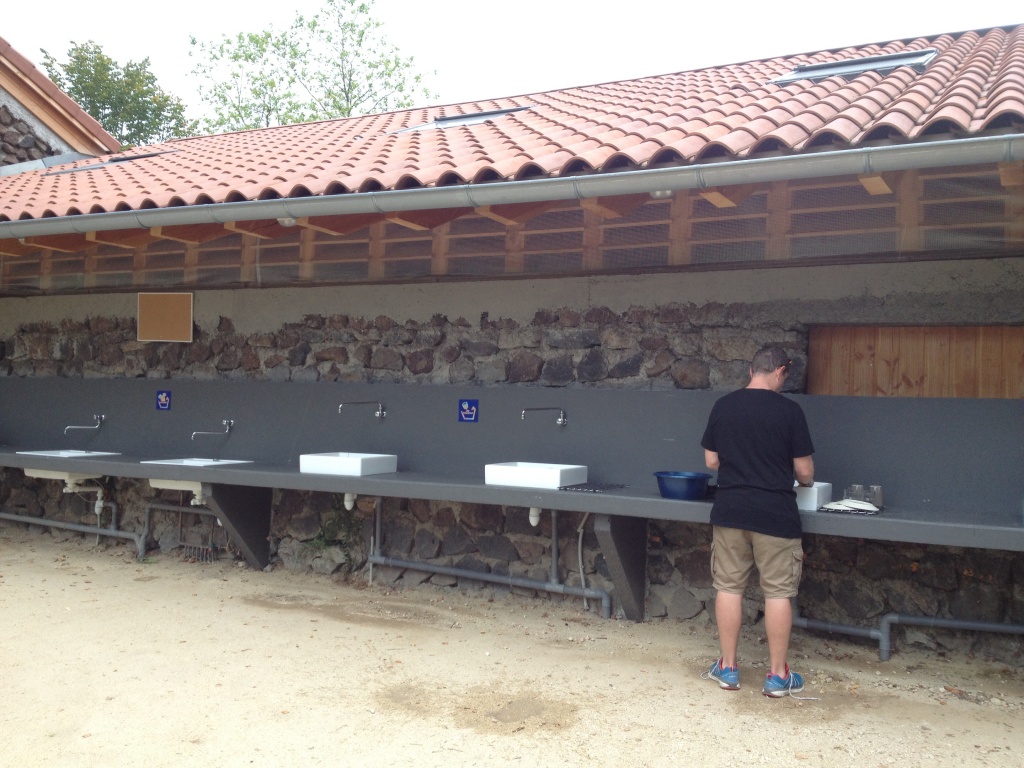 There were plenty of dish and clothes washing sinks. The site also has a laundry room with washing machines, dryers and ironing facilities.
There isn't a shop on site but we were able to order croissants, pain au chocolat and baguettes (all 1 euro each) for collection the following morning.
Campsite activities
We visited in August and there were lots of children on site. I'm sure that plenty of couples stay outside of the school holidays but the campsite is definitely geared towards families (kids up to about 12 years of age) and the activities reflect this.
Our kids found a badminton court, table tennis, basketball hoop and football area, all with equipment nearby. Some were in almost constant use but they managed to have a go on most things throughout the week. There's  a small playground which looked good for younger children.
There's an outdoor swimming pool and paddling pool, which were very popular (I had to wait until the evening to get a photo with no-one in). There's also a heated indoor pool that can be hired for sole family use for 10 euro per hour; this has massage water jets, coloured lights and music.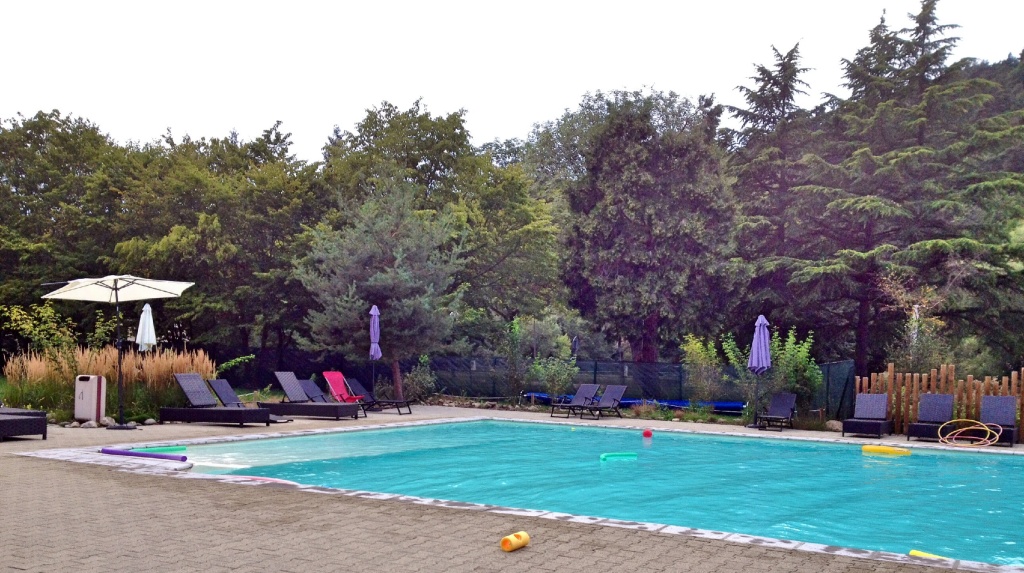 The campsite offers free weekly organised nature activities for children; these are advertised on the information board in reception. Opposite our tent there was a den building area which was popular with kids building and demolishing structures.
There are also a couple of canoes (with lifejackets) to borrow for outings on the River Loire. Next door there's a horse riding school. It's not part of the campsite but appeared to be busy with kids every time we went past.
Evening activities
Evenings were low key, with many guests heading to the cafe bar for a glass of wine or two. We spent several nights here playing board games, which we never do in England! There's a family room above the cafe with a TV, games and books to borrow. Downstairs in the reception area were tourist attraction leaflets, walking books (in French), maps and large coffee table photographic books of the area to help you plan the next day.
We ate at the cafe a couple of evenings during our stay. It primarily serves pizza and salads, along with a daily speciality. Prices were very reasonable, with pizzas costing 8-12 euros. We really enjoyed our pizzas although there were quite a few flies in the dining area which was off-putting.
Staff
Richard and Sophie own the site and do an incredible job, I dread to think how many hours they work. They were usually around the reception area, advising on places to go and helping with bookings. Issues were dealt with promptly, for example we reported a problem with our stove. Richard came almost immediately and fixed it (well, turned a valve, it wasn't broken). Later in the week my daughter had an infected cut. As it was a Sunday everywhere was closed, again they came to the rescue with a loan of antiseptic cream.
The bar and cafe staff were also friendly and hard working. Everyone spoke English, or French, depending on your preference.
Summary
We loved our safari tent and the campsite. It might be too quiet (lack of evening entertainment) or too noisy (lots of kids) for some but it was perfect for us. We really liked the surrounding area too, even though there aren't many 'must see' tourist destinations nearby.
Overall, it was one of the best holidays we've had in France.
More info:
CosyCamp is open from the middle of May to the start of October.  A basic tent pitch in August costs around £20 per night (for 2 people, small extra charge for children). A fully equipped safari tent costs £58 for 5 people per night. Outside of school holidays the prices are significantly lower.
Further details can be found on the CosyCamp website.