I had some reservations about visiting the Roald Dahl Museum as Trip Advisor reviews were split between those who really enjoyed the museum, and those who found it small and over-priced.  Added to this, I've never really been a fan of Roald Dahl's books (am I the only one?) even though both my kids enjoy them.  However, as we were already in the area, it seemed a shame not to pop in and check for ourselves.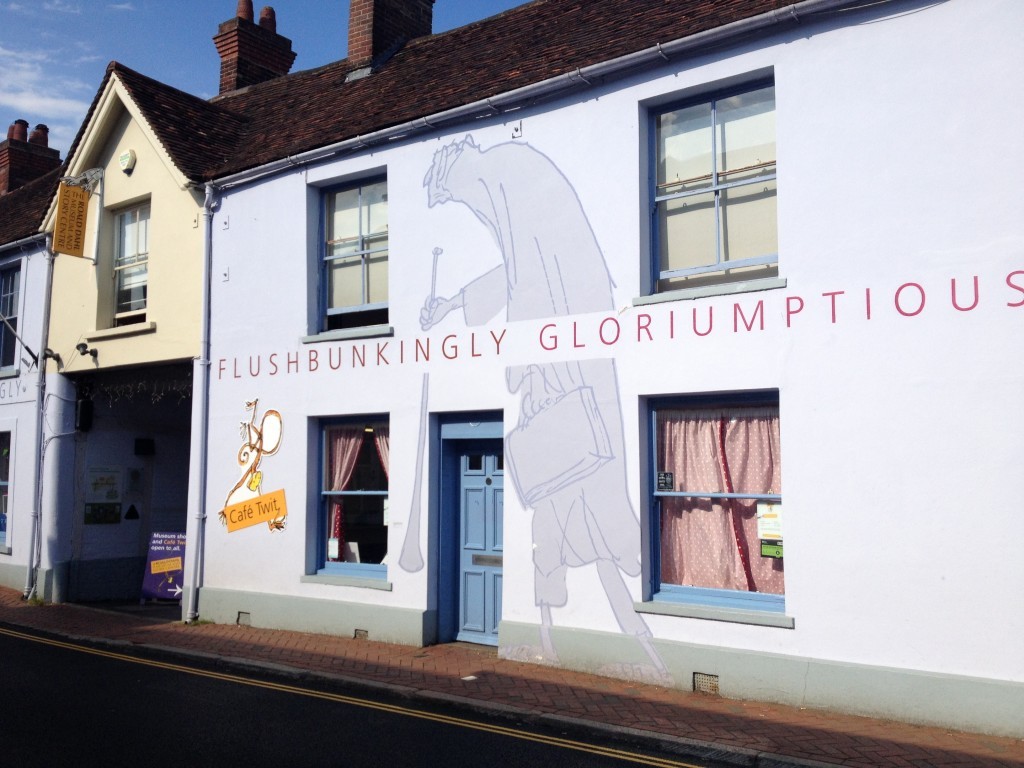 Cafe Twit
The kids started their visit with a Fizzlecrumper and Swishwiffler at Cafe Twit. They wouldn't normally get to drink such sugary monstrosities (lemonade and coke with an ice cream float and sprinkles) but it seemed an appropriate treat. They loved them but they were way too sweet for me so I stuck to the coffee.
On to the museum. At the entrance the kids were given a story ideas book and a trail sheet. We were also given a map, and I picked up a village trail sheet for later exploration.
Roald Dahl museum
The Roald Dahl museum is small, with two main rooms dedicated to his life. The boy gallery detailed his early years at boarding school. I loved reading his letters home, detailing his love of chocolate. You can certainly understand some of his inspiration for 'Charlie and the chocolate factory'.
The second room houses his writing hut. The kids enjoyed spotting and learning about the objects in his hut, particularly his ball made up of silver chocolate wrappers and part of his hip (from a hip replacement). However they didn't really spend much time reading the rest of the exhibits, despite them being colourful and appealing to the eye.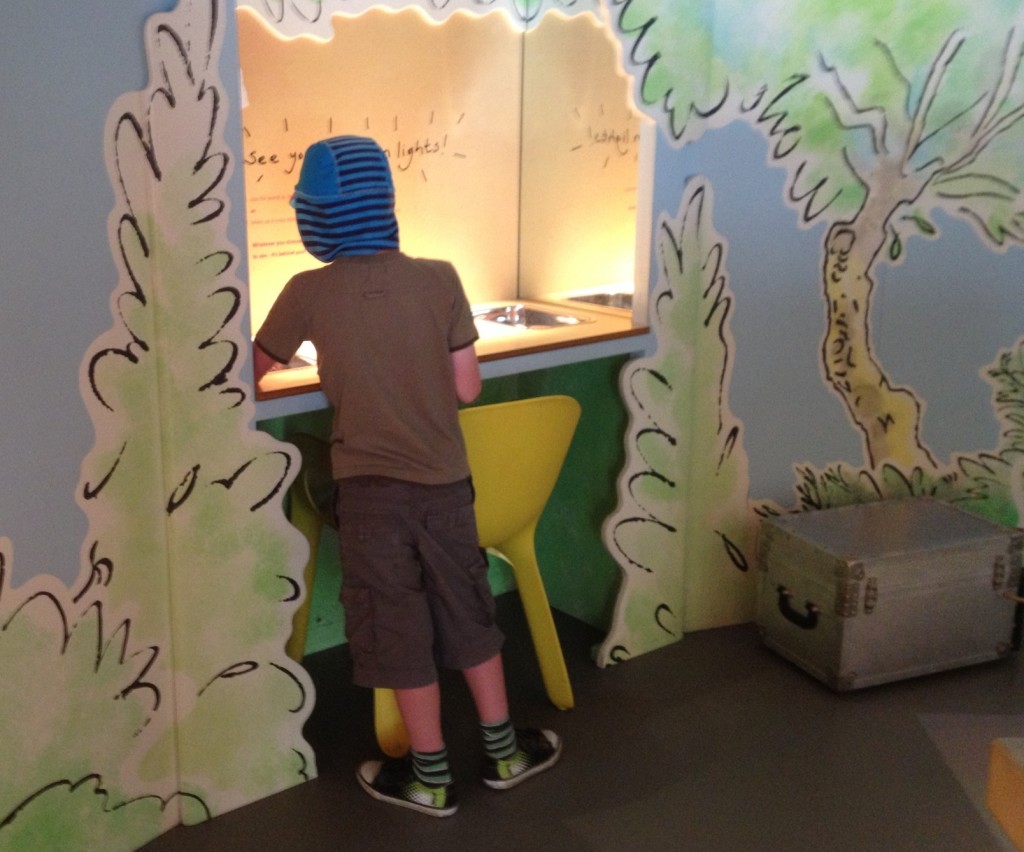 The third room at the museum is the interactive Story Centre. This encourages kids to be creative, with dressing up clothes, art activities and magnetic words to create poems. The kids spent most of their time in here.
We also went to a short story time session, when one of the staff members read to the children. Whilst the rest of the museum was aimed at 6+ the story telling session actually seemed to be for younger children.
The museum offers great sounding workshops but you do need to book in advance. On the day of our visit they'd been decorating chocolate, but we weren't organised enough to book beforehand and the workshops were full.
Great Missenden village trail
We had some time left after visiting the museum so followed the village trail. Roald lived in Great Missenden for 36 years and drew much inspiration from the area. The trail took us around parts of the village important to Roald and finally to the graveyard, where he is buried.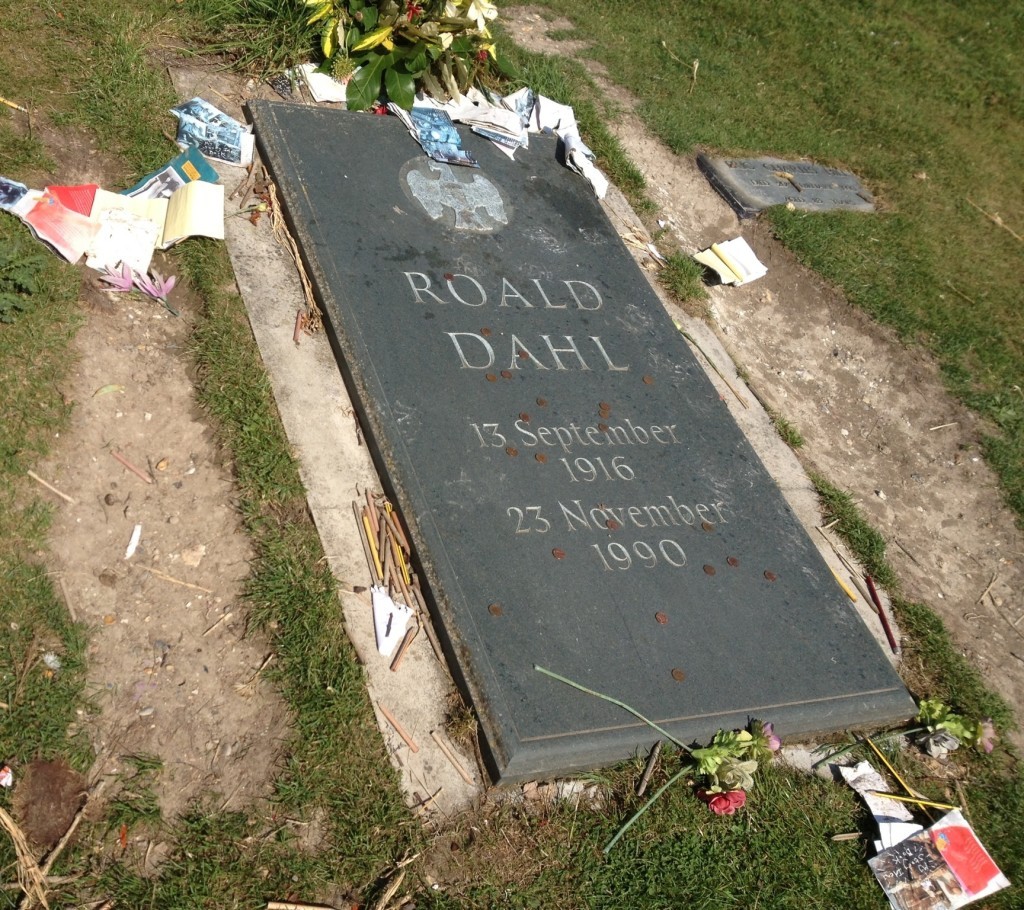 There is a BFG footprint near to his grave which adds a note of fun. However, I felt that the pencils and museum leaflets left blowing around the grave, presumably as a tribute to Roald Dahl, made a bit of a mess.
You can also follow a countryside trail, which takes you on a walk through beech woods featured in his books. Both the village and countryside trails are available free of charge on the museum website.
Overall, I probably learnt more from the museum than either of my kids did. However, I generally prefer smaller museums which have a narrow focus, rather than ones which are so stuffed with exhibits that I just wander aimlessly past all of them.
Was it worth the admission fee? Mm, not sure.  The high admission cost is difficult to justify when other museums are free, but given its charitable status I can understand why the charges are there. Would I recommend it to others? Probably only if you were already in the area and had children of the right age, I wouldn't make a special trip to visit.
More info
This museum is best suited to older primary school children who enjoy the Roald Dahl books.
As the museum is small it gets crowded pretty quickly so try and visit when other people are unlikely to.  We visited mid-afternoon on a sunny day, when most people were outside enjoying the sunshine. I would imagine that a wet day in the Easter holidays is the wrong time to visit!
The museum website details costs, opening hours and workshops.
There is no parking at the museum, instead visitors are directed to a car park about 5 minutes walk away.